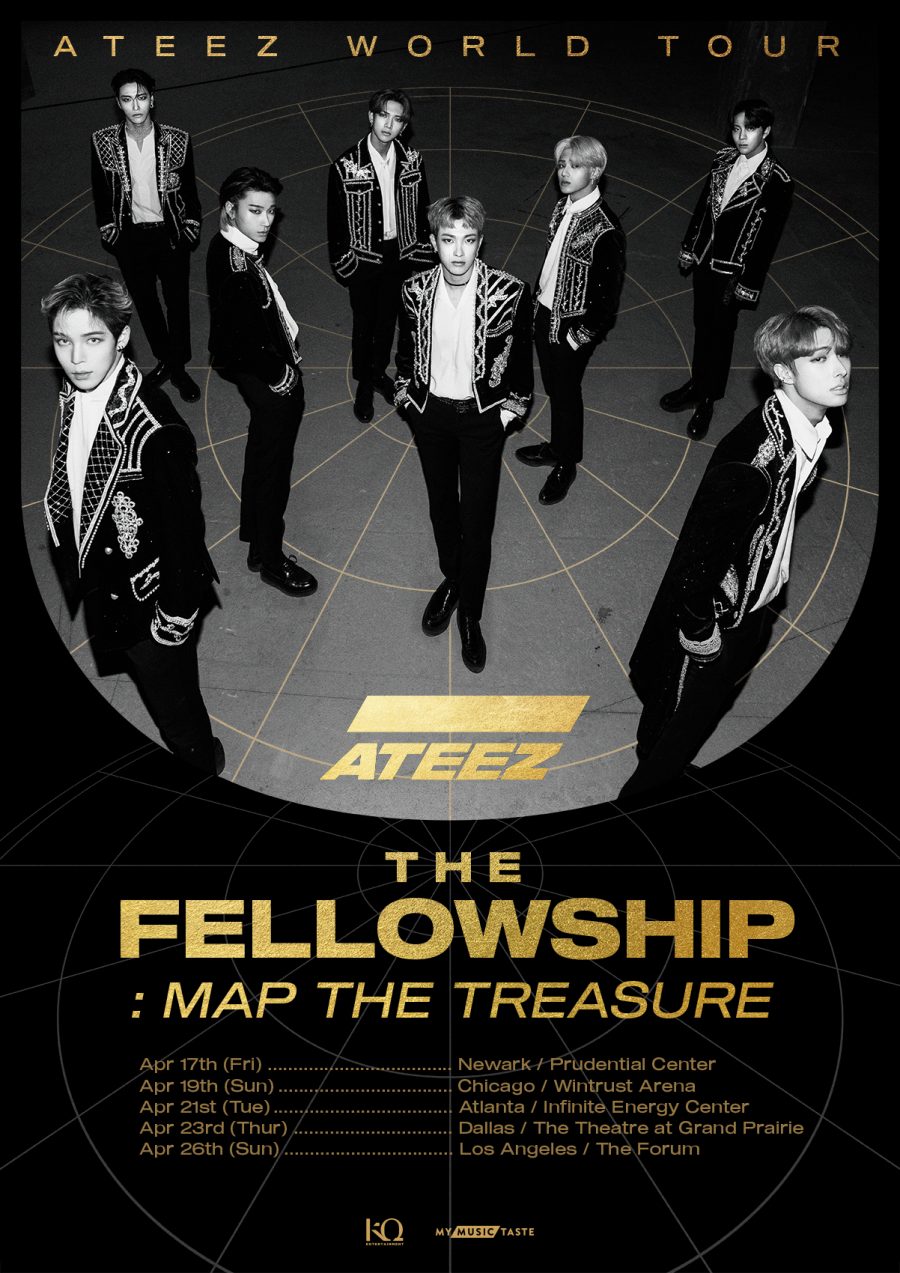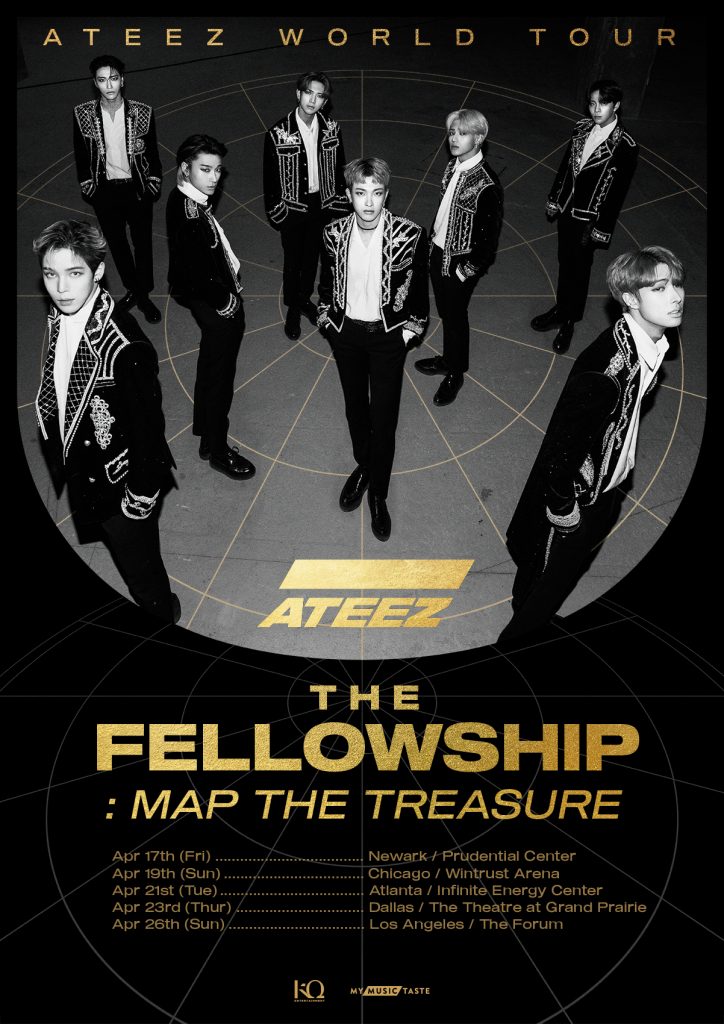 Seoul, South Korea (December 4, 2019) – South Korea's sensational boy band ATEEZ is ready to take the US by storm and meet their fans through their ATEEZ WORLD TOUR <The Fellowship>: Map The Treasure in the USA starting in Newark, New Jersey, on April 17, 2020.
Once again, ATEEZ's stateside concerts were initiated by fans who created a viral movement on www.mymusictaste.com, an online service that brings together music fans to request their favorite artist's concert.
KQ entertainment's exceptional 8-members group set unprecedented records by selling out their first world tour The Expedition Tour and winning numerous local and international awards only 1 year into their debut.
The band's well-crafted performances and producing skills received worldwide attention, both from the fans and the media by being featured on Billboard, MTV, The Grammy, DAZED and many more outlets around the world.
The boy band officially debuted as ATEEZ on October 24, 2018, with TREASURE EP.1: All to Zero, a perfect showcase of their built-up talent through KQ Fellaz. 2019 will then start off with their explosive second album, TREASURE EP.2: Zero To One, reaffirming their status as the new K-pop generation global phenomenon.
ATEEZ then followed up with their summery TREASURE EP.3: One To All, a special EP for both the boys and their fans since its main promotional song was voted and chosen by the fans through a week long voting project: ATEEZ x ATINY: Vote for ATEEZ's Next Song
Keeping themselves busy and continually challenging their creative impulse, ATEEZ then released their first full album TREASURE EP.FIN : All To Action and its idiosyncratic and incredibly exciting title song "WONDERLAND" which culminates the Treasure saga with a perfect bang.
ATEEZ current line up consists of Hongjoong, Seonghwa, Yunho, Yeosang, San, Mingi, Woowoung, and Jongho.
Presale tickets with a 10% discount benefit, exclusive to MyMusicTaste users who requested ATEEZ in the cities below, will be available on December 16 at 11AM local time. General sales on tickets to the public will then begin on December 18 at 11AM local time.
Further information about the tour and tickets can be found on https://mmt.fans/IjM0/ and MyMusicTaste's social media channels.
ATEEZ WORLD TOUR <The Fellowship>: Map The Treasure in the USA Schedule :
April 17 – Newark @ Prudential Center
April 19 – Chicago @ Wintrust Arena
April 21 – Atlanta @ Infinite Energy Center
April 23 – Dallas @ The Theatre at Grand Prairie
April 26 – Los Angeles @ The Forum
About MyMusicTaste:
MyMusicTaste is a fan initiated live event making service that brings fans, artists and promoters from all over the world together in one place to create a valuable and meaningful concert experience for everyone involved. MyMusicTaste puts the power in the fans' hands, allowing fans to request their favorite artist's concert in their city. With the mission to connect and amplify the voices of fans all over the world, MyMusicTaste successfully promoted concerts of artists such as EXO, GOT7, MONSTA X, The xx, Machine Gun Kelly, and more in over 52 different cities. With the simple idea–empowering fans to bring their favorite artist's concert in the city of their choice based on fan demand–MyMusicTaste is challenging the $27 billion concert market through cutting-edge technology and a sophisticated, user-friendly service. Currently www.mymusictaste.com supports more than 30 countries and offers 15 different languages.
About KQ Entertainment :
Home of Block B's label Seven Seasons, KQ entertainment is a global music content company that flexibly responds to the rapidly changing domestic and overseas markets.
Based on a label-specific operating system that takes into account the characteristics of musicians, KQ Entertainment continues to discover and support high-potential labels and talented musicians, thereby enabling idol groups and artists to coexist and positively influence each other.
Related Articles