BTS Warm Up Cold, Rainy Chicago: A Non-ARMY Experience
SETLIST
1. "Dionysus"
2. "Not Today"
3. "Outro: Wings"
4. Trivia: "Just Dance" (J-Hope Solo)
5. "Euphoria" (Jungkook Solo)
6. "Best of Me"
7. "Serendipity" (Jimin Solo)
8. "Trivia: Love" (RM Solo)
9. "Boy with Luv"
10. "Dope"
11. "Baepsae"
12. "Fire"
13. "Idol"
14. "Singularity" (V Solo)
15. "Fake Love"
16. "Trivia: Seesaw" (Suga Solo)
17. "Epiphany" (Jin Solo)
18. "The Truth Untold"
19. "Outro: Tear"
20. "Mic Drop"
ENCORE
21. "Anpanman"
22. "So What"
23. "Make It Right"
24. "Mikrokosmos"
On May 12, 2019, BTS performed their second show at Soldier Field in Chicago, Illinois.
Soldier Field, home of the Chicago Bears football team, was a packed house despite the cold, raw, rainy weather (the temperature was in the upper 30s Fahrenheit when the show started at 7:30pm CST). Even with the rain—which fell heavy at times—spirits were high as BTS electrified the crowd.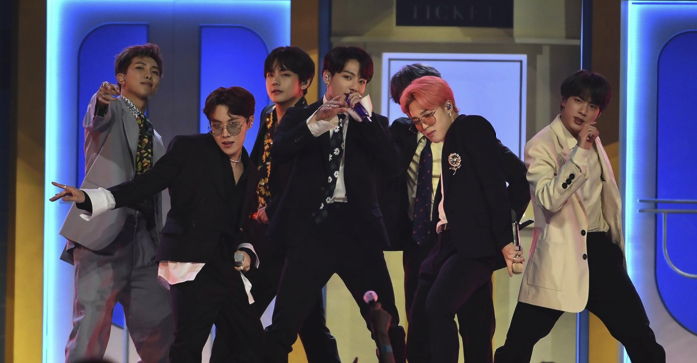 Prior to the start of the concert, BTS video played on the big screens as crew wiped the rain off the stage. The concert was a few minutes late to begin, but once BTS appeared on the stage, the rain became overpowered by tears of joy and elation from emphatic ARMY fandom.
The show opened with "Dionysus" as the group appeared on-stage bookended by two large black panther statues the enhanced the feel of the power BTS was about to bring onto the stage. From the word "go," it was clear BTS weren't out here to play.
While there were times where some of the members sounded flat (J-Hope did at times), it was clear BTS performed live with minimal backtrack to help them out. Even in the rain, they danced with strength and showed off their prowess with ease even though the stage did appear slippery (the crew did have to clean it a few times). Their powerful tracks—especially "Not Today," "Dope," "Fire," and "Mic Drop," really showed BTS' professionalism and adaptability as they maneuvered between the raindrops as the three-hour concert continued.
BTS provided a strong variety to their 24-song setlist. Listening to the crowd sing along in imperfect Korean showed how far BTS has come in a few short years thanks to their powerful songs that range from rallying cries to music about love, loss, and the struggles of youth.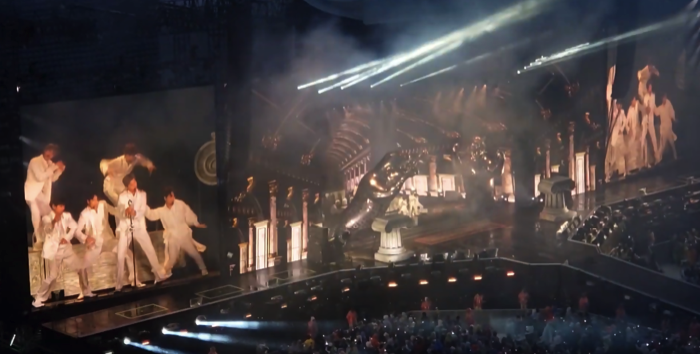 The solo tracks shined brightly, especially. Jimin's "Serendipity" and corresponding choreography wowed the fans, while V's "Singularity" dripped with soul and sensuality. From the solo-standpoint, V's was a favorite because it stood out and added a pause to an evening that took fans' breaths away. The show had the right mix of bangers and soul, which accentuated the event. Following the concert, a nice little fireworks display sent the boys off with style.
For me, it was nice to experience a concert objectively; like other fans, I attend shows for groups I like (which comes with a certain level of bias), but FOMO caught up with me for BTS' Chicago appearance, so I had to see what they were all about outside the CDs and music show appearances, which, frankly, did nothing for me as a K-Pop fan.
An experience is the best way to describe the "Love Yourself: Speak Yourself" tour. Fans from different age groups were in-attendance, and from reading post-concert notes on Twitter, even non-fans were in-attendance. Like me, those fans were even impressed with the experience.
As someone who is admittedly not a BTS fan, the concert was a great experience. The fandom, which often gets a bad rep from other K-Pop fandoms, was a welcoming group that passed out ponchos and helped others stay dry while supporting BTS with chants and cheers that even rivaled Korean fans' supportive praise. It was nice that it wasn't a relentless stream of screeching—an issue with other K-Pop concerts attended—but a respectful atmosphere that praised the songs more than faces and lyrics more than abs. The fan-experience was definitely one of the best experiences since the SHINee fanmeet in 2016.
Furthermore, as a non-ARMY, I will admit that I don't know a lot of BTS' songs beyond their main releases. However, after the show, I feel I may give the group more of a chance. For example, "Boy with Luv" became a bop after hearing it performed live. Before seeing it in concert, it was a track I loathed because it felt too commercial and basic (feelings I also had regarding "Idol"), but a track that has a different feel when experienced.
One of the songs that stood out and struck me right was "The Truth Untold." I felt that song in my soul because of the yearning in the lyrics. I started sobbing and had to look up the lyrics during the intermission prior to the encore. The lines in the song connected to my current relationship situation ("I am afraid/I am shattered/I'm so afraid/That you will leave me again in the end/Once again I put on a mask and go to see you," … "But I still want you…"), so I knew I felt that song for a reason. It hurt how much I felt it…
That one moment sums up my whole experience for the night: I felt things for BTS I didn't previously feel. They are true artists out there on the stage, and their hard work and dedication to their fans was clearly visible with each number performed. On this rainy Chicago night, BTS earned my admiration and put forth a stellar, unforgettable performance.
—-Olivia Murray
1 response to "BTS Warm Up Cold, Rainy Chicago: A Non-ARMY Experience"
Related Articles