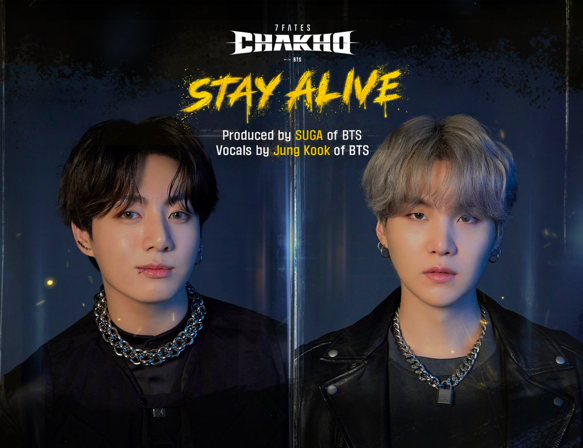 On February 11, the highly-anticipated soundtrack "Stay Alive" for the BTS-inspired Naver webtoon – 7Fates: CHAKHO – sung by Jungkook and produced by SUGA of BTS, topped a record-breaking number of iTunes charts worldwide in just 14 hours since it dropped.
"Stay Alive" has now become the first song by a Korean artist in 2022 to debut straight at No.1 on the worldwide iTunes chart and the European iTunes chart at the same time.
It also set a new record for the fastest song by a Korean soloist to top the iTunes Top Songs charts in all eight of the largest music markets in the world: U.S, Canada, Germany, France, U.K, the Netherlands, Japan, and Australia.
"Stay Alive" is a heart wrenching ballad produced by Suga with vocals by Jungkook, which is a soundtrack to the animated Naver webtoon "7Fates: CHAKHO" that follows the seven members' mission to avenge their loved ones. The urban fantasy fiction set in the near future is said to be an interpretation of the chakhogapsa, the legendary tiger hunters of the Joseon Dynasty period – which lasted from 1392 to 1897.
The Bangtan Boys label HYBE described the new soundtrack as a "nod to the characters in the story as they try to survive in a vicious world with the lyrics exploring an isolated boy's earnest heart and message to himself and friends that he meets in that vicious world."
HYBE went on to state that the track has a "dreamy, sublime energy that compliments the storyline and atmosphere of the urban fantasy story that portrays confrontations between humans and the Tiger tribe in a corrupt world."
As soon as "Stay Alive" dropped, it reached No. 1 on iTunes top song charts in 93 different countries, including the U.S, U.K, Ireland, Germany, France, Finland, Austria, the Netherlands, Denmark, Norway, Italy, Poland, Spain, Bulgaria, Canada, Singapore, Vietnam, Hong Kong, malaysia, Japan, Australia, South Africa, United Arab Emirates, Turkey, Mexico, Colombia, Chile, and many more, approximately a day after its release.
The soundtrack is also the first and the only solo song ever to top the iTunes charts in more than 90 regions on its first day, and the first song by a K-Pop act to dominate the U.S. iTunes song chart with a 2022 release.
J.Chung.
#StayAlive #BTS #JungKook #Suga #Itunes #CHAKHo #bangtan #kpop #kpopmusic #newsong #newsingle #topofcharts #kpopidol #kcrushnews #ARMY #BTSARMY #Koreanpop #Koreanpopculture #Asianmusic #BTSfans
Related Articles