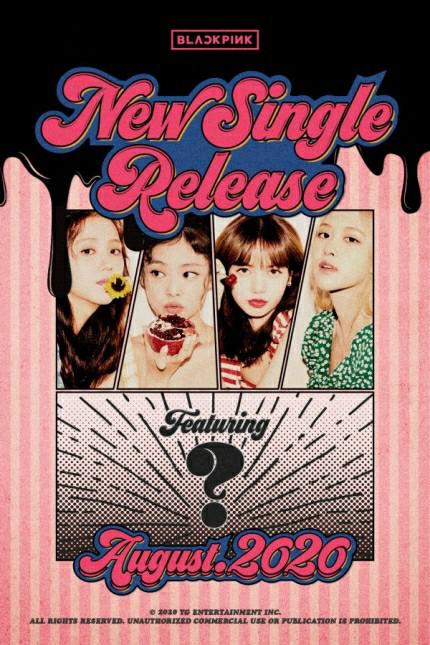 -Dream collaboration with Ariana Grande finally arranged??
BLACKPINK's official social media accounts posted new teaser poster on 23rd July for their new comeback this August. Details has yet to be announced to the public, but what drags attention of BLINKs is a hint given for new collaboration, a space made for a mystery 'super artist'. BLACKPINK is already famous for previous collaborations with pop superstars. Following the success of 'Sour Candy' in collaboration with Lady Gaga in May 2020, 'Kiss and make up' with Dua Lipa in  December 2018, this mystery artist featuring in BLACKPINK's next collaboration drags attention worldwide.
A K-pop idol group of 4 members launched in 2016, BLACKPINK has recently proved their world-class popularity with their July comeback with 'How You Like That'; as a pre-disclosure of the title in their full-length album to be released this September. Winning iTunes #1 in 64 countries, with consecutive #1 in Japan, China and Korea, it is confirmed that the whole world welcomes their comeback in a year and a half.
BLINKs have already started speculating on who this mystery guest could be — and the most often accounted candidate is US pop singer Ariana Grande: the news which both BLACKPINK and Ariana Grande fans would welcome to hear.
Friendship between BLACKPINK members and Ariana Grande has been confirmed for long already: Having met each other at 2019 Coachella music concert, which had BLACKPINK as a headliner, they immediately became close friends; In the festival,  BLACKPINK members showed their love toward  Ariana with her 'NASA' mask on their faces. Since then both were attending concerts of each other, sending gifts, singing covers songs and hanging out together at music festival <Coachella>.  Ariana Grande has mentioned earlier her wish to collaborate with BLACKPINK, on Twitter in July last year; that she: "would probably pass out" if she ever got the chance to work with BLACKPINK.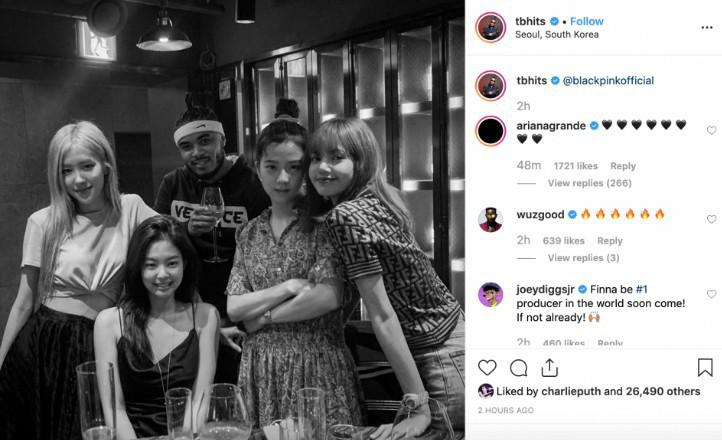 For this upcoming comeback, BLINKs have detected Ariana Grande herself and several individuals from her camp putting 'like' to the teaser postings, shared on Jennie's Instagram. But more critical backups of this recent speculation are originated from Tommy Brown, Producer of Ariana Grande's mega hit albums:  from 'Yours Truly' in 2013 to 2019's 'Thank You, Next'.
Rumors on their collaboration work already went viral from 2019, when Brown uploaded a photo of working with BLACKPINK in Korea.  But Through his Instagram Live and interview with magazine "Pop Crave" this June, Tommy again revealed his recent visit to Korea "to make a song for BLACKPINK".  At the same time, he mentions that he also worked with Ariana Grande, saying to have achieved "some incredible records with both acts".  From his words, possibility of the dream collaboration is getting much higher.
The celebrity featuring BLACKPINK's new single is yet to be revealed officially, but a nickname for collaboration called 'ARIPINK' is already rising hot in Twitter; it's time for us to wait and see who it will turn out to be.
—-Uinn Pengx
Related Articles