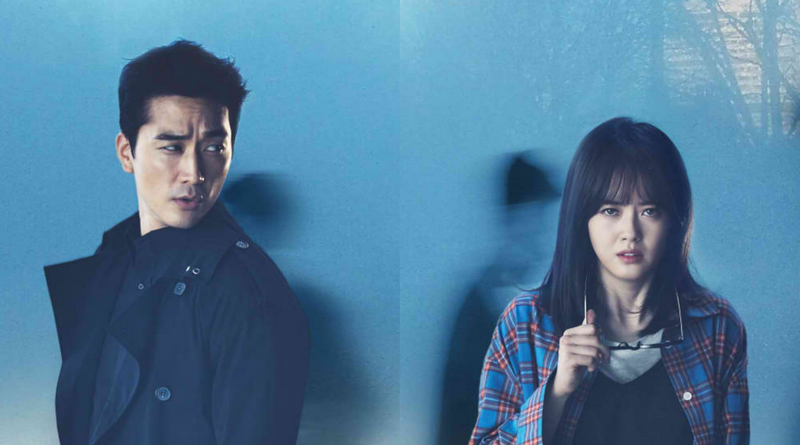 If you love thriller crime dramas with hints of comedy, romance, and fantasy, then Black is one drama worth checking out immediately. If you are a fan of the US TV shows Person of Interest (2011-2016) or Ghost Whisperer (2005-2010), then Black is the perfect marriage of both shows and meant for you.
Now on Netflix, Black originally aired October 14 to December 17, 2017 on Korea's Orion Cinema Network (OCN) to a relatively small viewing audience (OCN is a movie network, so it has a smaller audience compared to larger, free-to-air channels and shows). The show follows the lead character, Black/Detective Han Moo-Gang (Song Seung-Heon) as he hunts down a fugitive partner. However, Han is dead, and Black is a grim reaper known as #444 (Kim Tae-Woo). In order to hunt down his partner, #444 takes over Detective Han's body after his passing. Of course, there is complications when Black meets Kang Ha-Ram (Go Ara), a mortal who can see death before it happens. With her help, Black must find his partner while trying to solve a host of crimes that have been occurring that have ties to crimes from 20-years prior, creating a tangled web of lies, greed, and deceit.
The 18-episode drama has a lot going on, and it is as dark as the name suggests. However, it has moments of subtle hilarity that keeps the show somewhat lighthearted as the threat of death lingers over several characters. As the story unfolds, we see Black struggle with his duty as a grim reaper to help people go toward their afterlives while also trying to save lives… something that goes against his reputation as a cold-hearted reaper. With his struggles, there is beauty, frustration, and growth, and it's interesting to see how his character deals with the conflicting events around him. As Black becomes more human, he becomes a sympathetic character that will win over even the toughest of audiences, especially as his relationships with Ha-Ram and his crime-solving comrades unfold.
The show is a rollercoaster of emotions, and that's a pun on a scene in the show as well as an actual state of being. There are several moments where you're left holding your breath, and there are times when tears won't cease to fall, then you'll be laughing a short time later. Emotions-wise, Black keeps you in check, and it's like you're experiencing the confusing moments of Black's personhood as he navigates feelings and emotions for the first time. Toward the end of the show, the episodes are real tearjerkers, so keep Kleenex handy!
Unfortunately, there are some scenes that are difficult to watch due to the intensity of the show's content. Netflix does have the unedited version, but for those who are more sensitive to blood and gore, there are censored versions on other platforms. There is also a moment of animal abuse that did not settle well with me, and I'm sure it won't go over well with other audiences, so this is something to keep in mind as the show progresses.
Black boasts a strong cast of characters that has a lot of chemistry, especially with the main leads Go and Song. The two actors have real chemistry that can be felt by the viewer, and it makes their growing relationship all the more believable. Because of their chemistry, their relationship brings a lot of heart, laughter, and tears as the viewer goes along the rocky road with them.
Go and Song steal the show, and they were perfect in their roles of Ha-Ram and Black. Go is equal parts sympathetic and quirky, and she possesses a strong mix of calm fieriness that makes her a well-rounded character. While she battles with her need to do good while being bothered by the visions she sees, you can see that the sad, scared little girl still resides in her soul. Meanwhile, Song is believable as the goofy, childlike Detective Han. Pre-death, Song does well portraying Han as a bumbling, loveable kid-at-heart, but after-death, Song does his strongest act as the brooding reaper #444. It's interesting to watch him wrestle with his external and internal selves, and Song does well adding subtle touches that make the character more accessible.
The supporting cast is one of the strongest casts as far as recent dramas go. The quirky characters add comic relief, yet they maintain seriousness where needed. Around Black, the characters "Crazy Dog" (Kim Won-Hae), #007 (Jo Jae-Yoon), and #416/Jang Hyun-Soo (Lee Kyu-Bok/Jung Jun-Won) add the necessary touch of heart and humility he needs. Kim's "Crazy Dog" character provides smart wit and humor as a no-nonsense investor who takes his career seriously, while #007 provides a strong father-figure for black. #416 is the heel early on, but he's not obnoxious, and his sense of youthful self-awareness helps keep the grim reaper group grounded. Lee El also does well in the role of Dr. Yoon Soo-Wan. She's a character that is neither loveable or hate-worthy, and, at times, it's easy to feel sorry for her. However, her skeletons that linger into adulthood make her almost unlikeable as she's the reason several main characters meet their cruel fates.
Then, there's Man-Soo (ZE:A's Kim Dong-Jun). Man-Soo is vital to the story, especially on Ha-Ram's side, but he's also the weak link in a glowing cast of characters. Man-Soo's character is somewhat boring and borderline spoiled and bratty, but he has some good qualities that stand out. However, he is a case where "Second Lead Syndrome" really doesn't exist as he's not exactly suitable to be a romantic partner. He and Ha-Ram don't have as strong of chemistry as she and Black, so it's hard to believe that Man-Soo has feelings for her. Sadly, Man-Soo is one of those characters that has a divisive role because fans will either adore him or really despise him. There is no in-between.
Even though he is not a main character, Woo Hyun is worth noting in his role of Wang Yong-Chun. Woo does a fantastic job of portraying a mentally unstable killer to the point where it was hard to believe he's acting. The creepy laugh is guaranteed to stick in your head.
And while there are strong characters, sometimes, the show does borderline on having too many characters, especially as the series progresses. With so many victims and possible perpetrators, it's helpful to keep a ledger of everyone who comes and goes. Sometimes, a character who seems to be in the background plays a critical role later on, so it helps to pay attention to everyone at any given time.
Beyond the great characters, Black is a thinking-show that requires undivided attention. Almost everything has meaning from the way Black uses his hands (take note of how he tells people not to touch them) to the importance of people's eyes in the series. Jewelry, keychains, and even the colorization of the scenes all play a role in some way for the overall story arc. The most interesting detail is #444 himself, because 444 in numerology stands for protection, practicality, trust, and awakening. Simultaneously, fours in many Asian cultures are associated with death and misfortune. Black fulfills all meanings of 444 throughout the series, so it's clear his number assignment is not random.
Featuring songs from Min Chae, Lee$A, and South Club's Nam Taehyun, the soundtrack also helps set the tone well, too. Each song plays a crucial role in the overall storytelling toward the end of the series. The soundtrack also brings about an emotional rollercoaster, so the creators did well creating songs for Black. However, it's an absolute travesty that the full introduction song, "Trust My Eyes," did not get the full-song treatment or appear on the OST.
With the introduction of too many characters, a lacking song, and Man-Soo aside, Black is a nearly perfect drama that needs to be added to your drama list. It earns a 4.5/5.
Black is available on Netflix.
—-Joelle Halon
1 response to "Binge-Worthy Black One of Netflix's Best Drama Gems"
Related Articles