A little more than a year after their concert in Dallas, B1A4 will be returning for their "B1A4 Adventure In Dallas" concert. The show will be taking place at the Verizon Center in Grand Prairie, TX on November 8th, 2015.
B1A4 was founded by WM Entertainment in 2011. The group is made up of members Jinyoung(leader), Baro, Gongchan, Sandeul, and CNU. B1A4 recently had a comeback with "Sweet Girl" after a long break and their sexy concept drew the attention of many.
I attended their show last year and let me tell you, you do not want to miss out on this one. B1A4 put on one of the best shows I have ever seen and even if you aren't a huge fan, I suggest going so you don't miss out.
This is also a one-night-only event so if you want to see them, you better get tickets soon! Be the One, All For One!
Tickets are currently on sale on AXS and the ticket information is as follows:
VVIP – USD200 (***HI TOUCH PASSES for first 500 VVIP ticket holders only)
VIP – USD180 (SIGNED POSTER for 100 VIP ticket holders only)
ZONE A – USD150
ZONE B – USD100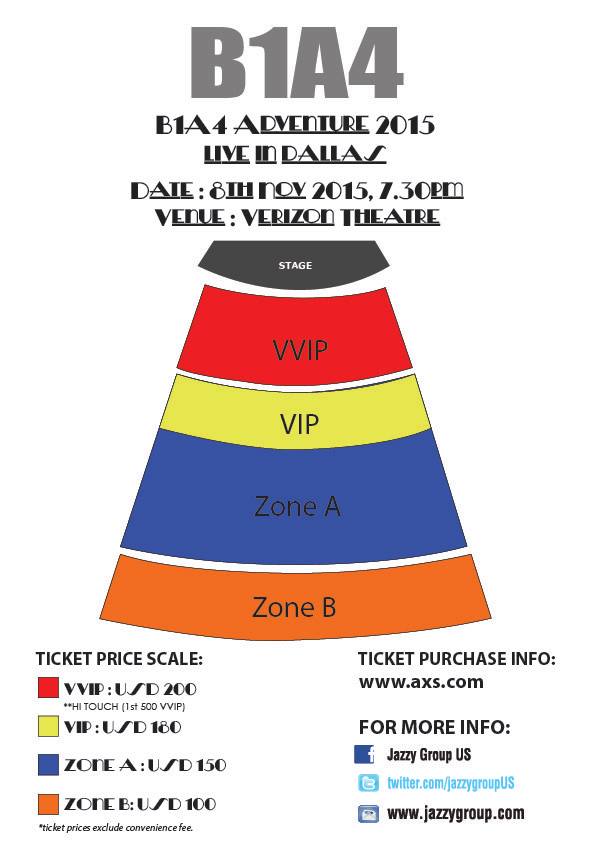 For more information and all the latest updates about "B1A4 ADVENTURE 2015 LIVE IN DALLAS", please stay tuned to Jazzy Group US's official website at www.jazzygroup.com as well as Jazzy Group US's Facebook, Twitter, Instagram, Tumblr, and Weibo accounts.
—-Ke'Anna Bullard
Related Articles