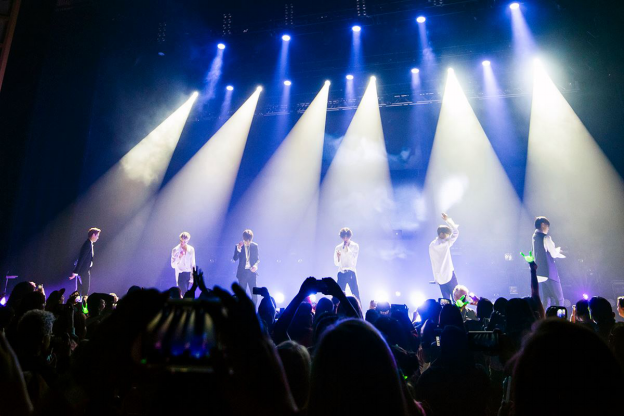 On April 12, 2017, B.A.P brought their Party Baby Tour to the Rosemont Theatre in Chicago. The colorful spectacular showed the fun and sensual sides to B.A.P through a medley of songs that had the fanbase pumped despite the empty seats that dotted the venue. Even though the venue wasn't as full as it was in 2016 due to BTS performing weeks earlier and the Party Baby Tour coming through right smack in the middle of midterms season for many colleges, spirits were not dampened.
With this being B.A.P's fourth tour in the United States, expectations were high for an amazing show. For the most part, B.A.P performed well and delighted fans with their signature sound. The boys were full of energy and smiles, especially Bang Yongguk, whom many worried about following his hiatus for anxiety and depression. The boys gave their all and pulled off a wonderful, memorable show.
The concert opened with a live DJ, DJ B.Shoo. B.Shoo's energy filled the theatre as fans started to dance and blow their whistles. He was a nice opening act to get everything started. B.Shoo used a good mix of familiar, remixed tracks to assist with creating the pumped, energetic atmosphere that lead to the countdown to B.A.P's appearance on stage.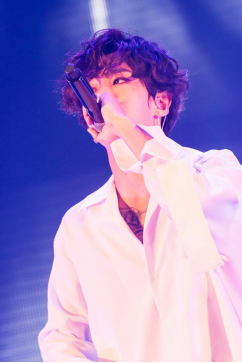 The opening segment was fun while "B.A.P" opened the show, which is reminiscent of 2014's tour. The opening featured a camera going backstage to find the boys before they went on stage. Looking at them during the intro, it was clear the boys were ready to rock!
When B.A.P appeared, they opened the show with EDM remixes of "Hurricane," "Badman," "No Mercy," "Bang x2," "That's My Jam," "How I Feel," and "Dancing in the Rain." The 18-minute set was reminiscent of 2016's EDM set with a few songs added. The energy and joy B.A.P had during the set should have gotten the crowd more into the show, but Chicago fans were reserved despite B.A.P's efforts. With headbangers like "Bang x2" and "That's My Jam," B.A.P pulled out all the stops: Zelo, who was pretty extra all night, showed off his goofy side, while Yongguk rocked hard. Himchan, who is still nursing a rib injury, moved about the stage with his signature smile etched on his face, while Jongup showed off his moves. The dance portion of "Hurricane" had B.A.P's usual precision. When Yongguk started to rap, he appeared larger than life and like he didn't miss a beat during his hiatus.
Following the EDM portion, the lucky fan event took place. Daehyun was the host for the B.A.P Lounge portion and he selected 27-year-old Rachel as his lucky fan. Rachel was dressed to the nines in Daehyun's rose theme. While on stage, B.A.P asked her questions and took photos before handing her the SD card of her experience. Rachel was adorable and held her composure well while on stage (I, personally, would have been freaking out and trying to figure out a way to smuggle Himchan off stage and into my purse). Over on her YouTube page, My Rara Pop, Rachel discusses her experience, so check it out!
Following the lucky fan event, Jongup and Zelo performed their solos "Try My Luck" and "Shining Star." Unfortunately, Daehyun did not perform his solo for the Chicago stop. Jongup and Zelo performed their solos beautifully! Jongup's soft sweetness contrasted with the strong arrangement of the track. Jongup even incorporated some rap portions into his track which surprised fans and added more dimension to Jongup's ability. Meanwhile, Zelo showed another side of himself by singing a ballad instead of performing a rap. "Shining Star" shows Zelo's softer side and depth as an artist. What was also surprising is that "Shining Star" is entirely in English, so Zelo catered well to Western Babyz.
One of the most anticipated portions of the concert were the performances of "Fermata," "I Guess I Need You," and "Body & Soul." For "Fermata," B.A.P's vocal line shined brightly. Daehyun has better control over his vocals as he effortlessly slid between high and low notes. Youngjae provides a strong middle ground to Daehyun's strength and Jongup's innocent vocals. The depth and layers in "Fermata" were enhanced by the vocal line's live performance to make the song memorable.
"I Guess I Need You" and "Body & Soul" had effortless sexiness without the "Body & Soul" crotch dance that entranced fans in 2014. The body rolls and more mature dancing actually made the songs more appealing because they were sexy performances without being over-the-top. Unfortunately, it was during these performances where it was evident Himchan wasn't fully recovered from his rib injury as he did wince during a few of the moves.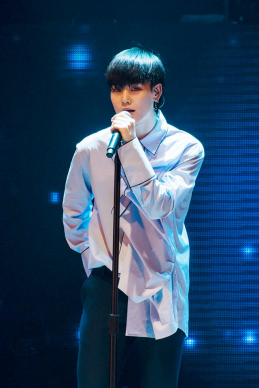 Youngjae then performed his solo, "Lie." Youngjae has improved nicely as a vocalist also. His power has improved to show his vocalist potential. He, like Jongup, has a sweetness to his vocals that help him tell the story within the song he's singing.
Following Youngjae's solo, the finale of the main concert exploded with "Skydive," "Young, Wild, & Free," and their latest single, "Wake Me Up." "Skydive" showed B.A.P's strength and prowess, while "Young, Wild, & Free" got the fans riled up again. However, "Wake Me Up" was one of the fan highlights of the night with the sounds of whistles and chorus.
The boys wrapped with a one encore performance of "Check On," which recalled the dance from the 2014 tour, and "SPY," "Feel So Good," and the fan-favorite B-sides "Be Happy" and "Carnival." Even though at this point it was clear the boys were tired, they still performed with strength and energy and interacted with fans with enthusiasm before wrapping with "B.A.B.Y," which made a few fans emotional as the concert came to a close. There were supposed to be two encores, but due to Chicago's curfew, the city only experienced one.
Following the concert was Hi-Touch and the photo op fans had a chance to purchase to round out the evening. Like last year, the Hi-Touch was a quick hi-five with the B.A.P members. For the photo op, groups of ten got to take photos with the group to preserve their memories, which was a really cool option have this year. Along with the package, fans got a t-shirt, album, whistle, and a slogan which made up for the cost of the package.
The Nitty-Gritty: Good, Bad, and Indifferent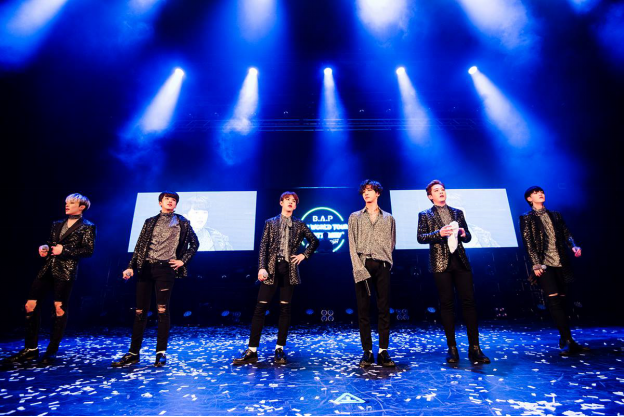 Like with past concerts, B.A.P really know how to perform. When it comes to performances, they're among the true professionals in the industry. Going to one of their shows always prompts the "they eat their CDs for breakfast" phrase. This was the case for this year's tour as the boys gave their all into their performances.
What was nice about this year's tour is that there were solos from Youngjae, Zelo, Jongup, and Daehyun. It's great to be able to hear the boys show what they can do individually, even though it was a bit disappointing that Yongguk and Himchan didn't have solo stages. Perhaps this is due to Yongguk's anxiety disorder and Himchan's injury, but it would have been cool to hear "Pray" live or even their collaborative track, "Sexy Clap," which is a cult favorite in the B.A.P fandom.
While B.A.P had a good song selection this year with their party-esque songs and performances of old and sexy favorites from past tours, there was something missing with fan-favorite tracks like "Warrior," "Power," "One Shot," and "1004" excluded from the setlist. These are B.A.P's iconic tracks and serve as crowd-pleasers that are guaranteed to get fans' engines revving despite them not fulfilling the party vibe. Groups do need to change their setlists year-to-year so shows don't get stale, but a little taste of these tracks in a form of a remix medley would have been a nice touch.
For the Chicago show, the talk sessions were the longest out of all the stops. With B.A.P and Chicago, there seems to be a strong connection between the group and the fans which is why talk sessions go on longer for any other city. This was the case in 2014 and in 2016 also. At one point, Youngjae spent several minutes discussing a sign a fan had, which really took longer than it should. The talk session length was probably one of the reasons why Chicago didn't get a second encore. Talking is fine, and it gives the boys a chance to connect with fans; at the same time, there are fans who prefer more show than chit-chat, so it takes away from the mood of the concert.
The next bit of criticism comes with the scheduling of the show. The Chicago show was on a Wednesday in April, which is bad timing in the Midwest given how it is a weeknight. There is a curfew to contend with, people still in school, midterms occurring at area colleges, and the evils of rush hour traffic in the city. With K-12 school still in session and college midterms ongoing, not to mention how B.A.P came after BTS and HyunA, the venue had a lot of empty seats. TS Entertainment and the promoters need to figure out a better schedule for 2018 to avoid issues like this. I doubt fans would object to a summer tour.
With the above considered, Chicago fans did try their best to encourage the boys even though the general crowd was more subdued compared to past years. However, Chicago Babyz came through with several fan projects including the Himchan birthday project by K-Pop Fans of the Great Lakes, the green ribbon project by #ForeverBAPsBabyz, and several smaller banner and bias heart projects individual fans came up with to show love to B.A.P. Despite the small turnout and reserved nature, Chicago fans made up for it with the love they sent to the group.
Other issues were reported by various fans at the venue after the show with some saying Powerhouse staff were rude, pushing people, and rushed fans too much, while others claim that Rosemont staff were just rude. These incidents were reported on various social media outlets by more than one fan. If this is the case, professionalism failed at various points throughout the concert and need to be addressed by next year.
Overall
B.A.P's Party Baby tour was a worthwhile experience. The show was fun and exciting with nice fan interaction. The Chicago stop could have been better if there was a better fan turnout, but we tried our best. In relation to 2014 and 2016's tours, Party Baby comes in second in terms of experience and quality right after last year's Awake Tour. Hopefully, next year will be stronger—with a better turn out—so B.A.P can show their prowess!
—-Joelle Halon
Related Articles