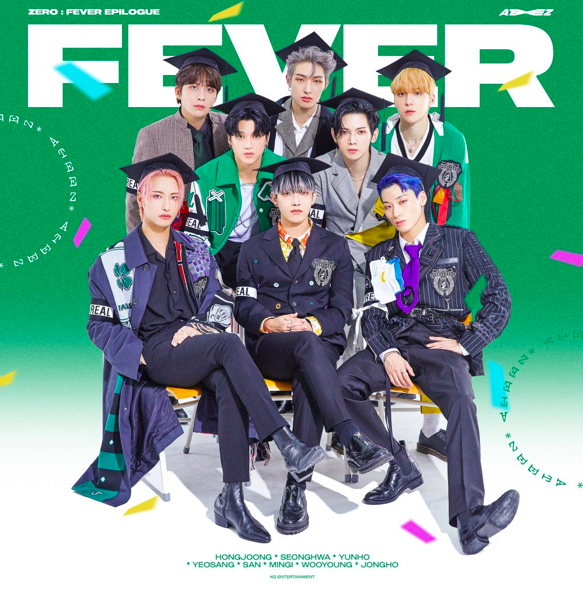 One thing I know about ATEEZ is that they deliver. ZERO: FEVER EPILOGUE gives listeners an album full of the classic ATEEZ sound. They really only continue to get better and better.
Turbulence: 8/10
This song is one you can easily feel without looking up the lyrics. ATEEZ has a way of portraying their emotions so well in their voices. If you're looking for a heartfelt opener, with all the members contributing, "Turbulence" is it! Not only is the melody fantastic, but the lyrics are deep. Look at a few of the lines:
By the rough wind
By the wounded heart
As if the world
only asks me to give up
Only endless darkness
Be With You: 9/10
"Be With You" is a beautiful ballad, full of piano and strings. The lyrics are all about being in love with someone who is cold. They haven't opened up to you enough to feel your love. One of the lines echoes this theme best: "Cold snowflakes//Withered down//Until you bloom//As a spring flower//I'll be with you."
The Letter: 8/10
"The Letter" has a lovely piano, airy vocals, and retro vibes. The sound is unique on the album and is a great reprieve from the intense tracks. I love the lyrics on this one too: As so many hours passed//Countless times we cried and laughed//Just by looking into each other's eyes//Everyone knows//I'm you, you're me//You know we're not apart.
Still Here- Korean Version: 8/10
Originally released in Japanese, this track translated well. The variation in rhythms, instruments, and melodies make this song interesting and a great listen. It also highlights the best of ATEEZ, from their rap to their vocal prowess.
Better- Korean Version: 9/10
Also originally in Japanese, I'm so glad this one made it onto the album. From the lovely falsetto to the upbeat positive melody and lyrics, "Better" is a song to lift your spirits. This song is all about when you feel like you're not progressing in life and are disappointed in yourself. The chorus reminds you that it's okay to get disheartened, just don't stop. You're getting better, don't worry. I think this song relates to everyone at some point in their lives and is encouraging to listen to.
The Real- Heung Version: 10/10
This song had me blasting it in the car from the moment I heard it. From the competition Kingdom, ATEEZ knew fans were begging for this to be on an album! This upbeat track is full of energy and displays ATEEZ's strengths in a way that stands out on this album. For some reason, I always think of Egyptian vibes when I listen to this song's instrumentals, too. "The Real- Heung Version" has all of the ATEEZ traits on it, from the classic laugh to Hongjoong autotune.
WAVE (Overture): 7/10
With a much more intense version of "WAVE," ATEEZ performed this on Kingdom as well. When I first heard it, it threw me for a loop. It's such a different twist on this upbeat and fun track. The electronic & symphonic take to this, making it more of a minor key, was a risk…but one that I think pays off.
WONDERLAND (Symphony No.9 "From The Wonderland"): 8/10
I'm so glad this song made it onto an album. Originally in the show Kingdom, this rendition is absolutely stunning! I encourage you to watch the performance if you haven't already. This symphonic upgrade to "WONDERLAND" does what all "remixes" should, which is having the remix be just as good if not better than the original.
Answer (Ode to Joy) (feat. LA POEM): 8/10
"Answer" is an amazing song to begin with, but has a haunted feel to it in this rendition. I really enjoy the direction they took with this song, making it almost like a rock-n-roll, electronic symphony. Again, this is also from the song Kingdom.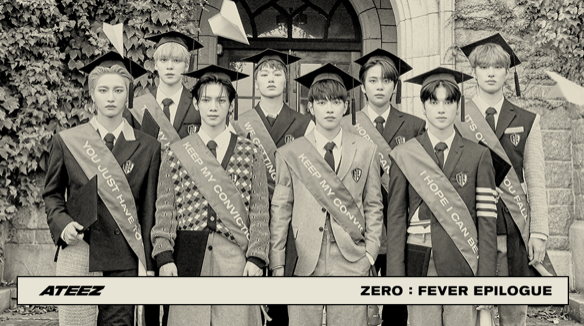 Outro: Over the Horizon: 9/10
ATEEZ makes their albums so thematic. In some K-pop albums, I skip the intros and outros, but ATEEZ always grips me with their versions. "Outro: Over the Horizon" was no different. With a rock-styled instrumental goodbye to the album, I felt myself getting a little choked up. These guys work so hard on their albums, and it really shows in how all the songs work together lyrically and melodically. "Outro: Over the Horizon" seemed to combine all of these traits into one song. I love the words spoken as well:
Desire, obsession, fear, hesitation, self-hatred, trauma, frustration, distortion
Standing on the edge of where our confusions have led us
We are gathered here
The tears and sweat we shed comes back to a river
And it pulls us to this vast world
Can we find it?
Wandering around with this unknown fever
We now rise towards a new path
To a place where I can find myself
To a place where our treasurе lies
It is beautiful spoken words like this that keep me returning. I always make sure when a new ATEEZ album drops to listen all the way through because of how interwoven it all is and the impact the outro/intro has when listened to in one sitting.
Final: 8.5
ATEEZ: FEVER EPILOGUE makes me want to listen to the entire FEVER album series all the way through. ATEEZ are the masters at theming and this album was a wonderful conclusion to their FEVER era. They chose to incorporate some of their best previously released work into one album, with the addition of a few new songs. However, the way in which they added the previously released work felt like almost new tracks! Going from Japanese to Korean and having remixes of some of their previous hits, it gives fans a chance to experience it in all new ways! What a gift to ATINY as we wave goodbye to FEVER!
—-Ellie Boyd
#ATEEZ #FeverEpilogue #Fever #newalbumrelease #ATINY #songremix #OutroOvertheHorizon #kpop #kpopidols #albumreview #Turbulence #BeWithYou #TheLetter #StillHere #Better #TheRealHeung #Wave #Wonderland #Answer #koreanverson #kcrushalbumreview #ZeroFever
Related Articles