The 2023 F/W Seoul Fashion Week took place at Dongdaemun Design Plaza from March 15 to 19. This year marked the event's 22nd anniversary, with 31 brands, including 23 Seoul-based designer brands, seven up-and-coming designer brands, and one domestic company brand, showcasing their work. Compared to the previous year, there was a 60% increase in order consultations, with the largest number of overseas buyers ever.
The show's highlights included the emergence of next-generation brands, which diversified the portfolio of K-fashion. There were many differentiating points from the designs of existing Korean brands that focused on 'colorful printing.' The show's composition underwent a positive change as well. Instead of a linear stage design, a circular shape was introduced to present a lively show that maximized visual beauty. Each brand completed a comprehensive art through stage directing such as concept, music, and model selection that fit the message, composition, performance, and lighting to enhance the message delivery power and double the impression. Music played a crucial role in determining the overall impression of the show. "Beyond Closet" selected music that fit the brand's image, and "Ul:kin" placed the ending performance of "Christian," a trending song by the hottest musician "Zior Park," to stamp the brand image. According to Korean media, the top five shows that buyers paid attention to and would like to see again included Ulkin, BLR BLUER, Beyond Closet, Seokwoon Yoon, and Ajobyajo.
Fashion is a comprehensive art. As a means of expressing ourselves, fashion is deeply intertwined with all elements such as K-pop and K-drama. After watching the five-day Seoul Fashion Week, I could clearly feel that Korean fashion designers have put in a lot of effort to lead the trend based on pride and responsibility for K-Culture. While all shows were held offline for the first time since the COVID-19 pandemic, Dongdaemun Design Plaza was crowded with fashionistas, officials, citizens, and celebrities from all over the world for five days.
K-fashion designers spread Dongdaemun's sensibility to the global market, providing fashion with fast and trendy sensibility unique to Korean culture, and expectations are high that the era of K-fashion will come. Dongdaemun is one of the must-visit places for foreign tourists. It is a place where many foreigners quickly reflect trends at an affordable price and enjoy the unique busy and friendly vibe.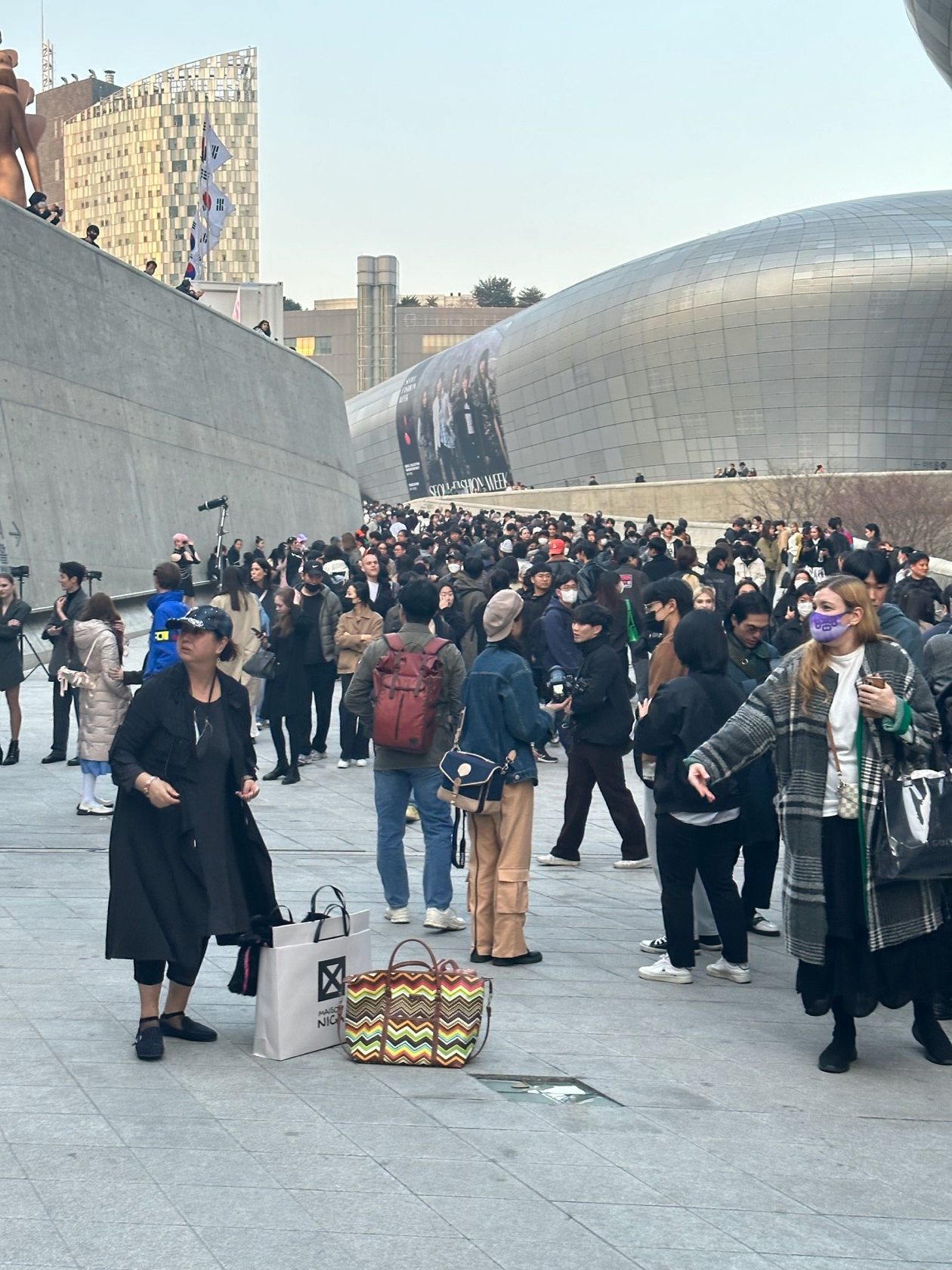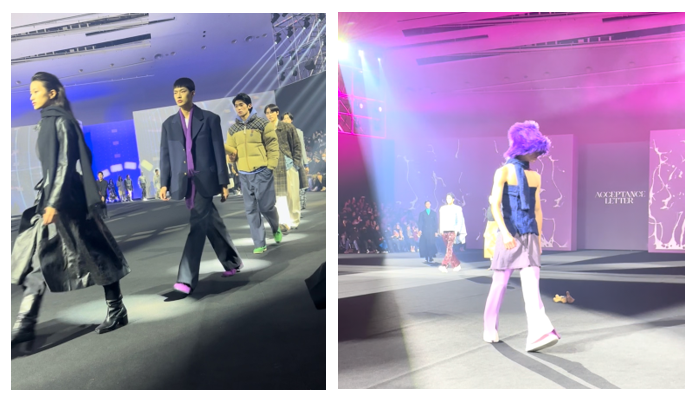 Below are the major shows that the author personally observed and interviewed:
Beyond Closet
Beyond Closet, launched in 2008 by designer Ko Tae-yong, is based on the American classic and preppy look, with the signature style of 'various colors and witty graphics and details'.
This season, Beyond Closet unveiled the 2023 FW collection 'Gallery NoWhy' of the collection label 'N archive'. 'N Archive' is a line that reinterprets elements of the 1990s American Ivy League with a modern sensibility unique to Beyond Closet. Under the theme of 'Every piece of ART is a serendipity', it awakened a special sense of improvisation.
Through the show, it introduced various styles of outerwear, adding vintage details and handmade patchwork to show its unique brand heritage. The mix and match of conflicting things, such as tailoring coats, camouflage pants, tuxedo suits and filing jumpers, and military coats layered over pea coats, attracted attention with classic elements in various variations. Overall, there are many designs that people want to wear on a daily basis, and they have received a good response.
In terms of the composition of the show, fashion was expressed as an artwork and directed with a concept similar to the Sotheby's auction house, conveying love and excitement for art. The music also stimulated sophisticated emotions and left a long aftertaste. Actors Si-yeon Park, Wook Go, Ji-so Jung, and Tae-seon Lee watched the show.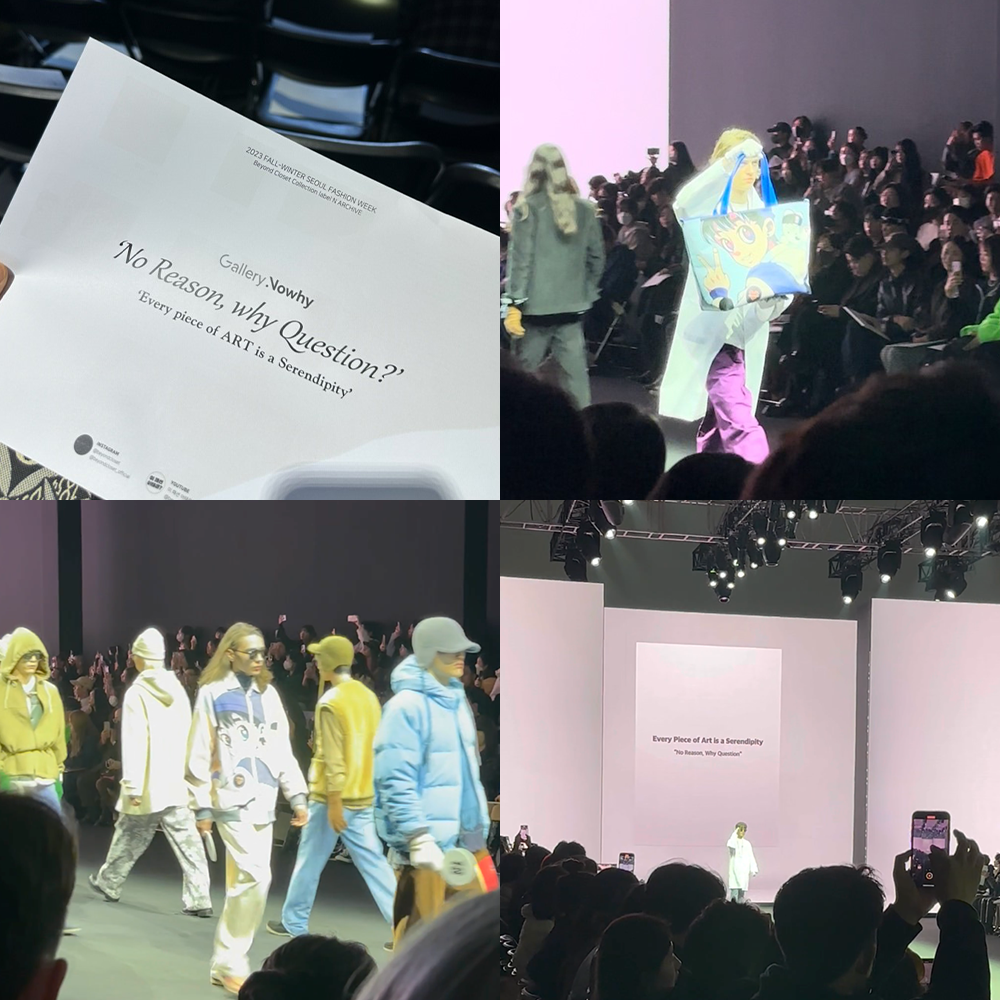 A brand launched in 2017 by designer Choi Kyung-ho from menswear and designer Song Hyun-hee from womenswear based on the bible, and with the brand philosophy of eco-friendly zero-waste, they present collections made using recycled and upcycling materials every season.
The theme of this collection, "Talent," was inspired by a passage from the Gospel of Matthew and contains the message "Let's live a fruitful life by growing our talents without burying them in the ground." The brand reinterpreted old school uniforms with various emotions from the wearers' school days, as only 650,000 school uniforms are thrown away in Korea in a year. Gray was the main color this time, with monotones such as white and black harmonized with point colors such as green.
Pleat details of the authentic preppy look were used throughout the skirt, top, and jacket hem, adding boldness with unbalanced cutting. The brand paid meticulous attention to all aspects, from the show composition to consideration for visitors, such as leaflets, and the designer finale. Many celebrities attended Holy Number 7's show, including broadcasters Seo Dong-joo, Ahn Hye-kyung, T-ara Qri, EXID Hye-rin, and f(x) Luna.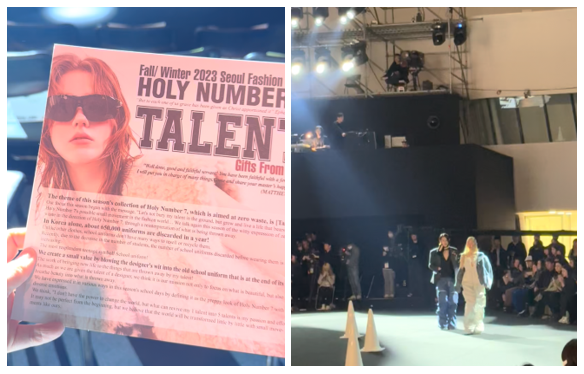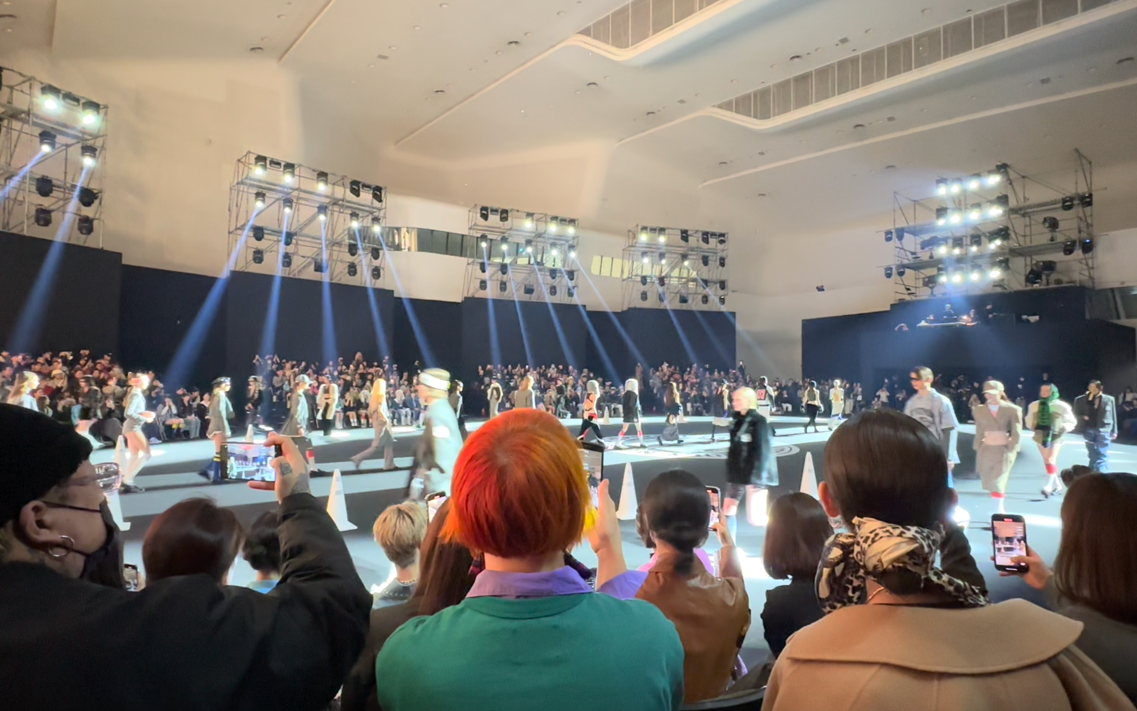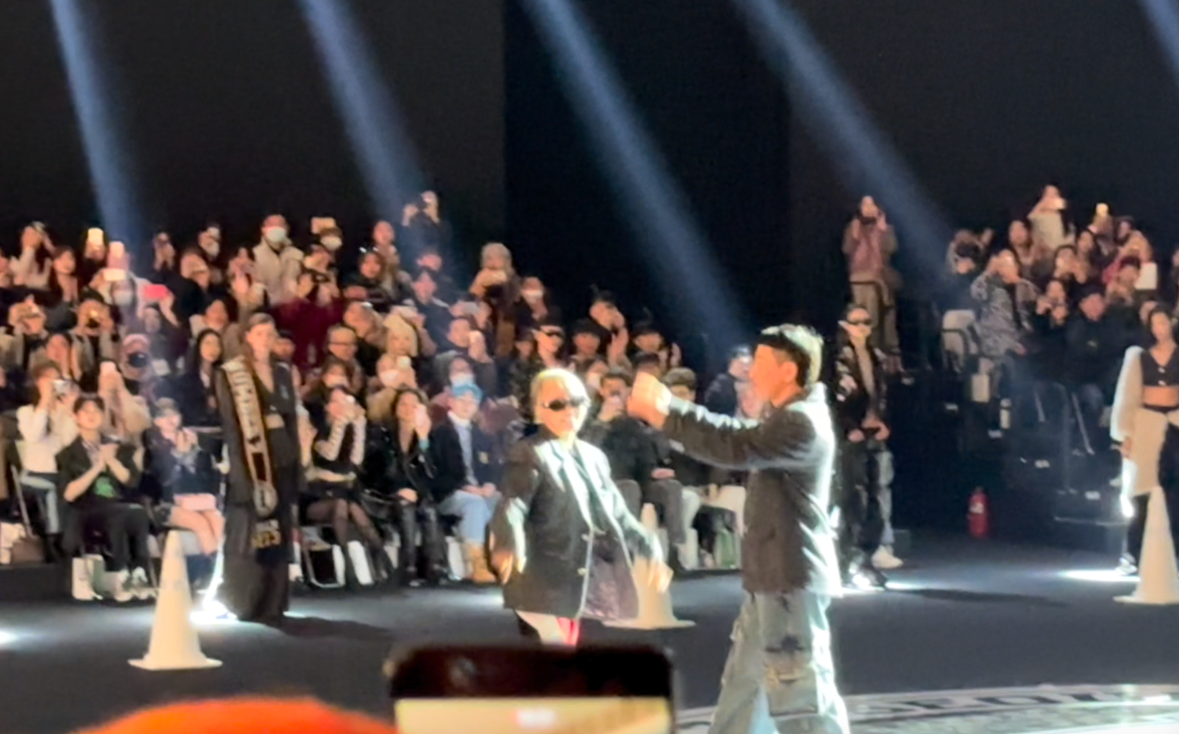 Big Park is a fashion brand launched in 2011 by Yoonsu Park, a first-generation Korean designer who has worked in the fashion industry for over 40 years and has set a record of 66 collections. The brand is known for its original and innovative designs.
Big Park decorated the finale of this fashion week, showcasing outfits inspired by men's clothing mixed with women's clothing, expressing one color, almost black, in different outfits with only material and design variation. Big Park's outfits were in contrast with the concepts presented by two Korean fashion giants, Caruso and Park Yun-soo, who interestingly just contradicted each other. Caruso conceived of women's clothing and broke the limits of men's clothing, whereas Park Yun-soo changed the femininity of women's clothing by incorporating the characteristics of men's clothing. After the fashion show, the finale fashion show was held to show off three representative works of all the brands participating in this fashion week.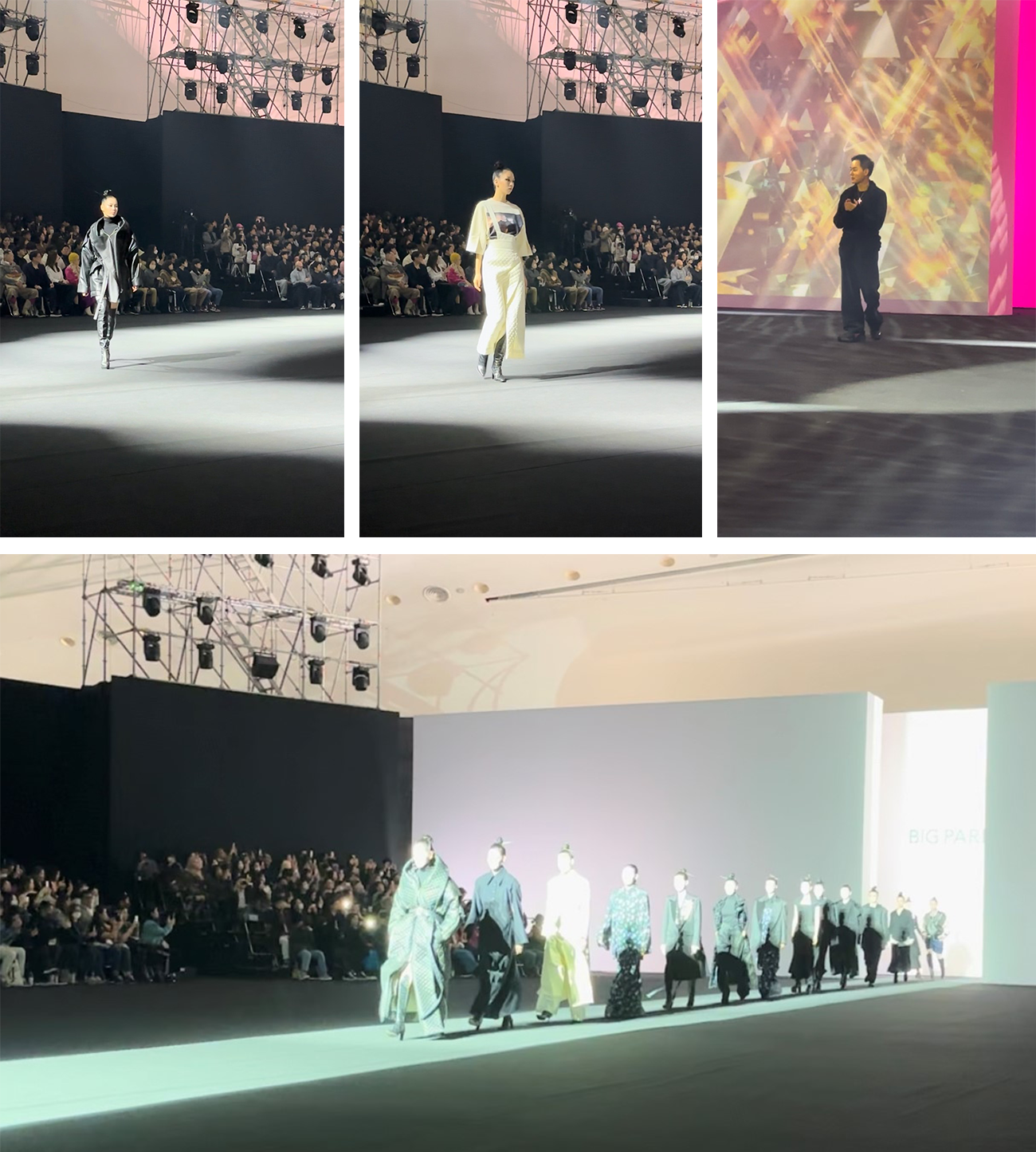 Iryuk is a fashion brand launched in 2018 by designer Woo-jun Lim. It rebels against mainstream fashion culture and expresses its uniqueness through creative ideas inspired by the number 26 and the word "takeoff." The brand aims to destroy gender and age customs and promotes an androgynous genderless look as its main characteristic.
Iryuk develops its brand through steady research and experimentation in pattern elements, fabric mix-match, and sewing techniques. It rejects habitual rules and stereotypes and destroys conventional things and compositional methods of making clothes. The brand's experimental motive of communication between fashion and philosophy results in designing new and creative ideas each season.
The models in the show maintained a genderless look, resembling wolf boys/girls raised in the wild, and expressed a strange charm as if they had digested the urban style of the city. The youthful beauty and mature feel of the suit were well mixed, creating an attractive look. The brand mainly used gray, khaki, and beige tones to create an urban feel. Overall, Iryuk continues to experiment with its unique ideas and pushes the boundaries of fashion.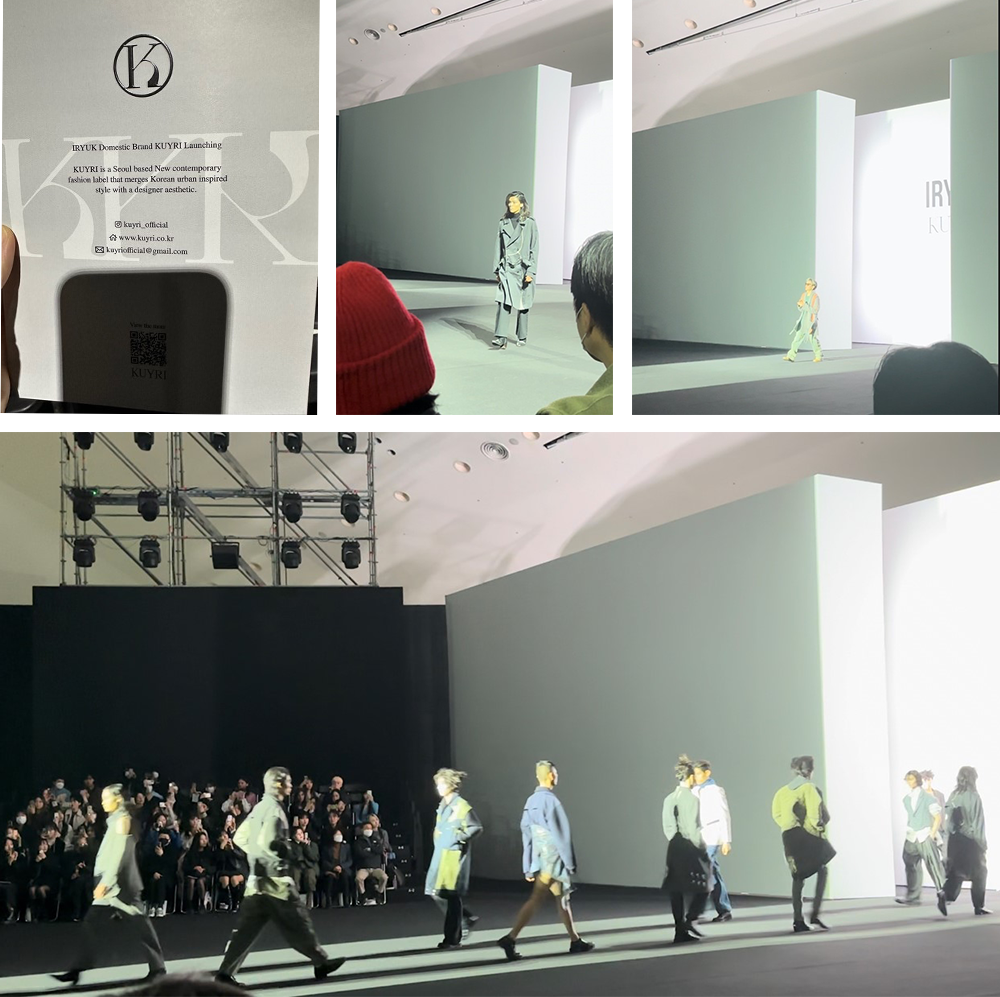 Ul:kin
Ulkin is a luxury upcycling brand that was launched in 2014, with a focus on eco-friendly values and using discarded paintings in their designs.
This year, the brand's opening stage received the highest score from the judges for selecting participating brands, and Ulkin's emotions were expressed well through the finale performance by Zior Park, the hottest musician in Korea these days.
Ulkin's stage created the feeling of announcing the birth of a new era. The stage was staged with an expressionless yet strong concept, as if expressing the surviving generation remaining in a dystopia devastated by zombie attacks. They showed strong and dynamic fashion, as if choosing clothes as a means of expressing oneself in a world where emotions should not be expressed through facial expressions. The main items used military patterns, and the brand experimented with a minimal style with black, white, and gray achromatic backgrounds.
At the show, B.I. from iKon, Risabae, Seo Ji-su from Lovelyz, and Dancer Cheetah attended.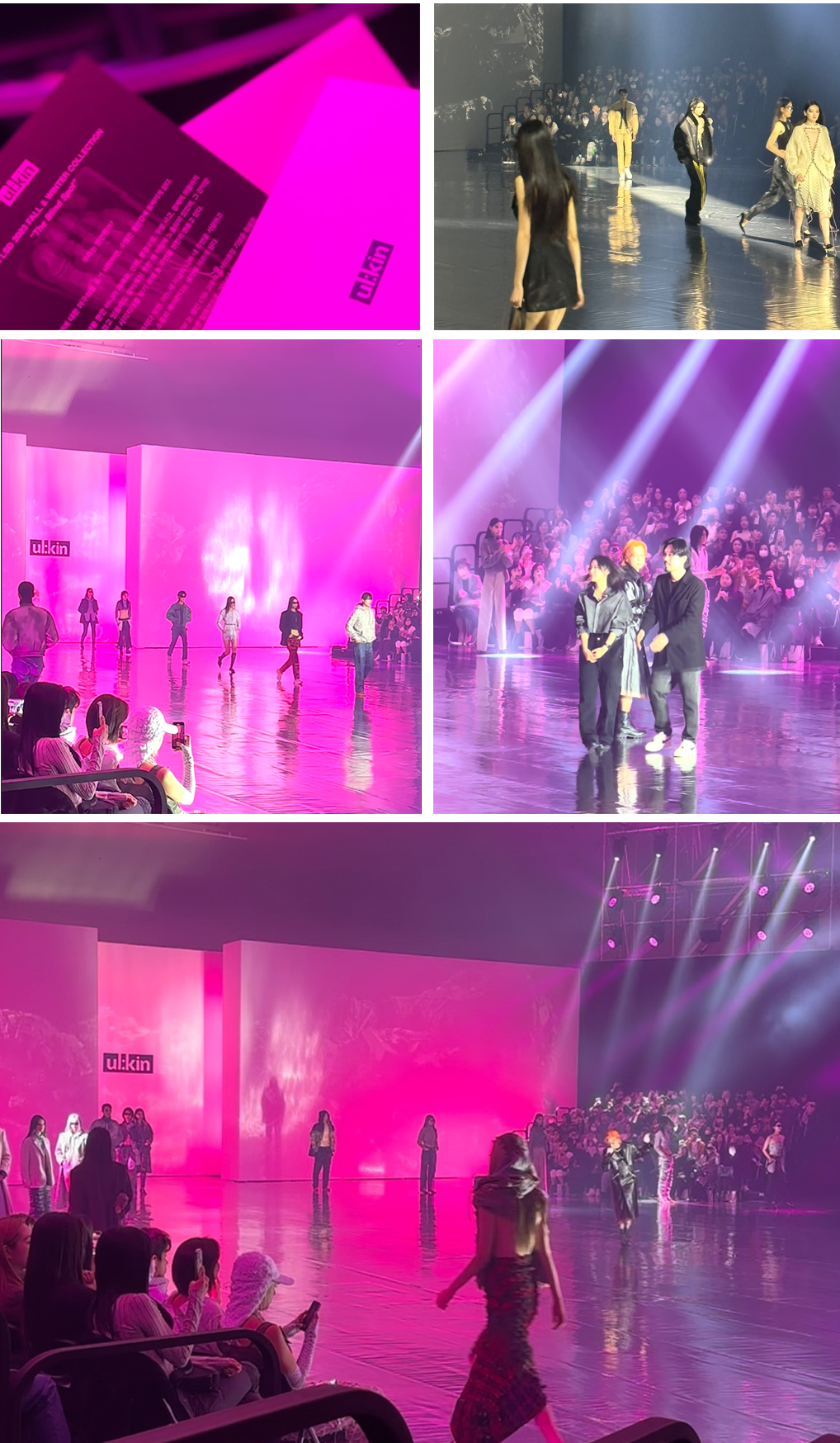 Seokwoon Yoon
Seokwoon Yoon is a designer who launched his brand in 2017 and entered the Busan Creative Studio of the Busan Institute of Design Promotion.
This season, the brand showed a concept that reminds us of the Revolutionary Army and introduced black, white, and gray-toned outfits with unique creative draping and emphasized details. The collection showcased a modern and commercial sensibility.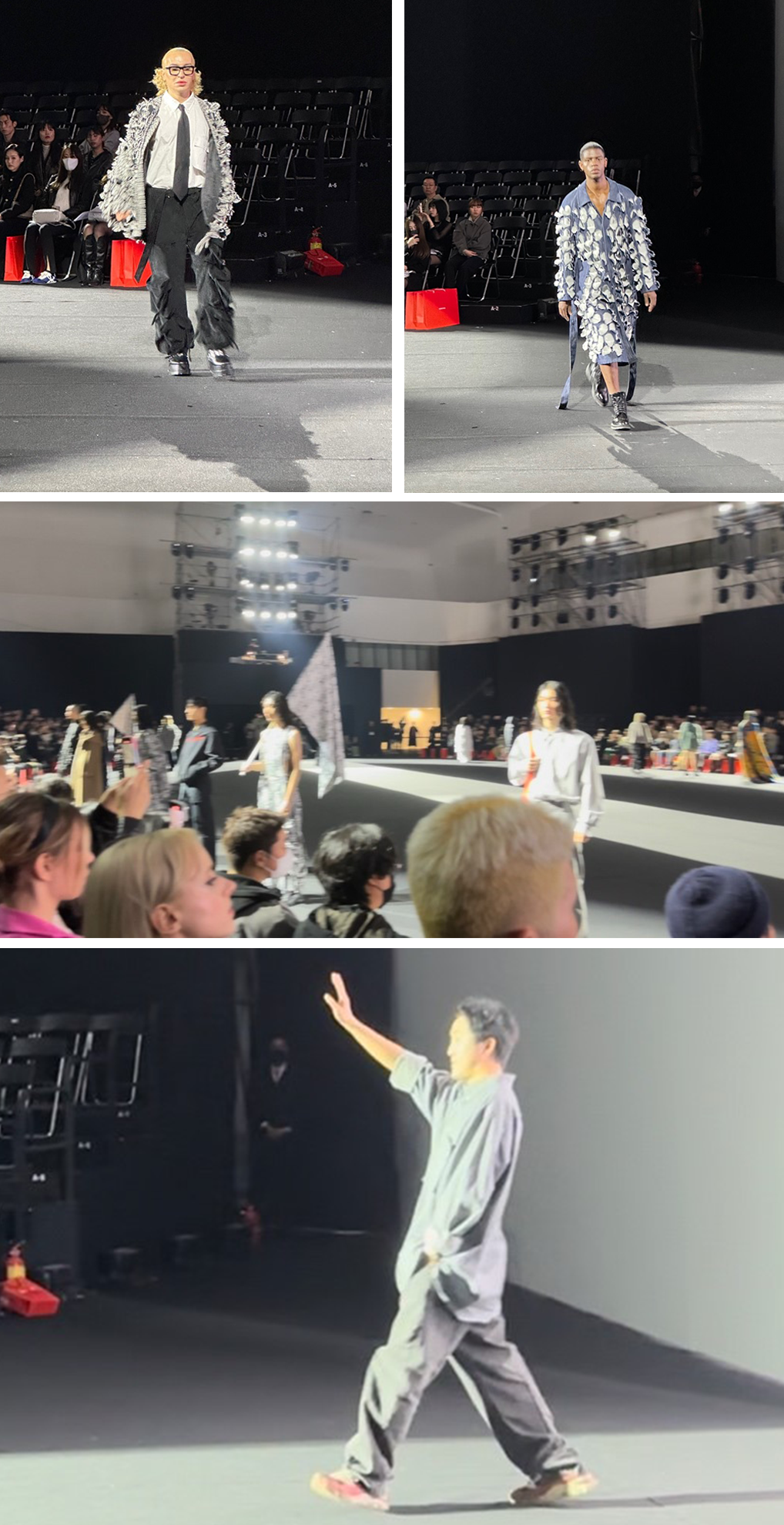 Caruso
Caruso, led by designer Chang Kwanghyo, has been Korea's leading menswear brand since its establishment in 1987, and is celebrating its 32nd anniversary this year. The brand, which broke the dominance of women's fashion in Korea, has produced stage costumes for top stars like Cho Yong-pil, Seo Tai-ji, and Fire Truck, and has made a significant impact on the Korean fashion industry.
This year's collection is inspired by Chang's passion and effort to revitalize fashion as a newcomer, and features the concept of "Almost Magenta" infused with the latest trends and sensibilities.
The 23SS collection's theme of "Genderless and Sportism" continues in this season's designs, which blur the boundaries between genders. The collection includes unconventional items such as long skirts, tops, fur hats, and wedding dresses inspired by hanbok scrolls, as well as long skirt pants made by disassembling and attaching jeans with intense colors such as red and violet. Actor/Entertainer Hong Seok-cheon and trot singer Song Ga-in were among the attendees.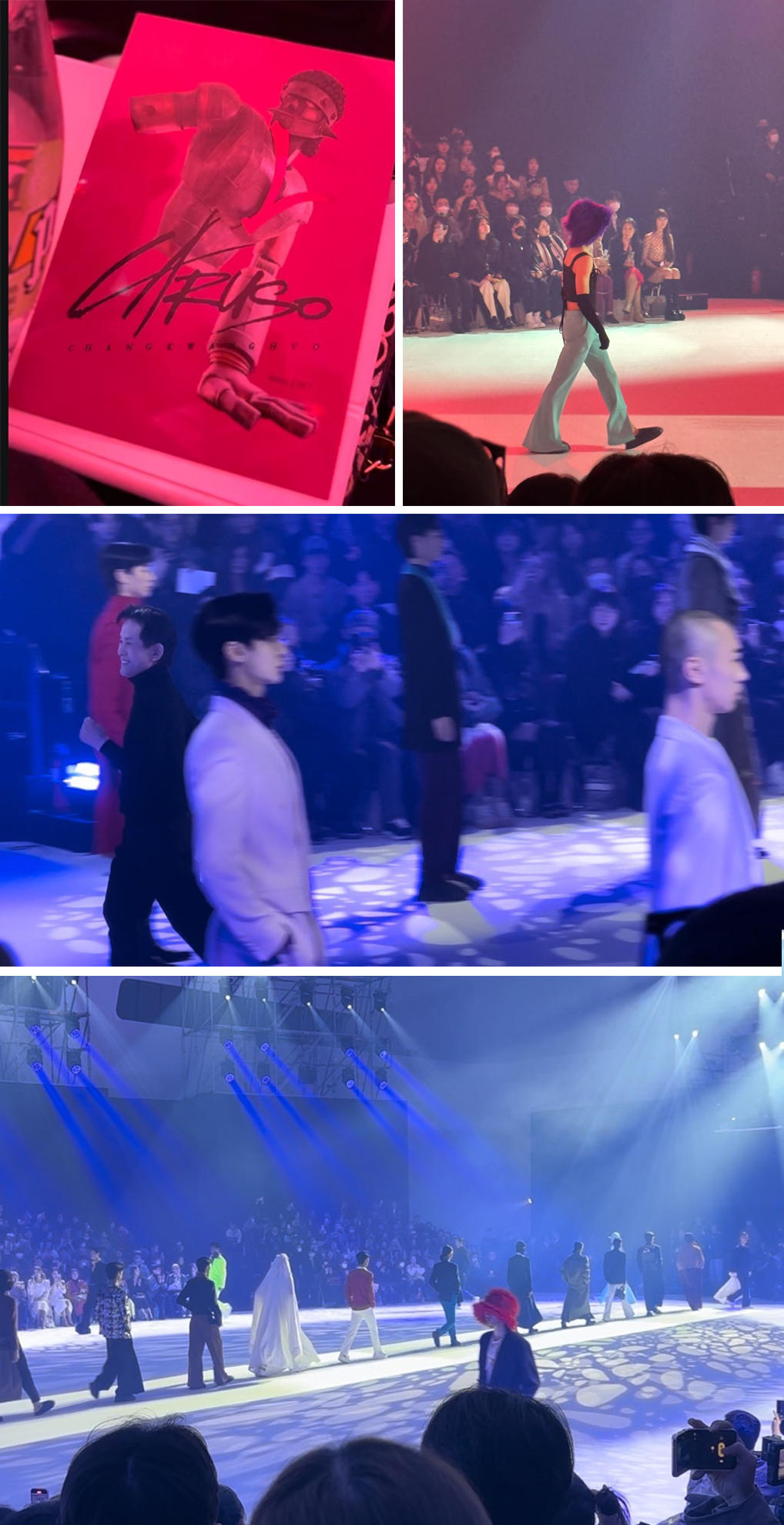 Tibaeg
Tibaeg, a women's fashion brand launched in 2011 by designer Cho Eunae, features emotionally layered prints in a feminine atmosphere. The brand's offline stores, such as Doota, helped it evolve into a collection brand, and it began exploring overseas markets in 2015.
Tibaeg's theme for this season is Euljiro, a space that has been attracting attention from young people over time. Tibaeg expresses this space, which connects Seoul's past and future, with a sympathetic and romantic aroma that transcends generations. This season's collection adds street sensibilities to romantic fashion, creating a mysterious style by mixing old and new charm. The overall girlish design is presented in an oversized silhouette, with items that exude a girlish yet idyllic atmosphere. Singer Eugene from the 1st generation girl group SES and her daughter Rohee, as well as Kwon Jian (Solbi) and Nancy Lang, attended the show.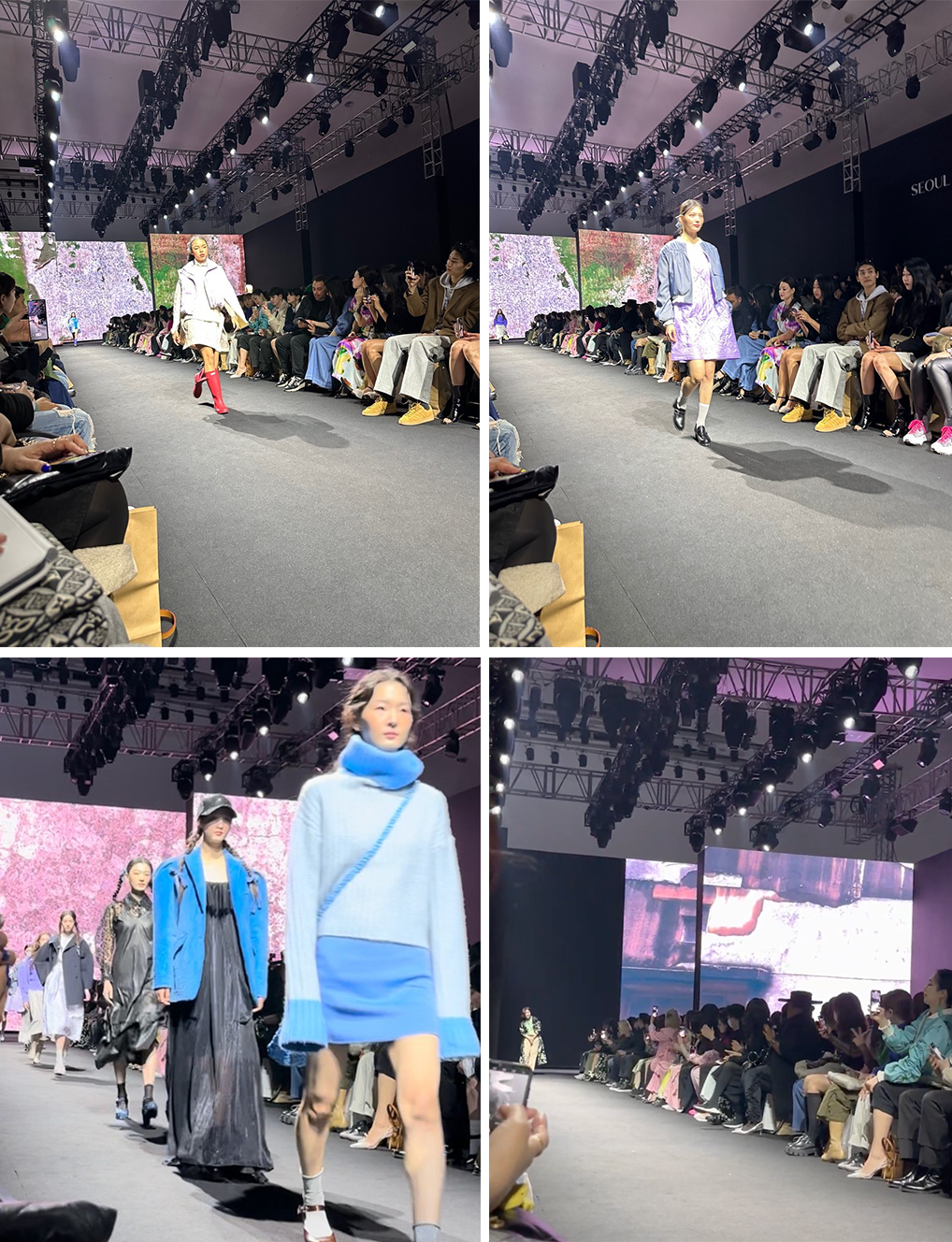 —-Jiyoung Lee
#FashionWeek #2023FallWinterSeoulFashionWeek #kcrushnews #kcrushinterview #DondaemunDesignPlaza #KFashion #kcrushmedia #genderlessfashion #BeyondCloset #designerKoTaeyong #GalleryNoWhy #kcrushcoversfashionweek #NArchive #SiyeonPark #WookGo #Ji-so Jung #TaeseonLee #actorswatchedtheshow #HolyNumber7 #ChoiKyungho #menswear #DesignerSongHyunhee #womenswear #basedonthebible #Talent #broadcasters #SeoDongjoo #AhnHyekyung #TaraQri #EXIDHyerin #f(x)Luna #BigPark #kcrushamericamagazine #YoonsuPark #firstgenerationkoreandesigner #IRYUK #designerWoojunLim #takeoff #expermentalfabrics #ULKIN #ZiorPark #luxurybrand #iKonB.I. #iKon #Risabae #LovelyzSeoJisu #Lovelyz #DancerCheetah #SeokwonYoon #BusanCreativeStudiooftheBusanInstituteofDesignPromotion #Caruso #designerChangKwanghyo #23SSCollection #genderlessandsportism #Actor/Entertainer #HongSeokcheon #trotsingerSongGain #Tibaeg #designerChoEunae #Doota #Euljiro #transcendsgenerations #romanticfashion #SingerEugene1stgenerationgirlgroup SES and her daughter Rohee #KwonJian #(Solbi) #NancyLang
Related Articles