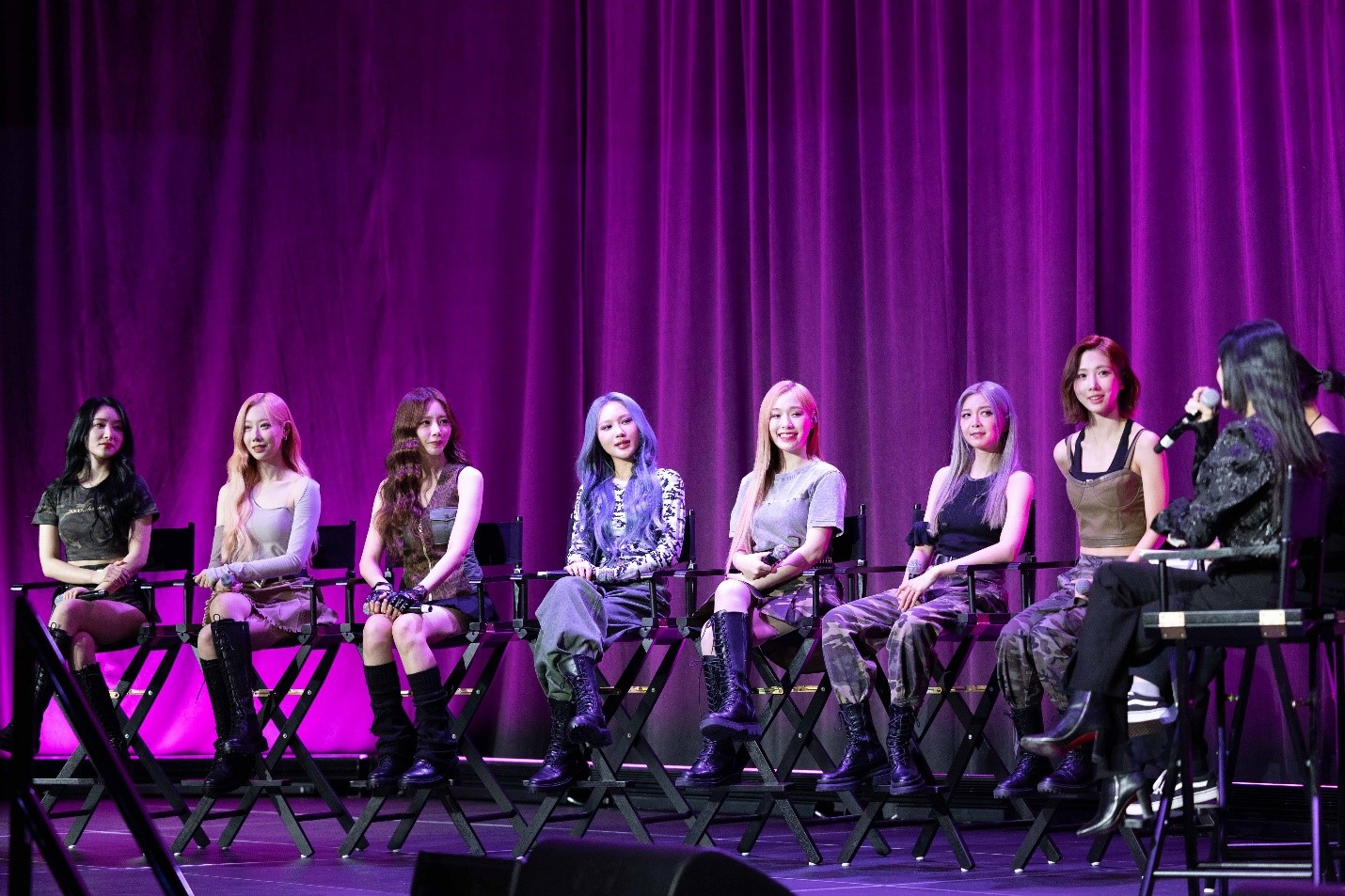 On the weekend of April 21, Infinite Prospects Entertainment presented their inaugural We Bridge convention, a three-day expo held at Las Vegas' Mandalay Bay and MGM's Michelob Ultra Arena.
Molded in the same spirit of KCON, the We Bridge experience gave attendees much to consider on its first go-'round. Despite having a corner on the market for a decade, KCON isn't the only festival to offer fans an opportunity to interact with South Korean culture. Where We Bridge differentiates itself from the Hallyu juggernaut is in the breadth of cultural interaction: live mural paintings from gifted painters, an array of culinary offerings from East Asian-owned shops and restaurants, a variety of fashion brands and fan engagements and, of course, a two-night Hallyu concert. The intention and execution certainly lay the groundwork for something with astonishing potential.
Though the convention aspect of We Bridge is unique in its ambition, the concert is straightforward. With the shadow of its predecessor looming, the folks at Infinite Prospects certainly had a heavy lift. What they manage to pull off is nothing short of incredible.
Night One: The Ladies Carried
The first night is essentially the testing ground for this grand experiment. How will this concert stack up against the multitude of festivals and solo concerts that crop up around this time of year? With a lineup featuring some of the most recognizable and bestselling fourth-generation K-pop artists in the past few years and venerated second- and third-generation acts, forget a tentative step. We Bridge kicks the damn door open.
First up, CIX. The five-member group opens the evening with undeniable energy. Even the group's interpreter is fully invested in the moment, translating each member's interactions with the kind of enthusiasm you'd expect from someone standing center stage instead of off to the side.
Next is ONEUS. Their energy is just as infectious as CIX, but there's a surprising aggressiveness to their stage. Mics are fully on. The audience can hear the proof of their exertions after each song, the heavy inhale-exhale of the effort they put into every aspect of their performance. That being said, their vocal dexterity shows zero signs of diminishment despite their power-forward choreography. But hold that thought.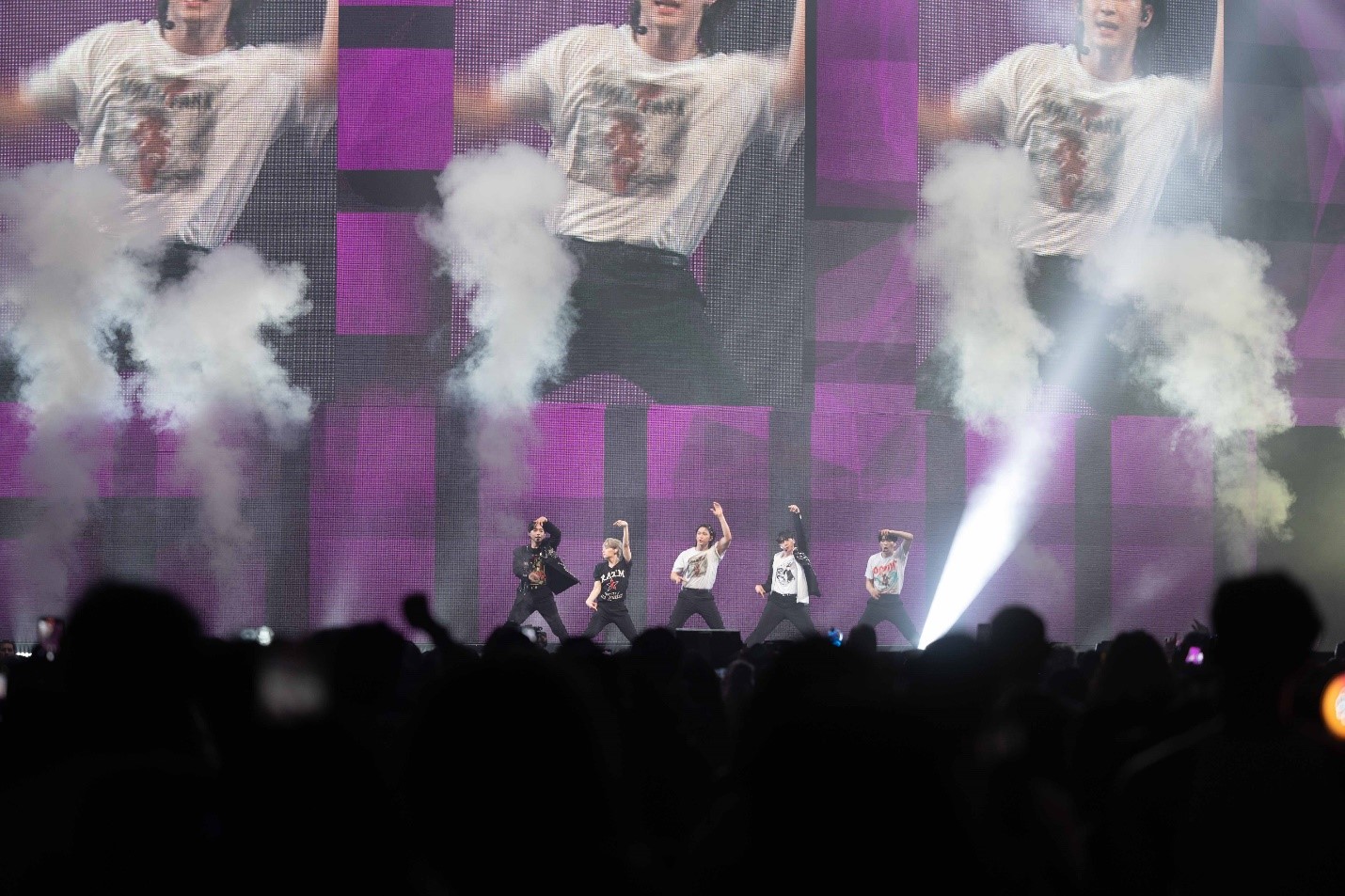 Dreamcatcher alights the stage and proves to be the first true highlight of the night. This high-octane all-woman septet is immaculate. Their voices are impressive, powerful even in the obvious loveliness. Harmonies that would put many girl acts to shame and make some of the vocal-forward second-generation artists beam with pride. Their pop-tinged rock stage shows the duality of what it means to be a woman in the industry. While aesthetically erring on the side of expectation (cute, bubbly personalities), when the music really comes to life, these industry veterans are absolutely activated. Their nearly ten years of experience means when they hit the stage they light the f*cker up! Their voices were built to do damage, and they have concertgoers in a chokehold from first note to last.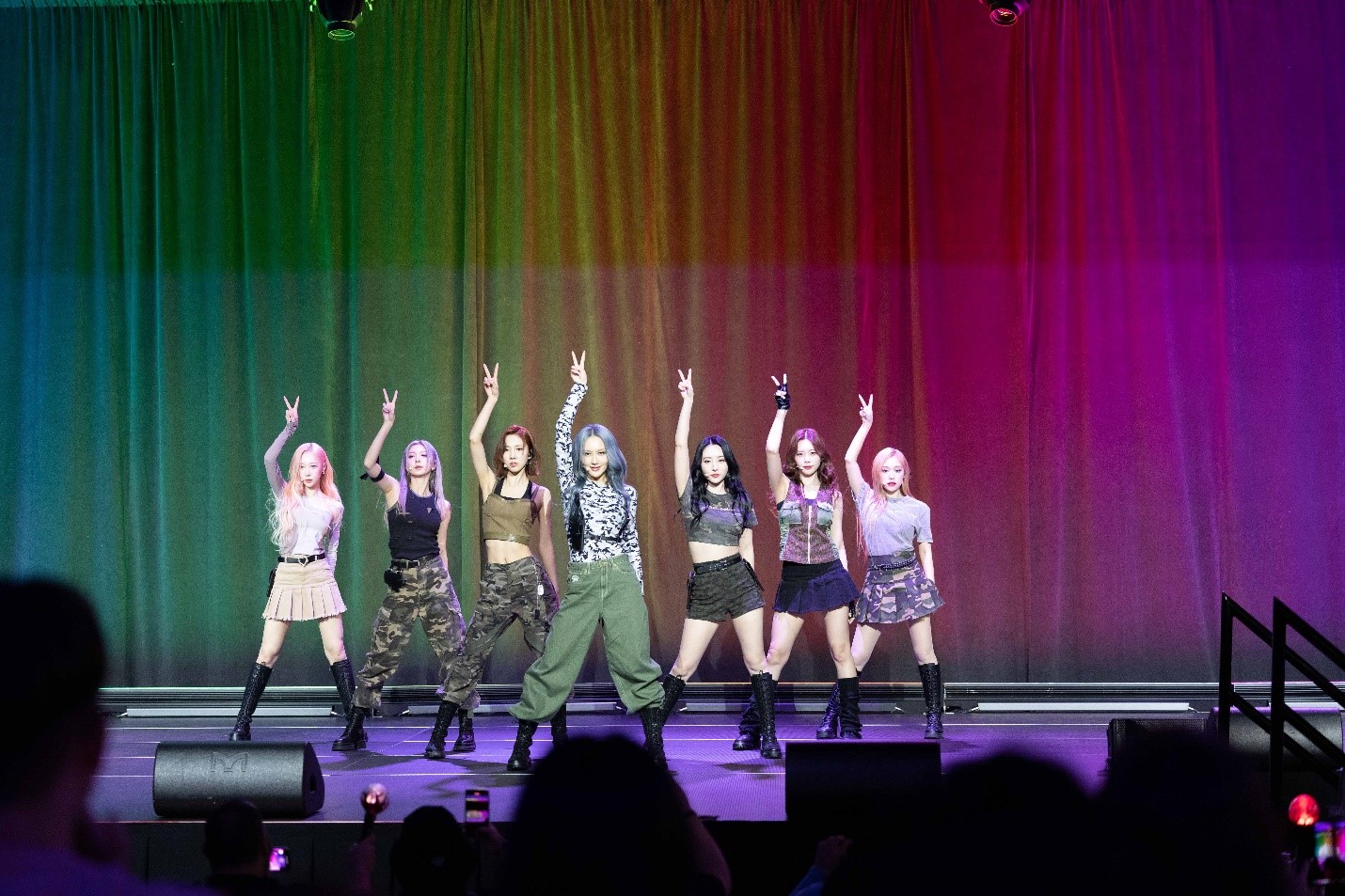 Kang Daniel is next, and he has quite a task ahead of him. (Dreamcatcher didn't leave much when they walked off the stage, the mics left in cinders.) It's clear from the second song that Daniel's a little worse for wear. Up until that point, every single act's mic was on. The audience audibly hears them huffing for breath after each song; however, after his first, Daniel struggles. The lingering effects of an aggressive bout of COVID-19 late last year make their presence known as he attempts unsuccessfully to catch his breath after the fast-paced opener. Unfortunately, that colors the rest of his performance. He relies more heavily on the backing track than any other artist, eventually allowing it to do most of the vocalizing for him. It's truly heartbreaking to witness.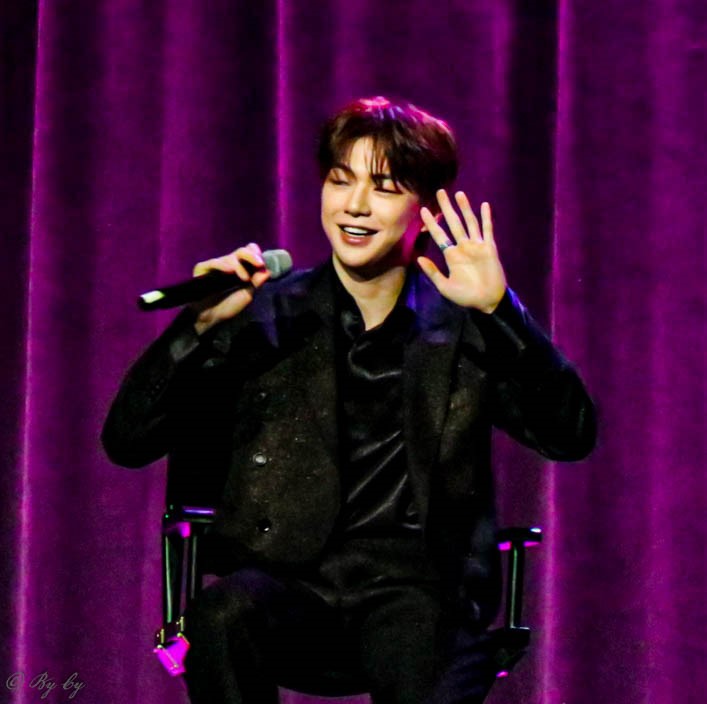 After his final song, his face carries his disappointment. He exits the stage quickly, more of an attempt to find a way to regain oxygen after giving his all. Daniel is a talented young man who, like his peers, only wants the best for his fans and the audience. He's undeniably in love with performing and gives so much of himself on the stage. Here's hoping his next foray is less physically traumatic.
Then…Jessi. Again, we'll get back to her. Just know that this woman has earned every ounce of adoration and respect she's spent the better part of two decades cultivating. Jessi is nothing to play with.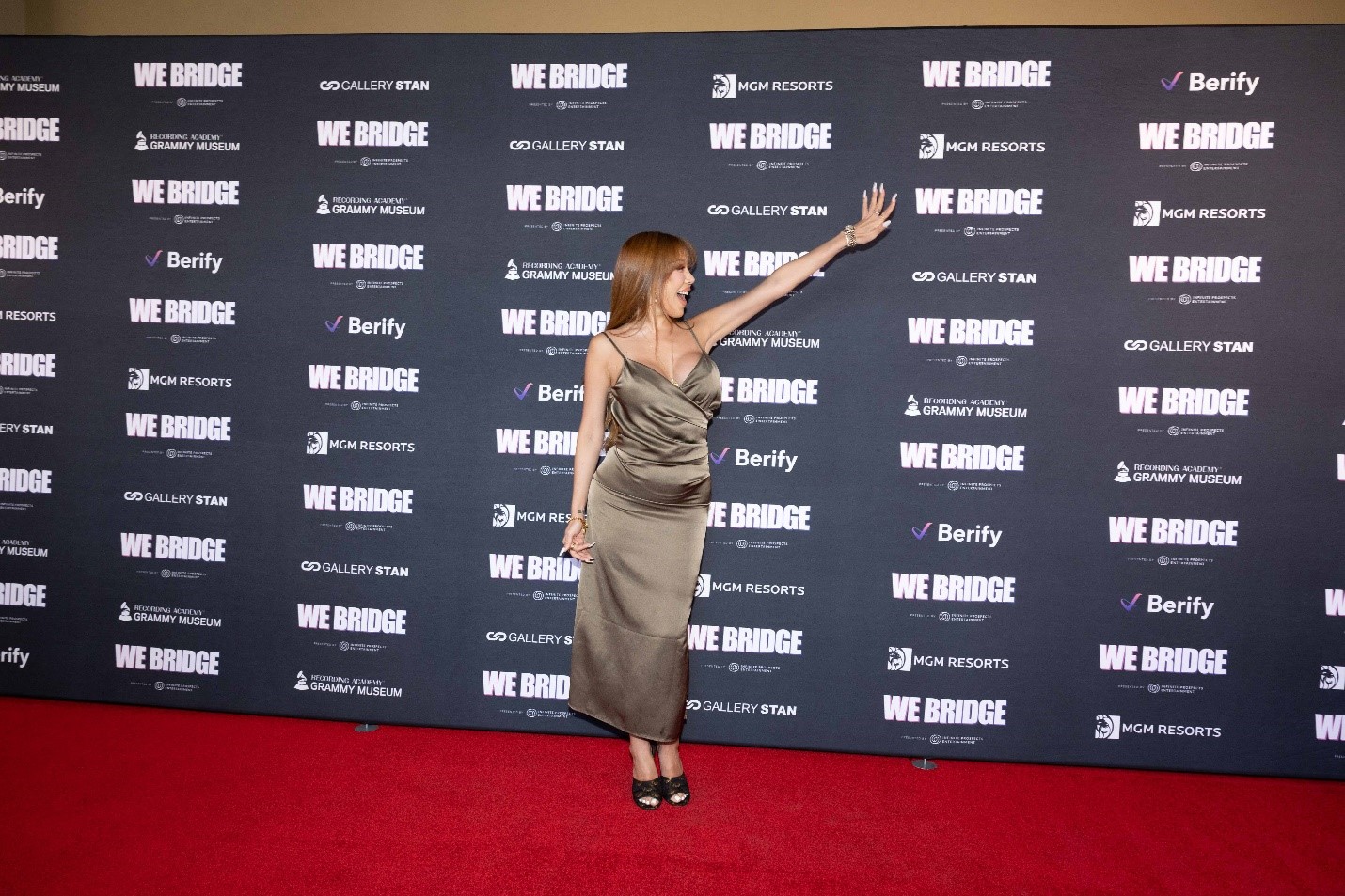 MONSTA X is night one's headliner. Down two members due to conscription (one of whom was discharged the day before the concert), they had to do a bit of lifting. Turns out fans of the sextet needn't have worried about their ability to own the stage. Their performance was high-octane from start to finish. After their final track, it was clear they were not ready to relinquish the stage. MONSTA X is the only act to gift fans an encore. They reprise party track "ZONE," and the crowd is more than happy to match their energy.
Now, when I say the ladies carried, I mean the ladies carried. The groups certainly brought immense energy, and Kang Daniel did his very best. However, Dreamcatcher changed the game with their performance (no doubt being an unconscious catalyst for what happens on night two). They came out swinging from note one, tight harmonies wrapped around gut-twisting guitar riffs, head banging that would give traditional rockers a slipped disc. They obliterated that stage.
So, Dreamcatcher left the mic smoking; then Jessi came to make sure the damn thing was broken. She opened her performance with "What Type of X." 'Nuff said. From the start, she had the audience positively gagged. Louis Vuitton outfit on full display, an attitude that could paralyze a body-builder, when Jessi laid into a string of her most notable hits, it was like a punch to the face. She was relentless. Despite some self-deprecation about her age, she gave all the younger performers that came before her a run for their money. However, don't mistake her self-confidence for arrogance. There are few redemption arcs in K-pop more inspiring than Jessi's. She has the humility of someone who's had to struggle to get where she is, and now that she's here, she refuses to give up her spot. She takes everyone in the Michelob Ultra Arena along for the ride, interacting with fans one-on-one, reading signs, proclaiming her love to her supporters.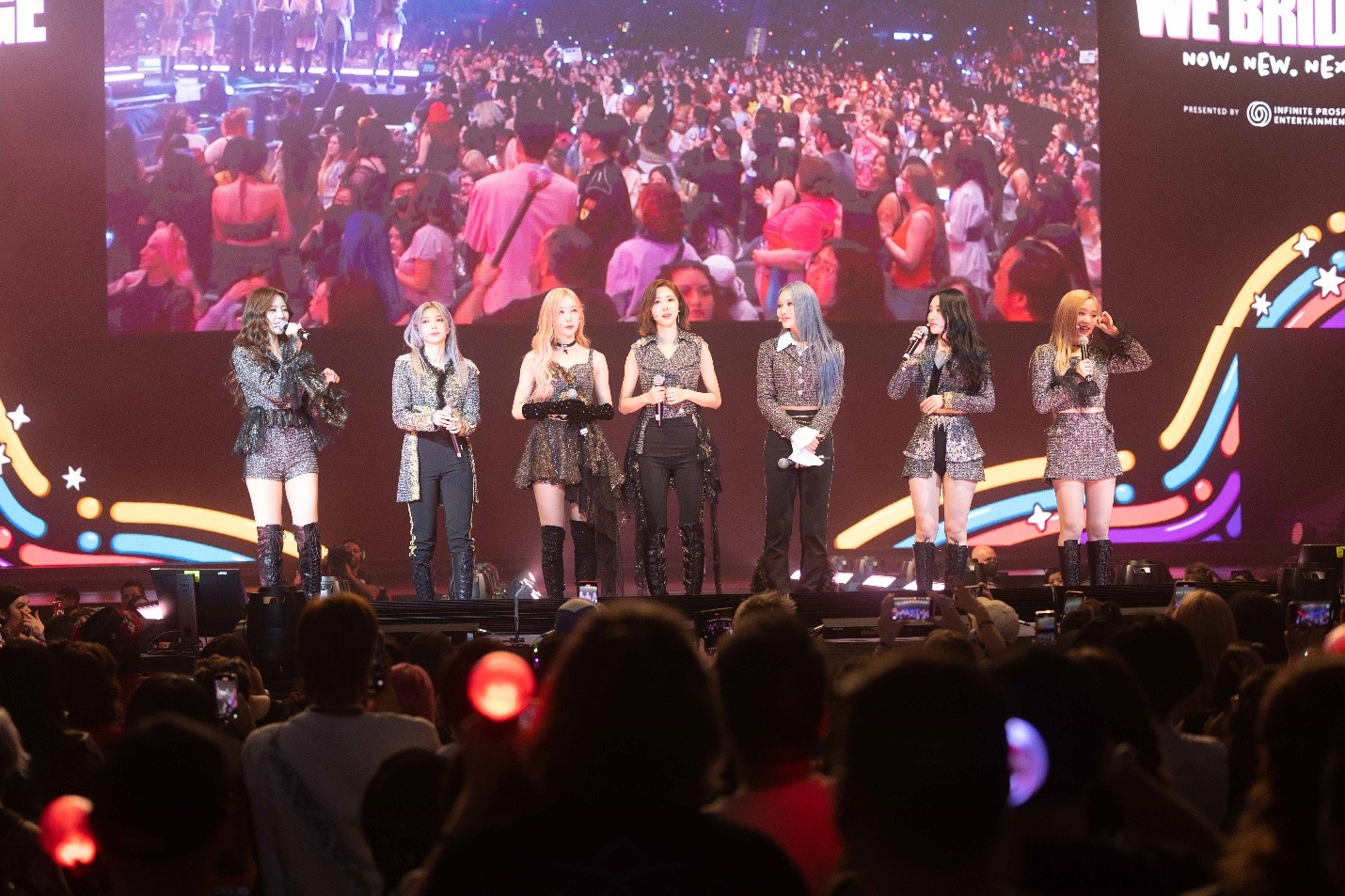 Without the combined Girl Power of Dreamcatcher and Jessi, the concert would've been nice, but these women made night one unforgettable.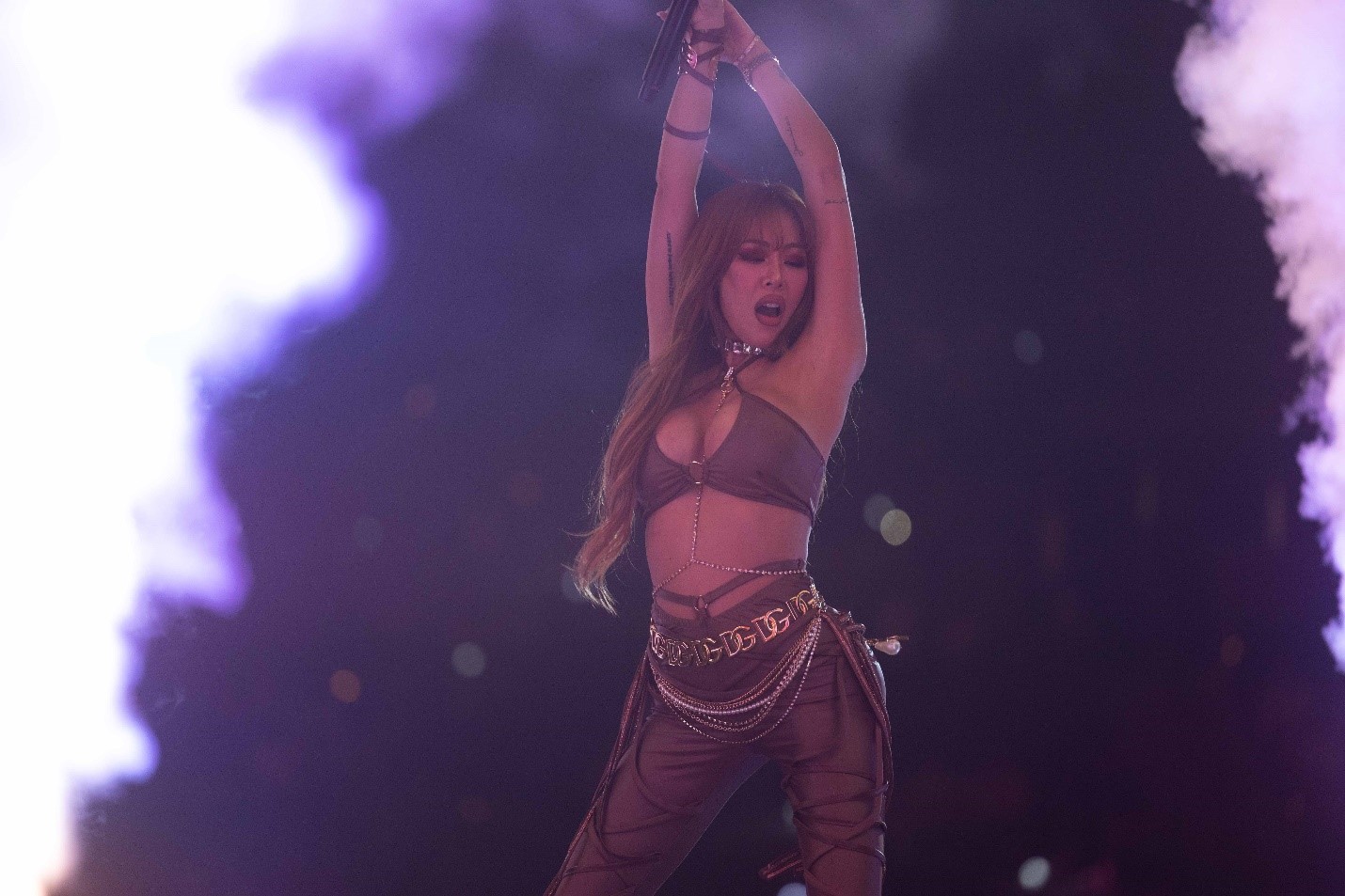 By Cy White
#WeBridgeMusicFestivalandExpo #kcrushcoverage #kcrushnews #MONSTAX #JESSI #DREAMCATCHER #KangDanial #BamBam #festival #expo #Asianfestival #inaugural #kpop #kpopmusic #GrammyMuseum #GrammyMuseumStage #twonighthallyuevent #hallyu #kcrushamerica #InfiniteProspectsEntertainment #MandalayBay #LasVegas #MGMMichelobUltraArena #CIX #ONEUS #newasianevent #Asianculture #kcrush
Related Articles