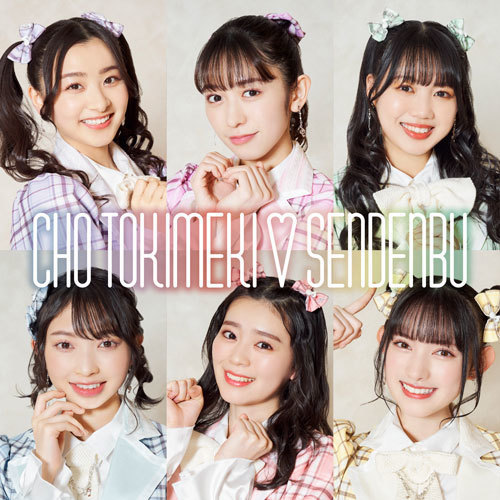 Japanese idol group Cho Tokimeki♡Sendenbu, who became a worldwide sensation with over 2 billion plays of their song 'Suki! ~Cho ver~', have released a digital EP titled 'Zettai dayo', their first new music release in three months. The title track of the EP was first unveiled at a special live performance at Tokyo's famous Nakano Sun Plaza venue on December 24 and 25, 2022, a pair of shows titled Cho Tokimeki♡Sendenbu no Doki Doki Christmas Party 2022.
'Zettai dayo' is Cho Tokimeki♡Sendenbu's first winter ballad, a love song set to a glittering melody that playfully laments the coldness of winter when that special someone isn't around to keep you warm.
The EP also includes the English and Korean versions of 'Suki! ~Cho ver~', which has already racked up over 2 billion plays on social media and streaming services. The original version of the song hit No.1 on TikTok's chart in South Korea, and went from there to Indonesia, where it was No.1 on Spotify's Viral 50 Indonesia ranking. Outside of its massive success across Asia, the track even charted in countries such as South Africa. Meanwhile, in 2022, artists in Japan and from around the world including ITZY and LE SSERAFIM took to TikTok to share their own dance videos.
A 'Performance Video' for 'Zettai dayo' has been published on the group's official YouTube channel, to be followed on February 6 by the 'Self cam & Dance' video for 'SUKI! English ver.' The runaway success of 2021 hit 'Suki!' shows no signs of slowing down in 2023!
Watch out as Cho Tokimeki♡Sendenbu and 'Suki!' continue to take over the world.
About Cho Tokimeki♡Sendenbu
Locking on to your heart! Cho Tokimeki♡Sendenbu is a six-member idol unit starring Stardust Promotion members Kanami Tsujino, Julia Ann, Hitoka Sakai, Haruka Koizumi, Aki Suda and Hiyori Yoshikawa, who take the concept of "burning love and fresh youth" to the world. Their song 'Suki! ~Cho ver~' has topped the charts on TikTok and streaming platforms not only in Japan but around the world ♡
Further information
WEBSITE | YOUTUBE | INSTAGRAM | TWITTER | TIKTOK
#ChoTokimekiSendenbuZettai #Japanesegirlgroup #Japan #kcrushnews #sixmemberidolunit #StardustPromotion #KanamiTsujino #JuliaAnn #HitokaSakai, HarukaKoizumi #AkiSuda #HiyoriYoshikawa #SukiChover #Jpop #Jpopidol #Zettaidayo #newmusic #newdigitalrelease #kcrushamerica #kcrusharticle #musicstreamingplatforms
Related Articles