What About A.CIAN?
A.CIAN are a South Korean boyband, who debuted in October, 2012, under the company ISS Entertainment. Their name is a combination of "Ace of Asian" and "Magician", A.CIAN can also mean "Asian Musician", which is meant to represent the best singers of the Asia continent. Their fandom name is called A.URA., their fans are the light that shines for them. Even though, they don't have much success in South Korea, their song "Ouch" gained some recognition both nationally and internationally.
A.CIAN was originally formed with seven members, however, many of them have left, including their original leader. Some new members were added too. As of now, they are four: Hyeok Jin (Lead Vocal), Jung Sang (Rapper, Choreographer), Jin.O (Main Vocal), Sang Hyeon (Lead Vocal). Their past members are: Seul Gi, Se Hee, Crooge, Lo-J (Ex-Leader) and Chan Hee.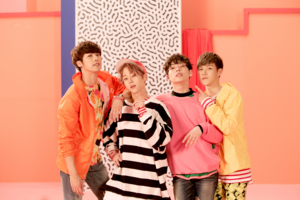 Their discography includes two mini-albums: "Stuck", released in 2012 and repackaged as "Hit"; and "Ouch", released in 2014. Both albums were promoted by its title-tracks. "Stuck" is the group's debut single. A.CIAN also has two single-albuns titled "Love At First Sight" (2013) and "RelAcian" (2015). Throughout the past two years, the group released digital singles: "So Happy Together" (2014), "Somebody To Love" (2015), "Magic Girl" (2015), "Driving" (2015), "Just Leave" (2015), "Mixed-Up" (2015). They made a comeback this year as a quartet with the song, "Touch".
If having members problems wasn't enough, A.CIAN also had drama with their companies, changing two times. During their rookie years, A.CIAN was promoted under ISS Entertainment however, with the leaving of members, they changed it to Mono Music Korea. Mono Music is a famous music label from Thailand, known to promote Thai-Pop groups such as Candy Mafia, Evo9, G-Twenty, CupC, among others. Unfortunatly, Candy Mafia and Evo9 disbanded recently. A.CIAN seemed happy with their partnership with Mono Music, but since their ex-leader left, they changed again to Wings Entertainment.
With this new comeback, the boys wanted to rebirth, creating new social media accounts so they could start over again, leaving the past behind them. It's a new era for the boys. Their new song "Touch" has a very vibrant and colorful theme, it's an uptempo catchy pop tune in the likes of B1A4. I hope that this year they can gain a lot of success.
Are you happy to see A.CIAN's comback?
—-Ped Ruh
Related Articles