Dami Im is a Korean-Australian singer and songwriter, who was born and raised in South Korea. When she was nine years of age, she and her family moved to Brisbane, Australia while her father stayed in Korea to support them.
Dami started learning the piano at the age of five; taught herself how to sing by imitating professional singers and having her mother as an opera singer must have influenced her musically since an early age.
Dami began studying at the Young Conservatorium of Music program at Griffith University from the age of eleven. She was a national finalist in the Yamaha Youth Piano Competition, winning the Nora Baird Scholarship and the Queensland Piano Competition several times.
In 2009, Dami graduated from the University of Queensland with first class honors with a Bachelor of Music and completed her Masters of Arts degree in contemporary voice at Griffith University.
Dami Im is probably best known for winning the fifth season of The X Factor Australia in 2013, and she was signed to Sony Music.
Dami was a music and piano teacher before auditioning for The X Factor and also had a brief career as a gospel singer in Korea.
After winning The X Factor, Dami released her debut and winner's single "Alive", which debuted at number one on the ARIA Singles Chart.
Her self-titled second album also debuted at the top of the ARIA Albums Chart and became certified platinum by the Australian Recording Industry Association.
Dami is currently the first X Factor Australia contestant to follow up a number one single with a number one album on the ARIA Charts.
Dami has cited K-pop music as an inspiration to her passion for music and she says that BoA, Lee Juk and Kim Dong-ryool are her favorite artists.
We would like to give a special thank you to Dami's management for allowing us to share this interview. We wish Dami a ton of success at the Eurovision song contest that is due to be held from May 10th.
Interview with Dami Im
As an introduction to this interview, how would you describe yourself as a person and an artist?
I want them to know that I'm an ordinary girl who is so passionate about singing, playing piano and connecting with my audience and I can't wait to perform for them!
Apart from singing, can you tell us about your interests?
I love to eat! Haha…I really like to cook in my spare time, especially Korean food. I love baking, but I'm not very good at it! Really enjoy spending time with my husband and exploring some of Queensland's beautiful beaches.
What are some of the highlights of your career?
I began my musical journey playing classical piano when I was young, then started singing in my bedroom when I was 13! My biggest break came as a singer when I won The X Factor Australia 2013, and another highlight was touring Australia with John Legend as his support act… that was incredible.
Who are your musical inspirations?
The beautiful songs of The Carpenters, Joni Mitchell, Carole King, the amazing voices of Mariah Carey, Celine Dion, Whitney Houston, Adele to name a few.
What would you like to say to your fans?
I cannot wait to meet fans and all of the other contestants very soon! You are all incredibly inspiring. I hope that I can bring you some excitement and amazement from Down Under!!
What does it mean for you to represent your country at the Eurovision Song Contest?
I am so thrilled and honored to be representing Australia at Eurovision this year in Stockholm. I'm really excited to be following in the footsteps of Guy Sebastian and Jessica Mauboy who have both graced the Eurovision stage before me on behalf of Australia.
I have always had such respect and admiration for the Eurovision Song Contest and to be representing my country is such an honor for me. This is by far the biggest experience of my life and I am going to give it my very best shot and enjoy it!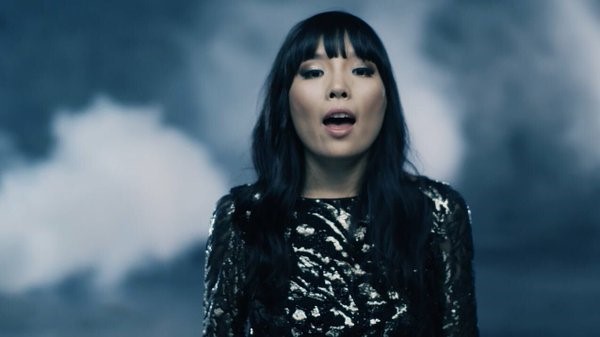 What can we expect to see on stage for the Eurovision performance?
I want my performance to be interesting and spectacular to watch for the viewers, but also want to ensure I connect with the audience in an intimate way. I am working with a team of amazing people to help me create that through stage design, movements and costume. Stay tuned!
What is the message behind Sound of Silence? Tell us about the writing process for the song.
'Sound of Silence' is about the loneliness you feel being away from someone you love. It's also about feeling disconnected because these days we live in a world where it is easy to be connected every minute of the day but along with this connection you can feel alone and isolated.
The first time I heard 'Sound of Silence' I knew it was the perfect song for me to perform at the Eurovision Song Contest and I can't wait to showcase it live in Stockholm!
'Sound of Silence' was written by Australian hit makers DNA Songs (David Musumeci and Anthony Egizii) who have written for some of the biggest names in pop music, including Ricky Martin, Jessica Mauboy, Nathaniel, Delta Goodrem and The Veronicas.
Tell us about the inspiration behind the official music clip for Sound Of Silence.
We really tried to communicate the core message in the song, with the irony in how chasing your dreams can sweep you up in a wild rollercoaster ride and take you away from those closest to you. It is quite an emotional song, so working on the treatment for the video was an interesting process with lots of different ideas. In the end we decided to focus on movement, lighting and camera angles to create more impact. I really loved working on the styling for it, especially since we used Australian designers!
Can you tell us a bit about the outfit you'll be wearing on stage?
I absolutely love fashion so I'm very much looking forward to showcasing my outfit! I can't give too much away yet, but I am in discussions with some incredible Australian designers and I know it will be beautiful and unique.
What are you most looking forward to when visiting Sweden for Eurovision?
I'm looking forward to being in the amazing city of Stockholm during a warmer climate. Last time I was there for a song writing trip and it was in the middle of winter – absolutely freezing!! So it will be interesting to see it in a different climate and be able to spend some more time outside 😉 I'm also looking forward to some traditional meatballs!
Please tell us about your future plans.
I'm releasing a tribute album this year in April full of The Carpenter's songs. I've always loved their music which is timeless and so beautiful; this is a very special project for me. I will then commence my first national Australia tour in July which I am so excited about!  If you are in Australia you must come and say hello!
—J. Chung
Related Articles