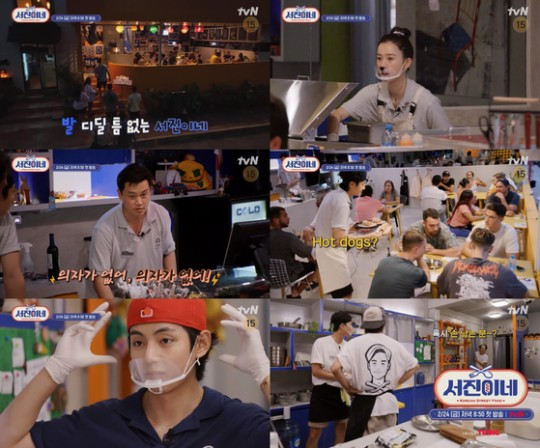 tvN presents 'Seojin's', a spin-off of the variety show 'Youn's Kitchen', which runs a Korean restaurant overseas.
Actor Lee Seo-jin runs a snack bar with 'Youn's Kitchen' members Jung Yu-mi and Park Seo-joon. Instead of Yoon Yeo-jung, who was in charge of the kitchen at 'Youn's Kitchen', 'World Star' V joined and is receiving great attention. In addition, Choi Woo-sik, who is well-known abroad for director Bong Joon-ho's 'Parasite', is active as a new member.
In the teaser video, 'Seojin's' sells gimbap, ramen, tteokbokki, and hot dogs. It plans to captivate the taste buds of locals with lighter menus than 'Youn's Kitchen', which sold traditional Korean food such as bulgogi and bibimbap.
The producers of 'Seojin's' said, "The idea is to introduce Korean culture rather than Korean food." I express my impressions and thoughts about Korean food," he said. "'Seojin's' has a management philosophy that prioritizes profits. It would be fun to find out what has changed from 'Youn's Kitchen'," he said. You can feel the charm," he hinted.
There were often entertainment shows that showcased Korean food abroad in the past, but it was disappointing when the pulse was cut off for a while due to the Covid-19 pandemic.
'Youn's Kitchen 1, 2' (2017, 2018), 'Pocha Without Borders' (2018-2019), 'Will it be eaten locally? – China/US Edition' (2018, 2019), etc were praised for raising the liking for it.
'Seojin' will open on February 24th at 8:50 pm.
According to the broadcasters on the 1st, JTBC will show 'Korean food plate' in March, where chef Lee Yeon-bok makes Korean food, and tvN will show 'Seojin's' on the 24th of this month, where V, a member of the group BTS, works as an employee at a snack bar.
'Korean Food Plate' is a program that provides meals made of Korean food to places in the world that need meals, such as prestigious overseas schools, global companies, and professional sports clubs.
Chef Lee Yeon-bok, broadcaster Hong Jin-kyung who runs the kimchi business, nutritionist Kim Min-ji, comedians Heo Kyung-hwan and Nam Chang-hee, and group Monsta X's Jooheon appear as the meal service corps.
—-Jiyoung Kim
#KoreanFoodPlate #ChefLeeYeonbok #HongJinkyung #kimchibusiness #KimMinji #comedians #kcrusharticle #kcrushnews #HeoKyunghwan #NamChanghee #MonstaXJooheon #Jooheon #Seojin #BTSV #BTSVonSeojin #Klunch #kpop #JTBC #employeeatasnackbar #Koreanculture #ChoiWooSik #tteokbokki #ramen #YounsKitchen #tvN #kcrushamerica #Korean #Koreanentertainment #showcaseKoreanfoodabroad #Koreannews #Asianfoodshow
Related Articles