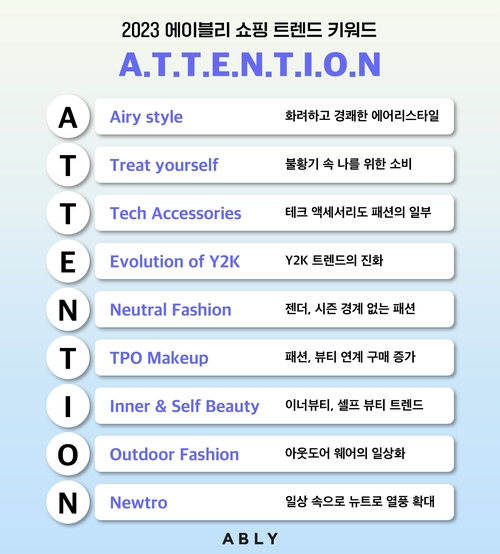 Style commerce platform Ably announced this year's shopping trend, 'A.T.T.E.N.T.I.O.N (Attention)' on the 12th. This year, it is expected that the 'Y2K (fashion that was popular from the late 1990s to the early 2000s)' style will evolve amid the 'Newtro (New + Retro)' craze that reinterprets retro products.
'Attention' came from ▲Glamorous and cheerful Airy style ▲Consumption for yourself during recession (Treat yourself) ▲Tech accessories are part of fashion ▲Evolution of Y2K trend ▲Fashion without boundaries of gender and season (Neutral Fashion) ▲Increase in the linked purchases between fashion and beauty (TPO Makeup) ▲Inner beauty, self-beauty trend ▲Outdoor fashion ▲Expanding the Newtro craze into daily life.
First of all, as "work from home" ends and going-out increases, 'Airy Style', which gives a colorful and light feeling such as lace and shirring, is expected to gain popularity. Details such as ruffles and fringes, and materials such as shiny satin and silk, reminiscent of party costumes, are typical.
The consumption trend for myself continues during the recession. Rather than excessive consumption, it is to enjoy 'small but certain happiness' and styling effects at the same time with fashion accessories. From November to December of last year, searches for leg warmers and balaclava increased by 760% and 370%, respectively, compared to the same period last year. During the same period, 'Giant Yarn', a knitted bag made of thick yarn, increased by about 4,580 times, and items using clothing materials such as padded scarves (210%) and bubblegum hats (330%) also received high attention.
It is also characteristic that 'tech accessories' such as phone cases, watch straps, griptok, and headphones have become part of fashion. Searches for phone cases that reflect the sense of the season, such as padded cases (160%) and bubble cases (150%), also surged. Last year, the watch strap transaction amount doubled compared to the previous year.
With the 2000s style 'New Jeans look' recreated by the girl group New Jeans last year, it is expected that the Y2K style will also evolve and expand. The Y2K look has diversified beyond the existing crop tees and wide pants to outerwear and suits. The 'shucket (a compound word of shirt and jacket)' style, in which a checkered pattern shirt of the 2000s was worn as an outerwear, was rapidly emerging, and check shirts and shirt jackets received high attention. Vest suits (180%) and suit vests (60%) were also searched a lot due to the popularity of vest styles that were popular in the past instead of suit jackets.
Neutral fashion, which has no boundaries between gender and season, is also expected to gain popularity. As personalities and tastes diversify, overfit, suit setup, and neckties are rapidly emerging within the Ably app. As overseas travel increased, coats, scarves, swimsuits, and resort looks also rose in the real-time search word rankings of Ably last month.
As situational TPO (Time, Place, Occasion) makeup is activated, purchases related to fashion beauty are also rapidly spreading. Analysts say that as the daily life recovers, the number of fashion and beauty-linked purchases that go well with the makeup concept has increased.
Inner beauty and self beauty are also strong. The popularity of self-beauty products such as hair removal/waxing, nail art, and eyelash perm that can be easily and frequently managed at home without visiting specialized shops is also on the rise. In the past, sales of self-beauty were concentrated in summer, but sales surged in winter last year as well.
It is predicted that outdoor fashion will continue to become commonplace. 'Gorpcore Look', which means outdoor fashion that naturally matches everyday wear, and 'Blockcore Look', which is a soccer uniform style, are typical examples.
The Newtro craze has spread beyond fashion to life. Among the Gen-Z, "life 4 cuts," "sticker photos," and "film cameras" are popular, and analog photo culture is a hot topic. Last year, the amount of transactions in the photo album and colbook categories increased by 140% compared to the previous year. The number of related products has increased by 25 times. In particular, the 'retro case', which imitated the shape of a cell phone with an antenna in the 1990s, was sensational and the number of searches soared by 560%.
—-Jiyoung Lee
#ATTENTION #NewJeansTrend #NewJeans #GorpcoreLook #BlockcoreLook #kcrushnews #Netrocraze #GenZ #AblyShoppingTrendKeywords #kpopfashion #kpop #kcrushamerica #kcrush #fashiontrends #AblyShoppingTrend #AblyApp #innerbeauty #outerbeauty #theshucket #YWKlook #techaccessories #outdoorfashion #phonecases #griptok #airystyle #ruffles #fringes #silk #satin #shiny #retrocasesearch #Koreanstyletrend #Koreanshoppingtrend
Related Articles