On March 14, 2015, Crayon Pop released teasers for the new song "FM" featuring their disco-esque, dance-pop sound. Of course, we also have the typical gimmicky get-ups in which Chrome seems to be pigeon-holing the girls; this time we have super hero ninjas-meet-Avatar: The Last Airbender-meets-Power-Rangers. 
At least we moved on from helmets?
For Crayon Pop, it's starting to feel like Chrome only cares about the get-ups and the quirkiness over actually promoting them as singers and artists. When we asked some U.S K-Pop what they think of first with Crayon Pop, the answers were pretty much the same: Helmets, crazy outfits, and quirkiness. Singing rarely came up. But they can sing with strong live performances during concerts. They have some shakiness, but this is part of their charm.
https://www.youtube.com/watch?v=UAK2ILnGYCY
https://www.youtube.com/watch?v=RnLov6S0YHo
The gimmicks fit their group name: Colorful and cheerful. The way society is these days, this is the type of frivolous entertainment we need to help make the world a not-so-bad place. For a few minutes, the horrors of the world seem to disappear because you're lost in the joy. However, if this is all you're known for, where is the artistic growth?
Crayon Pop seems stuck in neutral with the J-Pop-ish MVs that it's hard to distinguish them as singers over cutesy, amateur performers. This shouldn't be the case because they've been in the industry long enough to expand to new horizons. So far, new horizons include dressing up like milk cartons, ajummas, Christmas trees, and wearing red lights on their heads.
Chrome seems to have been blinded by "Bar Bar Bar's" international attention and viral sensationalism. If PSY could earn international fans and attention, why can't Crayon Pop? The girls got to open for Lady Gaga—a huge honor—and they got to go on the interview circuit along with earning themselves a graphic novel, attention, and international stardom. All eyes are on them: A blessing and a curse.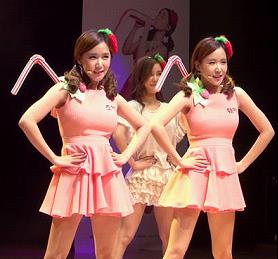 The difference between Crayon Pop and PSY is PSY has years in the industry and already established himself as an artist prior to his viral hit. While "Gentleman" and "Hangover" may not have performed as well as "Gangnam Style" internally, he's fine because of his already established Korean fan base based on who he is (of course, being signed with YG Entertainment may help with some international audiences). A misstep for PSY wouldn't hurt him in the long-run because he has years of music and success backing his artistic credibility.
Crayon Pop is still "wet behind the ears" and haven't found their footing yet. Chrome seems to be hindering their ability to find firm ground by not making singing and performance a priority. A lot of audiences, especially internationally, have short attention spans: If you keep tossing the same acts at them constantly without any indication of change, the audience could grow bored and leave, leaving the group and company with adorable girls in track suits floating in the middle of the K-Group Ocean. How fair is it to Crayon Pop to do that when all they want is a chance to earn fans and be successful?
This doesn't mean they should head to the other extreme other female groups turned to with sexy concepts (they could if they want), but they could balance quirky concepts with mature ones to help show their abilities. There's no doubt the girls have talent as Way was a member of the Indie group N.Dolphin, and Ellin was referred to Chrome by choreographers. When they debuted with "Bing Bing" (as Hurricane Pop with former member Serang) then "Saturday Night," the girls' cool retro vibe and fun personalities earned fans and promise. These eras' concepts could have helped them grow and try new styles while maintaining their colorful spirit.
The hope for Crayon Pop is that Chrome will realize they have potential songstresses who could slay with vocals instead of weird theming with each concept. The fear is the acts could grow old and potentially cause Crayon Pop to lose fans. These fears could be unfounded, but it's sad to see groups with potential who are still young in the industry be locked into one concept. While it works for the company, how fair is it for the artists?
-Joelle Halon
Related Articles