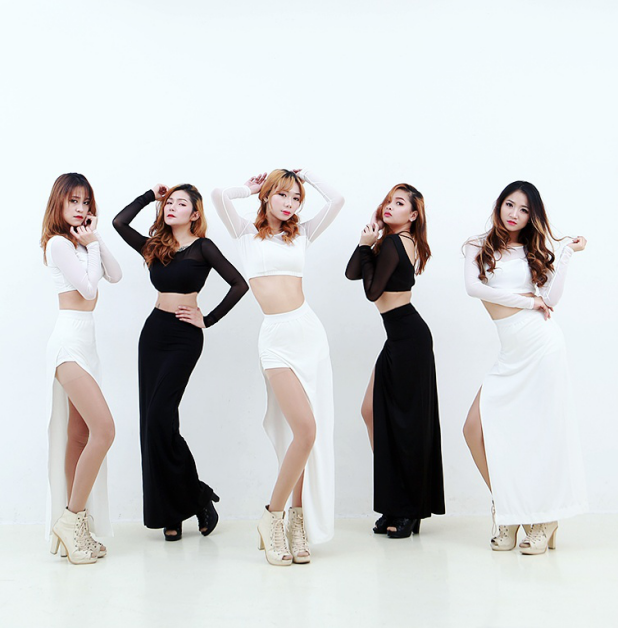 Tem5ive, a shortened name for Five System, is an all-Filipina K-pop group.  Though all of the girls are Filipinos and originate from the Philippines, they have decided to break into the Korean music industry and internationally.  The group is made up of 5 girls, who made their career debut in November 2016.  Sarah, Rayna, Robie, Jyrrah and Katy make up Tem5ive. The group debuted with their music video, "Miracle."
Let's get to know the members of the group, beginning with their team leader, Sarah.   She is a 24-year old graduate of Bachelor of Science in Hotel and Restaurant Manager.  Her musical skills include singing, dancing and playing the drums.  She is from Quezon City, Philippines.
Robbie, who is the main rapper and visual artist of the team, comes from Taguig City, Philippines.  She is also 24 years old.  Aside from rapping, she sings and dances.  She graduated with a Bachelor's degree in Nursing.
The maknae, defined as youngest, of the group is Jyrrah.  Despite being the youngest at 22 years old, she is the lead vocal of Tem5ive.  A graduate of Bachelor of Science in Tourism Management, Jyrrah also plays the guitar.
Katy, the dancing ace and also a rapper for the group, loves to cook.  She has been the designated chef for the group.  She is 25 years old and the eldest among the five.
Lastly, there is Rayna, another vocal for the group.  Also 24 years old, she stands tall at 5 feet, 6 inches, similar to their team leader, Sarah.  Her motto is: "If you can dream it, you can do it."
"Touching People's Heart Emotionally and Mentally" is the group's offered meaning for their name, Tem5ive.  They also declared through their YouTube channel that their aim is to be the "happy virus".  The members, having been to Christian schools, can be seen as expressing their hope, faith and dreams in their website, which had reference to Bible verses.
After the launch of their music video, Miracle, the group has then worked at getting a stable fan base via many shows and fan meets in Korea.  They hope to be recognized as a serious group that would standout like other girl-groups.  They work at their own dance steps and own brand of music. "We just want to be true to ourselves… We don't see our profession as work, but as a passion.", as they have expressed in their website, www.tem5ive.com.  The group is under JW Entertainment, and have yet to release their next single as of date.
—-lm Malixi
1 response to "Tem5ive Are Coming-on Strong"
Related Articles