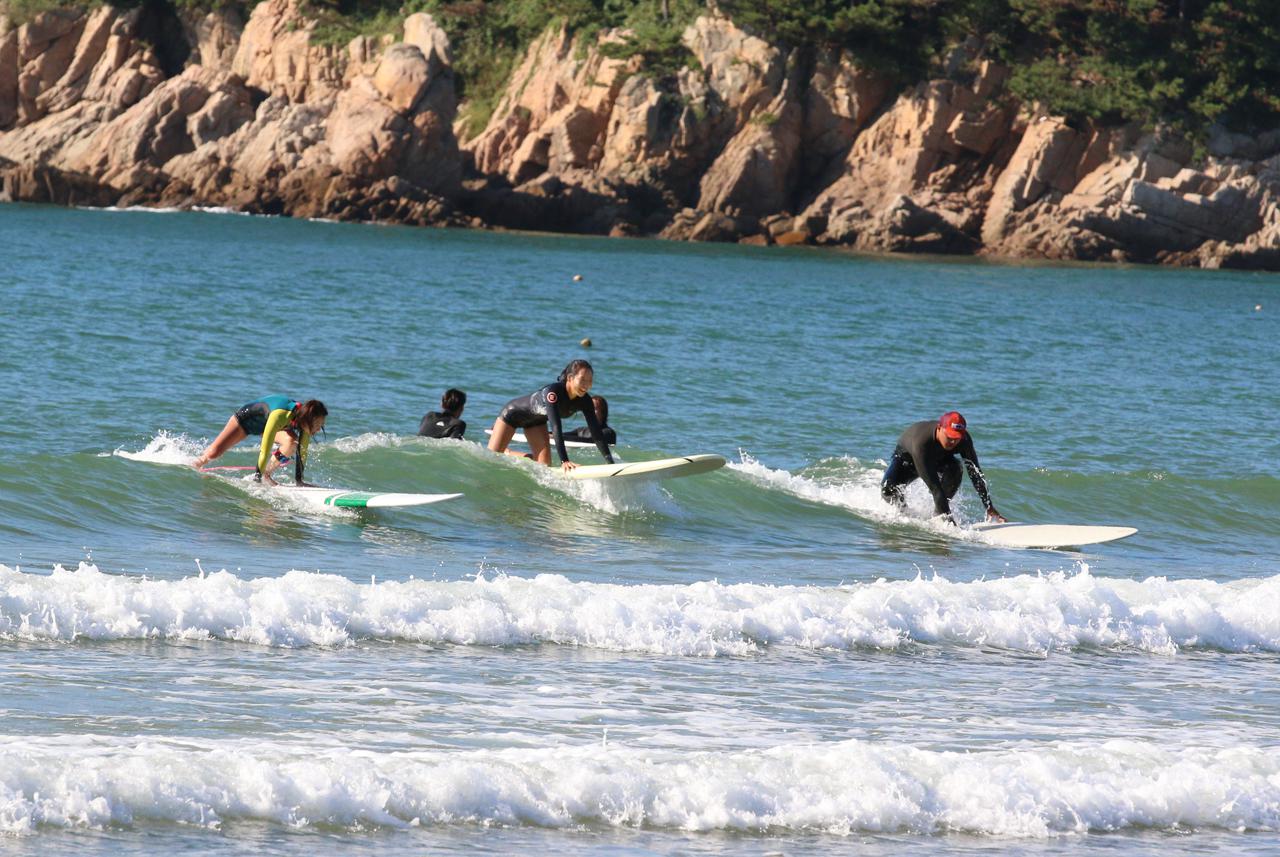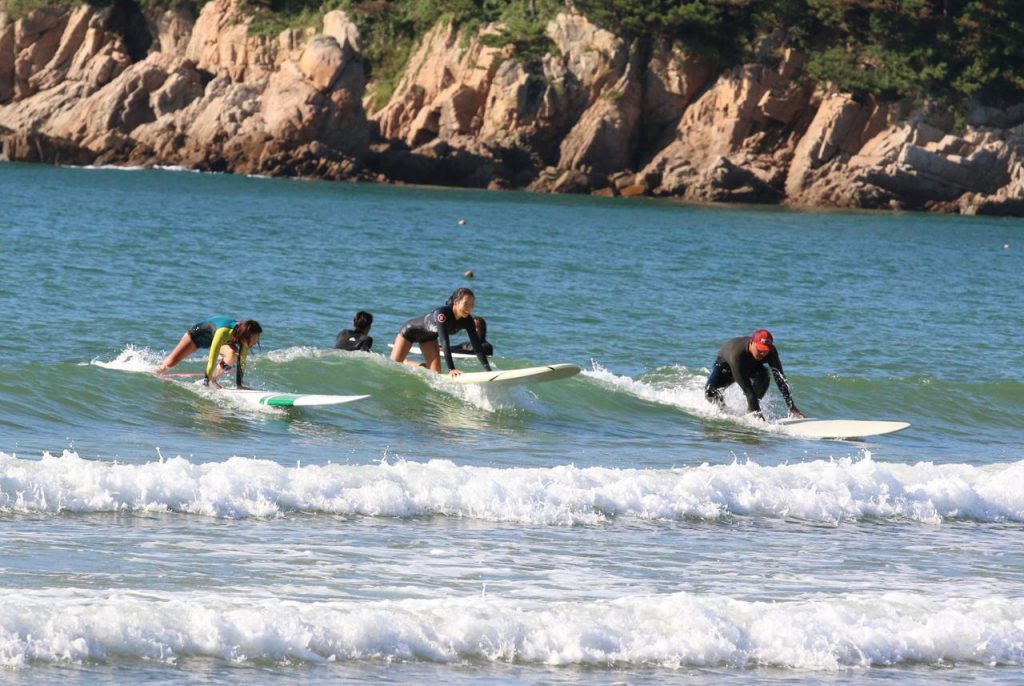 Surfing Fun in Korea – Where to go?
Surfing is all about catching the right time. You need to read waves with all your senses, and seize the moment to take off and enjoy the pitch. Looking for surfing spots in Korea just like California 'Sam Mateo' or 'Maui' Beach in Hawaii? If you got the right time, you can find surfing points with decent waves from three sides of Korea.
The South Coast: best summer surfing spots
Just like skiers and snowboarders caring the quality of snow, surfers should be picky with the quality of wave. Good surfing points have less bubbles in water, with waves high and clean. Beaches of Korea in general have water that is better to surf in Fall/Winter than in Summer.
Best summer surfing spots recommended by Korean Surfers are Saekdal beach in Jeju Island and Namyeol Beach in Goheung County. In their peak season, at the beaches of Jeju Island you can witness local surfers riding waves even at dawn.
Saekdal Beach gives out good quality waves from June to October, throughout its wide surfing area of 300~400m. You'll find wide variety of surf zones here – from 'beach breaks' for beginners with sandy floor to 'reef breaks' creating big waves with underwater reefs.
Namyeol Beach in Goheung is also famous for its summer waves. With peak season starting from mid-June, it creates best surfing spot for beginners' lessons riding a meter-high wave. Waves for more experienced surfers are found here from July to September.
The East Coast: Hottest place to enjoy surf culture
Beaches in Gangwon-do, such as those in Yangyang and Gosung are adorned with exotic surfing cultures, where you can watch topless surfers riding waves with sun-kissed bodies – while you enjoy Pizza and Hotdogs with beer in pubs here.
Waves in Gangwon-do beaches are at their peak in Fall and Winter; with calm and serene summer tide beginners can take surfing lessons. Jukdo Beach in Yangyang County is already buzzing with Surf Shops, Surfer guesthouses and decent restaurants run by 'original surfers' with longest surfing history in Korea. Already staged multiple Surfing Festivals and Contests, Yangyang beach areas will be united and fostered as Surfing Leisure Tourist Zone until 2021.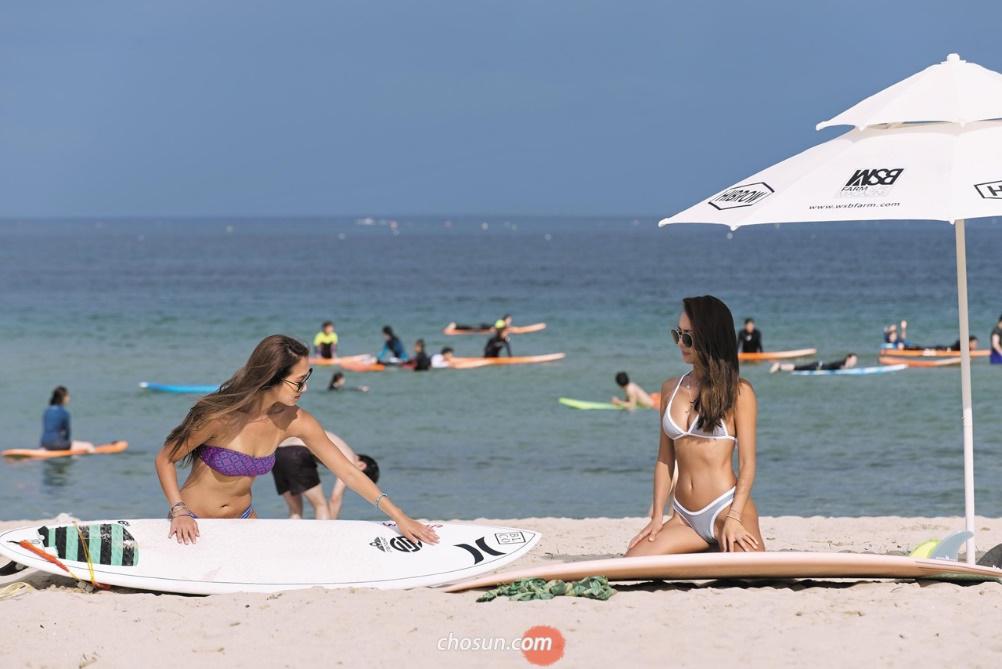 Those who are tired of crowded Yangyang beaches visit remote spots such as Songjiho Beach and Sampo, Cheonjin Beach in Gosung County. With 4㎞ long white sand beach and clean water, Songjiho Beach is the northern end of surfing spots in Korea.
Spots in Busan/Ulsan/Pohang
Songjeong Beach in Busan is one of the three most beloved surfing spots along with Jeju and Yangyang. It has got a nickname of 'Songjung-fonia(Songjeong + California)' with its well-known year-round surfing experience. Adjacent with city areas of Haeundae, Songjeong Beach is a rare surfing spot with a high walkscore; allowing local surfers to enjoy daily surfing before and after work. High frequency of waves and gentle scopes underwater are perfect conditions for beginners' lessons.
Living up to its fame as a 'Surfing Mecca', professional surfers have already settled here riding waves round the year. If you ever thought that surfing is only for 20s or 30s, here you can find wider age group such as middle-aged, teenager, and even kid surfers.
There are no big waves in summer season here. From July to August the beachfront is crowded with both surfers and swimmers, divided into 'swimming zone', 'leisure zone' and 'military area'. The beach has 24/7 lifeguard presence, with 'Songjeong Maritime Rescue Team' for your safer surfing and swimming experience. Dozens of Surf shops, restaurants and amenities are just a minute far away from the beach.
You can also find surfing points in Haeundae Beach, but you still got bigger chances to find your surfboards or lessons in Songjeong Beach. Local surfers in Busan also visit Imrang Beach in Gijang County, Jinha Beach in Ulsan and Yonghalli Beach in Pohang.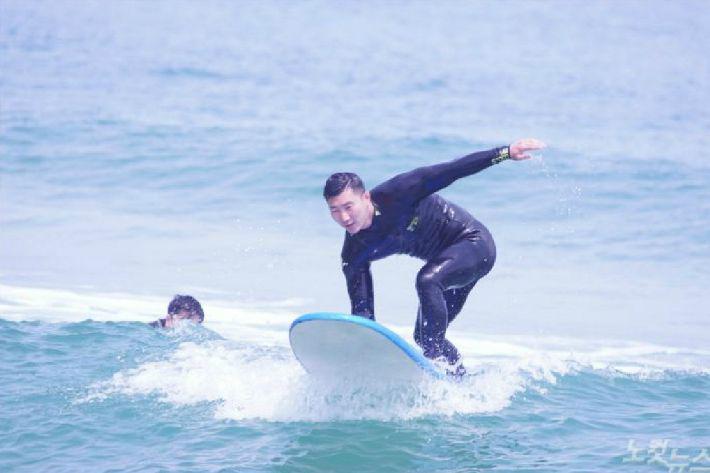 The West Coast: Malipo beach
If you're looking to surf in the West Coast, hit the road to Malipo Beach in Taean County. Being one and only surfing point in the West Coast, surfing at Malipo Beach suits for beginners. You can also have a pleasant camping experience in pine tree forest here behind white sand beach; and find tourist destinations and attractions nearby such as Zipline and Botanical Park. You can just roam around when waves are not good enough.
Some spots are available only when beaches are officially open. Surf Shops in general offer 3-hour surfing lessons for beginners in around $50~70, including safety instruction, and free surfing experience. You'd better choose a surf shop with certified specialists, and don't forget to make sure lifeguards are there in your surfing spots. Always check beach conditions at 'Windfinder' app, as you cannot really surf in beaches with too low or high waves.
—-Uninn Peng
Related Articles