Senior Korean idol group, Super Junior has come back to the stage at Inkigayo with a powerful performance on a new Latin pop song, 'One More Time'. It is a rhythmical song expressing about a jealous and eager feeling for a lover. Covered by a sharp and charming sound of the guitar from start to end, this song is full of earnest desire for love.
After releasing this song on YouTube and music streaming sites, it has been laid on the top of the charts in 27 nations such as Mexico, Japan, Columbia, Chile, Taiwan, and so on. Their great popularity was exposed at Inkigayo, as the fans sang following the new song together with loud voices.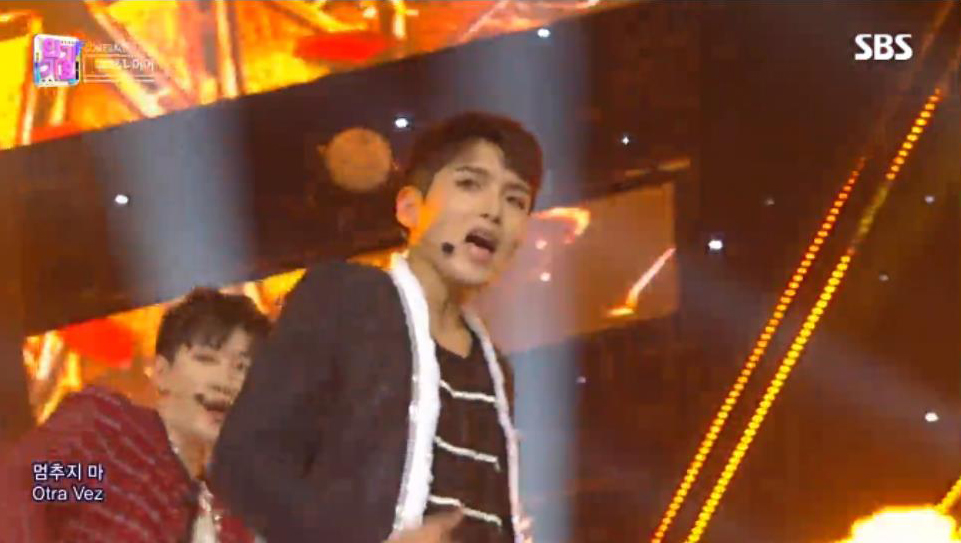 By the way, there were lots of other singers who had come back stages on Inkigayo as well, such as Eddy Kim, who sang 'Trace', NCT 127, who sang 'Regular', Promise 9, who sang 'Love Bomb' and Weki Meki, who sang 'Crush'. Nevertheless, the top 3 songs were 'Goodbye Load' sung by Ikon, 'There Has Never Been a Day I Haven't Loved You' sung by Lim Chang Jung, and 'Siren' sung by Sun Mi. And the crown of the most popularity was given to Ikon for the fifth time although they were not on the show to receive it. Other singers that appeared in the program were Yuri, Soyou, WJSN, Nakjoon, Dream Catcher, The Rose, 7 o'clock and Loona.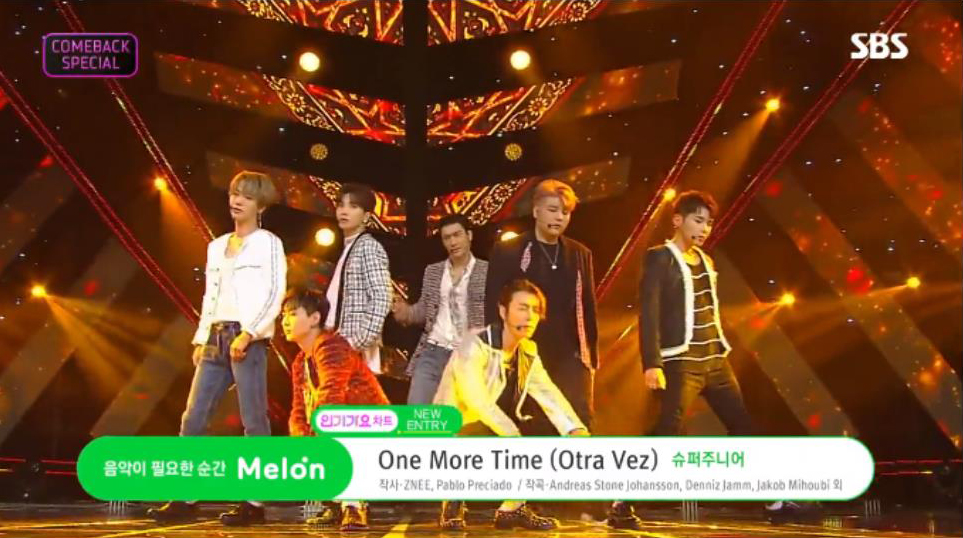 Before the amazing performance, Super Junior posted a selfie of the 7 members on Instagram with bright smiles with fully open hands which is the trademark of Super Junior and tweeted to advertise their fancy come back performance to be showed at 3:40 in Korean time.
The new song of Super Junior is extolled as to be a sexy Latin pop. In the performance, Super Junior showed a wavy and sneaky dance full of energy and vigor. Wearing a colorful and fascinating stage costume, the 7 members of Super Junior lead the audience's focus and didn't let them move their eyes off. After debut in 2005, Super Junior is still maintaining a young, trendy and unique style and un-falling popularity not only in Korea, but in all over the world.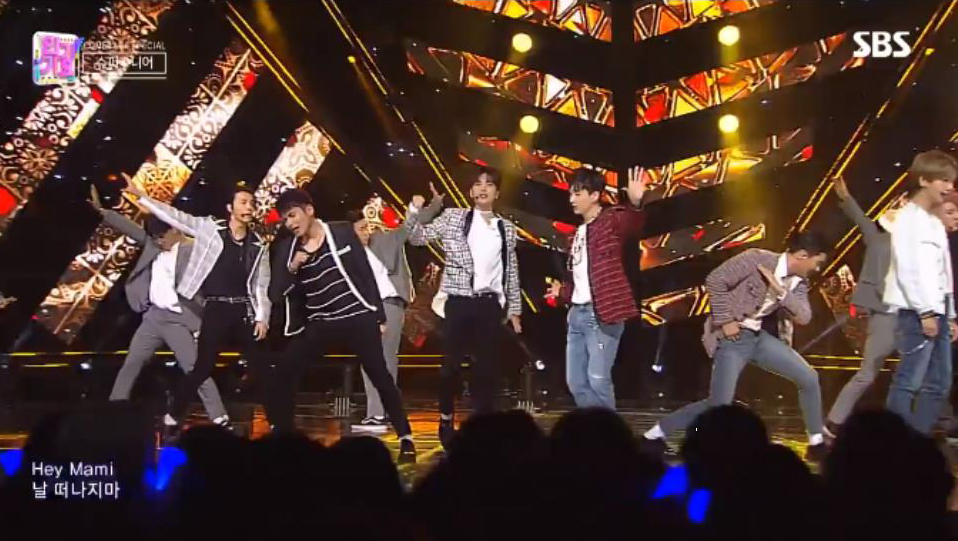 There were lots of comments on the recorded performance in Naver TV, that "Super Junior is the best. One More Time cheers!, I would say out 'Super Junior more than flowers!'", "Kyu Hyun, you may come back earlier, your elder brothers are waiting in their positions".  You may check this fascinating performance on Naver TV.
—-JKLim
Related Articles