Tired of indoor Winter activities? Just because temperatures are hovering to single digits, fun can still be a part of your vocabulary. South Korea offers you various activities that inspire you to ensure your Winter is as busy and lively as other seasons. Here are the engagements that you can choose from.
1. Skiing
Did you miss the Pyeognchang Winter Olympics, probably due to the tickets being sold out or being engaged at work? Not to worry. You can make up for it and the better part is that you will not be just in the audience, but will ski where the Olympics' stars treaded. Among other regions, Pyeongchang County offers a wide range of popular skiing resorts including Yongpyong, Phoenix Park, Jeongseon Alpine Center, and Alpensia.

Why ski? Getting out in the fresh mountain air will invigorate your well-being by recharging your energy system. Moreover, as you ski down the landscape, the breathtaking sceneries help reduce your daily life stress, especially through the exhilaration experienced upon a grid over fresh snow. Needless to say, skiing is an exercise that is beneficial to your health, particularly your mind. This is since it engages your body's core muscle groups to help improve your posture and balance while increasing your body strength. Skiing also gives you a chance to connect with nature. When skiing, you experience the amazing sites from the mountain tops before sliding down with breakneck speed and maneuvering over the rough terrain as the crisp cold air brushes over your entire body. As if not enough, due to the overnight snow, early birds can afford to make fresh tracks on the mountain terrain. Leaving a trail in the smooth white field imprints wonderful memories of the twists and turns made during the skiing adventure.

2. Outdoor ice skating
Apart from the year round indoor skating arenas such as Bundang Olympic Sports Center, Korea University ice skating rink and Lotte World indoor ice skating rink, South Korea has other outdoor Winter arenas for ice skating including the Seoul Plaza ice skating rink, Olympic, and Grand Hyatt Seoul ice rink.
The Seoul Plaza ice skating rink; commonly known as City Hall's rink, is the most popular among Korea's outdoor skating arenas. The rink usually opens in mid-December and closes late in February. The open arena guarantees you fun as you mingle with people from diverse cultures given that the rink is located in the heart of South Korea, Seoul. The best part is that the experience costs you- as an individual- only a dollar inclusive of the skating gear plus an additional $0.5 dollars for gloves if necessary. Moreover, the offered passes allow you to switch between the small and big rinks throughout your allocated time. The many diverse levels of skaters ensures that everyone enjoys themselves based on their skating experience, including children. In case you tag along with a friend who has probably not skated since the year's first snow and is taking a break from the activity, the library adjacent to the rink would be an option for him or her to enjoy the warmth and read a book while watching you guys enjoy your skating sessions.
3. Ice fishing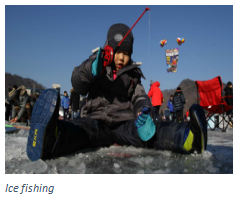 Ever thought of prancing on a river's subsection with just a thin layer of ice separating you from the freezing water below? Then, ice fishing festivals will fascinate you. Although one might have to be patient enough to catch a fish or experience fear due to the possibility of sinking into the freezing waters, the involved thrill, intricate technique and effort is worthwhile. All you need is to follow the guide's precautions given that the safety team constantly examines the ice to ensure its thickness can withhold the pressure before allowing people to fish.
Tired of day fishing? The Hwacheon Sancheoneo Ice Festival, Korea's 7th Winter wonder, offers night fishing, including the ice, bare and rod fishing. The festival is coupled with snow experiences and cultural events making it a must-attend occasion.

The Pyeongchang Trout Festival is also another event that offers you a chance to walk along ice walls, and fish for trout fish from below the frozen waters while in the comfort zone of your chair. You can also fish from tents using fish rods, or be brave enough to indulge yourself in the Winter cold and fish using your bare hands from a pool of fish provided by the management. After fishing, you can enjoy available recreational activities such as ice sledding, riding four-wheel motorcycles and spinning rail cars on ice and snow.


4. Ice diving
If you have tried Summer diving, this activity should top your list since ice diving during the Winter is more thrilling compared to during the Summer. The South Korean diving experience is unique due to the mix of South China Sea's warm Summer and colder Winter currents that make its waters rather refreshing. Sites where ice diving can be experienced include Jeju Island, Dong Hae & Gangneung, Nam Hae, and Uljin. Among these, Jeju Island is the most popular site due to its abundant marine life, and the diverse and extensive soft corals that would delight you. Moreover, when done with ice diving, you can enjoy the sun's reflection on the partly frozen waterfalls. Some of the well-known ice diving sites in Korea include Bum-Sum, Iron Tower, Bongpo and Chuam.

5. Heated Spa
For hot spas, Korea offers them in diverse and unique designs including open air and traditional spas. For those looking to enjoy their free time while surrounded by an aesthetic view, open air spas would fit them best since they offer additional breathtaking views to the high water quality. Most of these spas are situated deep in the nature, mostly the mountains, and surrounded by a clean and clear water body to allow an interaction with the environment that soothes one's body and mind. Some spas to visit are Resom ocean castle, Bugot hot springs and Spa Land Centum city. One could also opt for the traditional spas, which are beneficial to health matters. Such spas include Deokgu Spaworld and Hurshimchung hot springs spa. One can also enjoy health spas, including Seorak Waterpia, which are accredited by the government to provide scientifically-based benefits to the body. If you have a busy schedule you can try the urban such as the Marquis Thermal Spa and Dragon Hill spa, which also offer aroma oil massages.

In addition to these outdoor activities, you can enjoy the Korean extra spicy, winter street cuisine to keep your body warm. If you are the type to engage in challenges, I would recommend eating the spiciest toppoki (rice cakes) you find, just ensure you have milk at your side to quench the burning sensation in case you cannot hold it.
Make you winter outdoor engagements in South Korea as memorable as possible.
—-Pe Arlkh
Related Articles