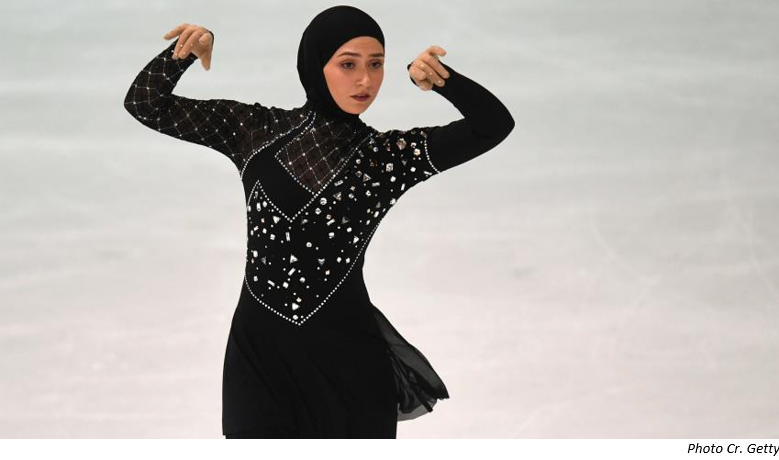 Sometimes, winning medals aren't the only indicator for what makes a champion. Often, all it takes is a little perseverance, a can-do spirit, and a love of a sport that makes someone a champion not only for themselves, but for a country and for any young woman who's ever had a dream.
United Arab Emirates (UAE) figure skater, Zahra Lari, 23, is a champion in the purest sense of the word. Lari's commitment to the sport helped the UAE become the first Arab nation to join the International Skating Union (ISU), but her dedication to her family and traditions make her an admirable figure. If there were pictures in the dictionary for "role model," Lari would be in the top three to represent the term. Here are some reasons why Lari should be on your watch list if you love figure skating or just adore trailblazers.
Lari is the First Hijabi Figure Skater
For a sport that's dress code is revealing outfits adorned with sequins, Lari stands out. In keeping with Muslim traditions, Lari hits the ice adorned in a hijab and attire that covers her arms and legs. As the first Hijabi skater, in 2012, judges once deducted points from her score for an outfit violation.
"Although I didn't see that coming, I didn't judge them because I knew they had never seen someone covered before," Lari told Emirates Woman.  "They saw it as a prop and a health and safety issue, fearing it might fall off, but then I proved to them that it stays on and it wouldn't be a liability. Everyone is the same, we are all equal and we should be judged on our talent, not based on where we come from or what we wear."
According to The Independent, Lari campaigned to have the rules changed. Her hijab is not considered a violation currently, but there's yet to be a permanent change to the skating attire rules that state headscarves are not a penalty. The ISU is performing an "assessment of the rule and whether it needs to be more specific for the future is ongoing."
Skating in a hijab also takes courage in today's society where an ultra-conservative Muslim community may condemn her for participating in a sport (on some YouTube comments, some comments state she is committing haram, or a sin), while some ultra-liberals may say she is oppressed due to her scarf. To choose to skate in a hijab takes courage in the face of these opposing views, making Lari's position as the first Hijabi skater an important, historical role.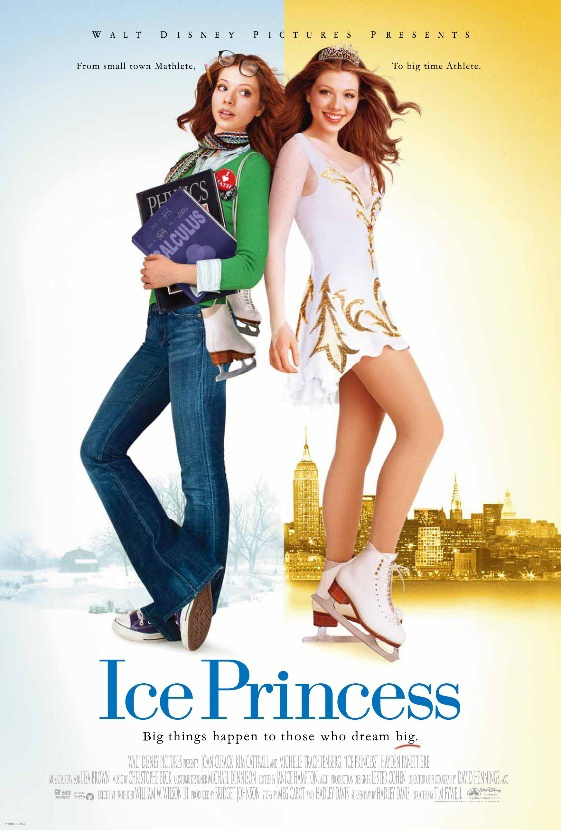 She Started the Sport Late
Many professional figure skaters usually begin skating from the time they're toddlers, but Lari didn't start skating until she was 11-years-old after watching the movie Ice Princess. While her family was initially against her taking up skating, she began skating at the only ice rink in Abu Dhabi within Zayed Sports City. Within three years, she was performing triples and spins like some of the pros. Her determination and consistent practice have led her to winning four UAE National Titles, a personal best combined score of 80.09 (Cup of Tyrol 2017), and her highest placement at an international competition: A fourth place finish at the FBMA Trophy during the 2014-2015 season.
She Marries Tradition into Her Skating Outfits
Initially, Lari's parents weren't keen on letting her skate.
"My father felt that it went too much against our normal traditions and culture for a girl to compete in sports," Lari told CNN.
The UAE is a conservative Muslim country, so there is an expectation for Emirati women to wear abayas—wide fitting robes—and headscarves while out in public. In figure skating, covering the body is an oddity as many outfits feature short skirts, bare arms and backs, and thin material that allow for flowing looks that make female skaters look like dancing flowers. Lari's outfits feature opaque fabrics, matching hijabs, and leggings to create striking looks while staying true to her Muslim roots, thus showing that young women can stay true to their chosen faiths while still chasing their dreams.
"People may think or tell you that you can't do certain things, but I'm going to show them you absolutely can. I am covered, I am Muslim, I am from a desert country, and I'm doing a winter sport," Lari told Vogue Arabia. 
She Comes from a Supportive Family
Lari's Facebook page and Instagram show the true beauty of her soul, especially since she often speaks about the love she has for her family. Knowing her back story and how she almost wasn't allowed to skate makes a figure skating fan root for her more.
"My dad actually stopped me from competing in the beginning, not because he didn't accept me, but he was scared of what society would say about his daughter doing the sport" Lari told Vogue in 2018. She said that after watching her sadness while watching her friends compete, he relented and allowed her to skate.
"He was like, 'You know what? Forget about what colleagues say at work,'" Lari told the Washington Post. "'Forget about whoever tells him anything.' And he was like, 'I know it's something that you love. You're not doing anything wrong. Then why not? Just go and work hard.' Because my Dad, at work, he's got people telling him, 'Why do you allow your daughter doing this?' But I mean, he just ignores it. He's like, 'It doesn't matter what they say. I'm your father. I want the best more than anyone. And if I knew this was something wrong, I wouldn't let you do it.'"
Her mother, Roquiya Cochran, serves as Lari's manager. As shown by their interactions on social media, Cochran serves as a strong supportive shoulder. Seeing the love and support her family gives is an inspiration, especially since women in international sport is a new concept in the Middle East that still has a long way to go before being entirely accepted.
She's an Inspiration
"In my country women don't do much sport and even less figure skating…" Lari said in Shelina Janmohamed's Generation M: Young Muslims Changing the World.  "I want to encourage girls from the Emirates and the Gulf to achieve their dream too and not to let anyone tell them not to do sport, not only figure skating but all sports."
While she's making headlines by being UAE's first female figure skater, behind the scenes, she's an inspiration for children and women who aspire to chase their dreams.
"I tell Emirati women to follow their dreams and to try to find that thing that they are really passionate about and to give it 100 per cent," Lari told The National. "There will be bad days and good days and on those bad days they have to think about why they love it and that will make them stronger in the future. Just follow your dreams and don't let anyone stop you from doing what you love to do."
"There's a reason why girls don't get into sport here – it's a cultural thing," Lari told Abu Dhabi World. "You get married, you cook, you stay at home and raise your children. These days, girls want more. They don't want to stay at home, they want to get out there, get an education and do something they love."
Lari hopes that her struggle to get started in the sport will make the path easier for future generations who want to skate or participate in other sports. By showing her conviction and proving that a hijab should not restrict what women do, she's on her way to paving a good path for others.
"People should know that Emirati athletes are strong," Lari said in her Vogue Arabia interview. "We're confident women who know what we want to do, and we work very hard to accomplish what needs to be accomplished."
Her Parents Founded UAE's First Skating Club
Her love and practice of the sport led her father to found the Emirates Skating Club; her mother is the club's CEO. The club currently has 100 members and six staff, but there's hope the club will continue to grow. Besides skating, the Emirates Skating Club hopes to foster "an atmosphere of mutual respect and social interaction, while promoting positive role models, good sportsmanship and lasting friendships. We hope to inspire strong qualities of discipline, poise, and self confidence that will continue throughout the members life" while following and implementing "all standards, rules and regulations required by the United Arab Emirates Ice Sport Federation, UAE sport authorities, International Skating Union and International Skating Institute of Asia."
She's One of Nike's Spokeswomen for the Pro Hijab
Recently, Nike announced the release of their Pro Hijab line. Nike has created a hijab that uses a breathable fabric perfect for sport but still follows Islamic rules for covering hair. The hijab has small, breathable holes, and it's longer in the back so it does not fall off during competitions according the USA Today. However, it should be noted that Nike is not the first to create a sport hijab as Dutch company Capsters did so in 1999. Canadian company ResportOn also has a sport hijab that has been embraced by the International Taekwondo Federation.
Representing an international brand like Nike helps thrust Lari and her empowering mission to the forefront. She has been featured in ads in not only her country, but in other countries as well to help show that Muslim women do have a place in sports.
She's Been Featured on ESPN and in an Upcoming Documentary
In 2017, ESPN featured Lari in an episode of Flying the Flag. In the episode, Lari talked about her journey and goals as well as how she wishes to inspire others.
Additionally, it has also been announced that a documentary about Lari is in the pre-production stages. The film, Zahra Lari: The Story of an Arabian Ice Princess and the Disney Film That Inspired Her, chronicles Lari and the film that inspired her. U.S Olympian and national figure skating champion Mirai Nagatsu is part of the production team as a presenter and an associate producer. So big things are still in-store for Zahra Lari!
She has Huge Dreams!
Lari has several goals she hopes to reach in the next few years. Currently, she is skating in the Challenger Series as well as other international competitions, but she hopes to reach the championship ranks like the World Figure ­Skating Championships, the next Four Continents Figure Skating Championships and the Asian Winter Games and ultimately the 2022 Olympics.
Lari's story and beginnings are an inspiration for us, and we hope she inspires you too! We wish Zahra Lari the best as she pursues her goals and helps others along the way.
Kcrush America reached out to Zahra Lari's camp for an interview, but she could not be reached at press time.
—-Joelle Halon
Related Articles