The loss of SHINee's Jonghyun was one of the biggest K-Pop stories of 2017. Over time, the story faded, but that doesn't mean his loss has been diminished or forgotten. When SHINee made their comeback in May with their first of three releases for their Story of Light EP, fans waited to see how Jonghyun would be honored in the tracks.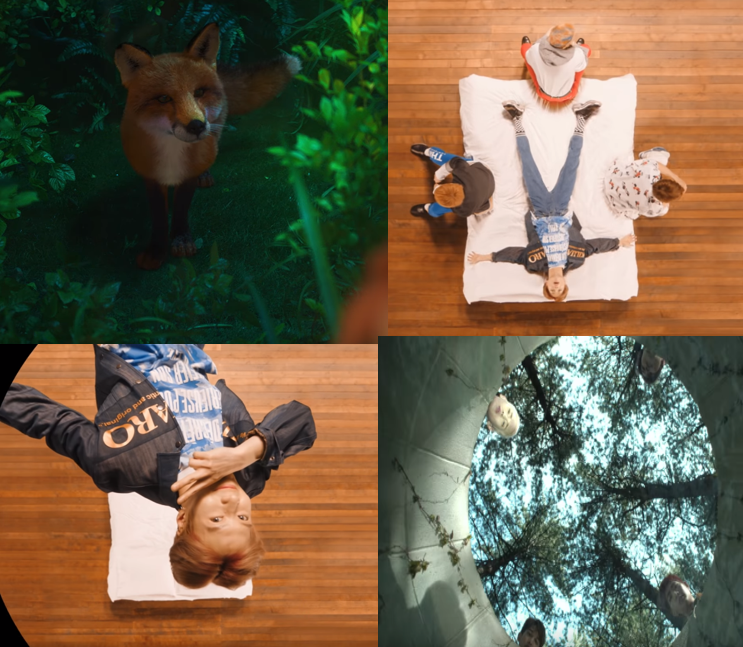 SHINee didn't disappoint as Jonghyun's presence is felt with each title track and MV, from a friendly little fox (a symbol of the afterlife in some East Asian cultures), five trees, and a rising shadow from a well in "Good Evening" (2:45), to the appearance of Vs (Roman Numeral five) in "I Want You" via SHINee's leg movements and Taemin's gestures at the MV's end. While SHINee maintain their quirks and unique color in their recent tracks, Jonghyun's absence is felt strongly.
In "Our Page," SHINee addresses Jonghyun's loss in the most poetic, visually moving way they could. On the surface, the MV is like any other SHINee MV with the use of bright colors, filters, and funky scenery. The content within the video is still processed, polished, and produced where actions and dances are deliberate and practiced like any other MV; yet, the video feels raw and heartrending as if SHINee's true emotions are finally allowed to come through.
Compared to "Our Page's" strong lyrical presence and well-done composition, the video is surprisingly subtle and quiet. The opening sequence hits hard with the remaining SHINee members—Key, Onew, Taemin, and Minho—carrying on their activities with blank expressions. Here, the viewer gets slapped in the face with the reality that Jonghyun is gone as SHINee numbly tries to come to grips with what happened. The video feels like it chronicles the moments and months following Jonghyun's reported suicide on December 18, 2017. The empty actions such as mindlessly playing on a keyboard, sitting in a weight room, playing games, and preparing for a photoshoot are all acts of going-through-the-motions as a sense of normalcy. These scenes do well showing shock and subtle denial as SHINee, as well as the K-Pop world, attempt to come to terms with the tragedy.
Once the song begins, the action picks up, but each member carries on with the same blank stares even though the actions are not atypical for idols of their caliber. Minho carries on with acting while Key dances; Onew writes and composes; Taemin goes to the gym. Life moving forward was not easy.
As the video progresses, the artistry provides several moving, emotional moments that don't go unnoticed. The passage of time is reflected beautifully as each member stands still in different rooms where time passes via time-lapse video. While subtle, these scenes capture grief well since each member wears the same outfits as the days pass behind them. One of the common phrases heard during the grief process is that "every day is the same," and the lack of clothing and emotional changes paints this common feeling well.
Each member's wandering the streets relates to feeling lost. Their wanderings have no clear direction. The smoky, often dark scenery here enhance the melancholy mood.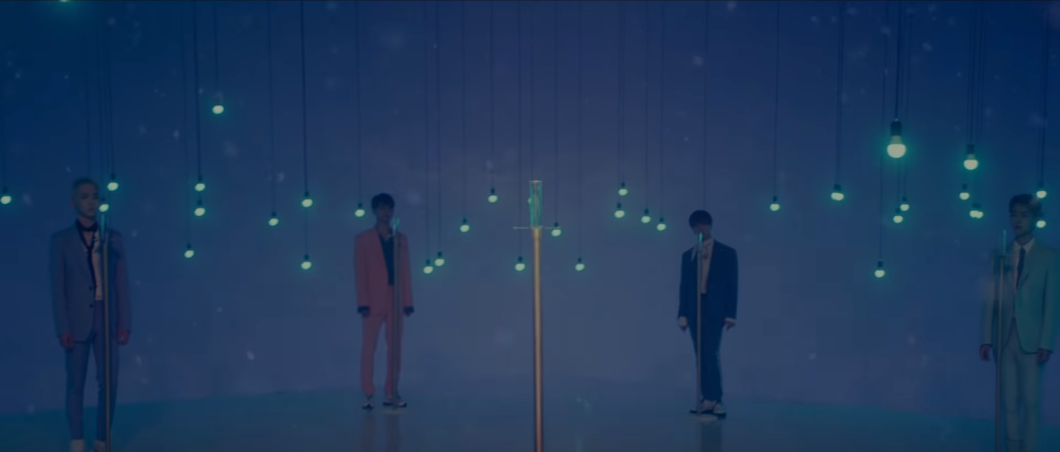 However, the MV does take a more hopeful approach midway. One of the most beautiful moments comes during SHINee's wanderings when the pearl aqua light appears above them. There are two symbols here worth noting: The pearl aqua light, of course, symbolizes Shawols and how they helped SHINee out of the darkness, but it's also a nod to the "pearl aqua moon" fans claim to have seen the morning of Jonghyun's funeral. As the video climaxes, pearl aqua light bulbs surround SHINee like shining stars, enhancing the symbolism of Shawol's presence during their recovery phase. The lights slowly start to glow as SHINee climb the stairs to a stage (a symbol of their first concert without Jonghyun). We finally see a fifth microphone that glows pearl aqua, a sign that even though Jonghyun is no longer here, he is still a member of the group; SHINee will always be five.
The MV is emotional enough on its own, but paired with the lyrics, it makes Jonghyun's passing real. The song makes several references to Jonghyun and the life he left behind ("I want to fill the pages of this story that isn't over yet/ Until the very end") through a generally upbeat electronic track.
SHINee and SM Entertainment songwriter Kenzie wrote the lyrics that reference how much Jonghyun is and will be missed and how SHINee will always be connected ("Can you feel it? We're connected/ By our hearts that are transparent like invisible string/ When I stand again on the road we walked on together/ There are five overlapping hands, tears and memories/ It's so clear, I don't want to forget, I can't forget").
In the song, SHINee reference their debut as five ("May 25, 2008/ Boys shining brightly/ Like green waves of spring/ That time will spread and flow forever"), which is a nice nod in a sad-yet-touching song. However, the lyrics that stand out the most are those that have a double meaning:
The pretty words you left behind become a poem, become a song
Our voices are flying, we know it'll reach you wherever you are
If a star vanishes, will everything be forgotten?
The lyrics are two-fold because they could refer to Jonghyun's lyric-writing skills (besides his own music, he's written songs for other artists including Lee Hi), but they could also refer to Jonghyun's suicide note. The "pretty words you left behind" indicate that Jonghyun's music will live on, especially when tied to the "our voices are flying…" and "will everything be forgotten" lines, which represent SHINee and other artists singing the songs Jonghyun wrote. Similarly, the "pretty words" could represent Jonghyun's letter because, while painful and pained, the language was artistic like a poem. The "voices flying" and "it'll reach you wherever you are" lines seem to reference "you did well," words Jonghyun said in his letter. In fact, toward the end of "Our Page," "you did well" can be heard in the background, so it isn't a coincidence that the lyrics can be interpreted both ways.
"Our Page" is a beautiful, fitting tribute to Jonghyun as it tells the story of the days since his passing. SHINee did well using their music to reveal and release the pain they have. For fans, "Our Page" is a beautiful track that shows that SHINee's new path will not be without Jonghyun. This song is art and healing in their purest forms, and it's the track we all needed to help say goodbye and heal.
—-Joelle Halon
2 responses to "SHINee's "Our Page" Beautifully Raw, Perfect Jonghyun Tribute"
Related Articles