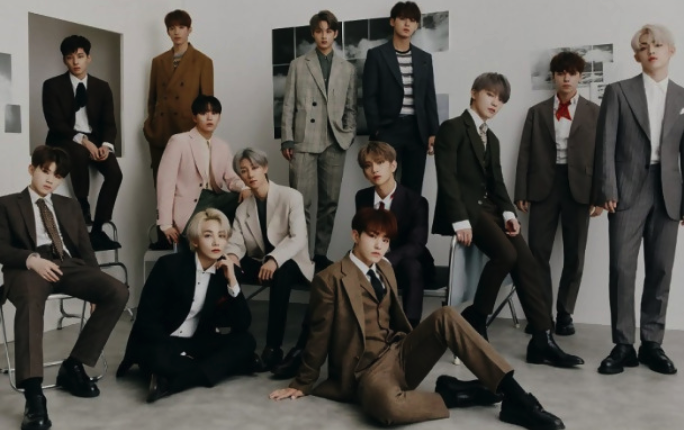 Pledis Entertainment announced that Seventeen will embark on their latest tour in 2020.
Produced by Live Nation, Seventeen's eight-city North American-leg of the Ode to You tour kicks off January 10, 2020 in New Jersey. Ode to You is Seventeen's first North American tour since 2017's Diamond Edge tour.
The Ode to You tour—which kicked off August 30, 2019 in Seoul, South Korea and is now currently working its way through Japan, Indonesia, and Thailand—is named for the group's Ode To album that dropped in September. Ode To is currently Seventeen's best-selling album.
The North American tour leg will stop in New Jersey, Chicago, Dallas, Houston, Mexico City, Los Angeles, San Jose, and Seattle when it rolls through in January. Unfortunately, venues have not been announced yet,* but tickets are available for pre-sale already via Ticketmaster.
Live Nation partnered with Ticketmaster's Verified Fan platform. From now until October 20, 2019, fans who wish to attend Seventeen's concerts can register on the verified fan page to receive a code. Then, those with verified fan codes can purchase tickets October 22 at 4pm local time until October 24, 2019 10pm local time before the general public can purchase tickets.
If you want to see Seventeen in concert, here are your chances to do so:
January 10, 2020 – New Jersey

January 12, 2020 – Chicago

January 14, 2020 – Dallas

January 15, 2020 – Houston

January 17, 2020 – Mexico City, Mexico

January 19, 2020 – Los Angeles

January 21, 2020 – San Jose

January 23, 2020 – Seattle
SEVENTEEN WORLD TOUR <ODE TO YOU> NORTH AMERICA pic.twitter.com/Po1gyoGAsd

— 세븐틴(SEVENTEEN) (@pledis_17) October 1, 2019
*Venues will be added to article when they are announced.
—-Olivia Murray
Related Articles