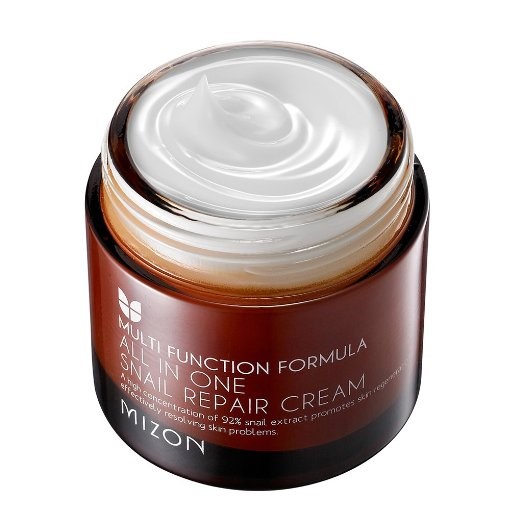 For the above 30-years old set, Mizon products make great additions to a skincare routine. The creams are light without being too potent or being made for people with "teenaged skin" but are also perfectly fine for more mature skin.
One Mizon line of moisturizers stands out as a positive addition to a moisturizing routine. The snail repair line of face and eye creams are rich, fast-absorbing, and luxurious. Based on a month-long trial, I found that the products are two of the most useful moisturizers on top of being some of the most affordable (around $13 each).
Packaging
Both products come in nicely packaged boxes that have the date of when the products were manufactured, so users will know if the creams are fresh. The jars are a dark brown, heavy glass with plastic lids. I like how the jars are darker to help preserve the integrity of the product.
Once the lids are removed, there is a plastic seal around the opening as well as paper and hard-plastic lids to protect the creams. If any of these are missing, it's safe to say it's possible the creams have been tampered with in some way (used as a tester product, opened in store, or actual tampering) because there is plenty of protection provided to ensure a pure product.
Ingredients
Active Ingredient: 92 percent snail mucus extract
Inactive Ingredients: Snail Secretion Filtrate, Cetearyl Olivate, Sorbitan Olivate, Cetearyl Alcohol, Stearic Acid, Glyceryl Stearate, Hydrogenated Vegetable Oil, Dimethicone, Triethanolamine, Carbomer, Butylene Glycol, PEG/PPG-17/6 Coploymer, Polyacrylate-13, Polyisobutene, Polysorbate 20, Sodium Polyacrylate, Caprylyl Glyocol, Ethylhexylglycerin, Tropolone, Adenosine, Sodium Hyaluronate, Portulaca Oleracea Extract, Betula Platyphylla Japonica Juice, Arnica Montana Flower Extract, Artemesia Absinthium Extract, Achillea Millefolium Extract, Gentiana Lutea Root Extract, Alcohol, Camellia Sinesis Leaf Extract, Centella Asiatica Extract, Copper Tripeptide-1, Human Ogliopeptide-1, Propylene Glycol, Rubus Idaeus (Raspberry) Fruit Extract, Beta-glucan, Palmitoyl Pentapeptide-4, Disodium EDTA
Use
The creams are easy to use and go on just like other moisturizers. After washing your face and patting it dry, use the snail repair face cream first. The package recommends tapping it into skin; this method works well on the chin, jaw, cheeks, and forehead, while gently rubbing it in using an upward motion works better on the nose, neck, and décolletage.
After applying the face cream, use the eye cream by gently tapping it into the temples, between eyebrows, and below the eye while spreading it gently on the eyelids to the brow bone. The eye cream is heavier, which is why it goes on last.
Impressions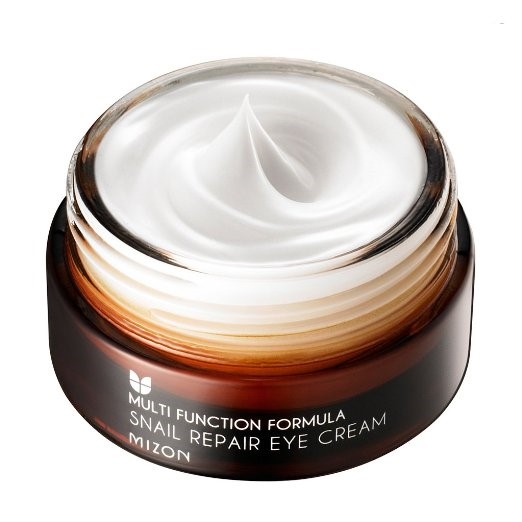 Many would shrivel their noses up to a cream that uses snail mucus as a main ingredient. I will admit that I did too. Because I expected snail mucus, I thought the creams would be sticky and weird like papier-mâché paste, but it's not. The cream is white, airy, and smooth with a consistency that's just below a homemade meringue texture.
What I liked was how the product absorbed into skin without getting sticky or tacky. When it dries into skin, what's left behind is a velvety soft texture. I prefer using the creams at night with a sleep pack or the Mizon collagen power firming cream layered on top. My skin feels amazing come morning.
After using the products for a month, there are a few observations I noticed for my own skin (results will vary based on your skin).
I've experienced fewer breakouts: Once a month, I would get those pesky breakouts along my jaw and forehead. This issue appears to be less of an issue even though I cannot 100 percent say it's because of the creams or some of the diet changes I made (or both!).
Dark circles under my eyes aren't as pronounced: I have what many would call "raccoon eyes" because of the dark circles I have. Thankfully, the darkness has faded considerably, and my eyes appear brighter and more awake.
Skin has a more even texture: I'm prone to dry, flaky skin; however, as I continued to use the creams, this was less of an issue.
Skin looked healthier: I have a dull complexion thanks to sun damage, but my skin didn't look as drab once I got into a regular routine. When I skipped days of using the creams, it was noticeable.
I can't say I noticed a reduction in fine lines like the snail products promised, but I did experience other positive changes. The positives far outweigh the need to reverse the slight crinkles around my eyes.
The Verdict
So far, Mizon's snail repair cream line ranks up there as one of my top favorite beauty products. The creams are gentle on skin and make a nice difference in the overall appearance. I love the changes in the texture of my skin.
The Verdict: Worth the price and definitely amazing!
Mizon's snail repair line can be purchased on Amazon.
—-Joelle Halon
Related Articles