Recap of Joy Ruckus Club's K-POP SUPERFEST 2021 –
Virtual Event Live From YES24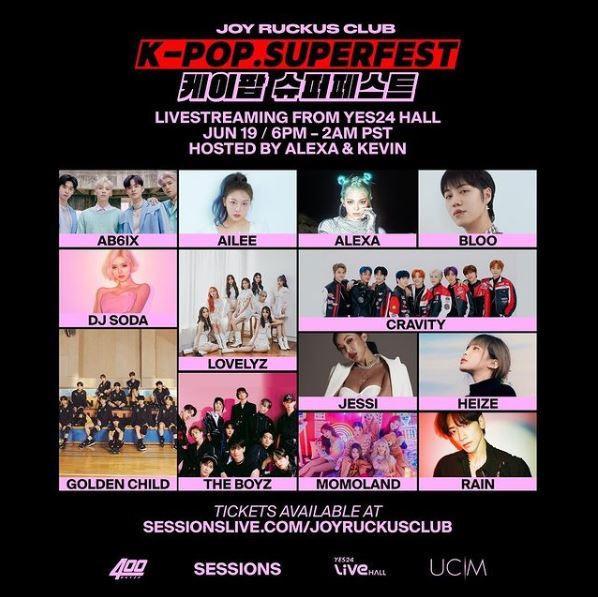 This past weekend on June 19, 2021, Sessions and Joy Ruckus Club joined forces to host the biggest Asian music festival in the world.
This was actually the first time Sessions worked to promote an all K-pop event.
Joy Ruckus Club which currently boasts of being the largest Asian virtual music festival in the world, was founded by Asian-Americans in in order to cater Asian pop music and culture to the rest of the world.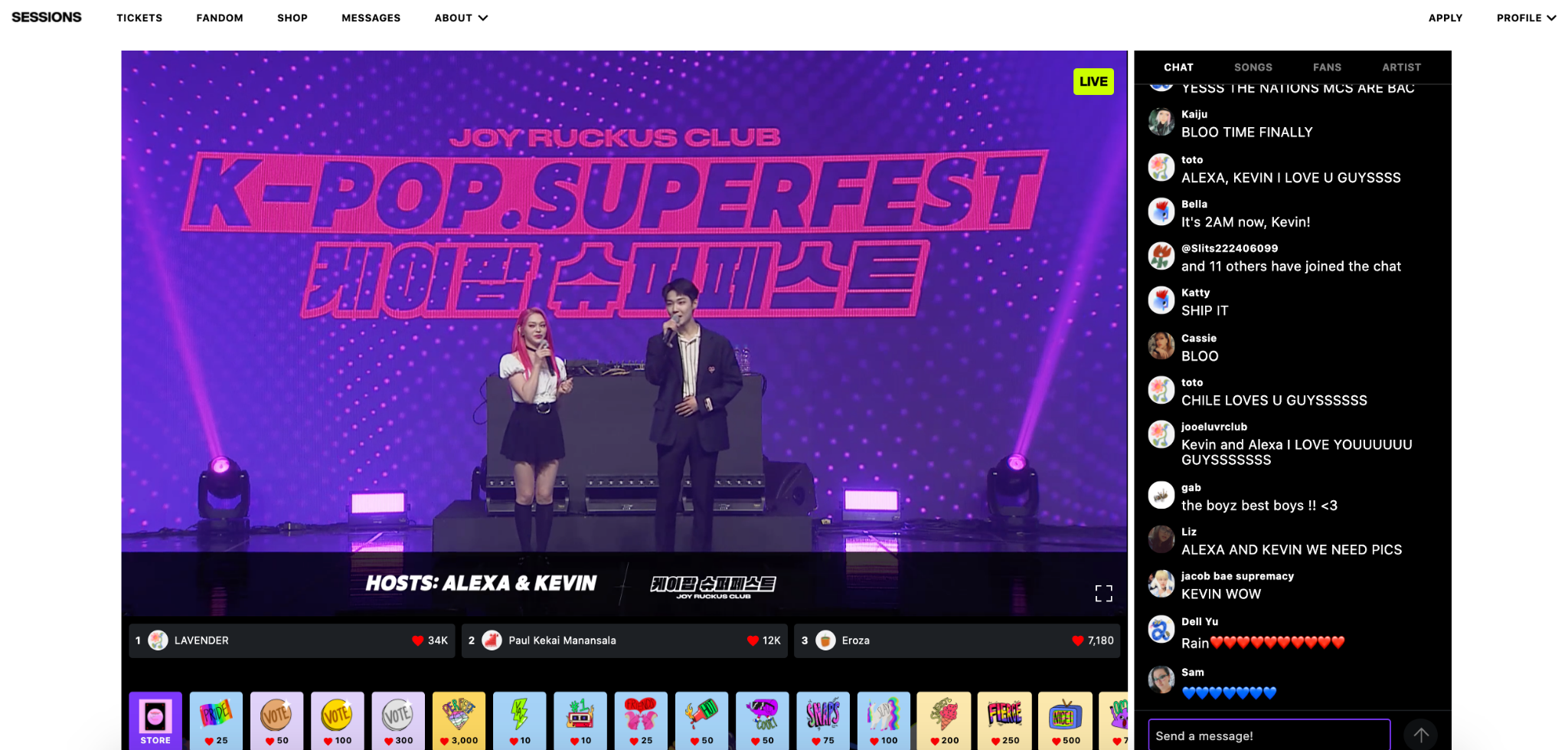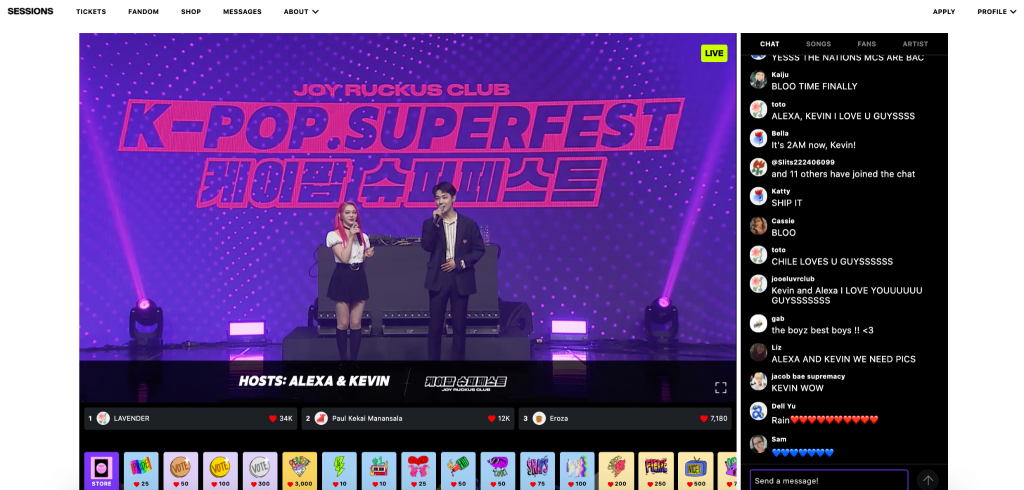 The K-pop SuperFest 2021 was streamed live to global fans across 194 countries and 18 languages via the Sessions – Joy Ruckus
Club website from Yes24 Live Hall, Seoul.
The virtual pop festival was hosted by American K-pop artist AleXa and Kevin from The Boyz in English.
No matter what time zone, viewers from various parts of the world took time off to enjoy live performances by some of the most iconic Korean pop artists of various music genres: Rain, Ailee, Jessi, plus popular boy/girl groups, AB6IX, Golden Child, Cravity, Momoland, GWSN, Woo!ah!, The Boyz, Lovelyz, rapper Bloo, and DJ Soda. Female rapper Heize was also scheduled to perform but couldn't make it due to unknown reasons.
The K-pop acts performed their latest music live to virtual audiences, as well as the fan favorites and went on to interact with the viewers by reading their comments and even singing requested songs at times.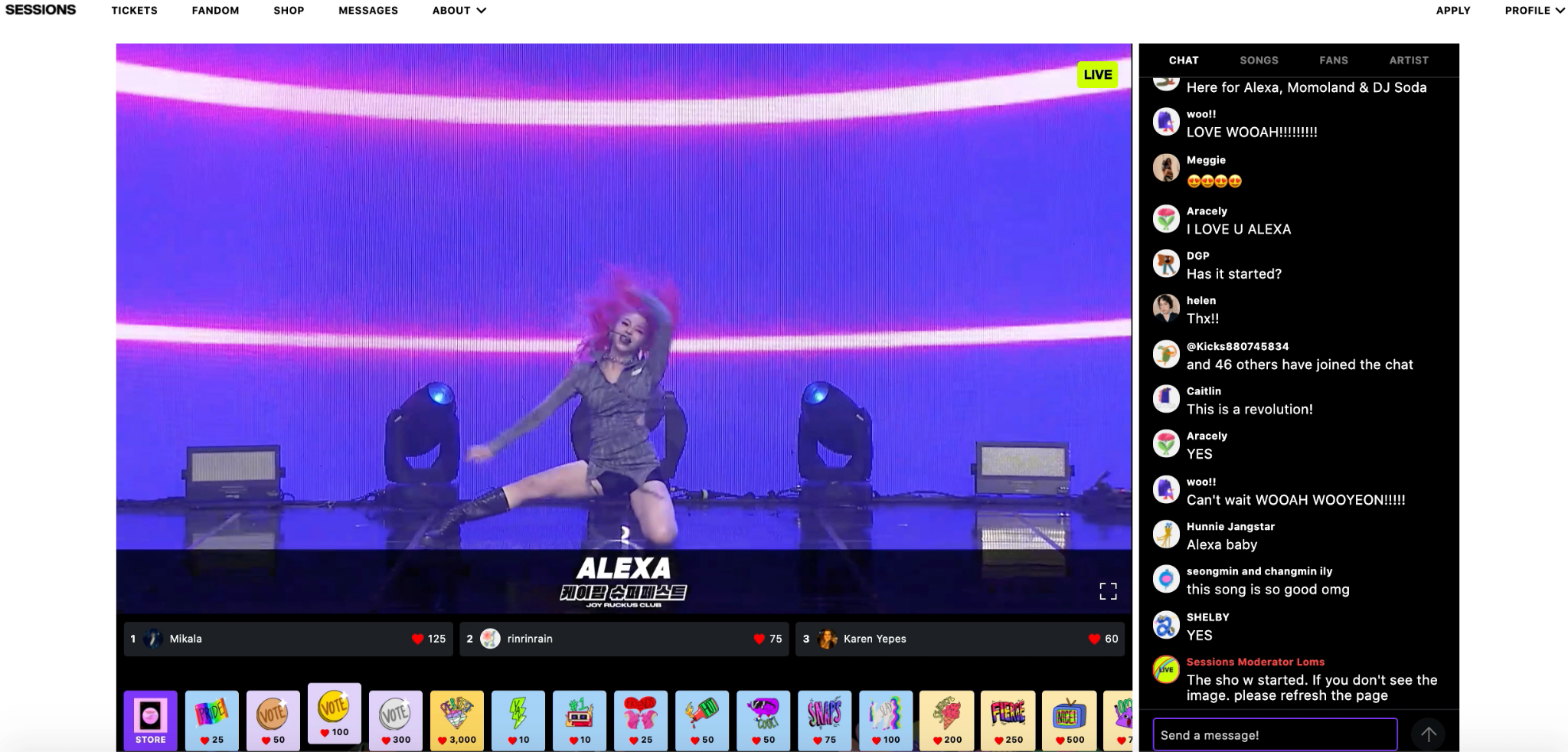 AleXa not only hosted the show alongside Kevin, she was the first to perform her catchy dance numbers including "Bomb" and "Revolution" to kick off the show to the delight of many fans.
AleXa is a promising K-pop singer and dancer of Korean and Russian descent, who was born and raised in Oklahoma, USA. After she competed and won the talent competition "Rising Legends" – she was later signed to ZB Label.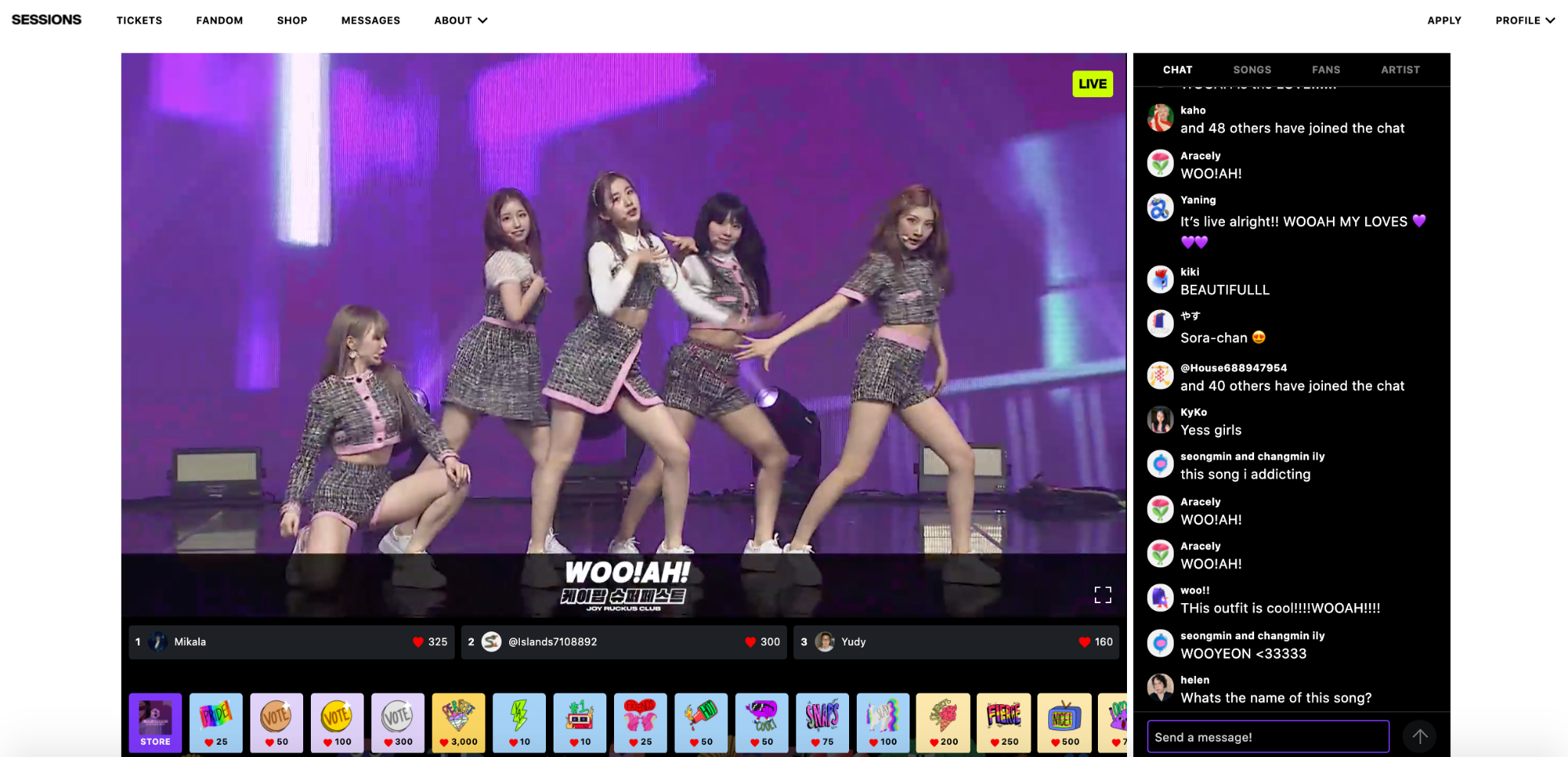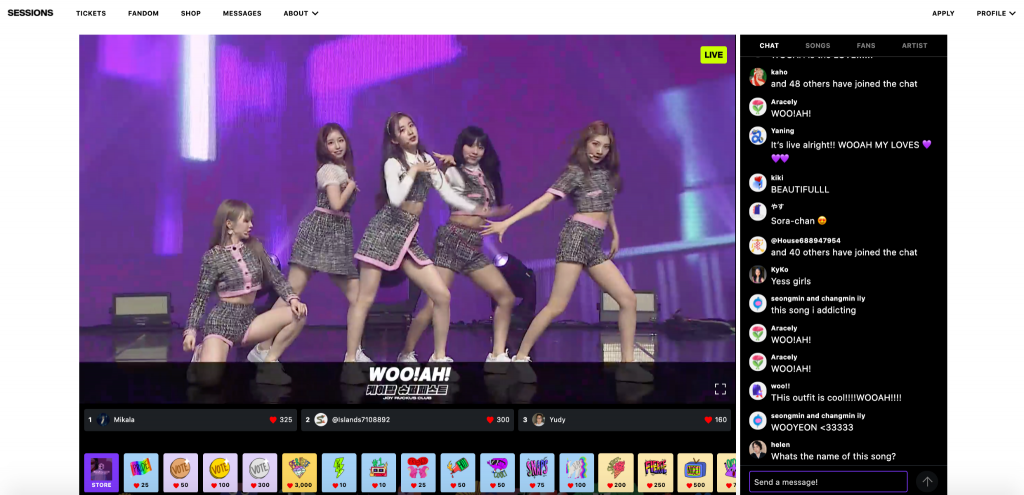 Girl group Woo!ah! was the second act to perform their signature dance tracks – their latest single "Purple" from their third single album "Wish" has made headlines for topping the K-pop music video chart for 4 weeks.
Woo!ah! is a South Korean 6-member girl group that was launched in 2020, the members currently consist of Sora, Nana, Wooyeon, Minseo and Lucy.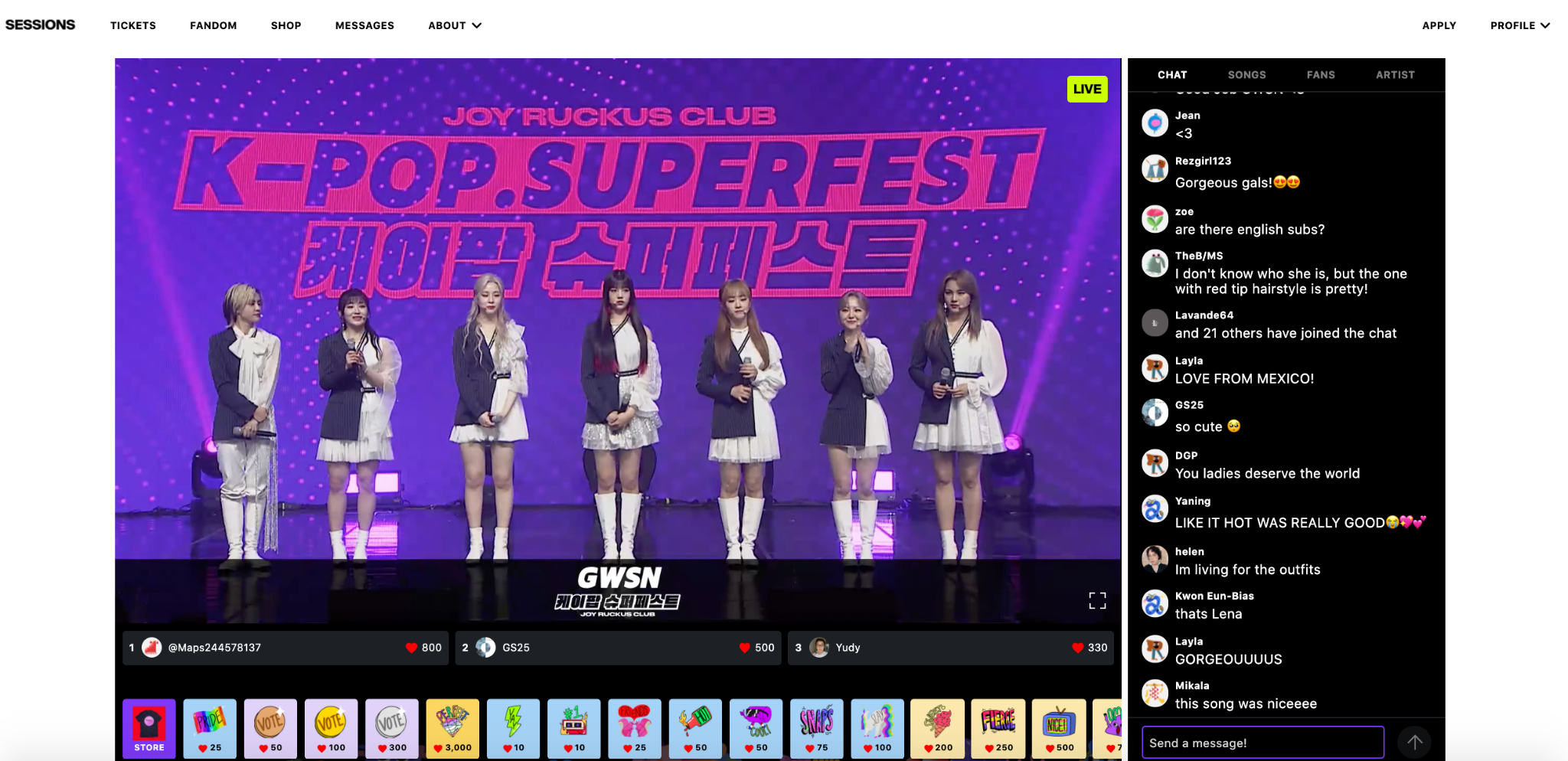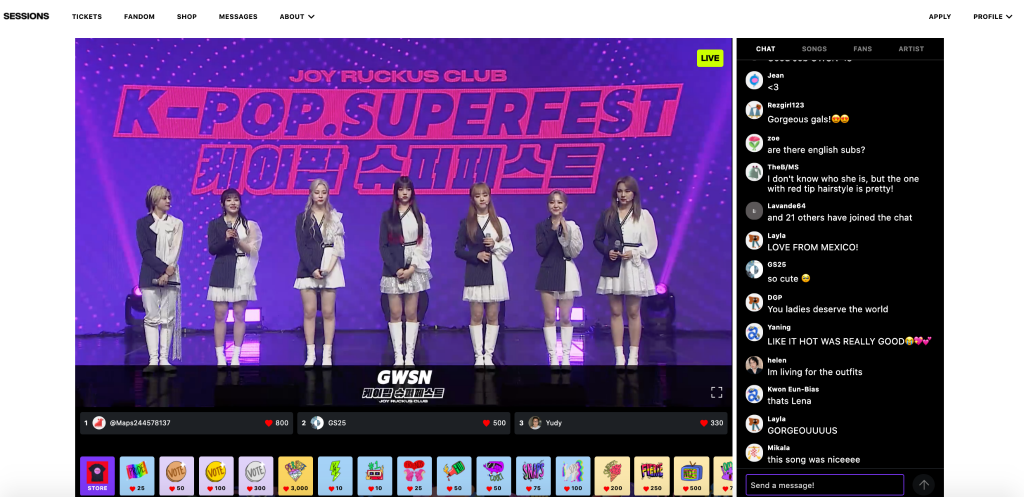 Up next to perform was K-pop girl group GWSN, a seven-member girl group formed in 2018. The group consists of members Miya
Seokyoung, Seoryoung, Lena, Anne, Minju and Soso who are from South Korea, Japan and Taiwan.
At the K-pop SuperFest, the girls showcased the best songs selected from five mini albums for their fans.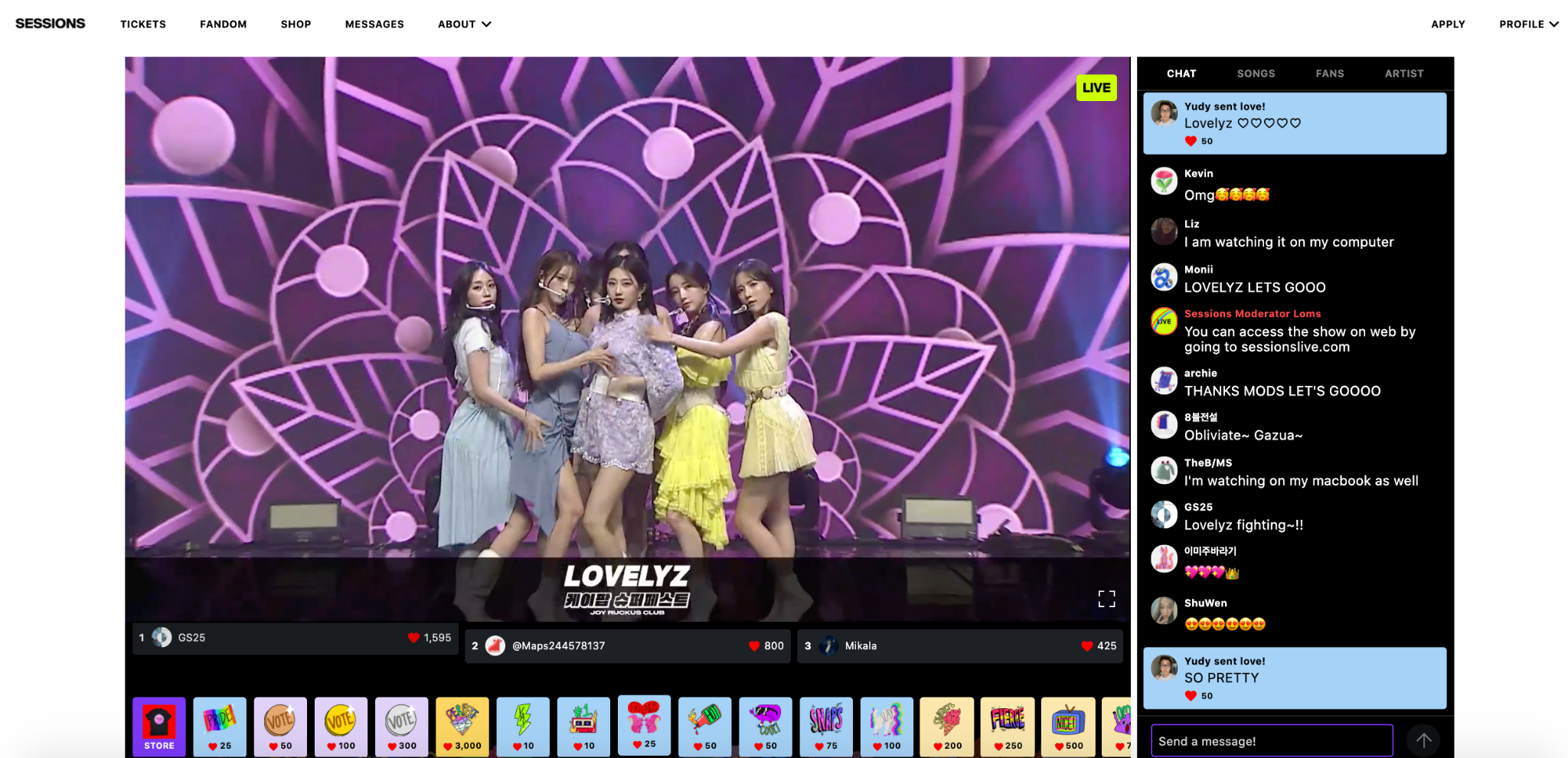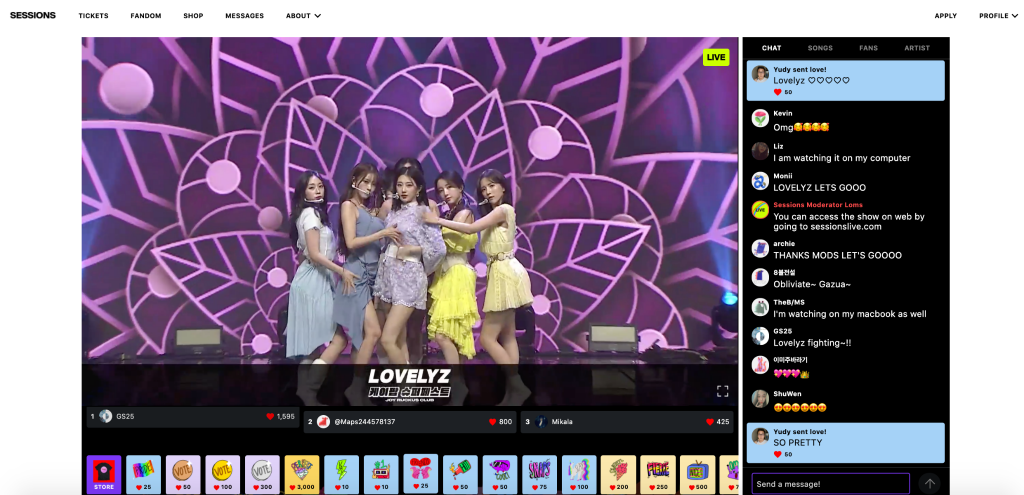 Girl group Lovelyz performed 6 of their songs which included Rewind, Obliviate and Ah-choo. In between the performances, they took time to chat and answer questions from viewers on what they've been up to and such.
The South Korean girl group was formed in 2014 – the 8-member girl group consists of Baby Soul, Jiae, Jisoo, Mijoo, Kei, Jin, Sujeong and Yein.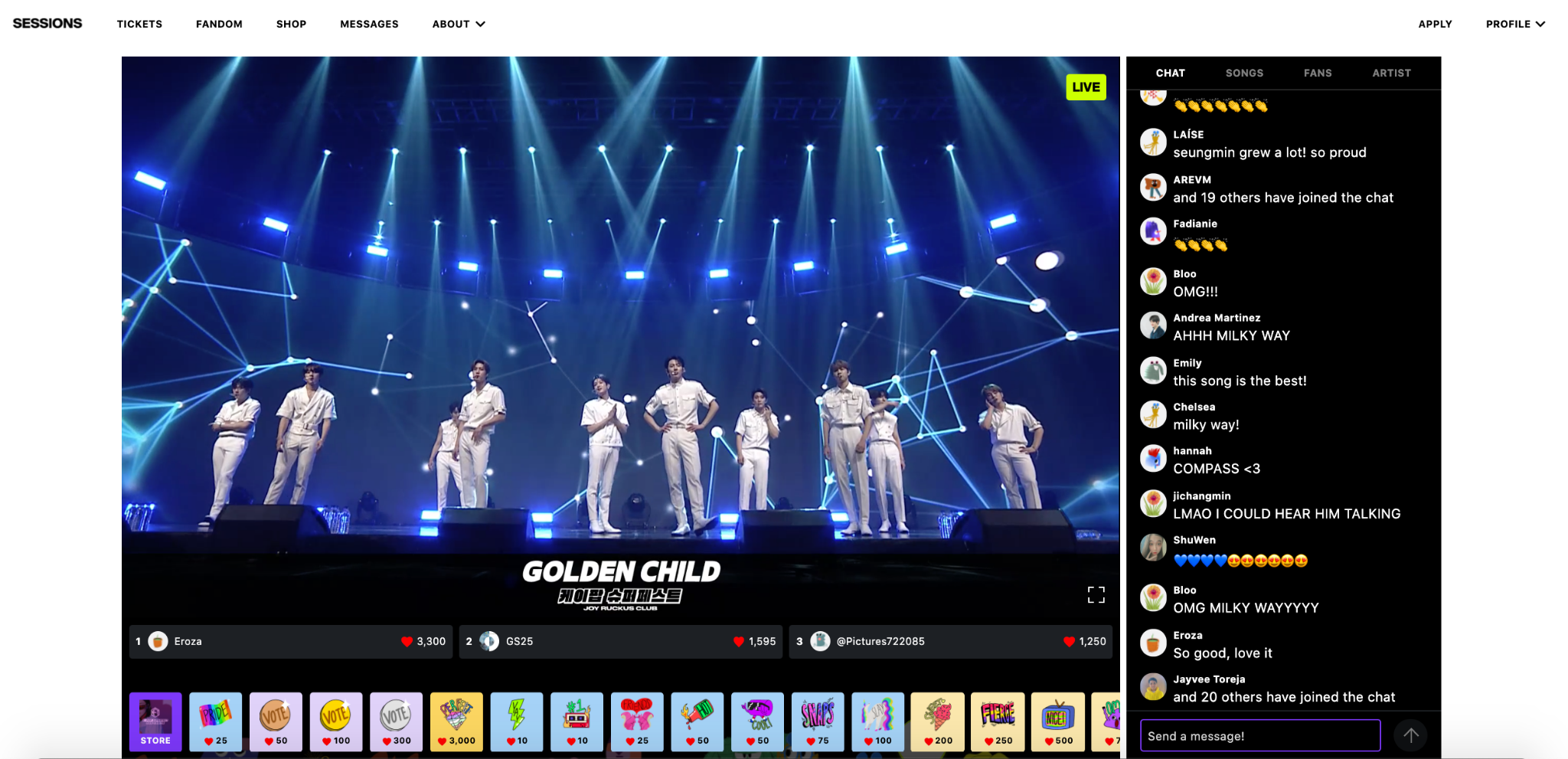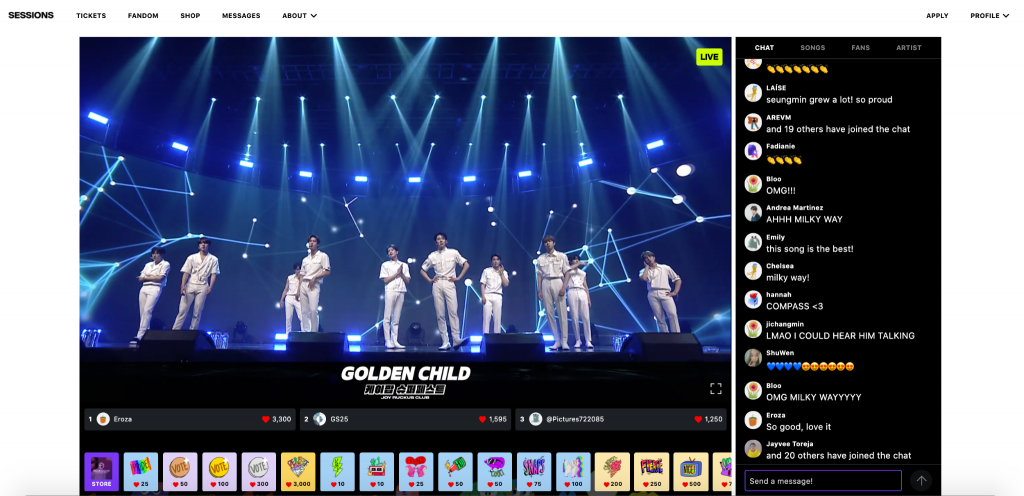 10-members boy band Golden Child appeared on stage wearing all white, and entertained the fans by performing several of their songs like WANNABE, Milk Way, and Burn it.
After performing the first three songs, the members talked about various things and expressed how happy they were to be performing in so long. Lovelyz and Golden Child are signed under the same agency, Woolim Entertainment.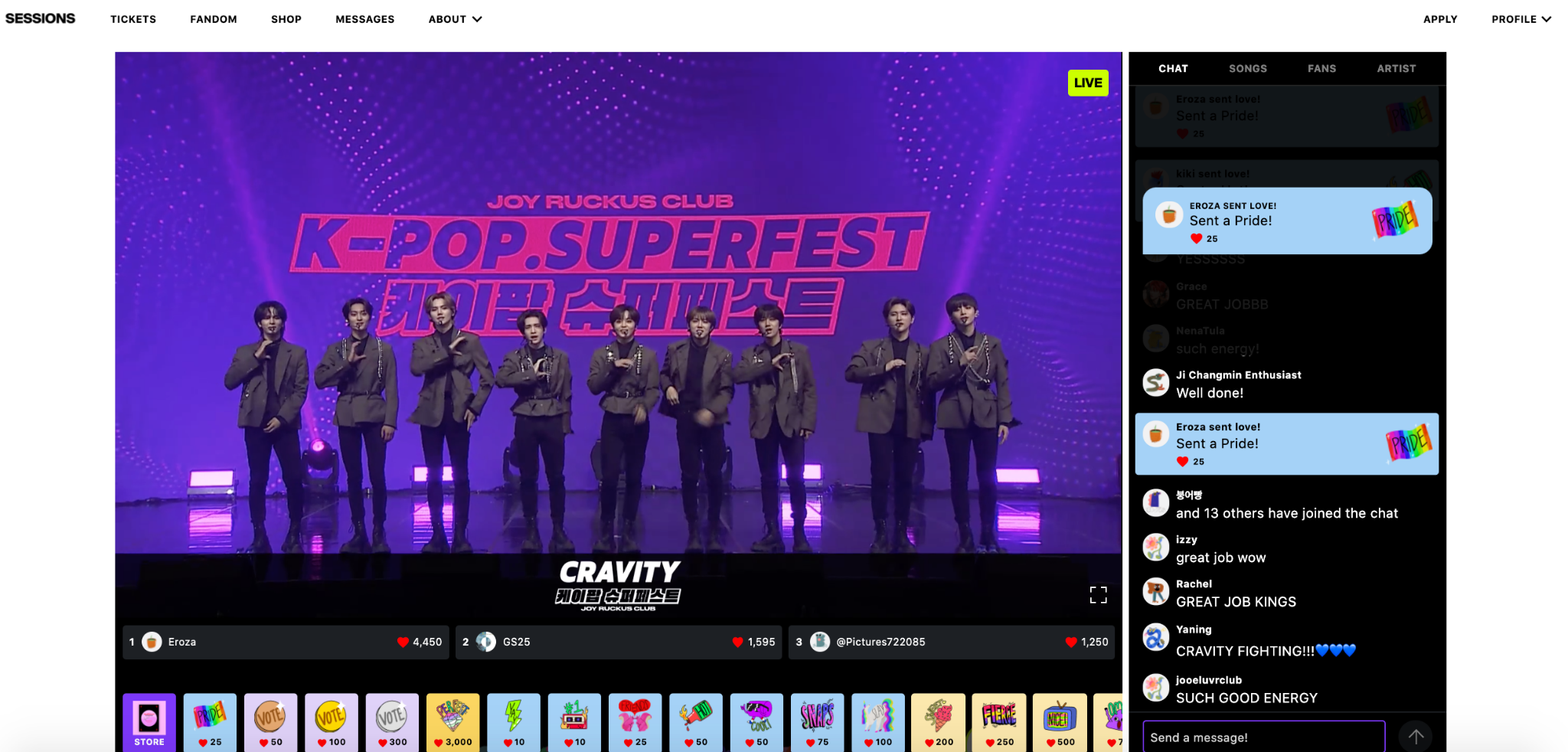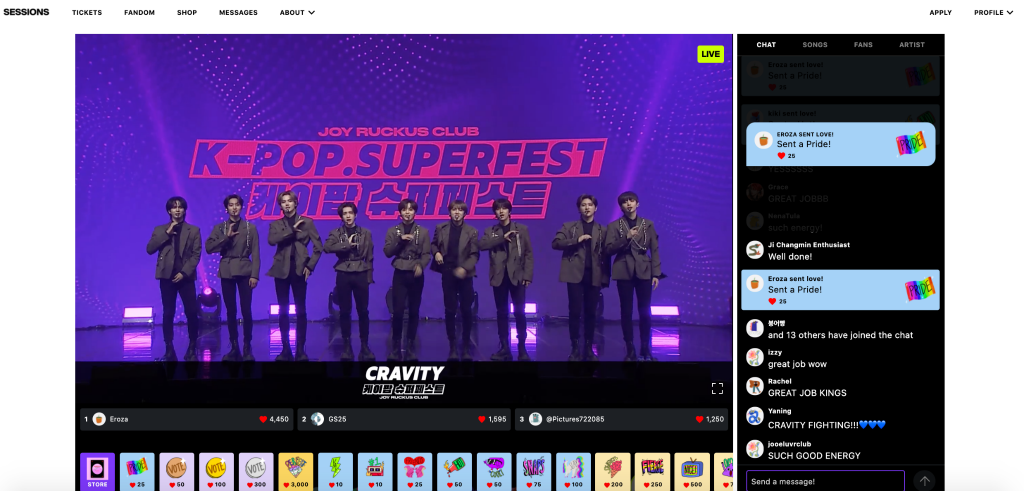 Cravity is a 9-member boy band that made its debut just over a year ago under Starship Entertainment, which also houses MONSTA X.
The rookie group has since released three mini albums and performed five songs at the SuperFest.
While taking a rest in between songs, they interacted with the viewers and read random comments in appreciation.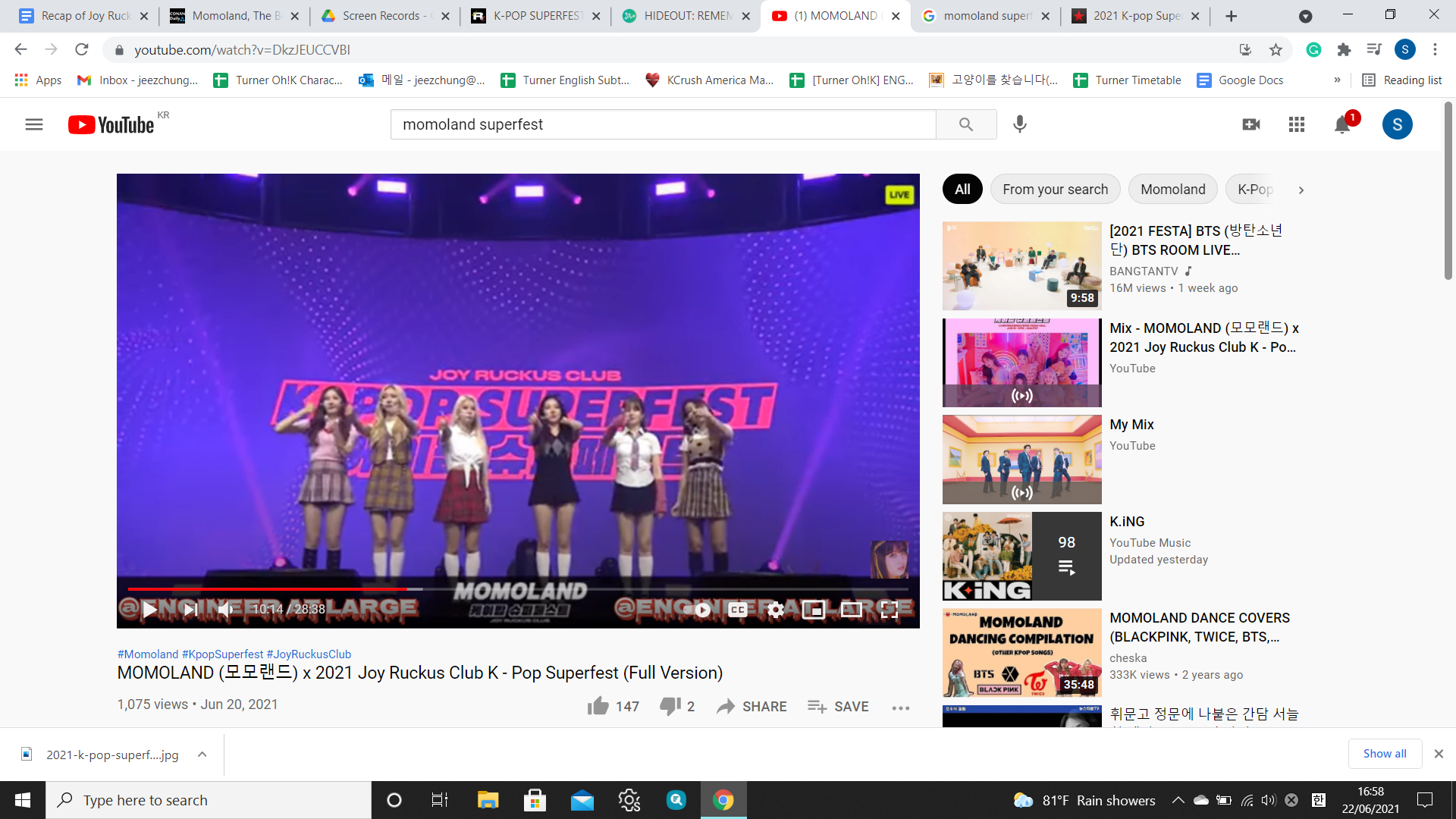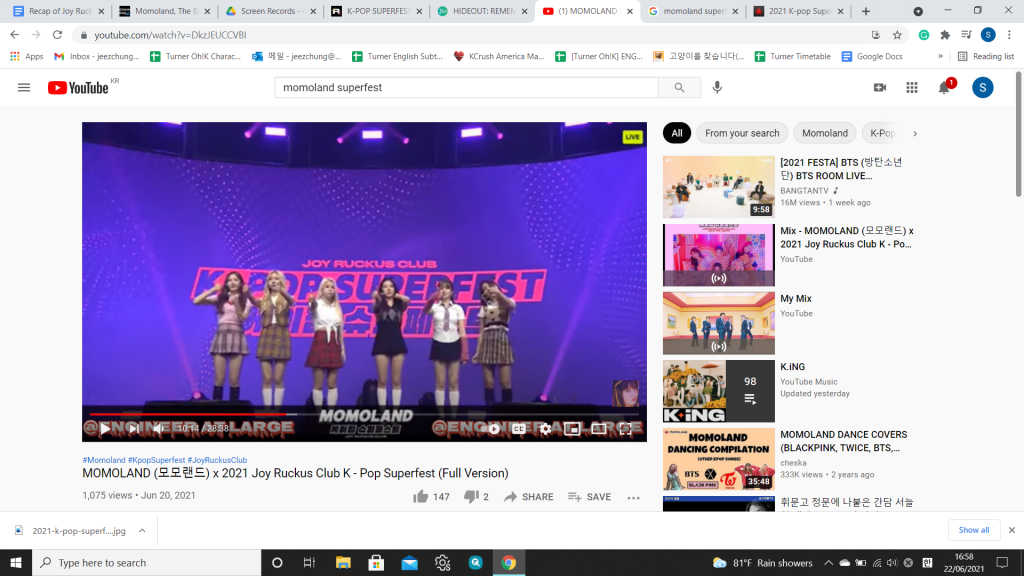 Cravity's performance was then continued by popular girl group MOMOLAND. After a change of line-up, the girl group currently consists of six members Ahin, Jane, JooE, Hyebin, Nancy, and Nayun.
The group staged the K-pop festival with a list of their songs which included their best known hits "BAAM" and "BBoom BBoom."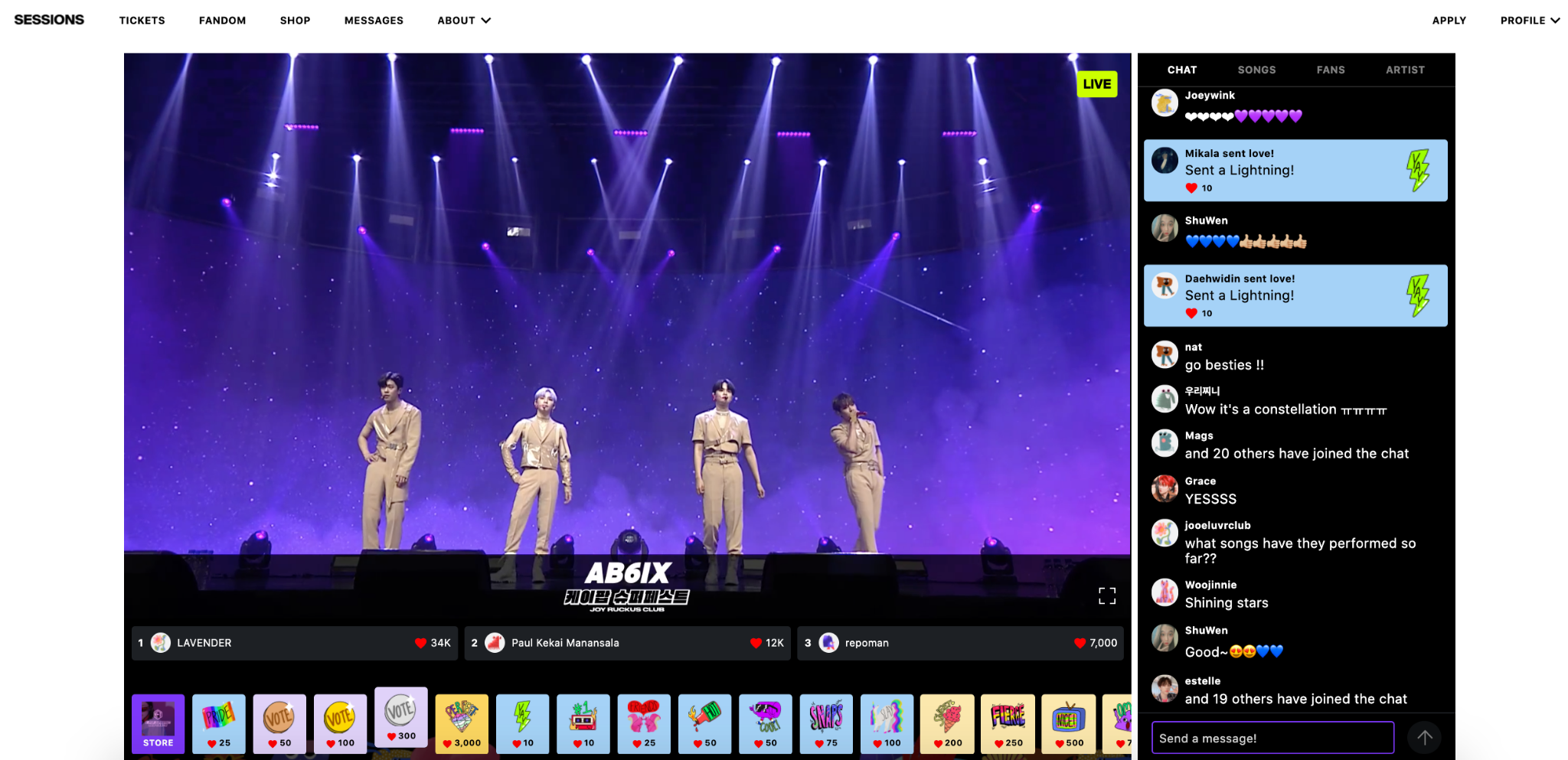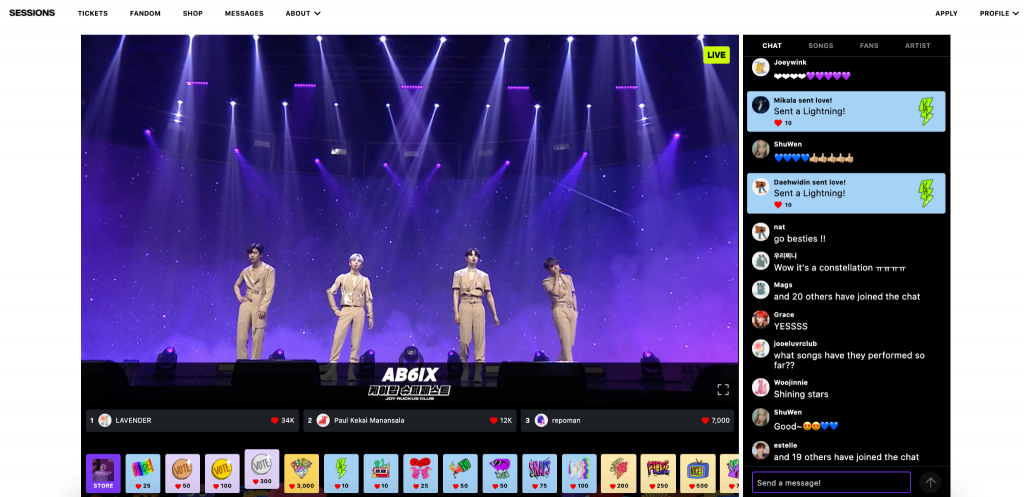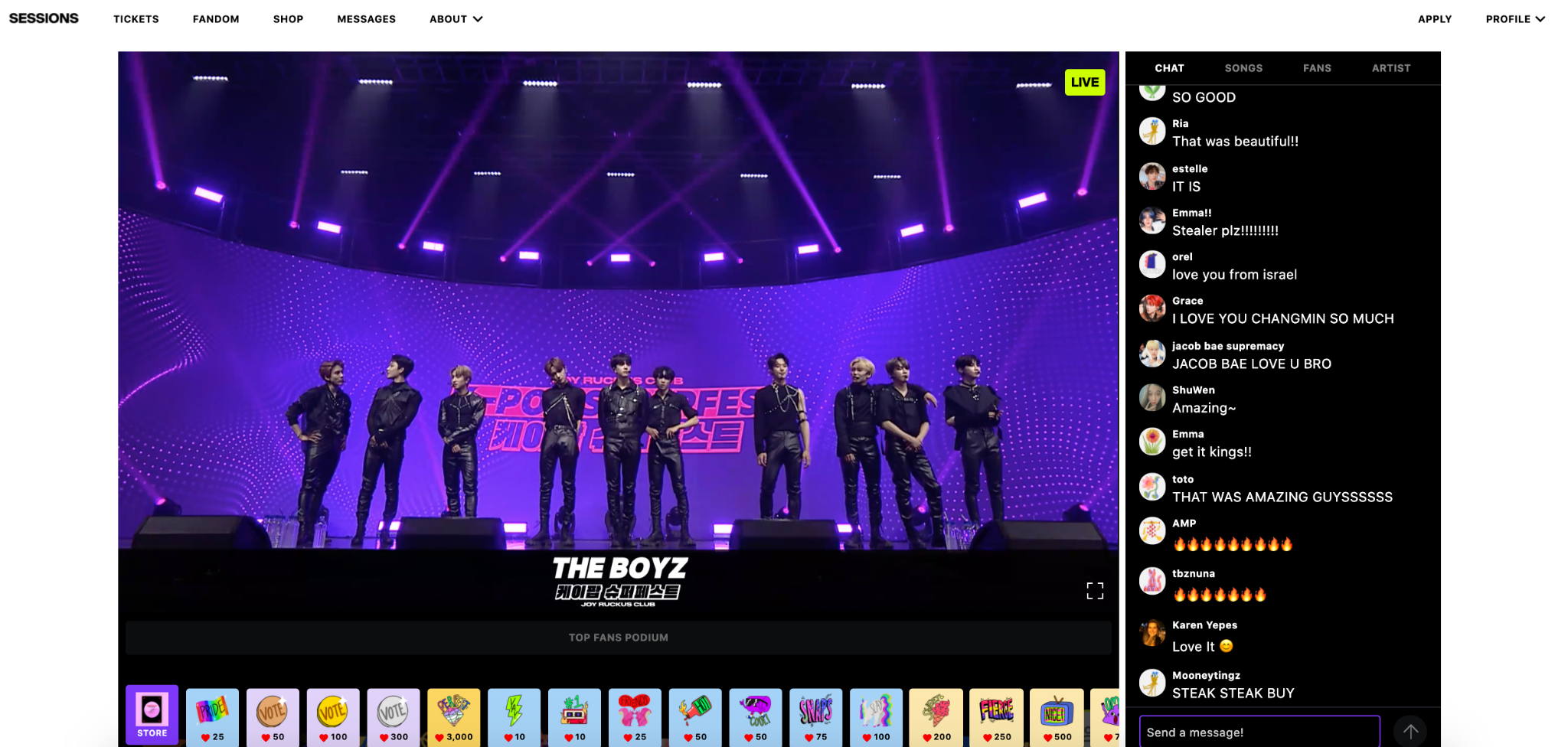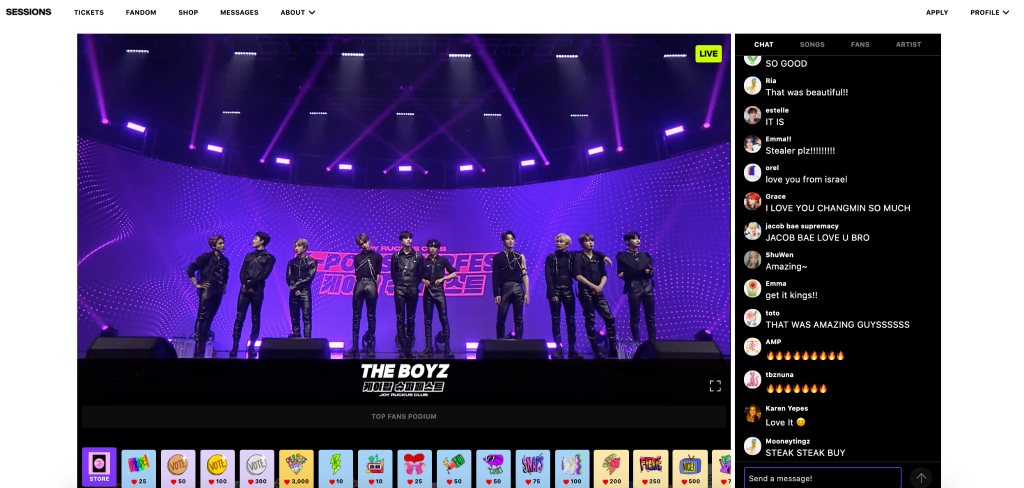 Boy bands AB16IX and The Boyz were the last groups to perform. AB16IX, which is a 4-member group formed by Brand New Music in 2019, performed their songs "Salute" and "Lululala" and more.
The Boyz, who debuted in 2017 under Cre.ker Entertainment, wowed the audience by performing fan favorites "The Stealer" and "Reveal" while the fans got busy sending hearts towards the 11-member band.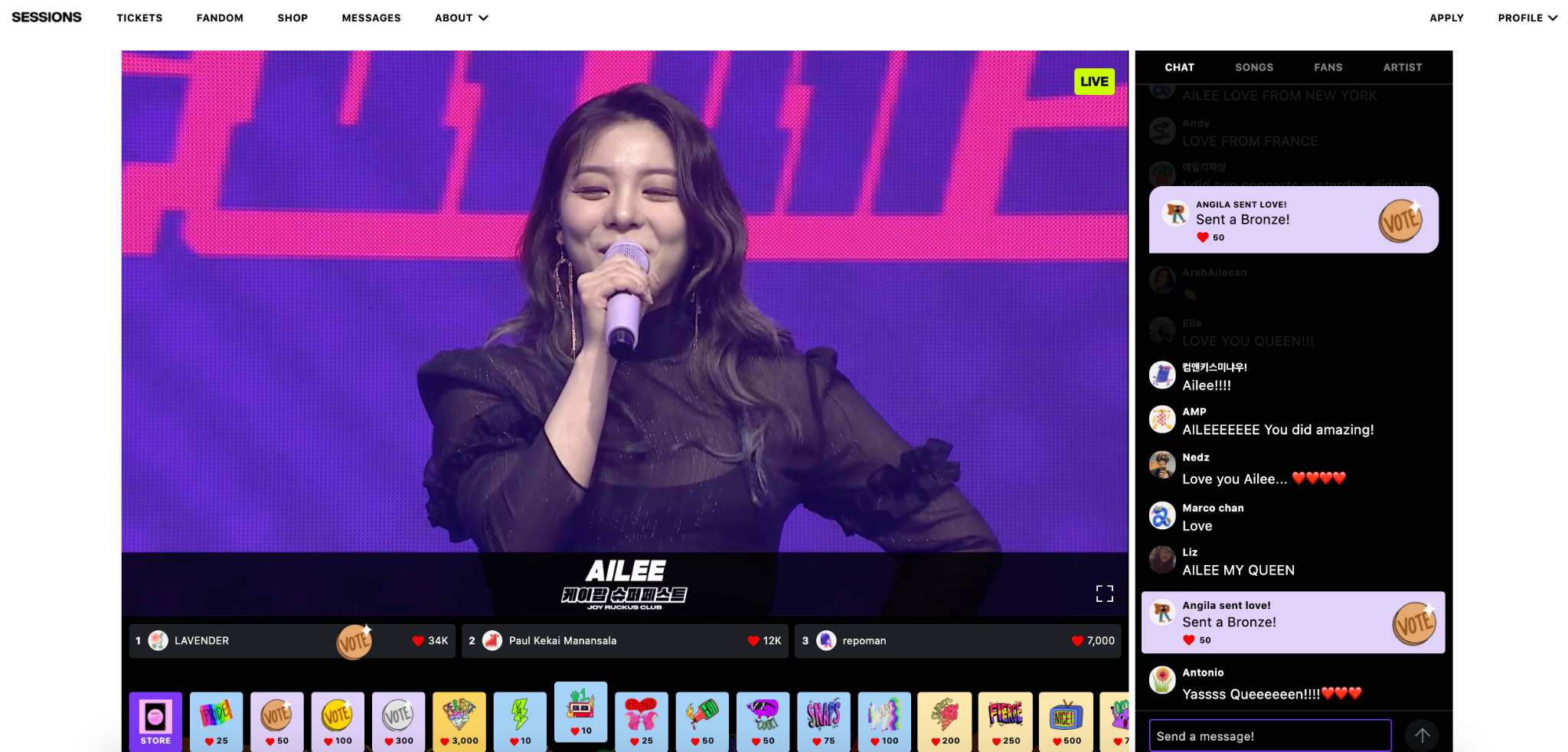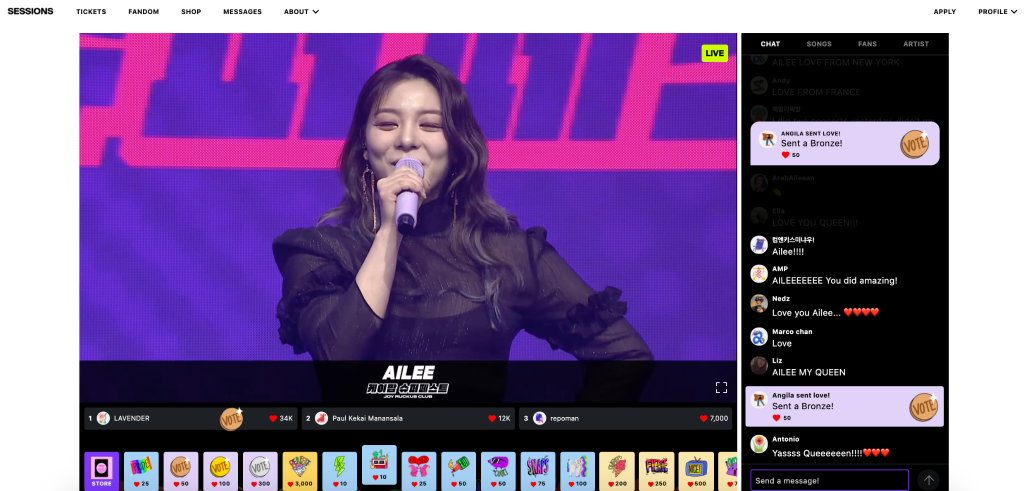 One of the most anticipated artists of this festival was Ailee. The Korean-American singer performed four songs including "U&I," "Make up my mind," and "I will go to you like the first snow."
The singer-songwriter even sang a snippet of Whitney Houston's "I will always love you" when she was asked to sing a Whitney song via a comment.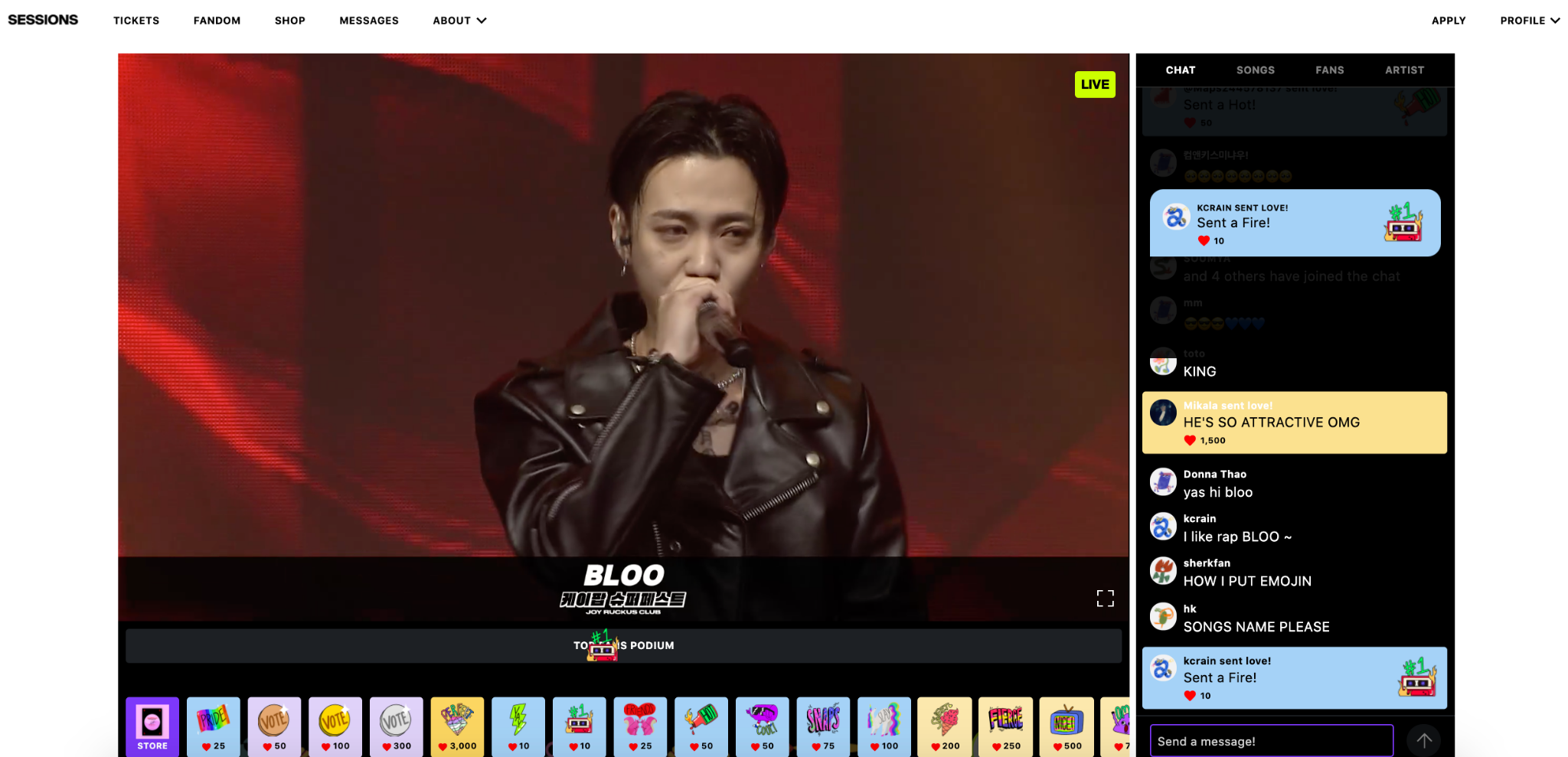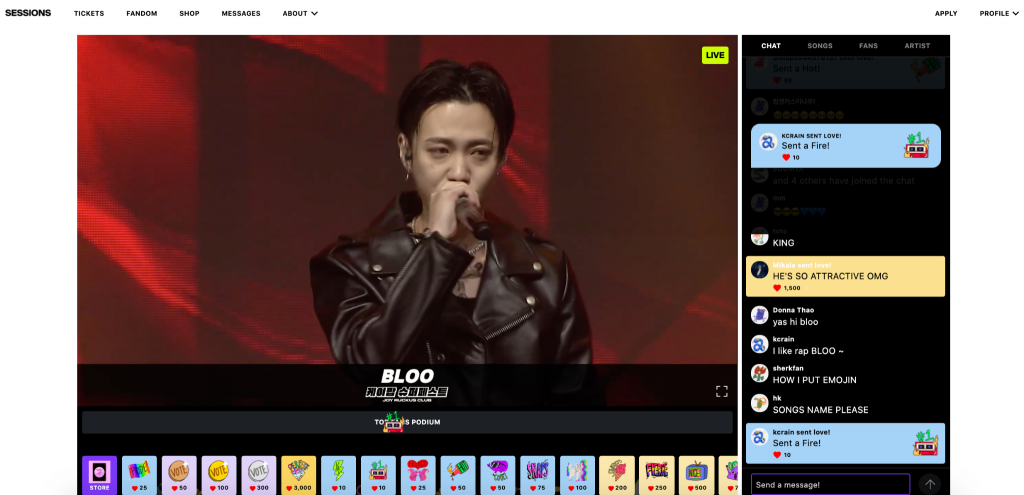 South Korean rapper Bloo displayed his rapping skills with rap songs.
The Downtown Baby singer performed eight rap tracks including "So Rude," "Hennesy," and "Downtown Baby."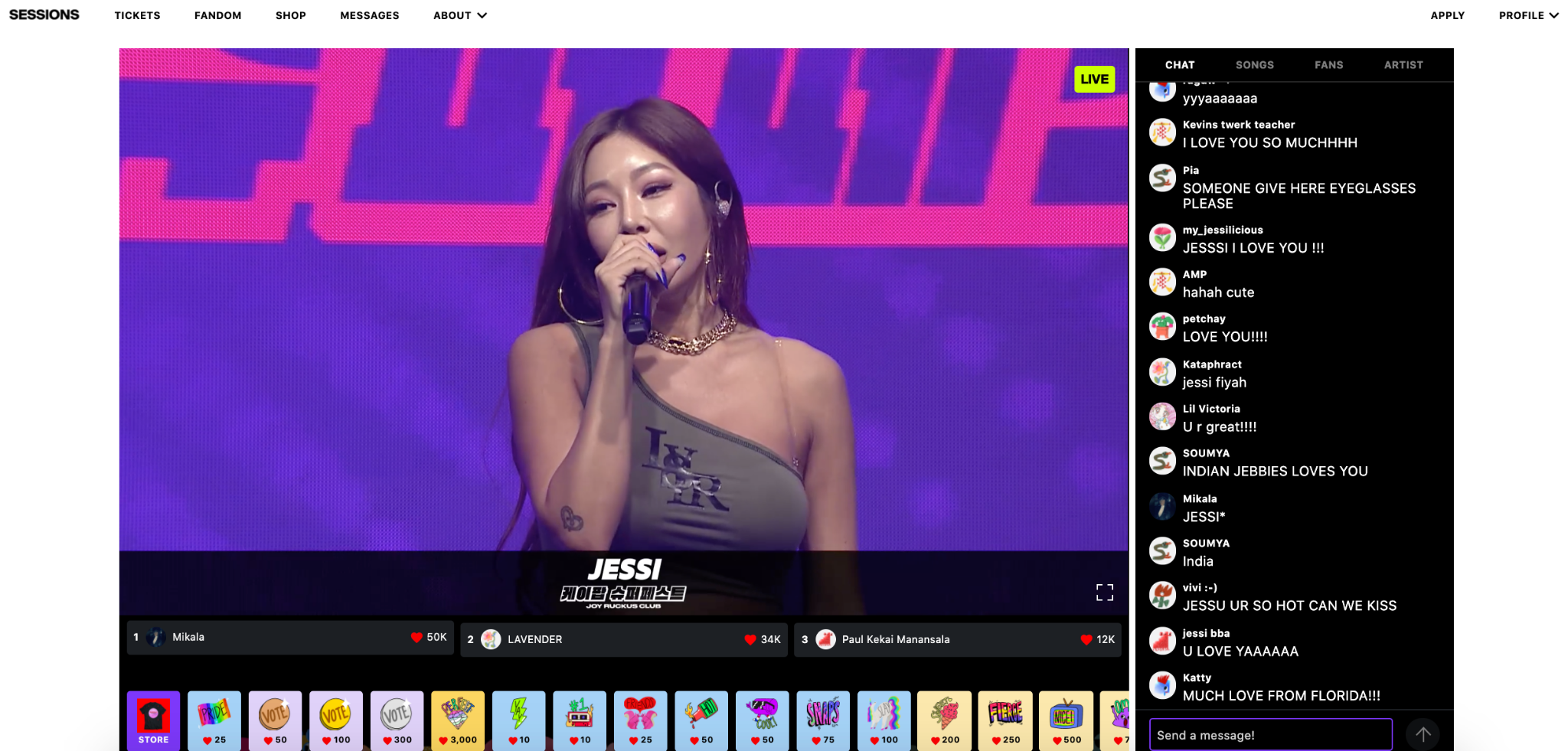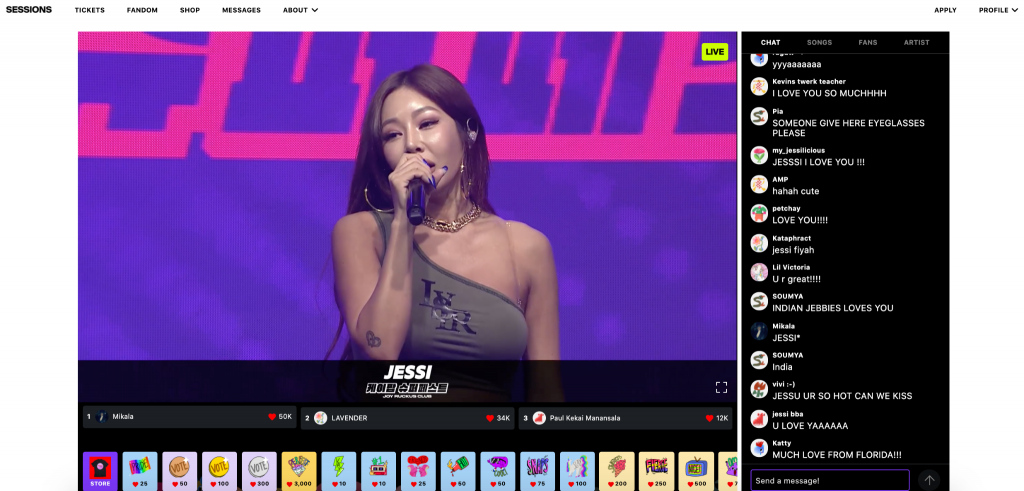 Korean-American rapper and singer Jessi then arrived at the stage displaying a lot of strength and charisma as usual, to perform "Who Dat B," "What Type of X," "Nunu Nana," and others.
The rapper even asked the presenters AleXa and Kevin to join her on stage for the performance of her hit song "Nunu Nana."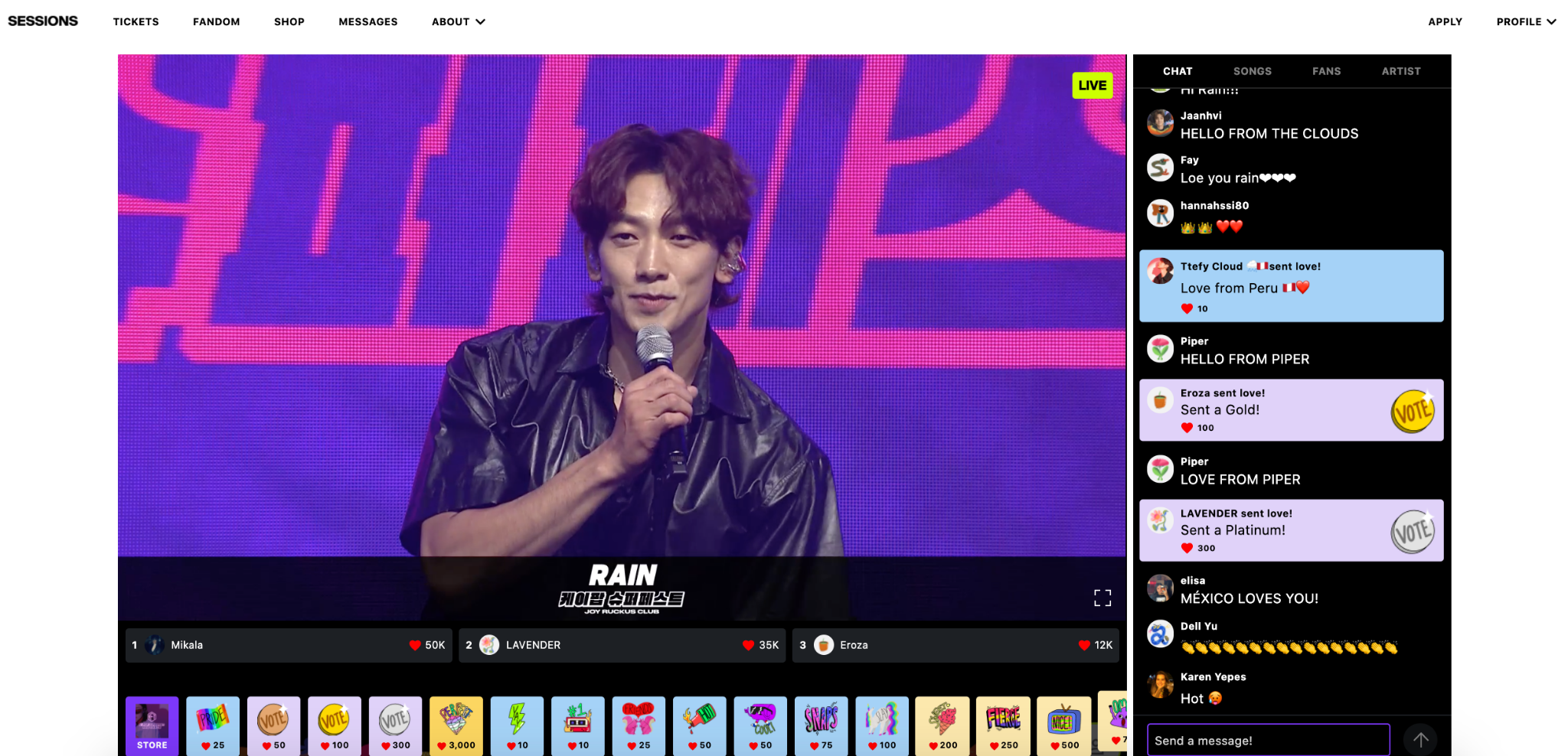 Rain sang some of his hits like "It's Raining" and "Hip Song" showcasing his suave dance moves and vocals.
At age 16, Rain debuted as a member of a boy band called Fanclub that never really took off. He later succeeded in making a name for himself as a successful dancer, singer and actor, toured numerous times around the world, landed two Hollywood movie roles, getting dubbed as a world star.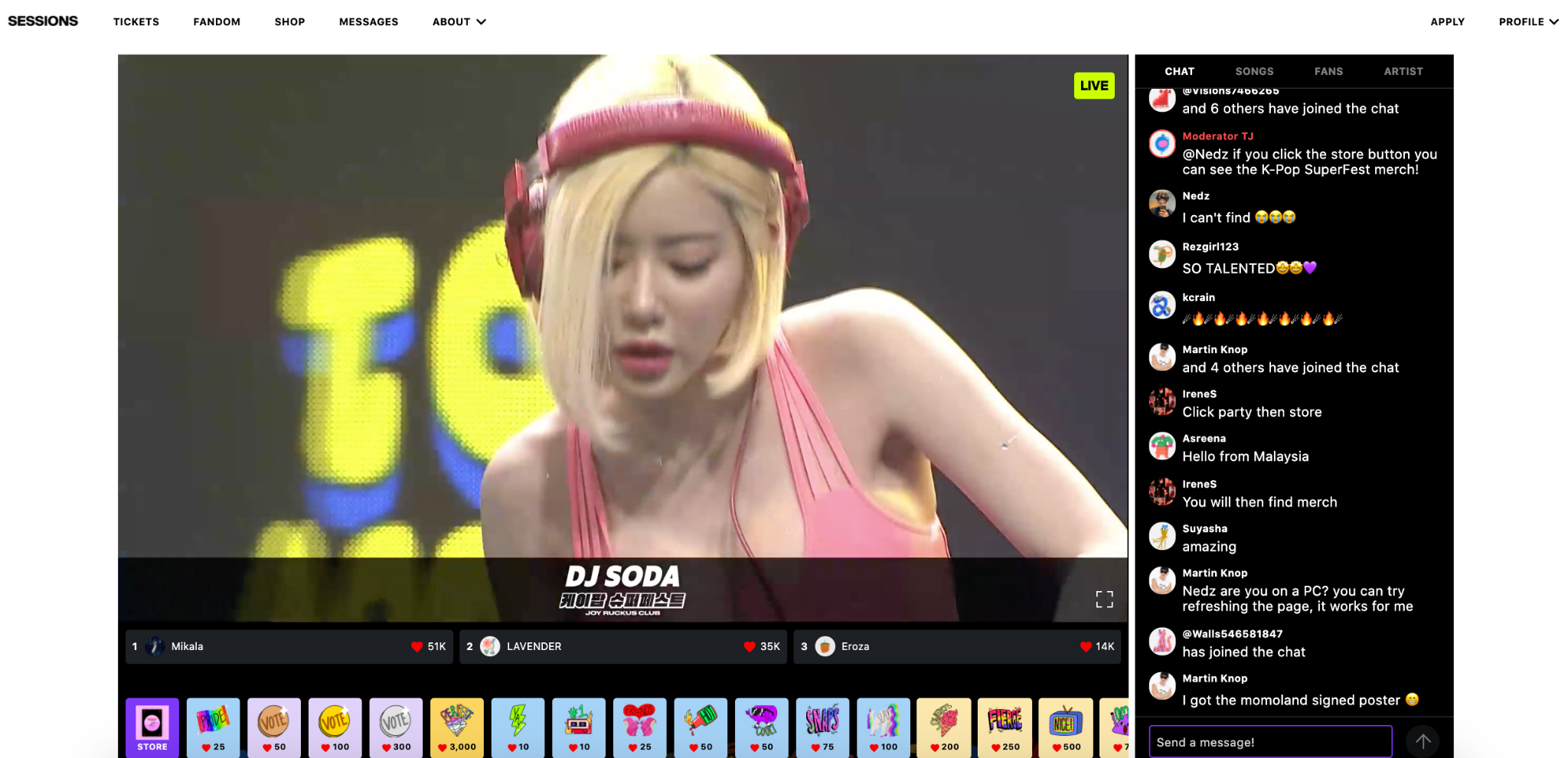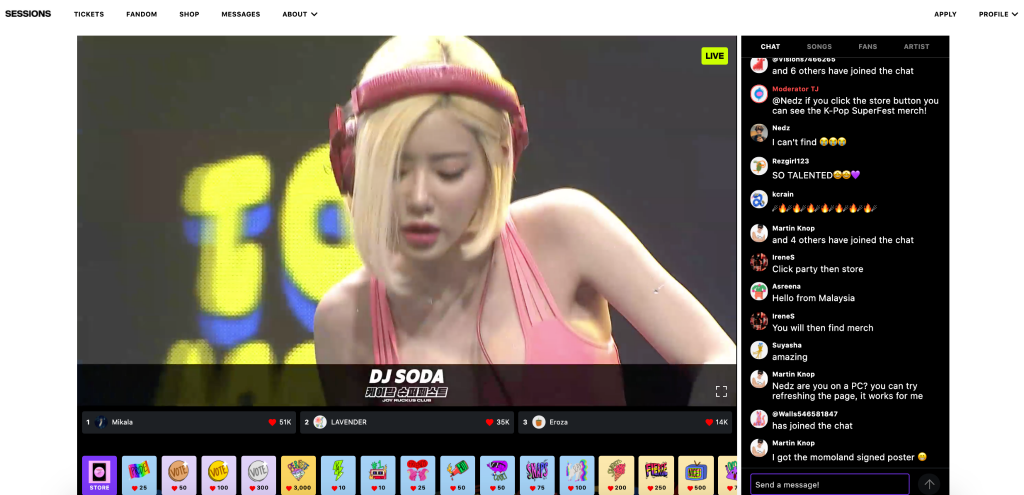 DJ Soda was the last act to wrap up the show at the K-pop Superfest event. She made her debut as a DJ in 2013 and is also known for modeling and various other ventures.
This event was organized to honor South Korean singer-songwriter and record producer Shin Hae-chul, who passed away tragically in 2014. Shin was a pioneer of Korean experimental rock music.
His music was played during the event's intermission.
We enjoyed watching these performances by various K-pop artists (especially in the comfort of our home) through a fun and convenient online platform, and we anticipate more online events like this to be held in the future.
-J.Chung.
Related Articles