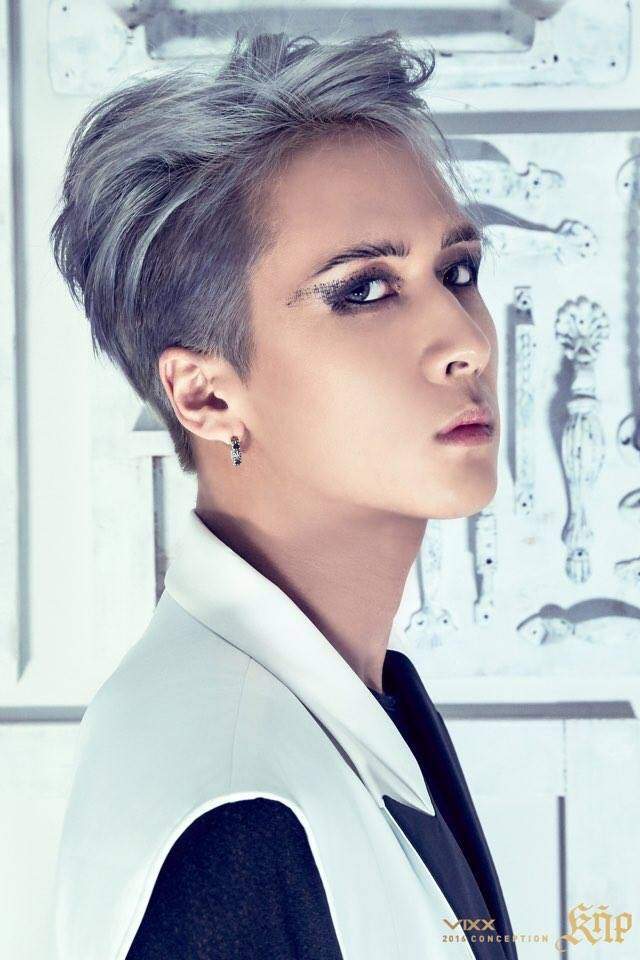 If you've by any chance clicked on this article without knowing who Ravi is, fear not and let me introduce you to this Kpop star!
Best known by his stage name Ravi, Kim Won-sik is the main rapper, lead dancer, lyrics writer and composer for a Kpop boy group named VIXX. Born (February 15, 1993) and raised in Seoul, Korea. Just because I know we love to have excessive info about idols: He is 6ft tall, Aquarius, blood type O, fitness enthusiast, and has publicly stated that he would date his fellow member N if he was a girl, just saying ;). Oh, also, his nickname was speculated to be LUCKY BOY. He has a younger sister.
Lucky Boy's first appearances
This older brother was one of 10 trainees on the famous Mnet's competition series named MyDOL. He debuted in the final line-up of VIXX, then called Super Hero, in May 2012.
Solo career
Besides being a member of VIXX, Ravi also debuted as a solo artist in January 2017 with his mini album R.EAL1ZE. He also dropped his first mixtape R.EBIRTH in March 2016, and this busy rapper also appeared on the fourth season of survival program Show Me The Money, alongside a bunch of underground rappers.
Supporting his colleagues
He sure supports the Korean rapper community, given that he collaborated with multiple fellow rappers, including SMTM4's winner, Basick, on OX, the mixtape where he experimented with all kinds of music genres.
Keeping up the supporting other artist theme going, in June 2018 Ravi produced a song for the girl group ELRIS. The song is called TELL ME, so feel free to check it out, it surprised me that this song is not even close to what we are used to hearing from him.
EXO's Kai and SHINEE's Taemin are his best friends, and fans love this multi group friendship.
Controversy and split personality?
Despite being involved in controversy regarding him 'objectifying women' in his solo song BOMB and criticized for his scary rapper persona, fans say that he is being misunderstood and are standing by his side. One of the fans wrote: 'Behind the fast raps and the amazing dances lies a human being. Take away Ravi and you get Kim Won-sik, a caring, passionate, hardworking, creative person.' Ravi himself touched on the split-persona topic in his 2018 NIRVANA, finding a middle ground between his and others outlook on Kim Won-sik. Talking about controversy, he is the idol with the 3rd highest number of copyrighted songs.
Ravi takes on Europe
Won-sik had his first solo European tour in October 2018. He left London amazed by the passion of his fans, who were singing along to every song.
Variety show appearances
He appeared as an MC for the Korean beauty show, Style Follow. Though he was taken by surprise by the content of the show, he kept his professional cool.
'I thought it was a fashion variety show at first, but when I started to film, it was about beauty but I said I'd continue. I'm just the MC, so it was ok.' – Ravi said for METRO UK.
His variety show career didn't end there. Ravi proved his physical skills on a show about rigorous military training, Real Men 300. The show raised his popularity as viewers were amazed with him getting into the last round, but unfortunately failing to complete the last challenge. Even so, his 10km march while lugging 20 kg took fans' breath away. Is there anything he can't do?
Butt the pup
Ravi did find time to indulge in fatherhood. In 2017 the Won-sik family got a new member, French bulldog named Butt. Butt is spending time with his parents whenever Ravi's away, though he always gets to hear and see him through FaceTime.
GROOVL1N – changing entertainment industry norms
Ravi, who writes his own lines and music, decided to add another 'own' in his career and establish his own label. On May 24 this year, the Jellyfish Entertainment (agency he was signed to) announced that Ravi chose not to renew his contract with the company for the sake of creating his own. Fortunately, he didn't abandon VIXX. The company also stated that, even though Ravi cut ties with the agency, he was to remain a part of the boy band. I swear you could hear all of STARLIGHT (VIXX's fandom) sighing with relief.
Regarding his label, Ravi took no breaks after leaving JF Entertainment. Won-sik's label was officially created on June 26,2019, under the name GROOVL1N. This new hip hop label welcomed its first two artists Cold Bay and Xydo. Ravi promised to keep making new music and moves, and called for fans to support his first steps in the industry. You can keep up with him and his label on his official social media pages:
@GROOVL1N_GTCK on Twitter
@groovl1nofficial on Instagram
He is no stranger to fighting for creator's voices in the controlling Kpop entertainment industry, and has spoken about this issue in his songs and interviews various times.
This label is one of Ravi's efforts to gain creative freedom and change the wrongs of Kpop.
What is he doing now?
Ravi enters 2019 working on new songs and creating music with no boundaries. Also, fans were relieved when he stated that sad feelings he talked about in his previous songs are no longer valid, though he did add that 'There's a happiness but there's a sadness and they're there together', such a poetic soul.
After leaving the agency, Ravi published his new single VACAY on August 6, and fans seem to like this classic rapping Ravi style with a hint of your good old summer song.
GROOVL1N has also finally published the debut single for Xydo OUTFIT OF THE DAY feat. Coogie. He has his hands full for sure.
The star and starlight
Ravi's relationship with his fans, he himself described best: 'A star has no meaning without a starlight', he stated.  In fact, VIXX's first activity for 2019 was a fan meet and greet, those guys keep giving back to their fans.
Where will you be able to see him?
On August 12, the Jellyfish Entertainment announced that VIXX will  be holding the concert "VIXX LIVE FANTASIA [PARALLEL]" at Jamsil Indoor Stadium on September 28 and 29. Tickets of the concert will be opened for pre-order at 8 pm (KST) August 19 for fanclub as well as at 8 pm (KST) August 21 for general audiences through Melon Ticket Agency.
GROOVL1N is holding a release party for Ravi's NIRVANA II on September 1, so keep an eye out for that. It will be held in Hongdae Rollinghall in Seoul, so us international fans will have to cling on fancams and official footage, though considering Ravi is no stranger to world tours, we may get a chance to see him live once again.
https://www.youtube.com/watch?v=TJFjCgWcd54
—-Tina Mihajlovic
Related Articles