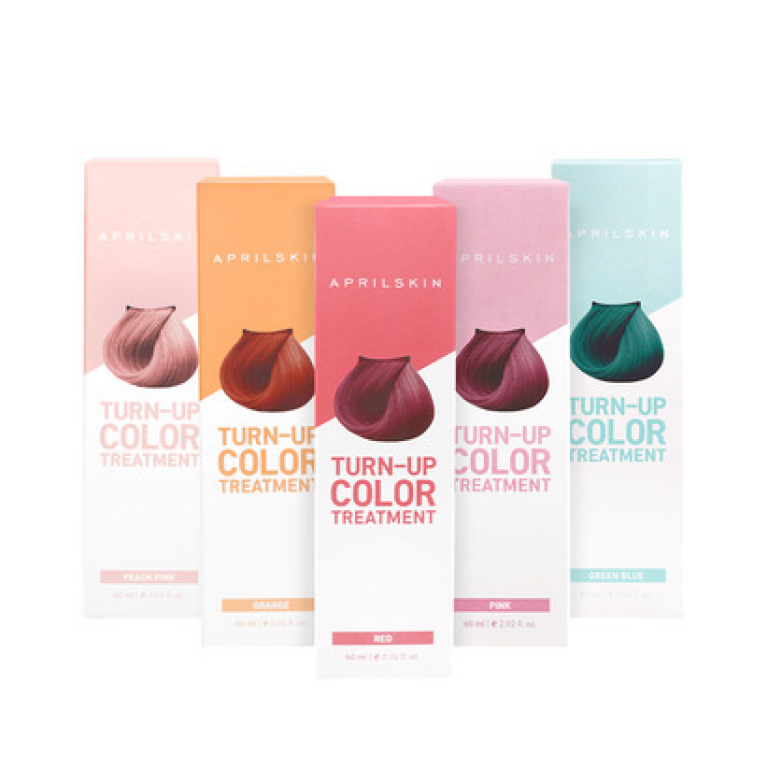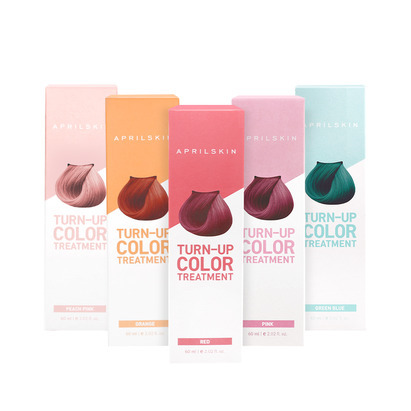 As someone who enjoys coloring her hair often, I'm always trying different hair color products that are non-damaging and rich. I had an opportunity to try April Skin's Turn-Up Color Treatment recently. As pinks and purples are my favorite colors to use in my hair, I tried the peach-pink and pink shades on my hair. Unfortunately, this product was a colossal waste of money.
Packaging
The tube of hair dye arrives in a pretty pastel box. The colors are clearly displayed, so there's no mistake in what you're getting. The packaging is simple, so there's no muss or fuss with opening either the box or the tube.
Ingredients
April Skin boasts that the product has over twenty herb extracts to help hair. There are ingredients like coconut, sage, lavender, citrus, and rosemary, but there are still a lot of chemicals. The chemical list (pictured) provides details of what's included.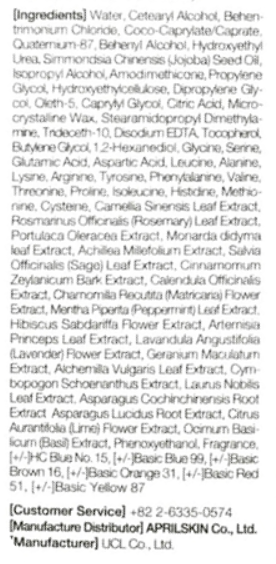 Use
The instructions are a bit conflicting at first. The package says to shampoo and towel dry hair, then apply the dye, wait the allotted time, and rinse. Don't do this! Instead, wash your hair hours before you plan to dye it. Make sure your hair is thoroughly dry, then apply the product. If you have long hair, you will need more than one tube. Apply the dye to dry hair and let it set for the allotted time or a little bit longer. Then, rinse out the dye using water only. Once complete, dry your hair and hope your color turns out as vibrant as the product advertises. I recommend not getting your hopes up for solid color.
Impression
I tried two different colors with the same results: No color. At first, I tried peach-pink and thought that, perhaps, my hair was still too dark for the color to take even though it was recently lightened. Since peach-pink is supposed to be a subtle color, I thought that maybe it was just too subtle due to my hair's hue. However, the pink—which is darker and looks like it would have some purple tones—also didn't show with the first use. I tried both colors twice, first with leaving it in for the suggested 20 minutes. For peach-pink the second go-around, I left it in for 45 minutes, while I left the pink shade in for nearly an hour. For the latter, it was unclear if the color took at all. In some lights, my hair had a slightly reddish hue, but I can't say for sure if it was the dye or the fact that my hair has some reddish tones.
Even though the color did not take as expected, the dye is surprisingly gentle. The condition of my hair felt better than it did pre-dying it, so it didn't strip or harm my hair. My hair is thin and slightly wavy; it stayed that way after use. Even though everyone's hair is different, it feels like this treatment may be gentle on different hair types.
One of the major concerns people have regarding hair dye and treatments is the scent. There are a lot of products out there that have a horrible, lingering smell. The fragrance with this dye is light, so it's not bothersome by any means. However, there is still a chemical fragrance even though it's not as bad as other products on the market.
Overall
This product seems to be hit or miss depending on your hair texture and color. While it isn't harsh on hair, it doesn't color as well as advertised if it colors at all. I did like the feel of my hair after using it, but their needs to be color, otherwise this is just glorified conditioner. Instead of this product, use Overtone, which really does color without stripping hair.
April Skin's Turn-Up Color Treatment receives a score of 1/5.
—-Joelle Halon
Related Articles