2016 hasn't been a good year for Kang Jung-Ho as the now-besieged Pittsburgh Pirates infielder found himself in trouble again following an early-morning DUI accident in Seoul, South Korea.
Following Kang's arrest for the accident by the Seoul Gangnam District Police, it is alleged he asked his friend/passenger to lie and state he or she was driving. The unnamed friend did claim to be behind the wheel, but camera footage disproved the story. The Guardian reports that Kang is being investigated for falsifying his story.
Per Yonhap News, Kang was driving to his Seoul-area hotel in a rented BMW when he and his unnamed, 29-year-old passenger smashed into a guardrail. Debris from the impact hit a parked car and damaged it. Following the crash, CCTV cameras caught Kang fleeing the scene. He was later arrested for the incident and charged with fleeing the scene of a DUI accident. Kang, who's blood-alcohol level was 0.084 (legal limit in Korea is 0.05), was released following the charge.

If the case proceeds, Kang could face a fine and three years in jail.
This isn't the first issue with Kang. On June 29, 2016, a woman formally accused Kang of sexually assaulting her at Chicago's Westin Hotel on North Michigan Avenue on June 17. In her statement, she claims she met Kang through a dating app and that the two agreed to meet. In the police report, the 23-year-old female stated that while in Kang's room, she slipped in and out of consciousness after accepting an alcoholic beverage from him. She then claims he assaulted her. In July, police investigating the case stated the alleged victim wasn't cooperating. In September 2016, police stated they couldn't find the victim. Updates into the investigation have not been made since; the case still hasn't been resolved.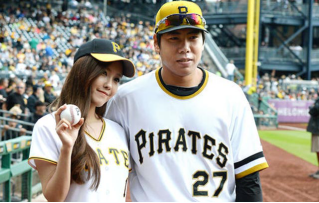 Kang also made headlines earlier this year when stories circulated the Web that he and T-ARA's Hyomin were allegedly dating. The allegations began when Hyomin threw out the first pitch at a Pirates game in September 2015. At the time, Ilgan Sports reported the two started dating January 2016.  The stories were proven false, and agents for both parties clarified that the two are good friends.
Kang, who has a 4-year, $11 million contract with the Pirates, began playing in the Major Leagues in 2015. In a statement by Pirates president Frank Coonelly, the team expressed disappoint. The statement reads:
We have been made aware of the very serious charges filed against Jung Ho Kang early Friday morning in Seoul, South Korea.
We are extremely disappointed in Jung Ho and in his decision process during this matter. I know firsthand how foolish and dangerous it is to drive under the influence and am most thankful that, as we understand it, no one was injured.
We will have further comment once we have been able to gather all of the relevant facts and speak with the player.
Neither the Pirates organization or Major League Baseball commented on how or if Kang will face any punishment for his off-field conduct.
—-Joelle Halon
Related Articles