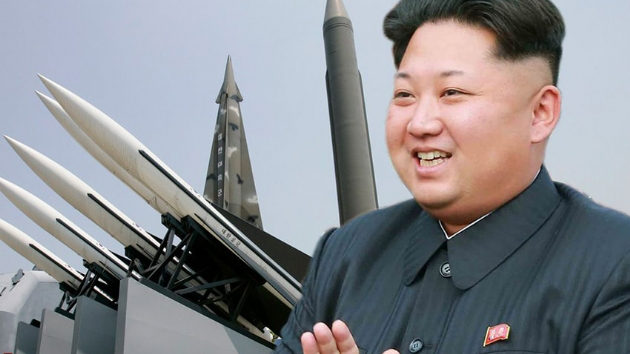 Kim Jong-un (born 8 January 1982 or 1984) is the Chairman of the Workers' Party of Korea and supreme leader of North Korea. He is the second child of the former country's leader, Kim Jong-il and Ko Yong-hui, a Japanese-born dancer who was Kim Jong-il's mistress.
Scarce information on Kim Jong-un's life comes from North Korean defectors and those who encountered him during his school attendance in Switzerland from 1993 until 1998. Please note that the stated period of the years may not be accurate since much information has been contradictory, perhaps confusing him with his two brothers who also received education in Switzerland.
Kim Jung Eun attended the private English-language International School in Gümligen, under the name "Pak-chol."
The school's authorities confirmed that a student from North Korea was registered as the child of a North Korean ambassador. He was chaperoned by another North Korean student, who served as his aide and bodyguard.
Kim's former classmates have described him as a shy individual, overly obsessive about sports; in particularly basketball and that he regularly came to join class late, during the afternoon. And that he would spend many hours drawing Michael Jordan. His overall grades and attendance rating were revealed to be poor.
From 2002 to 2007, Kim Jong-un attended Kim Il-sung University in Pyongyang, North Korea.
In 2013, Forbes named Kim Jong-un the World's 46th Most Powerful Person.
Kim Jong-un's net worth is estimated at US$5 billion.
On 17 December 2011, Kim Jong-il died of a suspected heart attack while travelling on a train near Pyongyang. However, it was later reported in December 2012, that Kim had died "of rage" over construction deficiency at a power plant project in Jagang Province.
Following his father's death, Kim Jong-un was hailed as the "leader of the party, army and its people" and was made chairman of the Kim Jong-il's funeral committee.
On 27 March 2012, Kim was elected to the Fourth Conference of the Workers' Party of Korea. The conference also elected him as the leader of the party under the new title, "First Secretary." This position replaced the post of "General Secretary" which was awarded "eternally" to deceased Kim Jong-il.
On 15 April 2012, Kim Jong-un made his first speech to the public. He adopted his grandfather's style of speech which was a break from the approach of his father; Kim Jong-il was known to have a speaking disability and never televised addresses during his 17 years of ruling.
Kim Jong-un's eldest half-brother, Kim Jong-nam, had been the most likely son to succeed his father – but after an embarrassing incidence when he was caught attempting to enter Japan with a fake passport a few years back – his chances of becoming the heir fell short. As soon as his younger brother took control of the state, he was unable to return to North Korea.
Kim Jong-un is believed to have ordered his half-brother to be assassinated. As of February 2017, Kim Jong-nam was murdered in Malaysia by suspected North Korean agents.
On 12 December 2013, North Korean news reported that due to alleged "treachery," Kim Jung-un ordered the execution of his own uncle, Jang Song-thaek, who had previously acted as a prominent political figure in North Korea. Jang is known to have been executed by firing squad.
Under the country's founder, Kim Il-sung, North Korea has continued to illegally develop nuclear weapons for decades. North Korea presently possesses a dozen or more nuclear bombs. It is also estimated that North Korea will own sixty nuclear warheads by 2020.
On 31 March 2013, Kim Jong-un announced that North Korea will adopt "a new strategy in carrying out economic construction and building nuclear armed forces simultaneously."
During the 7th Congress of the Workers' Party of Korea in 2016, Kim Jong-un stated that North Korea would "not launch nuclear weapons first unless aggressive hostile forces use nuclear weapons to invade on our sovereignty".
However, North Korea has since threatened nuclear attacks against the U.S.A several times.
In December 2015, in a release from the official Korean Central News Agency, Kim announced that his country had developed a hydrogen bomb.
As of 2016, the U.N has enacted five cumulative rounds of sanctions against North Korea for its nuclear program and missile tests.
2017 has been a definite year of progress for North Korea's missile program. North Korea continues to test their missiles without warning and threatening to start a war if hindered by other nations.
North Korea has fired 22 missiles since February 2017, including launched missiles over Japan on August 29 and September 15.
When it comes to testing missiles, Kim Jung-un has proven to be far more aggressive than his father and grandfather. Less than six years of his reign, Kim Jong-un has tested more missiles than his father and grandfather combined.
Currently, there also have been numerous reports claiming that Kim Jong-un is not physically healthy. He's known to be a diabetic and a heavy smoker since his teenage years. As of late, he's been seen limping on a walking stick.
There are claims that the reason behind so many missiles being tested and developed is because Kim is scared for his well-being and health. Whatever the causes are, the North Korea's leader needs to halt his missile ventures and come to some terms with sound reasoning.
J.Chung.
Related Articles