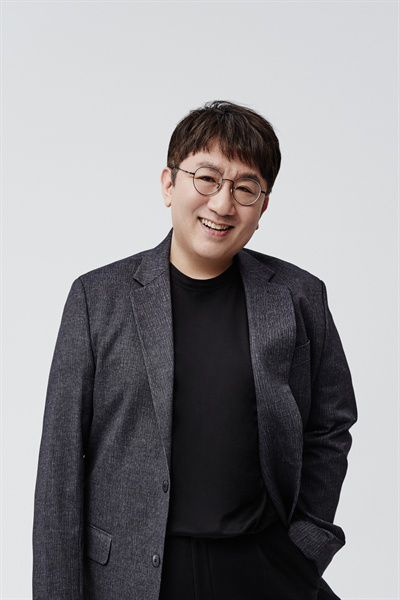 Bang Si-hyuk (born August 9, 1972) is a Korean record executive, songwriter, producer and founder of Big Hit Entertainment. He is currently best known for being the man behind the hottest K-pop boy band, BTS.
Born and raised in Seoul, Bang's dream to pursue music began early in childhood when he started learning several instruments, but his choice of career was not supported by his parents. He was more encouraged to focus on his school studies instead, and was educated at Seoul National University, majoring in Aesthetics. 
In 1994, while he was still at university, Bang entered the Yoo Jae-ha Music Contest and was awarded Third Prize. This eventually paved the way for him to work in the music industry.
Bang met Korean singer and producer, Park Jin-young and they often collaborated on writing and producing songs. As a composer and producer, Bang joined forces with Park when he established his own company, JYP Entertainment in 1997. Park served as his company's main producer and songwriter while Bang managed and controlled the instrumentation and music. One of their earliest successes was the boy band, g.o.d.
Bang's stage name "Hitman" originated from this era when he and Park garnered the reputation as "hit-makers". He produced or composed for Park Ji-Yoon, Rain, Wonder Girls, 2AM, Baek Ji-young and many more. To this day, Bang remains close friends with Park, and gives him credit for helping him out in his career.
In 2005, Bang left JYP Entertainment to launch his own company – Big Hit Entertainment – which is currently best known for producing the popular boy band, BTS, a.k.a Bangtan Sonyeondan. In Korean, Bangtan means Bulletproof and Sonyeondan refers to Boy Scouts.
In 2016, BTS' second full album, Wings peaked at number 26 on the Billboard 200, which marked the highest chart ranking for a K-pop album.
In Korea, Wings became the best-selling album in the Gaon Album Chart history and BTS was awarded Artist of the Year at the 2016 Mnet Asian Music Awards.
In 2017, Love Yourself: Her, debuted at number 7 on the Billboard 200, marking the highest rank for any Asian artist in history. 
The group also managed to debut on the Billboard Hot 100 for the first time with the album's title track, DNA which entered at number 85 and peaked at number 67. Remix version for Mic Drop, by Steve Aoki and Desiigner was released as the second single, peaked at number 23 in Korea and number 28 on the Billboard Hot 100.
Due to the immense success of the record, Bang was given the Best Producer Award at the Mnet Asian Music Awards and the Songwriter Award at the Melon Music Awards.
When asked about the secret to BTS' success, Bang revealed that the reason was due to the social networking service.
BTS has a huge worldwide fan base; people have retweeted or liked their posts on Twitter more times than President Donald Trump and Justin Bieber combined.
During a speech for 2017 MAMA, Bang stated, "BTS actively communicates through social media with the people who use this platform. This process allows people who didn't know about BTS to take an interest. BTS is a good example of changing the flow of social media."
Bang received a Presidential Citation for his contribution to cultural exchange and is reported to have donated the earnings to charity.
 J. Chung.
6 responses to "What you need to know about Bang Si-hyuk: The Mastermind of BTS"
Related Articles