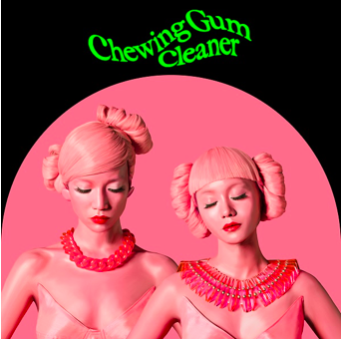 Japanese mannequin rap duo FEMM made waves when their track 'Fxxk Boyz Get Money' was picked up by influencers in the United States, Europe and around the world. Now they are back with new song 'Chewing Gum Cleaner', which hit digital stores and streaming services on October 16, along with a cool new sci-fi anime-influenced music video on YouTube.
FEMM – 'Chewing Gum Cleaner' music video:
FEMM – 'Chewing Gum Cleaner' download/streaming:
https://FEMM.lnk.to/ChewingGumCleaner
The track was produced by KiWi, who has previously released music on Diplo's record label Mad Decent and collaborated with 88rising. KiWi is associated with a dark, anarchic sound, resulting in the bass-heavy Gothic horror of 'Chewing Gum Cleaner'.
The music video was made in collaboration with visual director Midori Kawano, creator of the RGB_Light fashion lighting product (which is used to cool effect in the video) and who also worked on the music video for 'Fxxk Boyz Get Money'.
The video incorporates footage from FEMM's 2018 live performance event 'DOLLHOUSE', giving a sneak peek into this innovative multimedia art show that ran for one month in Tokyo. During the show's run, visitors had their bodies captured and modeled in CG by FUTURE REAL 3D AVATAR LAB, resulting in an eye-catching dance scene in the 'Chewing Gum Cleaner' video where around 700 CG avatars of real FEMM fans groove together in a virtual space. The 3D CG work includes visual production from BRDG members Keijiro Takahashi, Ken-ichi Kawamura and Kota Yamaji.
The costumes in the video were created by GM Atelier, a Japanese costume and special-effects makeup house that has exhibited at Paris Fashion Week. FEMM's bold and stylish power suit outfits are inspired by anime masterpieces such as 'Ghost in the Shell' and 'Neon Genesis Evangelion', bringing the world of Japanese sci-fi animation to life.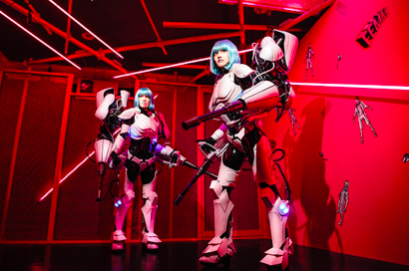 'Chewing Gum Cleaner' is accompanied by a bonus track, 'Dead Of Night', which is a dark electro hip-hop tune with romantic melodies and deep lyrics. The song was originally produced as part of FEMM's groundbreaking AR live performance at the Consumer Electronics Show in Las Vegas, USA, in 2018. The duo recently posted a clip on Instagram featuring voguing and finger-tutting dance routines in typically mechanical FEMM style.
FEMM – 'Dead Of Night' (Instagram)
https://www.instagram.com/tv/CGEzJwshAZz/?utm_source=ig_web_copy_link
See below for links to more info on FEMM, and check out sticky new tune 'Chewing Gum Cleaner' today!
FEMM links:
Official website: https://femms.jp/
Instagram: https://www.instagram.com/femm____/
Twitter: https://twitter.com/FEMM____
# # #
Images: https://www.dropbox.com/sh/kj3d0ayt29bmkmq/AAAphElNdzUJxDQxvQ8g-5r2a?dl=0
For further inquiries, please contact: pressrelease@av.avex.co.jp
Related Articles