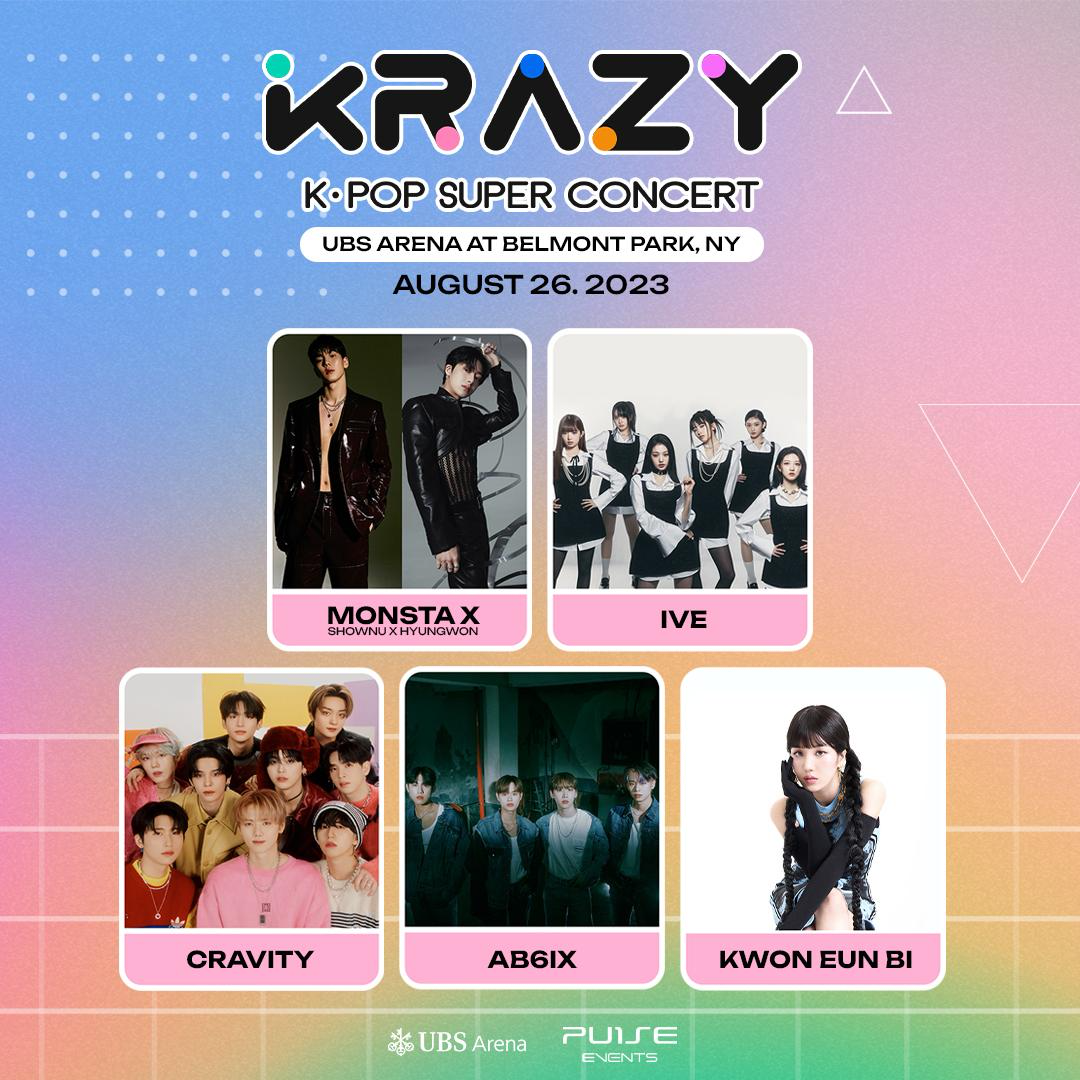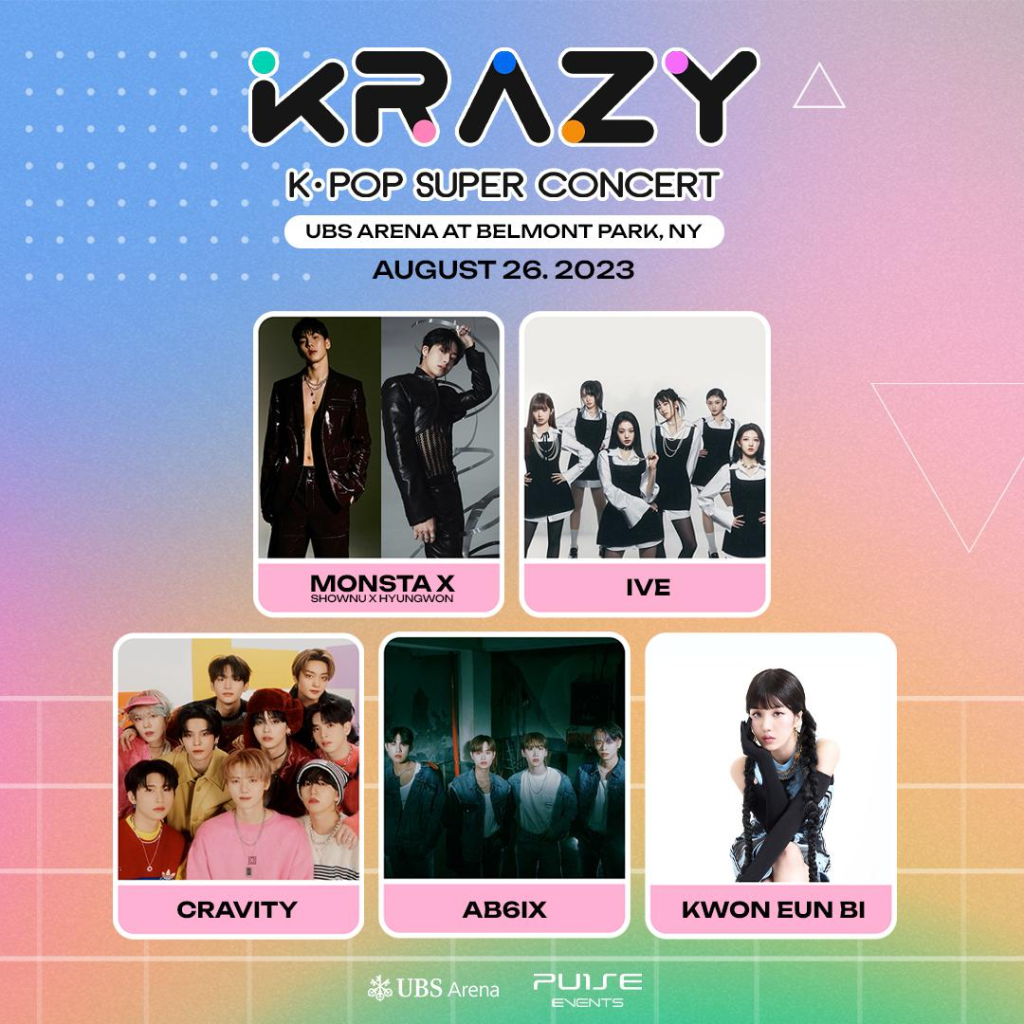 Offerings for the VIP Krazy Fan Packages include artist meet and greets, soundcheck, send-off, and exclusive Krazy K-Pop merchandise 
Tickets for event at UBS Arena on sale now at krazysuperconcert.com
Pulse Events, the company known for their renowned events bringing global music to New York, announced their new VIP package offerings for the upcoming 'Krazy K-Pop Super Concert'. The inaugural K-pop music event is coming to UBS Arena at Belmont Park, located 30 minutes from Penn Station or Grand Central via LIRR, on Saturday, August 26. Previously announced artists are SHOWNU and HYUNGWON, who will officially perform their comeback as a unit of K-pop super group MONSTA X, alongside girl group IVE, boy group AB6IX, soloist Kwon Eun Bi, and boy group CRAVITY.
JRE (Just Random Everyday), the wildly popular content creator best known for his light-hearted take on K-pop culture and music has been added as the evening's on-stage host. The gaming enthusiast and social media sensation developed a passion for creating his comically relatable videos, launching his YouTube channel JREKML back in 2011; quickly becoming the go-to source for K-pop. Offering a unique blend of humor, creativity and authenticity that quickly gained a loyal following of over a million subscribers that come along on his everyday experiences and adventures. From funny anecdotes to personal challenges to connecting with a wide audience with his genuine personality, JRE has become a beloved figure in the community, also growing into philanthropy. Aside from aspiring other content creators and fans alike, he has interviewed some of today's biggest acts including ATEEZ, NCT 127, DPR IAN and more.
The VIP Krazy Fan's newest offerings include a quick meet and greet photo opportunity with an artist, soundcheck viewing (Stagecheck), post-concert send-off and some exclusive Krazy K-Pop merchandise. For the meet and greet photo, fans will get to choose one artist of their choice upon purchase, and will take a photo along with four other fans within their shared artist choice. Meet and greet photos will be available to fans who purchase Packages A and B, and the send-off option is exclusive only to fans who purchase Package A. All the packages will come with stagecheck, early entry to the venue, designated VIP check-in and pre-door merchandise shopping. There will also be a send-off after the concert where fans who are Package A holders have a chance to say their last good-byes to the artists on their way out of the arena. 
VIP Package Offerings
VIP Krazy Fan Packages range from Packages A to C, with Package A containing all of the benefits of Package B and C and more. The complete offerings for each VIP package will be listed below along with their respective prices.
VIP offerings:
Package A (All Inclusive Package) – $210

Includes everything from VIP Fan Package B and C
Meet and greet photo of your favorite artist
Exclusive Fan Privilege: Artist Send-off

Please note that all Meet and Greet Photos consist of a group of 5 total

Package B – $150

Stagecheck
Meet and greet photo with your favorite artist group
Pre-door merchandise shopping
Early entry to the venue
Designated VIP check-in

Package C – $100

Stagecheck
Exclusive merchandise
Pre-door merchandise shopping
Early entry to the venue
Designated VIP check-in
Meet and Greet Photo Choices
Fans must choose 1 of the 5 artists for their meet and greet photos and they will then take a group photo consisting of 4 other fans (groups of 5 fans total) with their shared artist choice. Options for photos with individual members of any of the artist groups (aside from Kwon Eun Bi) are not available.
Artist Choices:
SHOWNU and HYUNGWON of MONSTA X
IVE
CRAVITY
AB6IX
Kwon Eun Bi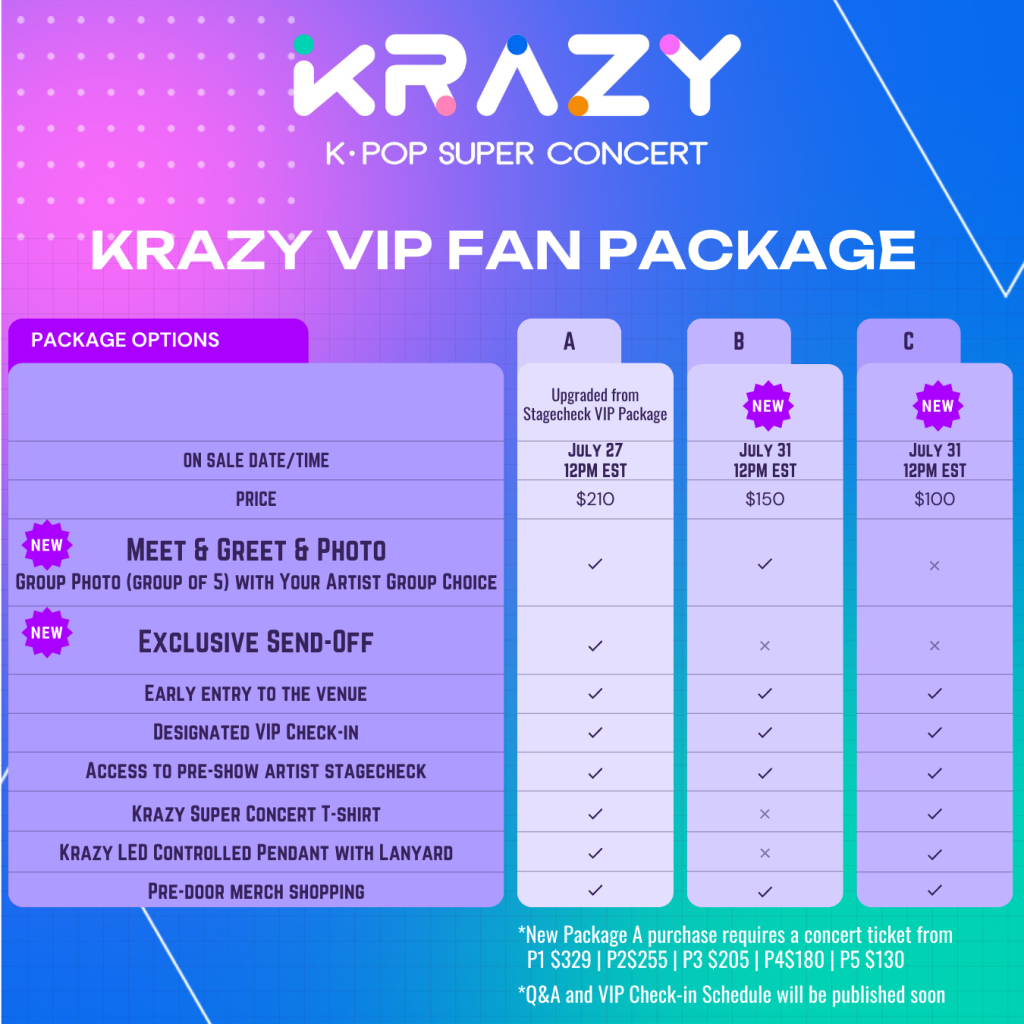 To stay up-to-date on announcements surrounding this show-stopping concert, be sure to follow @krazyconcert on Twitter and @krazysuperconcerts on Instagram. For all information on Krazy K-Pop Super Concert, please visit krazysuperconcert.com. All maps of the venue can be found here at ubsarena.com.
About Pulse Events
Based in Los Angeles, Las Vegas, and New York City, Pulse Events is a proficient Event Producer and Promoter. The company specializes in concerts and live performances across North America and around the world. With a mission to be the pioneer of culture and media innovation, Pulse Events produces, manages, and promotes high-quality IP products for global audiences. These include music concerts, live performances, EDM events, night entertainment, and web3 metaverse events. Since its establishment in 2015, Pulse Events has participated in the production and hosting of world tours of many top South Korean artists. Within these artists include EXO, BIGBANG, T-ARA, Running Man, etc. To date, Pulse Events has hosted over 60 EDM performances, including SLANDER, Yellow Claw, Gryffin, KSHMR, Like Mike, DJ Soda, Tokyo Machine, KUURO, among others.
About UBS Arena
UBS Arena at Belmont Park is made for music and built for hockey. New York's newest premier entertainment and sports venue and home of the New York Islanders is developed in partnership with Oak View Group, the New York Islanders, and Jeff Wilpon. The state of the art arena opened in November 2021 and has welcomed numerous top artists including Harry Styles, Sebastian Maniscalco, Billie Eilish, Dua Lipa, TWICE, Eagles, John Mayer, Kendrick Lamar and Post Malone. The venue delivers an unmatched live entertainment experience for guests including clear sightlines and premier acoustics.
UBS Arena is at the forefront of sustainability, being awarded LEED Green Building Certification in January 2023. The venue also achieved carbon neutrality for operations in Fall 2022 which made it the first arena to do so on the eastern United States seaboard. For more information on the venue's sustainability efforts, please visit UBSArena.com/sustainability.
Located on the historic grounds of Belmont Park, UBS Arena is located just 30 minutes by LIRR from Grand Central or Penn Station and is easily accessible from across the region via mass transit or car. To plan your trip, please visit UBSArena.com/plan-your-trip.
For additional information, please visit UBSArena.com or @UBSArena on Facebook, Instagram and Twitter.
#KrazyKPopSuperConcert #August26 #JRE #JREKML #USBArena #kcrushnews #BelmontParkUBSArena #kcrushamericamagazine #PulseEvents #koreanartists #koreanperformers #MONSTAX #SHOWNUandHYUNGWONofMONSTAX #IVE #CRAVITY #AB6IX #KwonEunBi #kcrushmedia #newevent #inauguralkpopeventinNewYork #kpop #kpopevent #kpopmusic #kpopeventmeetandgreet #KrazyKPopSuperInaugural #kpopdiscussion #kpopgroups #kpopeventtickets #kpoptickets #August26 #NewVIPPackages
Related Articles