Tattoos, in many cases, are cool. On some idols, tattoos look great even if they're fake.
Zelo (L) and Himchan's (R) tattoos were a result of Henna art. In Himchan's image, you can see it being applied/via TS Entertainment and Twicsy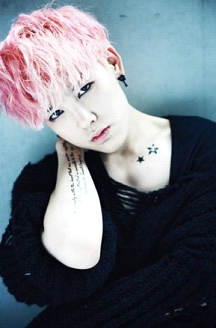 A while back, we provided some information on tattoos in Korea, and we looked at some idols and their tattoos to see what's real or potentially fake. We continue that exploration in part two of our series with new idols and new tattoos!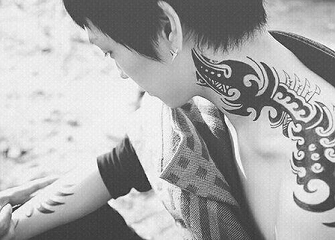 Himchan and Zelo (B.A.P)
Although he's known as Tatsmato, Himchan's tats during B.A.P's "No Mercy" era were definitely fake and sadly look like poor wet-and-stick ones from the 1990s."Power" and "Warrior" era tats and body paint looked more appealing. There's no indication he has any real ones unless he keeps them well-hidden.
Periodically, we'll see Zelo with some convincing tattoos ranging from text to tribal tattoos on his arms, chest, and back. He pulls the look off well! Right now, the loveable giant maknae doesn't have any tattoos, but if he did, fans may approve.
Chunji and C.A.P's tattoos show off their different personalities/via MyLine-Kakao latter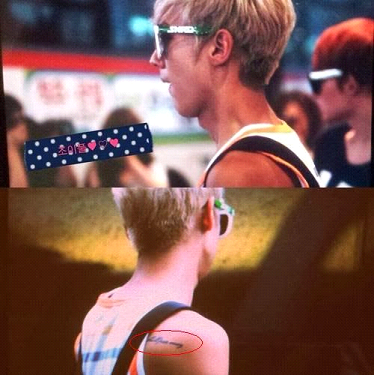 Chunji and C.A.P (TEENTOP)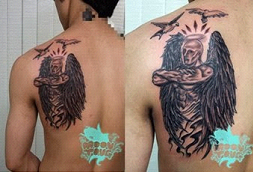 Both C.A.P and Chunji sport real tattoos. C.A.P has an angel on his left shoulder blade, what appears to be a large hand on the left side of his chest, and a small tattoo on the back of his neck.  Some pictures show he has more, but it's unclear if these were for promotions, but confirmed tattoos stand at three.
Chunji's tattoo is more elegant. Located on his right shoulder, Chunji has "this too shall pass away" written in script.
Yuchun's tattoo collection/via Tatist
Yuchun and Jaejoong (JYJ)
Yuchun and Jaejoong have many tattoos they can brag about including matching tattoos they have in honor of TVXQ.
Yuchun's tattoos include:
Indian Feathers: The feathers are a symbol of strength, protection, and brotherhood. His brother has the same tattoo, showing their connection.
"Always keep the faith": He and Jaejoong both have this tattoo over their hearts. Both members got this one after filing a lawsuit against SM Entertainment.
"My Jaejung Yuhwan Junsu" and a Phoenix Wing: Yoochun added these close by his "always keep the faith" tattoo. The tattoo is for his group mates and his brother.
"TVFXQMYC": The tattoo stands for "TVXQ Micky Yuchun." It is located on his lower back.
"?????" next to a picture of his mother: An image of his mom and the Thai word for "Micky" is located on his right shoulder blade.
Jaejoong's tattoo collection/via fanficyunjae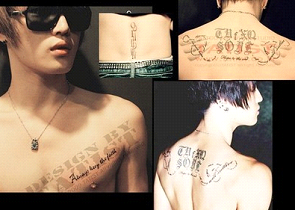 Jaejoong has considerably more tattoos than Yuchun, including:
"TVfXQ Soul": The Old English text adorns his upper back just below his neck. He had this one done in 2008 while JYJ was still part of TVXQ.
"Micky Junsu": Located on his lower back, Jaejoong states this tattoo is a memorial for JYJ's debut. Junsu's and Yuchun's names flank Jaejoong's tattoo on his lower spine: Roman numerals for his date of birth.
 "The pleasure of the mighty are the tears of the poor" and "A song will outlive all sermons in memory": Probably two of Jaejoong's most awesome tattoos, the text form two clefs and grace both his shoulder blades. Between these two are the words "hope to end." When combined with the "TVfXQ Soul" tattoo, the look is inspiring and visibly pleasing.
Wings: In 2008, Jaejoong added lightly shaded wings to the tattoos on his upper back. The wings resemble sprite wings and make the text of his clef tattoos pop.
"Deferto Neminem": The tattoo means "accuse no man" and comes from Shakespeare's Hamlet. He has this tattooed right above his "keep the faith tattoo" on the left side of his chest.
 "Ohne Glauben Bist Du Tot": Located on his spine, the tattoo , written in German, translates to "without faith, you are dead."
Girl's Day's Minah looks cute and confident with her fake tattoo/via Girls_Day_Minah
(Minah) Girl's Day
In 2013, Minah took to Instagram to show off her pretty "carpe diem" tattoo on her hand. While it looked convincing, it was a henna tattoo for "Female President" promotions. On various programs, all the Girl's Day ladies can be seen with them here and there.
Lee Hyori
Hyori's right arm is the canvas for two of her tats/via Oh Kpop
Aside from her healthy lifestyle, great sense of humor, and upbeat tracks, Lee Hyori is also known for her tattoos. On her left wrist, she has a sun, moon, and star. On the same arm, she has "Walk lightly in the spring, mother earth is pregnant" written. Lee is a known to love life and nature, so both tattoos pay homage to these interests.
Lee also has "LOVE" tattooed on the back of her neck.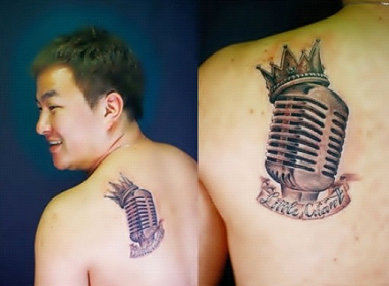 Huh Gak
Located on his left shoulder, Huh Gak has a microphone wearing a crown with "Little Giant" beneath it. In February 2013, he explained the meaning behind the tattoo on "Interview Daily" as it has to do with his win on "Super Star K2."
Huh Gak's tattoo symbolizes his win on "Super Star K2," his dream to be a singer, and his first album/via Soompi
"Back then I tried to think about how I keep those feelings," he said. "I asked people around me how I could preserve what was happening to me, and I decided to get a tattoo. I considered a microphone with a crown on it. There are different types of microphones from karaoke mics to studio mics but I decided on this design."
Wa$$up's Nada shows off her collarbone tattoo/via One Hallyu
The "Little Giant" is a reference to his first album.
Nada (Wa$$up)
Wa$$up's resident rapper Nada has a tattoo along her left collarbone that appears to say "Stay with me" with a star, but images of the tattoo often have something obstructing it, so complete text is often unseen. The cursive is pretty and ladylike, softening Nada's often hard-edged appearance.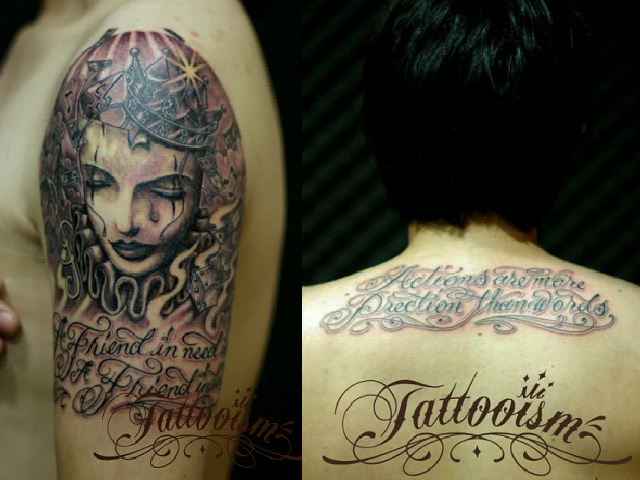 Kangin and Shindong (Super Junior)
Both Kangin and Shindong got their tattoos in 2008, but one is a little more well-done than the other.
Kangin (L) and Shindong's (R) tattoos they received in 2008/via Tattooism
Shindong's tattoo on his left arm is elaborate, featuring a crying female wearing ruffles and a crown. The shading and effort really catches the eye. The text states "A friend in need is a friend indeed."
Kangin's is done in a similar writing style and color scheme as Bang Yongguk's "Viva la revolucion" and "make art not war" tattoos, so style-wise, it looks cool. The tattoo should say "actions are more precious than words," but it says "actions are more prection than words." Sadly, an Engrish moment is permanently etched into his back although it is stylish!
Of course, there are many more idols with tattoos! We'll be sure to bring you more in the future!
— Joelle Halon
Related Articles