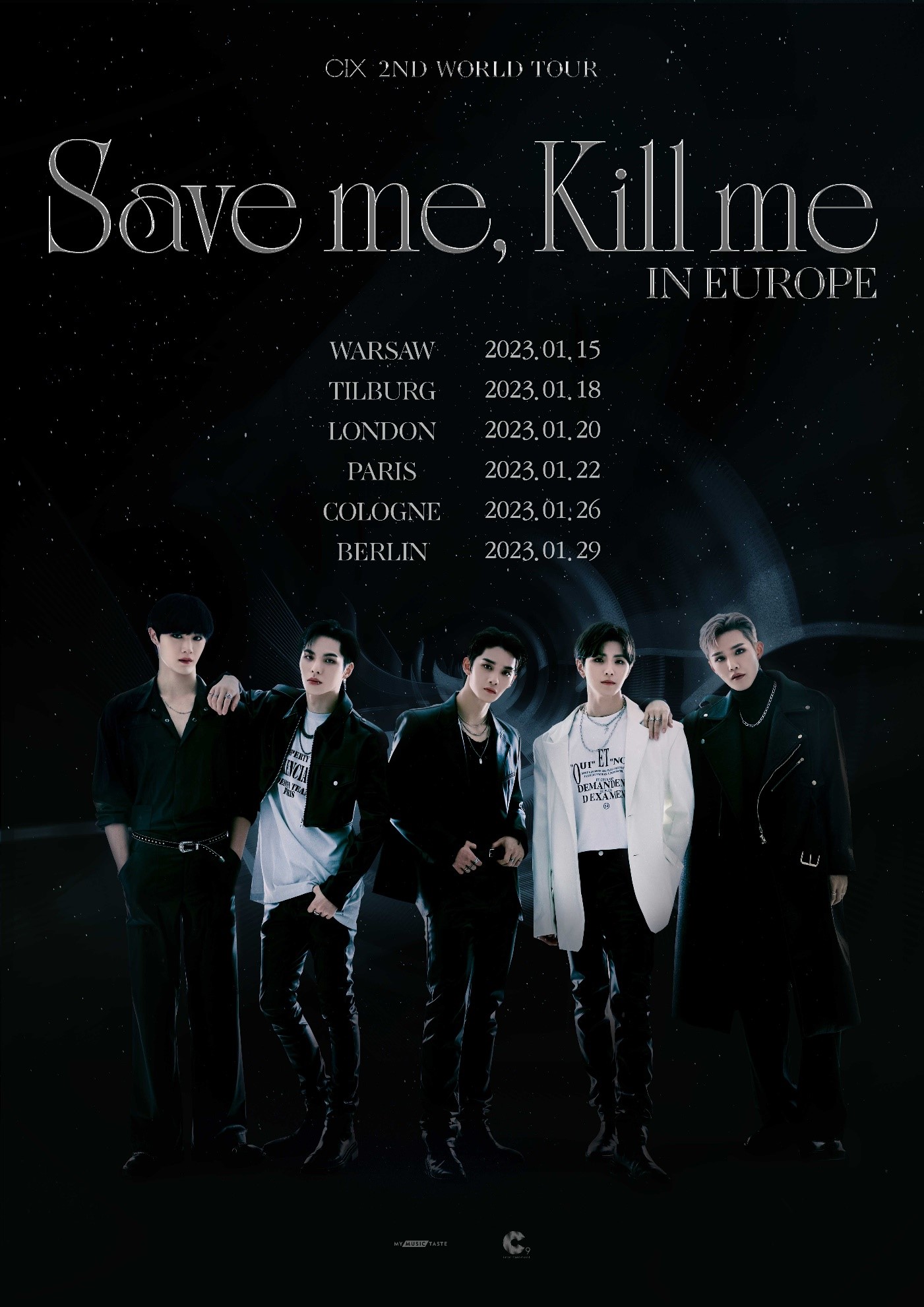 Popular Kpop boy group CIX is heading to Europe and U.S. in January and March 2023. CIX kicking off the start of the year with a bang, they're ready to greet their fans live in CIX 2nd WORLD TOUR <Save me, Kill me> IN EUROPE with six cities beginning January 2023.
CIX is a five-member K-Pop boy group under C9 Entertainment, consisting of members BX, SEUNGHUN, BAEJINYOUNG, YONGHEE and HYUNSUK. The group name stands for "Complete in X", which means the quintet will gather to complete the unknown. In 2019, CIX has actively promoted the title song 'Movie
Star' from the album 'HELLO Chapter 1. Hello Stranger' as the song has captivated its audience worldwide, opening its first chapter of the extraordinary universe as its debut.
In April 2022, CIX's 1st Concert <REBEL> was held, and this is the first time since the Seoul concert that CIX has successfully completed performances in six U.S. cities and Japan, showing their global presence and is now heading to Europe to see European FIX(official fandom name). The quintet group, CIX is set to have their second world tour and plans to make more special memories with global fans through their first European tour as well as more visits to the U.S.
This upcoming tour, the group partnered with MyMusicTaste to meet with their avid fans from all around the world. After their first U.S. tour in 2022, CIX is ready to take a bigger stage in Europe and U.S. in 2023! CIX is ready to greet fans with a completely new setlist, including songs from 'OK' Episode 1 : OK No, which was released last year in August. In addition, CIX will also hold a fansign event with fans in Berlin.
Tickets are now on sale and further information on the tour and ticket purchase can be found through https://mmt.fans/bnT4 or other social media channels of MyMusicTaste.
CIX 2nd WORLD TOUR <Save me, Kill me> IN EUROPE – Tour Dates
1/15 – Warsaw – Progresja
1/18 – Tilburg – 013
1/20 – London – O2 Forum Kentish Town
1/22 – Paris – Bataclan
1/26 – Cologne – Carlswerk Victoria
1/29 – Berlin – Huxley's Neue Welt
About MyMusicTaste:
MyMusicTaste is a fan initiated live event making service that brings fans, artists and promoters from all over the world together in one place to create a valuable and meaningful concert experience for everyone involved. MyMusicTaste puts the power in the fans' hands, allowing fans to request their favorite artist's concert in their city. With the mission to connect and amplify the voices of fans all over the world,
MyMusicTaste successfully promoted concerts of artists such as EXO, GOT7, MONSTA X, The xx, Machine Gun Kelly, and more in over 52 different cities. With the simple idea–empowering fans to bring their favorite artist's concert in the city of their choice based on fan demand–MyMusicTaste is challenging the $27 billion concert market through cutting-edge technology and a sophisticated, user-friendly service. Currently www.mymusictaste.com supports more than 30 countries and offers 15 different languages.
About C9 Entertainment:
C9 Entertainment is a South Korean record label formed in 2014. Artists under C9 Entertainment are LEESEOKHOON, YOUNHA, CIX, cignature and EPEX. C9 Entertainment features a wide spectrum of genre-agnostic music, including hip-hop, R&B, ballads, and rock, as well as outstanding performers, loved in various fields such as movies, dramas, plays, and musicals.
#CIX #C9Entertainment #krnb #khiphop #kpop #kcrush #CIXEuropeanTour #MyMusicTaste #CIXSAVEMEKILLMETOUR #CIX2ndWorldTour #OKEpisode1 #quintet #koreanboygroup #kcrushamerica #kcrushnews #2023upcomingtour #MovieStar #HelloChapter1 #BX #SEUNGHUN #BAEJINYOUNG #YONGHEE #HYUNSUK #CIXfivemembergroup #CIX1stConcertREBEL
Related Articles