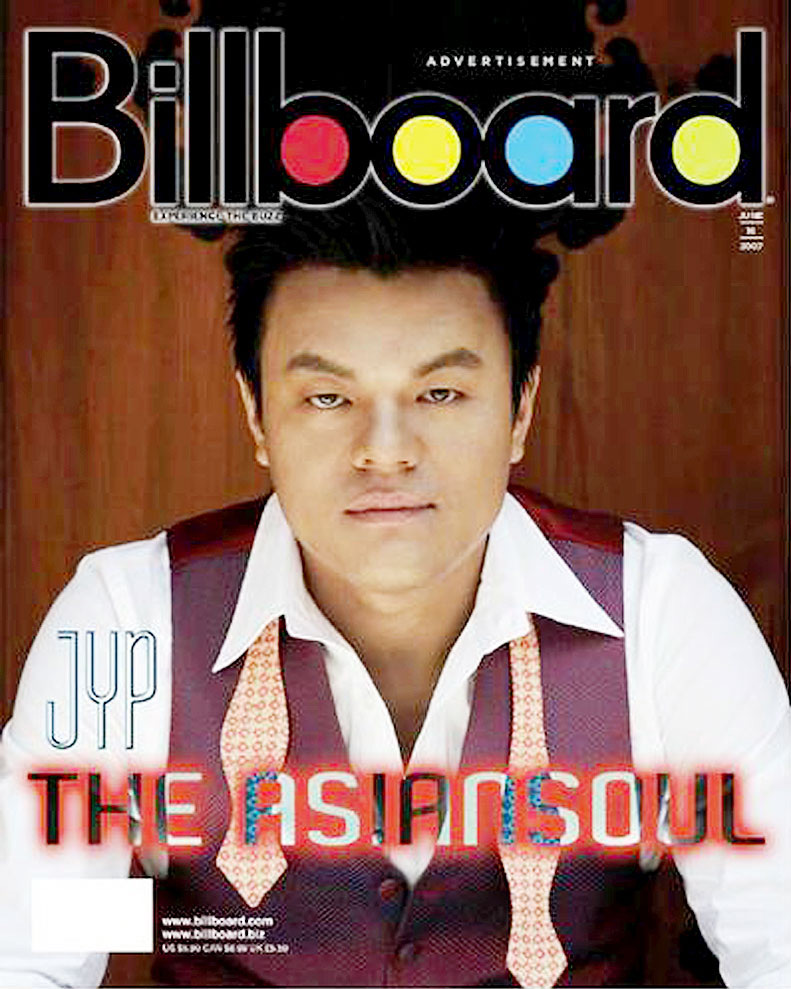 Park Jin-young (a.k.a JYP, J. Y. Park or The Asiansoul) is a Korean singer-songwriter, producer and record executive.
In 1992, Park was discovered(?) by Korean singer and musician Kim Soo-chul and formed into a group called, Park Jin-young and the New Generation but it was short-lived and disbanded before making any name for themselves. Despite being an incredible dancer, a great vocalist with an innate ability to succeed in the ever-changing show business, Park initially struggled to find a management company; mostly due to his appearance or demeanor because he wasn't considered attractive to the majority of people's standards. Park took numerous auditions in hope to be signed but was unsuccessful in landing a contract. It's widely known that he took an audition at SM Entertainment and the CEO and songwriter, Lee Soo-man reluctantly turned him down but asked if he'd be willing to sell the song Park had performed. He refused the offer and when he finally found a company that signed him (Cheil Communications), the song later became his first single and a hit in 1994.
"Don't leave me" was originally written as a ballad but producer Kim Hyeong-seok suggested it should be turned into a dance track instead. This single catapulted Park into a star and his debut album, Blue City, was released in the same year which also managed to become commercially successful.
In May of 1996, Park founded his own label and management company, Tae-Hong Planning Corporation which later rebranded as JYP Entertainment and it has developed into one of the most profitable entertainment agencies in Korea today. As the CEO, Park formed and managed numerous K-pop acts like g.o.d, Rain, Wonder Girls, 2PM, Twice, Stray Kids and the list goes on.
In the first half of 2018, JYP Entertainment became the second largest Korean entertainment company, as their market capitalization surpassed that of YG Entertainment. It was the first time JYP Entertainment was placed second to SM Entertainment and later in the year, JYP even surpassed SM Entertainment to hold the position of being the largest entertainment company in Korea.
Later in May of 2018, JYP became the only entertainment company in Korea to rank in Financial Time's High-Growth Companies Asia-Pacific list, charting at No. 177 out of 1000 companies and No. 12 out of 104 listed Korean companies.
Park is no longer the CEO of JYP Entertainment but remains the company's largest shareholder and influencer.
Earlier Life
Park Jin-young was born on January 12, 1972 in Seoul, Korea and was raised in a comfortable home, as the only son with an older sister.
Park's mother (an artist and former teacher) has revealed in past interviews that her son showed early signs of musical talent and that he was exposed to a lot of classical and pop music from the time he was in the womb. She has also stated that Park even enjoyed dancing to the sound of her rinsing rice in the kitchen when he was just barely able to walk. His parents did not see any reason to enroll Park into pre-school because he was very sociable, capable of making friends, learning and doing things freely for himself. He taught himself how to read at the age of four, after watching his older sister learning. When his sister started learning the piano, he taught himself to play and was performing on a grand piano by the time he was in elementary, in front to the whole school.
Park and his family spent around two years in the States while he was in elementary, where he was exposed to a lot of Soul and R & B music. He is also a professed fan of Michael Jackson and claims that his journey in music began when he first heard Michael Jackson's Off the Wall album.
Park always had excellent grades but he was also very absorbed in dancing and sports, especially basketball. His father never discouraged his son to do what he wanted to do in life but urged him never to stop educating himself. In 1990, Park went to major in Geology at Yonsei University, where he is said to have been a great student, earning top grades.
New Ventures
In 2004, Park is credited for being the first Asian producer to cross over to the United States; he produced songs for American artists like Will Smith, Mase and Cassie. The Love you Need was the 8th track on Welcome Back album by Mase that debuted at No. 4 in the charts and the record went gold. Park was later contacted by people representing Will Smith who had heard Mase's track and offered to work with him. Park produced the track I wish I had made that for Will Smith's Lost and Found album which charted No. 6 on the Billboard 200 Chart. He also produced Cassie's When your Body is Talking which was on a bonus track of her album. Since this was around the time when social networking (and having an international online presence) wasn't so active or as prominent as it is now, Park failed to make a further impact as a producer in the States but he did definitely pave a way for a number of Korean artists.
In May of 2008, Park collaborated with Hong Kong's star Jackie Chan to form the "I Love Asia" Project to raise funds for the disastrous earthquake tragedy in China and produced the song Smile Again with Chan (along with many other celebrities) and Korean film director, Kang Je-gyu.
In 2009, Park became the first Korean songwriter, together with RAINSTONE to enter the Billboard Hot 100 Chart with the Wonder Girls' single Nobody which debuted at No. 76 – without assistance from any major label – making them the first Korean group to enter the chart. Park continued to invest into the group but Wonder Girls failed to meet further recognition commercially during their two-year stay in the States, and they went on to target the Chinese market in 2010.
In 2011, JYP made his acting debut in TV series Dream High, which he received a nomination for New Actor of the Year at the Baeksang Arts Awards and later in the same year, Park made his film debut in Five Million Dollar Man.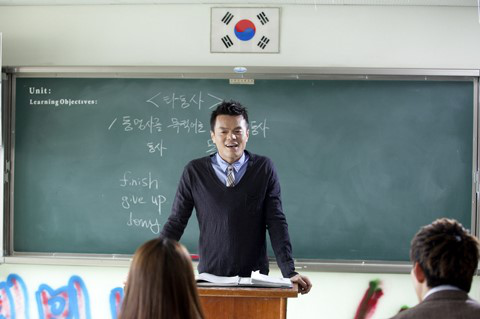 In 2015, Park released Who's Your Mama?, featuring Korean-American singer Jessi, which topped the Korean charts and attracted much buzz and attention via YouTube due to its lyrics and concept. In 2016, Park released Still Alive which expressed that he has survived in the industry since cassette tapes were around and even before most of the current idols were born, but craves for more because he aspires to become legendary.
In the same year, Park recorded Fire with American comedian and show host, Conan O'Brien, Korean-American actor Steven Yeun and singer Park Ji-min, with Wonder Girls and TWICE in the music video. He also appeared in the hit reality show, Sister's Slam Dunk, and produced the Unnies single Shut Up (with a very limited amount of budget) which also topped the Korean charts. Park also produced the title track for project girl-group I.O.I for their last album before disbandment, Very Very Very was released a month later which became a chart-topper.
Plagiarism claims
The fundamental reasons how Park managed to stay constantly relevant (and continually active) in the Korean pop music industry for all these years, would very likely be due to his intelligence, work ethic, savvy business mind and a lot more.
On a negative note, plagiarism issues regarding many of his songs has tainted his reputation as a songwriter and artist for most of his career.
Music plagiarism refers to usage or imitation of another artists' work and presenting or releasing it as one's own. Plagiarism occurs either with the melody (or motif) or sampling – which is taking a recorded sound and reusing it. Sampling without permission can infringe copyright and attaining permission for a sample is known as clearance – which can be intricate and expensive.
There are claims/accusations that approximately 50 of the songs (out of the 500 or so of the songs he has written) that Park wrote for himself and other artists, have been either been confirmed as plagiarism or accused of sounding similar to songs by various artists; mostly R & B artists and Hip Hop music.
In this article, we will briefly look into just a few cases.
Since the 90's era, the songs that Park composed and wrote lyrics for himself like Honey, Elevator, Why Why, Your house and many others have been accused of plagiarism. Honey, which is probably regarded as Park's signature song, has been accused of being a mashup of Tom Jones' version of Kiss, Ai No Corrida by Quincy Jones and Play that Funky Music by Wild Cherry. As far as we know, no legal claims have been made regarding the song.
Released in 1995, his hit single Elevator aroused plagiarism issues – some sources and critics claimed it plagiarized Salt 'N' Pepper's Whatta Man, while Why Why, released from Park's sixth studio album in 1998, was allegedly plagiarized Aaliyah's Grammy nominated single, 'Are You That Somebody.' The latter is undeniably influenced by the original but I personally would not consider it is fair to tag it as a plagiarism. The song was released just two months before Aaliyah's untimely death.
In the same year, Park released a single Kiss Me which was a cover with the same instrumentals by Stevie Wonder's Superstition. Park again, claimed it was a remake/sampling and the credits printed on his album that he was the composer, was flawed. Since then, all the royalties generated from the track goes to Stevie Wonder through the Korea Music Copyright Association.
Your House was released in 2007, and has been accused of plagiarizing the lyrics to American R&B artist Babyface's What if and Park has claimed during an interview that he has no idea how the lyrics referred in What If is almost identical to his own lyrics and called it merely a coincidence. The single's melody and the tempo has also been accused of sounding too similar to Sentimental by Canadian singer Deborah Cox from her first album and its chorus resembles Addicted to You by Japanese singer-songwriter Utada Hikaru.
The first boyband that Park produced for was called, g.o.d (Hangul: 지오디) and when their debut single, To my mother was released in 1999, Park was credited as its sole composer and lyricist on their album. However, Park was met with claims that he had plagiarized the late American rapper Tupac Shakur's two songs, Life goes on and Dear Mama. He later expressed that the song was actually supposed to be a sampling and it was a shame the legal negotiations hadn't gone through to attain the permit and the fact that he was stated as the sole songwriter on the album leaflet was just a blunder made in the printing process.
Plagiarism was confirmed in this case, so all the royalties drawn from to the hit went to BGM and the credits were also been edified. Park was only able to get credited as the producer. Other hits released by g.o.d including Observation, Road, Return to me and Letter that were written by Park, were accused of coping or plagiarizing various artists' work, and in some cases, just for sounding or having vibes that seem too similar overall. Road was also accused of plagiarizing Tha Crossroad and Day of Our Lives by American Hip Hop group Thug Bones-n-Harmony and Usher's U Got It Bad.
Like previously, song credits were edified (from initially crediting Park Jin-young as the writer) to stating the real artist behind the original music – only when accusations were raised. Numerous Kpop acts that Park had trained, formed, produced and wrote songs for experienced plagiarism issues at one time or another and it is also interesting that the songs were mostly commercially successful in Korea.
From 2000 until 2003, model and actress Park Ji-yoon was the first female solo to be signed to JYP. Her concept/image and ensemble showcased in her single, Coming of Age Ceremony mirrored the style of the late American singer Aaliyah. Park's previous album before joining JYP Entertainment was also called The Age Ain't Nothing but a Number like Aaliyah's debut album and single. Park Ji-yoon gained a cult following after her first performance and the song received R rating because the lyrics and the choreography was considered provocative and unfit for younger viewers,
None of the mentioned points would be considered plagiarism or lead to any legal disputes but Ji-yoon's single released in 2003, Do You Know How? was confirmed of plagiarizing Beyonce's Work it Out which was released a year prior. Not only was the song like a sing-along version of Beyoncé single (the lead single from the soundtrack to the movie Austin Powers in Goldmember), it also went as far as ripping off her hairstyle, stage presence and so on.
Sony Records made a statement and concluded that Park Ji-yoon's Do You Know How? (which was supposedly composed and written by JYP) went beyond the point of plagiarism to sounding like a copycat version – they also revealed that they hadn't received any inquiries about copyright beforehand. It is believed that they've claimed the full credit but even if the issues get resolved, plagiarism represents artists in a negative way and can tarnish their image for good, which is unfair for them, to say the least.
Music plagiarism can be extremely ambiguous to define and indeed a sensitive topic to make claims or accusations about, and may require years of settling in or out-of-court with a lot of monetary funds involved. Whether the accusations were legally issued and dealt with, cannot always be entirely known to the public but it is probable that they've settled the monetary issues in their terms.
JYP's View on Plagiarism
Park has never owned up to any plagiarism accusations/claims and has always been adamant that it's either a shocking coincidence or just the fact that he enjoys certain genres that result in him composing songs that unintentionally end up sounding similar or even identical to other artists' work. He said he does not regard any of those as plagiarism.
He has also added that because he's been accused of plagiarism on numerous occasions, he now carefully monitors that nothing sounds like his music before releasing but sounding similar to an existing music is inevitable and that he wouldn't be that foolish enough to copy a well-known song like he was accused of for many years.
Park has stated his frustration on interviews that back during the 90s, there were no requirements by the Korea Music Copyright Association to label "sampling" like it is currently done and it was the record executives who emitted the correct credits and statements on the sampled works in the past. He went on to add that attaining the copyright for sampling was supposed to be done by the record company but they failed to do so, in the past. By the time Park lost the copyrights to his sampled or remade songs, he stated that he was compensated by the company because he was also a victim in a way.
Park says that it wasn't until around year 2000, when the distributors starting sending out all the paperwork to the writers when sampling songs. And because he was not aware of the mentioned procedures in earlier stages, he lost 100% of his copyrights on many songs. If legal procedures were properly sorted, only a percentage would've been given out.
The most recent plagiarism issue in court that Park had to deal with was regarding IU's Someday from the Dream High 1 soundtrack.
The track was accused of having a similar chorus to To My Man by a Korean VJ and singer Ash, so the latter song's composer Kim Shin-il sued Park and each previous rulings sided in favor of Kim but the final decision was revoked and a retrial took place. The legal dispute ignited since 2011, and the court had ruled against Park, ordering him to compensate composer Kim for plagiarism.
However, in the final appeal, the Supreme Court sided with Park because Hosanna by an American Gospel singer Kirk Franklin released in 2002, also had the similar tune that Kim was accusing Park of plagiarizing.
In 2015, I'm So Sexy single that Park wrote for Comedian Yoo Jae-suk, was also accused of ripping off Putting' on the Ritz and My Name is Not Susan by Whitney Houston. 
Personal Life
Park married his long-time girlfriend whom he had met and dated since 1993. His in-laws made it known that they didn't like a celebrity/entertainer as a son-in-law so Park announced his retirement from music and enlisted as a social service agent but was able to unexpectantly tie the knot in 1999. He went on with his career after being discharged after a few months of training.
A decade later in 2009, Park announced their divorce and the proceedings soon turned into a messy court case because his ex-wife filed compensation for mental stress. The legal representative stated, "Park's action caused a lot of pain for his former wife and they are unable to come to an agreement for the compensation amount. Park spends most of his time in the USA because of his work and this affected the progress of the negotiations which caused further strain on their relationship. He also caused great pain by making the divorce announcement first on his website and said that he felt that he had more freedom after his divorce during his concerts. This was all a shock for his former wife." Park is currently on the top listed Korean celebrity for paying the most alimony.
In October of 2013, Park announced his second marriage to a woman whose identity is not made known to the public; only the fact that she is nine years junior to him was revealed. Later, it was reported that Park's new wife is the niece of the now deceased businessman Yoo Byung-eun, who was notorious for being the founder of a religious cult that was responsible for the Sewol ferry disaster.
Park has since strongly denied that he has anything to do with the organization but many sources strongly state otherwise because in May of 2018, he made the headlines for gathering an audience to preach about his new-found faith in God that mirrored the Salvation Sect in terms of the bible interpretation.
Park has commented that he has a belief in God but doesn't see himself as a member to any religion and would even take legal matters if there are further claims otherwise.
He and his wife are expecting their first child in early 2019.
Park Jin-young is a true artist and entertainer who has lived a colorful life in the eyes of the public, both on and off stage for well-over two decades.
He is a born entertainer and Korea's music icon, and it is undeniable how hard he works to perfect his craft – but he never hesitates to speak his mind about what he thinks and feels, regardless of how sensitive a topic may be.
Park is one of the few artists that continues to evolve and experiment with new types of sounds, choreography, concepts and fashion; there is currently no other artist in the Korean industry who can level with his passion and energy that he is able to deliver to the audience on stage.
— J.Chung.
3 responses to "Korea's Music Mogul Park Jin-young (a.k.a. JYP)"
Related Articles