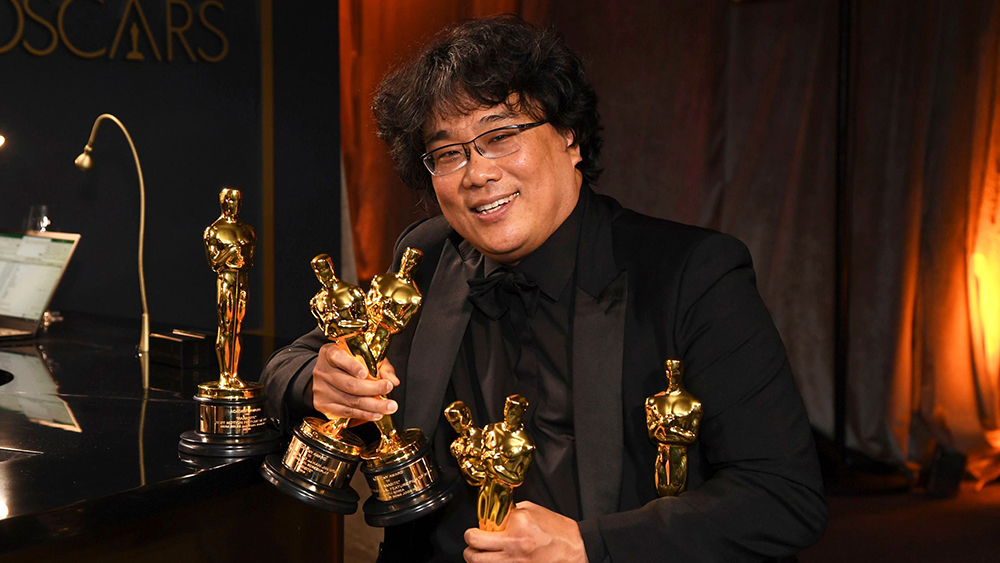 Bong Joon-ho (Born September 14, 1969) is a widely-acclaimed South Korean film director, producer, and script writer who was born in Daegu, South Korea, as the youngest of 4 children. His father was Bong Sang-gyun who was a professor of Yeungnam Art University, and the first-generation art director of National Films Production. Bong's maternal grandfather, Park Taewon, was an author during the Japanese colonial era. One of Bong's older brothers is a professor at Seoul National University and his sister is a fashion designer. Bong has a son, Bong Hyo-min who is also a film director.
According to Bong's older sister – Bong was quiet as a youngster, very studious and charismatic but didn't stand out too much. He grew up in an environment where he got to read a lot of foreign literature on films, construction, designs and so forth. Bong is said to have loved art, literature and music from an early age.
When Bong was in 3rd grade in elementary, his family moved to Seoul. He later enrolled in Yonsei University to major Sociology in 1988, and learned that one needn't be a film major to become a film director.
Bong served in the military and returned to college in 1992. He co-founded a film club Yellow Door and made his first films, Looking for Paradise and White Man. Bong then completed a two-year program at the Korean Academy of Film Arts. His graduation films Memory Within the Frame and Incoherence were invited to screen at several international film festivals.
He spent the next several years working with other film directors. He received partial screenplay credit on Seven Reasons Why Beer is Better Than a Lover (1996); screenplay and assistant director credit on Park Ki-yong's debut Motel Cactus (1997); and is one of writers for Phantom the Submarine (1999).
Barking Dogs Never Bite (2000) was Bong's first feature film and he also wrote its screenplay. Bong's second film, Memories of Murder (2003), was adapted from a real-life story of a serial murder/rape case. Released in April 2003, it proved to be successful, critically and commercially – this outcome saved production company Sidus from bankruptcy and won Best Picture, Best Director, Best Actor and Best Lighting prizes at the Grand Bell Awards.
The Host (2006) took Bong's reputation as a director to a new level. The $12 million work featured on a fictional monster that appeared from the Han River to attack mankind. It was a challenge to create a realistic digital monster. Weta Digital was initially contacted, but due to the schedule, Bong ended up working with San Francisco-based The Orphanage instead. The film became South Korea's widest release in history and set a new box-office record. Universal later purchased the rights to remake.
Bong, Michel Gondry and French director Leos Carax, each directed segments of Tokyo! (2008) – Bong's part tells a story about a "hikikomori" man who falls in love with a pizza delivery girl.
Bong's fourth film Mother (2009) is about a mother trying to save her intellectually challenged son from being a suspect to a murder case. The film became a critical success in Korea and internationally. It also made it on numerous top films lists of 2010 voted by critics.
In the following year, Bong served as a jury member for the 27th Sundance Film Festival, the head of the jury for the Caméra d'Or section of the 2011 Cannes Film Festival, and the 2013 Edinburgh International Film Festival.
In 2013, Bong's first English-language film, Snowpiercer, was released, which was based on the graphic novel, Le Transperceneige, by Jean-Marc Rochette and Jacques Lob, where the passengers are separated according to their social status in a futuristic train.
As the tenth highest-grossing domestic film in South Korea, it is also the fastest movie ever to reach four million admissions, and made the highest weekend figure for a Korean film.
In 2015, Bong's next film Okja was released. It premiered at the 2017 Cannes Film Festival, and received a four-minute standing ovation following its premiere.
Bong released film Parasite (2019), a black comedy thriller about an underprivileged family gets hired at an affluent home.
Parasite earned $115 million at the worldwide box office – Bong's highest-grossing release yet. Bong was nominated for Best Director and Best Screenplay at the 77th Golden Globe Awards, and won the Best Foreign Language Film – the first Golden Globe nomination or win for any Korean film.
Parasite was nominated for 4 categories, and received 2 awards at the 73rd British Academy Film Awards.
Parasite became the first Korean film to receive an Academy Award nomination -receiving 6 nominations and winning Bong the Best Picture (shared with Kwak Sin-ae), Best Director, Best Original Screenplay (shared with Han Jin-won), and Best International Feature Film.
Bong is said to be currently working on another thriller and a Hollywood film.
–J.Chung.
Related Articles