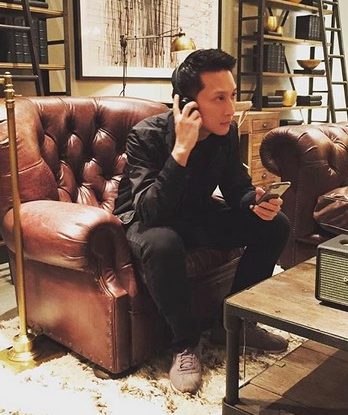 Travis Yee Haw is breaking barriers with his country music vibe. The reputable "Asian country singer" Tiktoker and "The Cowboy" from Fox TV's "I Can See Your Voice – Season 1" is making quite a statement in the entertainment industry. Hailing from Los Angeles, Travis Yee has already made an impactful statement in the industry with his first musical pieces already creating a buzz for their originality and creativity.
KCrush America Magazine had an interview with Travis Yee Haw to know more about him as well as his debut, music, and aspirations. Here are some excerpts from the interview.
1. Beyond the "Asian Country Singer" on TikTok and "The Cowboy" from FOX TV's I Can See Your Voice, who really is Travis Yee Haw?
I don't even know! LOL jk. I'm a city boy originally from San Francisco, now living in Las Vegas. I got into music unexpectedly. Some artists say, "music found me", and that has been so true for me. I didn't grow up on music. I had no aspirations to be a singer. Events and experiences over time made me fall in love with the process of recording and a realization that I had a decent voice.
2. "Everything but country music" was your 1st debut single. Why country music and why "Everything but country music" exactly?
I fell in love with country music over 10 years ago. Honestly, I don't even remember what year because time goes by so fast. But, I was driving to San Diego one year, and the only thing available was a Highway Country music station. I started enjoying country music immediately, the stories it told, the energy it gave, and how it made me feel.
"Everything, but Country" was an idea I came up with when people would explain the type of music they listen to, basically everything, but country. It stuck with me. I thought it would work perfectly as a song because it seemed to be a common theme among music listeners that listen to a wide variety of music.
3. Your 2nd single "Eyes like mine" is a masterpiece that touches on contentious issues such as racism. What was the inspiration behind this song and its intended purpose?
Just that. The goal was to tell my story and perspective through a song. Not everyone may understand. There are people who will always judge. Some people are brought up in a box and are unaware of diversity. It is what it is, but it's really inspiring, even for me, to help spread a little awareness. And it's coming from the heart. I think there are so many people afraid to be themselves because they are different or feel they will be judged. If I can help make it easier for some to be okay with taking that next step, then I feel like I did something good.
4. Your very 1st TikTok video of you singing Garth Brooks' song went viral and also got a thrilling response from Garth himself. How did that make you feel and how did it impact your then blossoming career?
That felt incredible. He's a superstar. An inspiration to the world. He took a minute to watch my video and say those kind words. If anything, I should be doing more to prove to him that what he said really motivated me and made me believe, even more, that I can do this. Also, that TikTok was super random and was going to be the only TikTok I post. Someone told me to give it a shot and so I did. Did not even expect that TikTok to go viral, but I guess most people don't plan on a viral video.
5. There is a perception that country music artists ought to embrace a cowboyish look. What is your take on this?
It's definitely been like that for awhile, but I do feel the expectations of what a country artist should look or sound like is evolving. We already see a change in the industry which is amazing. People are being more accepting. I believe labels and managers are more open. I think people are realizing that people are starting to appreciate country music for the music and not the look. Let's hope it keeps evolving.
6. Cardi B's "WAP" cover was beautifully blended in Garth Brooks' style. How did you fathom fusing this daring cover?
Haha this was the best. I had so much fun doing this as well. WAP was the #1 song and it is not thing something I would ever listen to. Then I decided, you know what, TikTok is more for fun and entertainment. Let's not be so serious and turn WAP into a country song. I knew Garth Brook's "The Dance" was the perfect song for it. All country music lovers know the song immediately when it starts playing. It's an emotional song and would totally ruin WAP and The Dance. I feel like I did my job lol.
7. You have covered songs done by artists from numerous genres. Who is your biggest inspiration and whom would you wish to collaborate with in the future?
I am really inspired by legends like Garth Brooks, George Strait, and Randy Travis. I've also always been a huge fan of Chris young. I would love to collaborate with him or any of the other artists listed. I respect and admire all of them and many more. I'm inspired by all music artists, not only because of their music, but because of their passion, hustle, and commitment to country music.
8. In addition to contributing towards writing your 3rd single, "She's Changing", you personally created its video. Is this a previously or recently learned skill and how do you balance all these responsibilities?
I have always enjoyed video editing and being creative. This was something I've just done for fun in the past, but thought…wait, I could save money and try something myself. I actually did the "Eyes Like Mine" video myself too. It's such a fun process. Definitely takes a lot of time, but it's 100% enjoyable and fun. Plus, I love doing anything on a computer haha. Video editing is fun because you get instant gratification after making any edits. From starting with a raw video to turning it into a movie.
9. The "She's Changing" single is quite emotional. Was it by any chance birthed from your own personal experience?
In a way, but maybe not the way in which you may think. The idea of this song came about when I started thinking about friends who kind of drift off. The friends that you were close with in high school, but haven't talked since. Nothing other than people just moving on with their lives. It also happens in relationships with no closure…which definitely hurts, but it happens. Sometimes people change and they move on. Sometimes it hurts and sometimes people get over it. Sometimes it's for the better of both parties, neither, or one party.
10. Content creation requires an endless flow of creativity. In addition, you are quite unique in your choice of music genre. What are the challenges you face?
I definitely don't have challenges in being creative. I love being creative. It's fun. It's my energy. It's my personality. It's my experience. The challenges I do face though is making sure creativity doesn't feel like work. I want to make sure it remains fun. I believe that creativity is
11. Power comes with responsibilities. Do you ever feel burdened of being a voice of change, especially with your career and passion at stake? And if so, what motivates you?
I definitely don't feel like I have any power. I don't feel burdened at all because I started all this because of passion and had no expectations. The responses and lives I've impacted have made me want to grow even more in this area. That definitely motivates me. People say, if I can at least inspire or help 1 person through this, then it's all worth it. That's absolutely true and there are definitely proud moments when you know you have positively impacted someone.
12. Your enormous success must have created greater expectations from fans. How do you remain grounded and relaxed amidst the pressure of delivering musical pieces that are as impactful if nor more?
So far, I've never felt the pressure from anyone that supports me and my music. The hardest part in all this honestly is trying to get out of my head. The support and encouragement has been so great, but I still find myself overthinking or doubting what I release or what I post. I don't know why, but it's something I'm definitely trying to work on. It's hard for me to accept that my work is good enough.
13. Your music is now available on major platforms including Spotify and Apple iTunes. Your apparel merchandise store is also thriving. So, what's next for Travis Yee and his dream project?
It sounds so cool when you say that because I would've never thought I'd be a music artist before 10 years ago. The next part of my journey is to get back into consistent song writing as I've been out of it for a little. I want to steer my focus away from TikTok a little because I will be taken more serious with original music. Original music showcases the true talent of an artist and I want to look back and be proud of music that represents me. I can't say that so much about parodies or covers.
Once again, thank you and all the best in your endeavors.
— Karen Mwenda
#TravisYee #koreanamerican #countrymusicsinger #kcrushinterview #EyesLikeMine #asiancountrysinger #TheCowboyICanSeeYourVoice #LosAngeles #TravisYeeEverythingButCountryMusic #country #TravisYeeShesChanging #TravisYeeInterview #SanFranciscoCalifornia #TravisYeeHaw
Related Articles