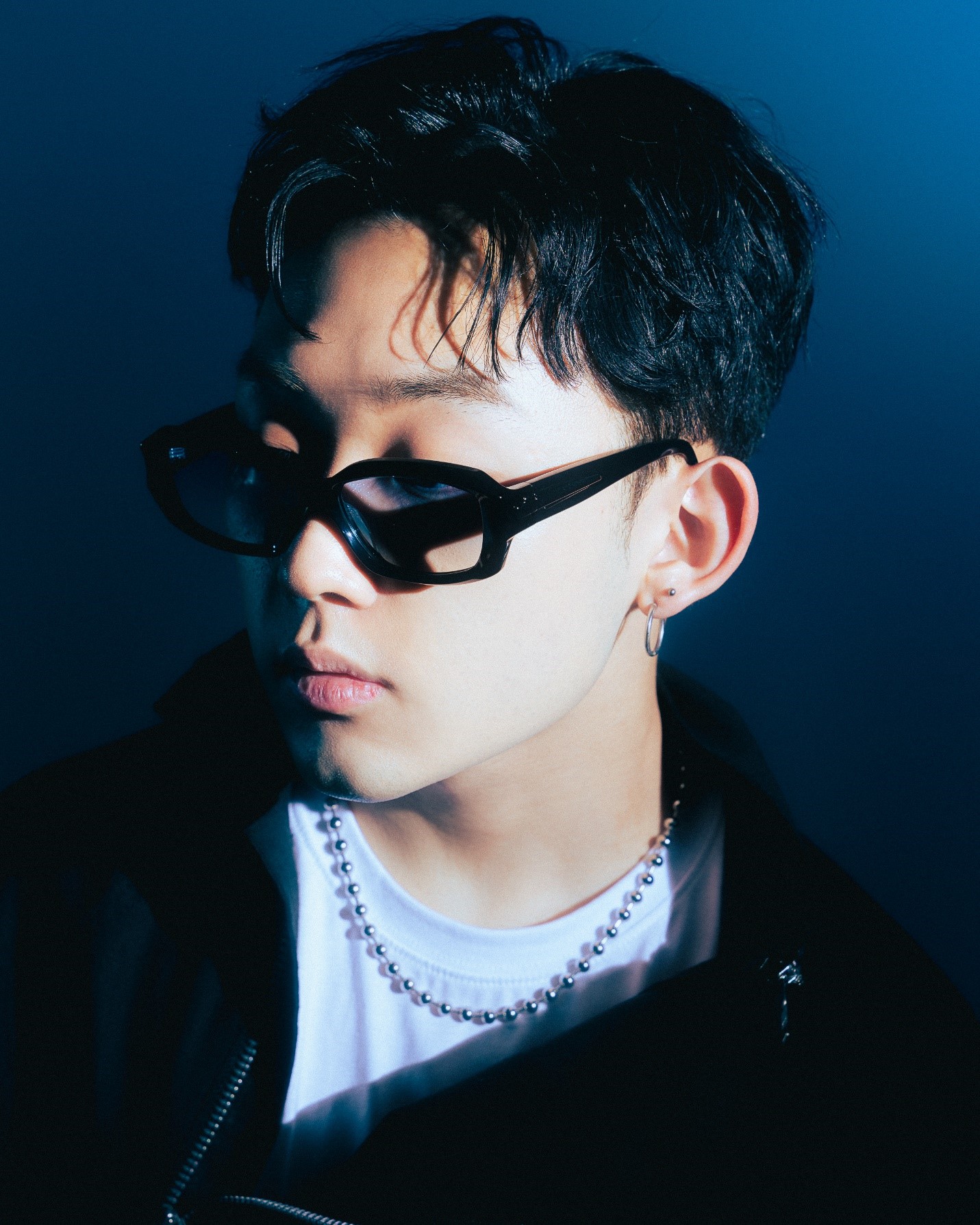 Lipnine is a hip-hop artist who made his debut in 2020 with "탓해" (feat. Pullik). He has since released two EP albums, "Sketch: Footprint" (2020) and "Medley" (2021), as well as three single albums, "Gotta Be Love" (2021), "아무것도" (feat. 찬현) (2022), and his most recent release, "왜 넌 나를" (feat. 한요한) (2023).
Please introduce yourself to KCrush readers.
Hello, I am LIPNINE, a musician from INHOUSE Music Group. Nice to meet you, KCrush readers!
While K-pop is hugely popular all over the world, K-hiphop is still largely unknown. Please introduce the charm of Korean hip-hop.
In my opinion, the charm of Korean hip-hop lies in its diversity. Each artist has their own unique style and color, and as Korean hip-hop continues to establish itself as a genre, it is becoming more and more interesting and enjoyable for both creators and listeners alike.
Who is the musician that has influenced you the most? Name a fellow musician who gives you the most strength when working on music right now?
I think I have been influenced a lot by many musicians, such as Big Bang, Sik-K, DPR LIVE, Beenzino, Travis Scott, and Amine, to the extent that they are the roots of my music. Although I have gone through many difficult times while making music, I am able to continue having fun and creating new works thanks to my producer team Melange's Kobee and Holy M, who have been with me since the beginning and are still with me in INHOUSE. I am also currently receiving a lot of help from producers like The Trinity, Han Yo Han, and Pullik, and I am always sincerely grateful to them.
I think hip hop musicians need a lot of talent. It takes a lot of work, from making a beat, writing a verse, producing a song, memorizing them, giving a presentation, and making it feel alive with fashion and dance. Please tell us which part you are most confident in and which part is the most difficult?
First of all, I think my strength in music lies in creating elements that can be enjoyed by everyone without exception. I grew up listening to such music, and I think it's something that comes naturally to me. Additionally, I've always been interested in fashion since I was young, and I still love it, so being able to style myself in a way that suits me is a strong point when it comes to expressing myself.
As for the most difficult part, lately I've been thinking a lot about how to express my thoughts in my music in a way that's not too obvious or cliché, even if it's about the same topics as other artists. I always try to find a fresh approach that will make it feel new and exciting to listeners.
When did you decide to become a hip hop musician? At what age did you start practicing rap? How did you practice rap at that time?
I have loved listening to music since I was very young, and I couldn't go anywhere without my mp3 player. I enjoyed listening to music that much, and during the summer vacation of my first year of high school, I made the decision to pursue this as my career without any big hesitation. I booked a small studio in my neighborhood even though I knew almost nothing, and I've come this far by practicing and singing along and making my own songs.
In the Korean hip-hop scene, where do you usually network to find someone to request featuring or work together?
In my case, I usually communicated and worked through Instagram for the featuring. There are also cases where I communicated through acquaintances, as you know, the scene is quite small.
Please tell us about your plans for the next album. When will it be and what kind of concept will it be?
The next album is almost finished and if everything goes according to plan, it will be released in mid-April. Since this is my first EP album after signing with the company, I am putting a lot of effort into its production. The concept is another series of my album 'SKETCH', and I have tried to honestly express the emotions I actually felt as much as possible. I don't know if the album will be released when the interview is published, but please enjoy it a lot.
Among the old K-pop and K-hiphop songs you listened to as a child, is there a song you would like to recommend to global fans?
There are too many songs I want to recommend, but the ones I still listen to occasionally are the entire ALIVE album by Big Bang, the entire FL1P album by Sik-K, "IAOT" & "Her" by DPR Live, and "24:26" by Beenzino. These are the ones that come to mind right now.
What do you usually do when you're not working on music? What makes you relieve stress and regain energy?
Recently, this has been a concern for me. I don't really have any hobbies other than music, so I'm trying to find ways to relieve stress. I'm thinking of finding healthier ways to cope with stress.
Is your day rather routine? Or do you rather spend time freestyle without a plan?
When I don't have a schedule, I don't have any plans. I relieve stress by doing things like suddenly going shopping or visiting other artists' studios.
Are you a light-eater or a big-eater? What food do you eat most often and want to recommend to fans?
I used to not eat much, but my mouth gets sore before music video shoots so I'm trying to control it now… The food I eat most often and like the most is hamburgers, especially McDonald's burgers.
What color can be seen the most in your closet? Where do you like to do shopping?
I have a lot of neutral-colored clothes, mostly black. I used to buy a lot of clothes online, but lately I prefer trying them on in person, so I often go to a curated shop called "samplas" in Mapo.
What is the hippest place in Korea that you would like to introduce to global fans?
Honestly I don't usually go out much, so I don't know which are the hippest spots, but I think the hippest spots in Korea are usually found in areas like Yeonnam-dong and Hongdae in Mapo or Apgujeong in Gangnam, which I often visit when I do go out.
What does hip-hop and music mean to you in your life? Is there a message you would like to convey to readers around the world about dreams?
Music itself means to me the coolest way of expressing my thoughts, goals, and presenting myself as an individual. As for dreams, I always have big ones, but my immediate goal is for this album to do well so that I can meet fans offline more often.
Lastly, please say some words to KCrush fans around the world who love Korean culture.
I feel that the love for Korean culture is growing all over the world these days, and as a musician myself, I feel so amazed and grateful for it. I will come back with better music. Nice meeting you all, KCrush readers 🙂
—-Jiyoung Lee
#LIPNINE #kcrushinterview #Yeonnamdong #HongdaeinMapo #ApqujeonginGangnam #INHOUSEMUSICGROUP #HipHop #koreanmusic #kcrush #LIPNINEsinger #LIPNINEMEDLEYEP #SKETCHEP #kcrushamericamagazine #DPRLive #Beenzino #koreanhiphop #interview #kcrushnews #SamplasnMapo #MelangesKobeeandHolyM #producerteamforLipnine #AlivealbumBigBang #TheTrinity #HanYoHan #Pullik #LIPNINEInterviewwithkcrush
Related Articles