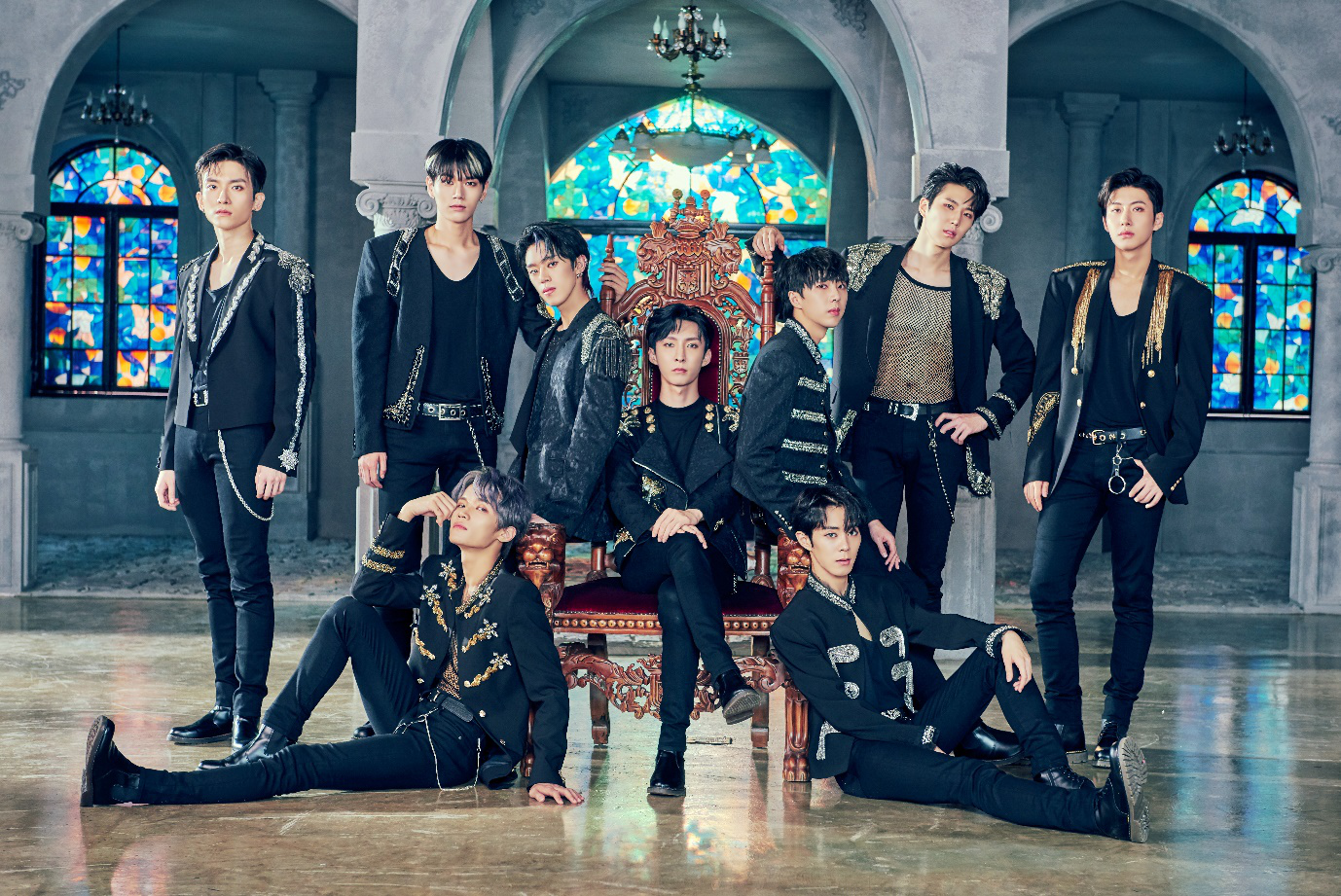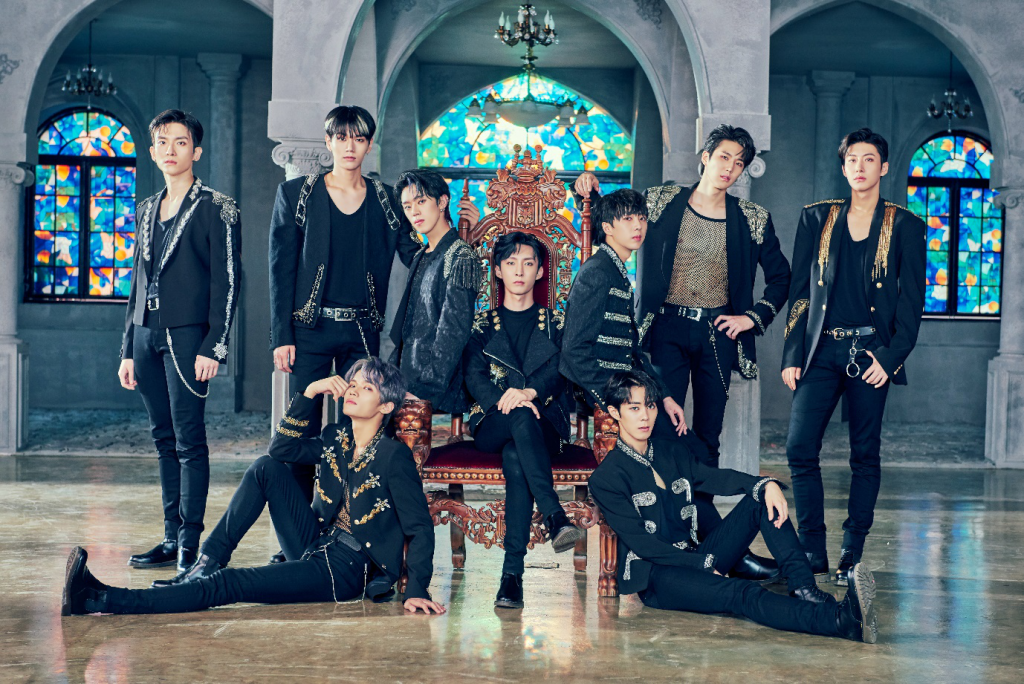 GreatGuys (멋진녀석들) consists of 9 members: Jae I, Horyeong, Haneul, Daun, Donghwi, Dongin, Hwalchan, Uiyeon, Baekgyeol. Great Guys debuted on August 25, 2017, under DNA Entertainment.
Thank you for taking the time out for a KCrush interview. Would you please introduce yourselves to our readers?
Jae I (Charming Guy): My name is Jae I, and I am the team's leader and main dancer.
Horyeong (Reliable Guy): Hello, I am Horyeong, the vocalist and the second oldest one of GreatGuys.
Haneul (Nice Guy): Hello, I am Haneul, and I am the sub-vocalist.
Daun (Lucky Guy): Hi, I am the team's main vocalist, Daun.
Donghwi (Pretty Guy): Hello, I am Donghwi, the main vocalist of the team.
Dongin (Tough Guy): Hi, this Dongin and I am the main rapper.
Hwalchan (Energetic Guy): Hello, I'm Hwalchan and I am in charge of the bulk of the vocals in the group. 
Uiyeon (Loyal Guy): Hello, this is Uiyeon and I am the rapper and visual of the team. 
Baekgyeol (Innocent Guy): This is the group's cutie maknae, Baekgyeol.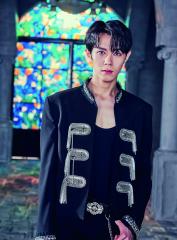 Please let our readers know how you formed as a band.
Jae I: I got in after passing an audition. 
Horyeong: I joined after having an audition and was made to train for a while before becoming a part of Great guys. 
Haneul: I starting taking interest in dancing since high school and began having dancing lessons at an academy. Then when I got in uni, I got into a dance team and got to take an audition to join GreatGuys.
Daun: I became the last person to join Great Guys after getting through to the audition. 
Donghwi: Through an audition.
Dongin: I got to train at the company after taking an audition, then I got to join the band.
Hwalchan: I became a Great Guys member after passing an audition here.
Uiyeon: Through an audition. 
Baekgyeol: I got in the group after an audition.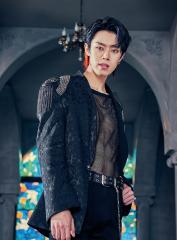 What has changed the most for you after you made your debut?
Jae I: I think my personality has changed much after spending time with the rest of the members. 
Horyeong: I think I now feel prouder of myself after accumulating a lot of experiences like broadcasting here and there.
Haneul: I guess, my outward appearance has changed due to taking care of myself.   
Daun: My personality and the way I manage and take care of myself has changed too.
Donghwi: My personality has changed a lot.
Dongin: My mindset has been more firmly set thanks to gaining more responsibility after debuting.
Hwalchan: Like the rest of the group, my personality and preferences in things have changed for me.
Uiyeon: Like Jae I, I think my personality has changed much and my weight has been altered as well.
Baekgyeol: I lost a lot of weight and the overall mindset on how I manage myself has changed.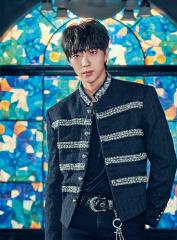 Which one of your songs are you the most attached to, and why?
Jae I: I think, Black & White is a great song. The vibe from the beat and the melody is very like western pop, which I like. 
Horyeong: I'm the most attached to Butterflies – 가슴이 떨려 널 생각하면 because they lyrics have what we wanted to convey to our fan base, Grace.
Haneul: Personally, I like GANDA which is our second digital single. It showcases our member's personality and traits well, I think.
Daun: Butterflies is one of our songs that I am the most attached to because when I shot my first video, I use the instrumentals for this song, and the vibe fit so perfectly, so I have a lot of memories connected to the song.
Donghwi: Stay, because I love ballads and the lyrics are also quite heart-wrenching.
Dongin: It's GANDA for me. The reason is because it was the first time for me as a rapper to have credits to the rap making, I really learned a lot from the process and that's why I am the most attached to that song.
Hwalchan: Black & White from our mini album. I love its style of beat and melody.
Uiyeon: I like STAY the best. I think I'm attached to it because it's a ballad, which I love.
Baekgyeol: R.O.M.L – the song fits my voice well and I would like to recommend it since the melody is great.
Which artist/musician do you respect the most?
Jae I: I respect BTS subaenims a lot.
Horyeong: I personally respect and like EXO's Kai the most.
Haneul: Mark sunbaenim from NCT.
Donghwi: A male solo singer called Im Hanbyul.
Dongin: Zico sunbaenim and Kendrick Lamar.
Hwalchan: I like and respect Taemin sunbaenim.
Uiyeon: I respect Mad Clown sunbaenim.
Baekgyeol: I like Crush sunbaenim and I listen to his music a lot.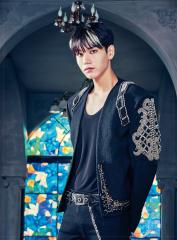 What kind of hobbies do you have? Do you have your own specialty in something?
Jae I: I enjoy doing freestyle dancing to all kinds of genres of music.
Horyeong: I love listening to music. I love pranking and having fun, so my specialty is in living up the mood. 
Haneul: My hobbies are going to well-known cafes to taste different types of coffee and going to the Han River to skateboard. My specialty is doing dance covers of girl groups.
Daun: My hobbies are taking videos and editing. My specialty is in singing ballads. 
Donghwi: My hobby is singing cover songs with my guitar and my specialty is in singing in high tones.
Dongin: My hobby is beat making and my specialty is rap making. 
Hwalchan: My hobbies are gaming and sports. I'm capable of covering all kinds of sports. 
Uiyeon: I love going to the movies. I can move my ears and eat a choco pie in one mouthful. 
Baekgyeol: I like to search for nice restaurants or watch moving videos on YouTube. My vocal ability is my specialty.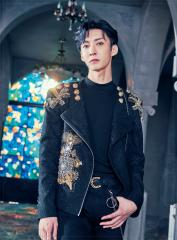 What is the first thing that you normally do when you get up in the morning?
Jae I: I wash and prepare to leave for the studio.
Horyeong: Head to the gym to work out to fight off sleep as much as possible. 
Haneul: I massage my face with an ice pack and drop by at the coffee shop and get myself a coffee and go to the gym.
Daun: The first thing that I do it head to the gym.
Donghwi: I go to the gym to work out before going to practice.
Dongin: To the gym. 
Hwalchan: I work out or get prepared to go practice.
Uiyeon: I head to practice or whatever is scheduled.
Baekgyeol: I drink a lot of water because I get dry in the throat overnight.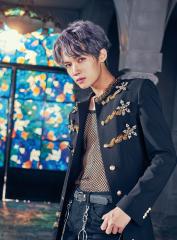 Name one thing that is the most precious to you?
Jae I: I regard my old training shoes the most precious.
Horyeong: I consider my family photographs that I keep in my wallet the most precious to me.
Haneul: Photos of my acquaintances and letters that my fans gifted me.
Daun: I have a 50 thousand Korean bill covered in gold that one of my friends gave me, which I cherish.
Donghwi: My guitar.
Dongin: I do all my work via a MacBook, so I guess, my MacBook.
Hwalchan: My phone and the photos in my wallet.
Uiyeon: Photos that I took with other people and my shoes.
Baekgyeol: My mobile.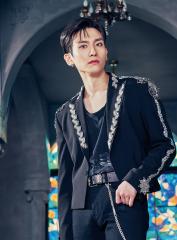 What kind of person is your ideal type?
Jae I: I don't have a set type but I think someone who I can connect with well, would be great.
Horyeong: My ideal is someone who pays attention to what I have to say and has a beautiful smile.
Haneul: My ideal is someone who works hard and has pride in what they do, by spending each day happily.  
Daun: My ideal type is someone who is humorous and can communicate with me well.
Donghwi: Someone with pretty eyes. 
Dongin: Regardless of their age, nationality, my ideal is someone who is considerate and who has a nice smile.
Hwalchan: Someone who has pretty shoulders and feet whom I can communicate with.
Uiyeon: A person with a nice smile with nice hands, overall, someone who can connect me well.
Baekgyeol: I like someone who can get along well with my personality and has a pretty way of talking.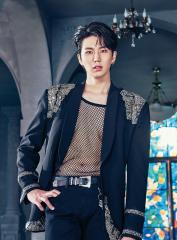 Let us know what kind of song or album you listen to a lot.
Jae I: I enjoy listening to a lot of Pop and R&B Soul.
Horyeong: Depending on my mood of the day, I think I listen to ballads and rap music. Lately I've been listening to a lot of Jukjae – Let's go see the Stars, the lyrics are really fantastic.
Haneul: I like to listen Jazz and pop music, and recently I've been listening to Ariana Grande's Jason's Song frequently. It's a song that showcases Ariana Grande's cool vocal tone – the track was featured on limited deluxe edition as a bonus of her album in Japan.
Daun: I don't normally listen to pop music much on a regular basis but I listen to it while working out. Oh My Girl – Destiny is the song that I listen to a lot.
Donghwi: When it comes to songs, I like acoustic music. There's a singer called Beom June Jang (of Busker Busker) and I love his second album's lyrics and melody so much, you should all listen to it. J
Dongin: Zico sunbaenim recently released an album called, THINKING and there is a song with a great melody with the title HUMAN, its lyrics say "When I saw my grown self when I was younger, I was definitely smiling but…" and I could really relate to that. So, that's a song that I'd recommend to you guys, And I listen to Kendrick Lamar – DNA and Humble a lot.
Hwalchan: I like Hip Hop a lot and I listen to pop music often too. These days, I listen to Song Minho sunbaenim's Lonely – 위로 해줄래 frequently.
Uiyeon: Back Number – Happy end. It's a soundtrack to a movie that left a big expression on me, so I love the song all the more.
Baekgyeol: I often listen to Two Melodies by Zion T. & Crush. I used to listen to it all the time in high school.
Share with us any movies, books or musicals that you've enjoyed recently.
Jae I: I love Avengers: Endgame. 
Horyeong: I really enjoyed Avengers: Endgame.
Haneul: I watched the Joker movie recently and Joaquin Pheonix's acting was so on point, and the fact that he even lost 30kg to play the Joker part, was admirable. I also read the late Jonghyun sunbaenim's novel Skeleton Flower: Things That Have Been Released and Set Free, so I read the book while listening to the songs mentioned in the book.
Daun: La La Land is the movie that left a big impression on me.
Donghwi: This isn't something that I watched recently but my favorite film is About Time. It's about a man who can time travel and the movie is about the importance of being in the present time.
Dongin: The Japanese movie called, My Tomorrow, Your Yesterday.
Hwalchan: I haven't watched a movie recently that left a big impression on me but my fav movies are La La Land and The Notebook. I like romance movies.
Uiyeon: Avengers: Endgame and Joker.
Baekgyeol: I recently read a book called The Temperature of Language. I like the fact that one word can be expressed differently depending on the emotion and the feeling.
Where do you think is the best place to visit or tour in Korea?
Jae I: Amusement parks! You'll get rid of all your stress if you take a ride.
Horyeong: The beach at Namhae, Gyeongnam is really great. It's the beach that I used to go often as a kid, so I have good memories of the place.
Haneul: I want to recommend Jeonju Hanok Village to you. You can taste traditional Korean food and it's an area where a lot of tourists from abroad visit.
Daun: In Suwon, there is Gwanggyo Lake Park that has a really cool night scenery. It's where I go frequently during the summer nights.
Donghwi: Gwangalli (Millak) Waterside Park in Busan. The night scenery of the Gwangan Bridge is incredible! You should all visit.
Dongin: Busan is the best place to visit, in my opinion. In the summer, it's the most healing place to go because there's the Haeundae Beach and Gwangalli Beach to hang around at, and because the night scenery in Gwangalli Beach is so fantastic, I am certain that it would make a great trip if you go there with someone special!!
Hwalchan: Daegwanryeong, in Gangwondo. It's chilly there, but the scenery and the wildlife are great, very relaxing.
Uiyeon: You could get the best of the past and future at Gyeongbok Palace and Lotte World Tower, respectively.
Baekgyeol: Dolsan Park in Yeosu, because the sea view at night is fabulous.
Let us know what your hopes and plans are for the future. Add something memorable for the fans as well. Thank you!
Jae I: We want to see k-pop music trending around the world, hopefully through us too. We've got nothing but thanks for our fan club, Grace! We'll strive to be better guys for you. Love you all!
Horyeong: Hopefully, the plan is to become better known by performing and appearing on broadcasts in Korea and overseas. We're always thankful for our fan club Grace, and I just want to say how much we love them.
Haneul: We're still growing and improving- hope to let the whole world see our progress. We'll never forget where we've come from, and will keep working to make our fan club Grace really proud. Love you a lot.
Daun: Our goal is to be more active here and abroad and be known more. We thank you so much, our Grace, for supporting us. We'll keep up our hard work, hoping you will keep up your love and interest in us.
Donghwi: We hope to be in more activity here, and also overseas concerts. Thanks for all your love, and we'll do our best to return it. We love you!
Dongin: We'll do all that we can in everything we do, to reach more and more people. For Grace, I'd like to say thanks for being Grace, and we'll return your great love with good music. We won't forget you're with us and we hope to impress you with our music. We love you, Grace!
Hwalchan: Hope to show you our progress with the mini album, and we'll keep growing. Thanks, Grace.
Uiyeon: Like always, we will never forget how we started out. Grace, love you all!
Baekgyeol: We plan to focus on activities both domestically and abroad. Thank you, Grace for sticking with us through thick and thin, we'll continue to make you smile for always ~
—J. Chung.
Related Articles