TO OUR KCRUSH COMMUNITY AND FRIENDS
Join us in our attempt to bring more awareness to an "international" problem called Suicide and Mental Health.
KCRUSH America will be walking in and assisting with the "Out Of The Darkness-Overnight Walks" in Dallas on June 2, 2018, and are seeking volunteers to walk with us on that day. The same walk will take place in Philadelphia on June 16, 2018. If anyone would like to participate in Philadelphia as well, we can put together a team there too, but there must be at least 10 volunteers.
As you are aware the K-pop world lost one of its greatest shinning stars, SHINee's Kim Jong-hyun in December 2017, and we are aware that there have been others known and unknown in the past and even recently, thus we want to become involved in this cause to help prevent anymore suicides in the future, "Internationally!"
We decided to make this a team effort and to not just donate to the cause alone. It is more exciting and heart-felt to have our followers participate with us for something special like this.
If you would like to walk with KCRUSH in the name of Yourself, Jonghyun and others known and unknown, visit the following website and learn more about the walk, http://bit.ly/JoinOurTeamWalk and www.theovernight.org. If you decide it is for you and believe that you can help raise funds for such a worthy cause and that it might be helpful to you, go ahead and email us at events@kcrush.com OR provide your information in the pop-up form on the kcrush.com website. You will be contacted. We do not have a team cut-off count, but we seek a minimum of 10 volunteers to walk with us and to help raise funds for the American Foundation for Suicide Prevention.
Thank you, let's have fun and make this count.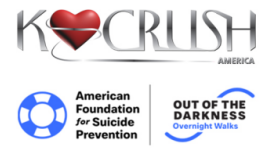 Denise Coley
Founder/CEO and KCRUSH Staff
KCRUSH America Magazine
P.S.: If you cannot walk with us, your sincere donations will be appreciated toward our team goal of $5,000 U.S.: http://bit.ly/walkwithkcrush
P.S.S.: The top individual fundraiser from our team will receive one 2018 KCON ticket.
Related Articles