The art of B-boying has, since its conception in the 60's, become quite significant expanding beyond graffiti writing, Djing, rap and breakdancing. The dancing in B-boying, also known generally as breakdancing, is of diverse variations and mainly comprise of power moves, toprock, freezes and downrock. K-pop starts managed to successfully use B-boying; though initially of an African American vibe, into their Asian-made lyrics creating an explosive concoction of mesmerizing and appealing visual and audio content. Below are some of the most eminent K-Pop stars known for their love of B-boying.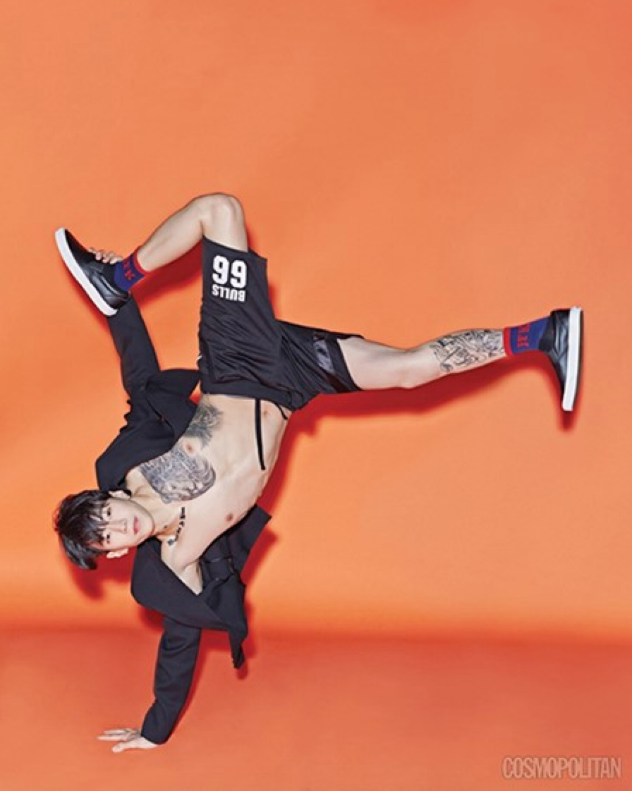 Jay Park (Former 2PM)
Jay Park is an international brand that has put South Korea on the spotlight regarding matters creativity, talent and the culture of "working hard". The American rapper with a Korean descent has over the years become a B-boying brand by himself in addition to engaging in other entertainment-related works including record producing, singing and song writing. The AOMG and H1GHR Music hip-hop record labels owner and Art Of Movement (AOM) member became prominent as he was a former 2PM group leader; a boy group under YG Entertainment. Park, unfortunately officially left 2PM in 2009 upon his controversial comments going viral, but managed to secure a filming gig with the "Hype Nation" and a contract with SidusHQ in 2010. The rebranding and focus on his solo career worked rather well for the gifted being and has over time earned eminence and noteworthy descriptions including a "born entertainer," "scene stalwart," and more.
The B-boying legend has participated in various tours; including in Europe, Asia, Australia, and has mingled with international figures in the music industry including Ne-yo. The influential masterpiece has earned countless awards under various ceremonies including the Korean Music awards, Korean Hip-hop awards, Asia Model awards, Golden Disc awards, O Music awards and MNet Asia Music awards among others. The legend has also appeared in various television shows as a cast, judge, producer and host further skyrocketing his influence. The icon has also secure various endorsement projects including Nike, ADDIDAS, KT TECH and other fashion endeavors. The prodigy has in all these undertakings exposed and promoted the bboy culture not only to Korea but to the world as he is an international figure.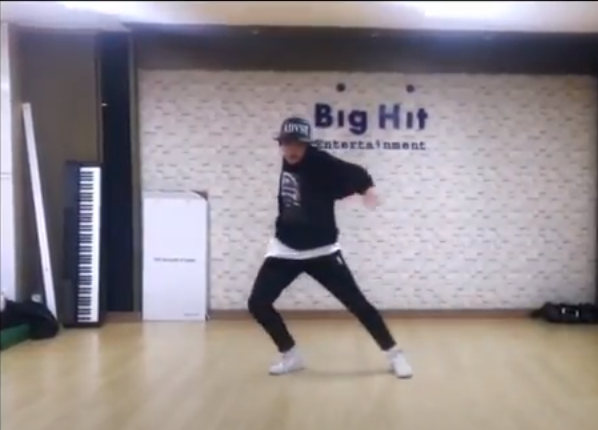 J-Hope (BTS)
The BTS crew members have mastered the art of dancing throughout the over half-decade long group's existence in addition to their trainee years. The most outstanding ones in matters dancing however, are Jungook, J-Hope and Jimin. J-Hope is termed as the group's dance leader and wows the crowd through "energetic" moves and "unmatchable' styles. Jimin's dancing style is more contemporary while that of Jungook is more of a powerful mover delivering unique styles. Compared to Jungook and Jimin, J-Hope; the rapper whose style is manly street hip-hop, is the most skilled at and renown for B-boying. The bboy veteran continues to flatter the fans with more oomph and ingenious B-boying performances.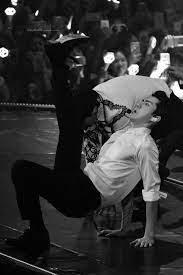 Sehun (EXO)
Apart from fans drooling over the EXO member's body, Sehun's breakdancing is beyond startling. The Korean Chinese boy band rapper, singer and song writer has established a rather unmatchable career in the music industry. In addition to being among skilled B-boying k-pop artists, Sehun has become a brand safeguarding him opportunities including being a top luxury brand ambassador; including Louis Vuitton and Zegna, a representative of Berluti Korea Music, a Cartier Korea campaign model, an actor and appearing on TV shows. In their group performances, Sehun meekingly blends with the band choreograph but his skills come alive during his solo breakdancing piece in-between the routines. The main dancer and lead rapper of EXO has over the years paraded his increasingly talent of B-boying overwhelming his already dazzled fans who adore him for his looks, vocals and body.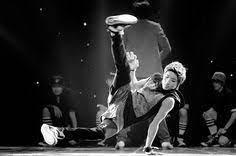 Jongup (Former B.A.P)
The former member of B.A.P; before its resolution in 2019, was the group's star dancer in addition to his singing and acting career. He rose to fame upon dancing to one of Usher's songs which landed him a contract with TS Entertainment in his first year of high school. Upon the resolution of B.A.P, Moon Jongup talents, including B-boying, ushered him into a soloist career as an artist in addition to casting in various shows including reality programs. The bboy prodigy later signed a contract with The Groove Company and has continued to soar higher in the entertainment industry through B-boying and record-breaking hits.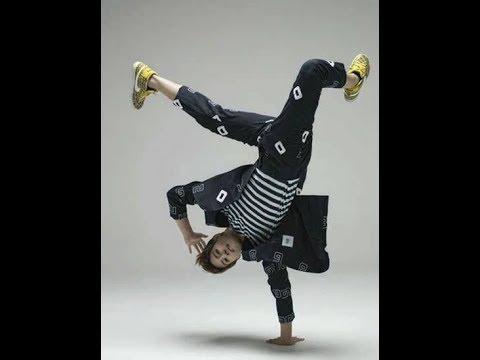 JB (Former GOT7)
The former member of the recently resolved GOT7; contract with JYP Entertainment ended in January 2021, has over the years flaunted his love and skill for B-boying with versatile dancing styles. Among the former boy band members', JB was renowned for his skilled and rhythmic dancing moves. JB(Jaebum)'s masterpiece B-boying signatures have proven fruitful even after leaving GOT7 as he is rumored to be signing a contract with the one and only Jay Park under the H1GHR MUSIC label. If successful, he will follow his former teammate Yungeom who left GOT7 earlier on and signed with Jay Park's AOMG label.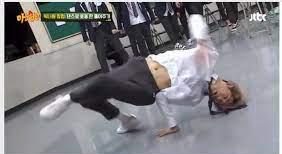 Kang Daniel (Former Wanna One)
The energetic dancing machine showcased his B-boying talents through his former Wanna One boy band which dissolved in 2018. The star stole the show on various occasions with his calculative moves and went as far as winning in Produce 101's season 2 reality competition series. Upon resolution of Wanna One, Daniel further focused on his solo career with his songs topping Korean charts and the World Digital Song Sales Billboard chart as well. The solo career has given Daniel room to expand and further showcase his B-boying and vocal skills to the international scene.
B-boying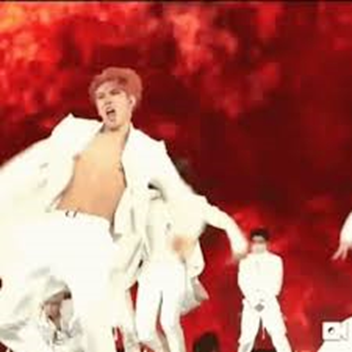 Mingi (Ateez)
The increasingly popular boy band, Ateez, is known for its amazingly designed choreography that further compliments and promotes their vocals resulting in a remarkable visually appealing fusion. Although the group is swarmed by skilled dancers including Yuhno, San, Seonghwa and Wooyoung, Mingi is deemed as the best owing to his versatile dancing techniques including his uniquely tailored breakdancing. The rapper, who is also the group's main dancer is famous for his freestyle moves and chorographical creativity that showcase his specialty in street style performances. Among his fellow band members, Mind stands out as the strongest freestyler, especially his signature floor work B-boying abilities.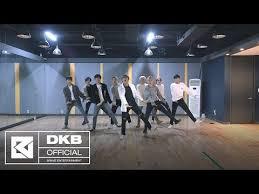 Heechan (DKB)
The nine member band is thronged by characters creating a concoction of abilities that have seen the group's eminence skyrocket way faster than others. Although dancing is among the team's main throttlehold with regards to its fanatic base count, Heechan is quite conspicuous from the rest as the most skilled in B-boying. Heechan's specialty in the group is dancing and rapping, with breakdancing his main "stronghold. The charming B-boying legend has showcased his freestyle and street style moves in various viral covers, in addition to standing out during their band performances, generating quite a substantial fan following that eagerly awaits his latest signature moves.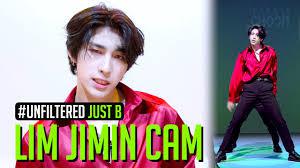 Lil Jimin (JUST B)
Lil Jimin is an idol of exceptional aptitudes including being the lead vocalist and lead dancer of the k-pop boy band, JUST B. The star has done some dance covers and even received applause from BTS's Jimin for a well-done job in his "Blood Sweat Tears" dance cover. Lil Jimin's skilled freestyle moves have earned the star a massive fan following as he dazzles them through energetic and flawless breakdancing styles.
—-P. Earlth
Related Articles