In a summer full of comebacks and debuts, GOT7's 4th Korean release has stood out the most for many. After waiting 7 long months and spending time on Japanese releases, GOT7 returned with "? ??(Just Right)". The music video was released on July 12th and the album charted well on Melon, Bugs and several other streaming services. The music video features miniature versions of the group singing and assuring a young girl that she is "Just Right". The rest of the album is just as good, if not better than, the title track, with the song "Mine" most popular behind "? ??(Just Right).
The song's lyrics include "Do you know how pretty you are in my eyes? I want you just as you are, you're the only one" and seem to be promoting a message of self-love.
Fans have taken this message and turned it into a way of supporting each other with the "Just Right Selfie Project".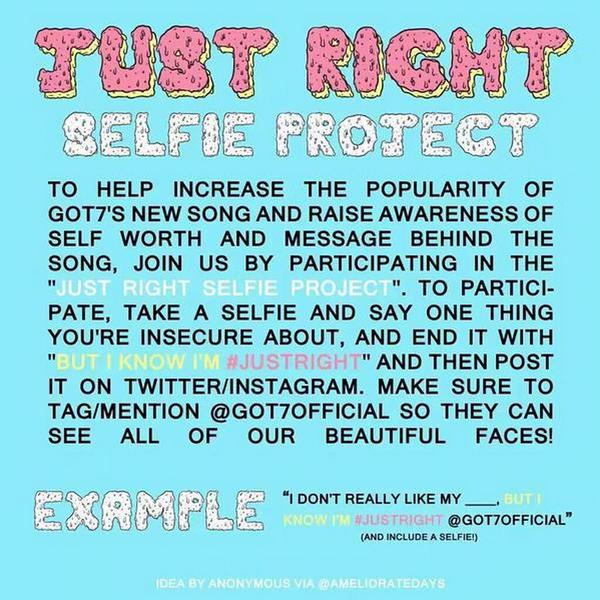 All around the world people posted photos of themselves, commenting a feature they don't like and finishing with "but I know I'm just right", leading to the boys being called 'healing-dols' by several different Korean media reporters.
The same fan organization responsible for spreading the challenge, GOT7&co, has been working with other fan groups towards GOT7 achieving their first music show win. The group recently came in second behind Infinite's "Bad" on The Show, showing the power of raising funding for support. By organizing the fan's efforts in streaming the music video and song in the correct manner, a real result is very possible in the near future.
GOT7 have steadily risen up the ranks of idol groups and have developed a huge following, made up of many international fans. This is said to be in part because of the multinational members Mark, Bambam, and Jackson. The group is very well rounded talent wise as well, with several members MC-ing various shows, JB and Junior making appearing in dramas and Jackson making the variety show circuit.
GOT7 were also one of the most anticipated artist of this year's KCON LA convention, where their fan meeting reached a huge attendance numbers, despite having just toured the US in May.
The group have also recently announce their 3rd Japanese release, Laugh, Laugh, Laugh and have scheduled concert dates in Japan for next year.
GOT7 may not yet be a household name but with the demand for them worldwide steadily rising, they are well on their way to super stardom.
—-Ke'Anna Bullard
Related Articles