Skincare is important. A good skincare regimen and plenty of water can keep your skin glowing, healthy, and youthful for years to come. As we age, sometimes we need to add or eliminate different products to keep skin dewy and fresh. We tried different products over a period of a few weeks to months in order to come up with fair, honest recommendations to share with you. If you're looking for some new products to add to your skincare regime, here are some suggestions!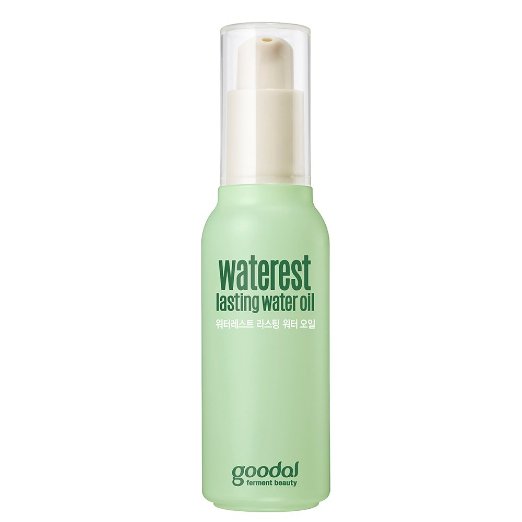 Goodal Waterest Lasting Water Oil
For ridiculously soft, glowing skin, the Waterest serum does the trick. This fresh-smelling oil absorbs into skin quickly and does not leave a residue. In fact, skin is left so soft, you may have to resist the urge to touch it!
We found this oil works on a freshly-washed face that's been rinsed with cool water. Place the serum in the palms of your hand and pat–don't rub–it into skin. Patting or pressing helps it absorb better.
The serum's beneficial oils help improve skin's overall appearance. One ingredient, fermented red rice yeast oil, helps calm skin and supposedly improves elasticity. Licorice root helps ease inflammation. We found that it helps reduce monthly skin issues while reducing overall redness. While this may not be the case for everyone, it does deserve mention.
What we liked about the serum was how the moisturizing effects can be felt for several hours. While the effects don't last for the full 24-hours as the product promises, we'll say it's good for a good 8-12 hours. Furthermore, while it's a good serum to wear under makeup (makeup literally glides on!), it works best as a nighttime oil because skin looks more refreshed and well-rested come morning.
$26 on Amazon.com.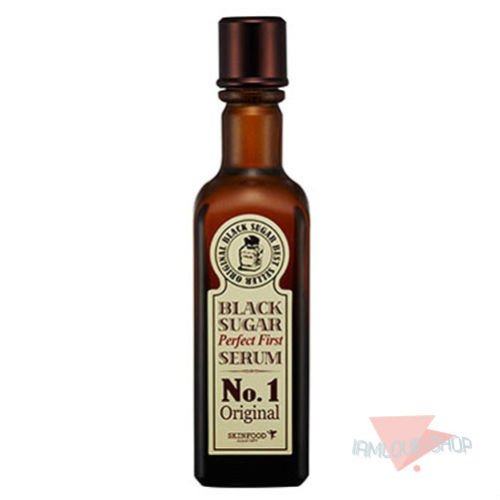 Skinfood Black Sugar Perfect First Serum
The first thing you may notice about this serum is how it smells like warm sugar cookies with a hint of liquor. The scent helps with soothing qualities of this Skinfood product, making it enjoyable.
One of the things that jump out about the black sugar serum is the ingredients: Black sugar extract, cheongju (a Korean wine) and several fruit extracts like apple and papaya. There is also some salicylic acid which is supposed to aid in redness and pimple reduction, but it's in a small quantity. While the serum eliminates redness pretty well, breakouts weren't lessened, especially in the T-zone. So do not look for this product to be a cure-all for all skin issues because it is not that.
This serum has a special application method. If you order from some online retailers, you will receive special pads that are rough on one side and smooth on the other. Apply the serum with the rough side so skin gets exfoliated, then use the smooth side to finish the application. For those who don't get the pads, you can pat it into the skin like you would the Waterest oil (above).
With both application methods, skin may feel slightly sticky, but layering a moisturizer after application eliminates this feeling.
Skin will feel better after multiple uses, so don't expect instant results. While it can be used alone, we found its effects are enhanced when paired with a moisturizer or an essence. We recommend Etude House's Collagen Moistfull live.
$21.51 on kpoptown.com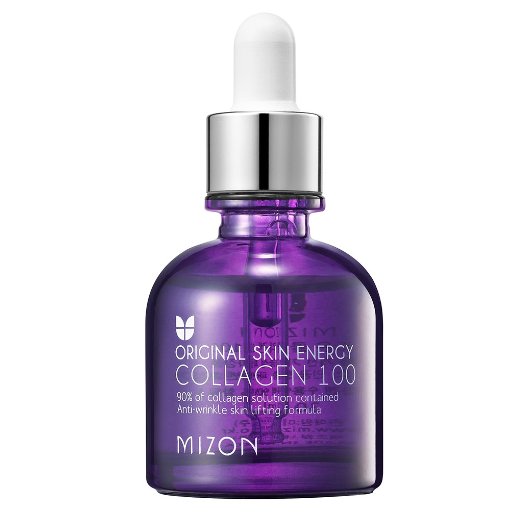 Mizon Collagen 100
Probably one of our favorites we've tried, the Mizon Collagen 100 oil delivered some nice results during our trial period.
The oil has an eyedropper lid, which helps with getting the perfect amount every time, even though you can easily get away with using half the amount it measures out. To apply, use the eyedropper to place the oil on your fingertips, the tap or massage the product into your skin while working in an upward motion. Around the eye area, lightly dab the oil using your pinky finger.
Mizon Collagen 100 promises to improve skin elasticity and reduce fine lines and wrinkles. Within a month of using the product, skin did appear firmer and fine lines did appear more filled in, so we're excited to see what further use may do. Of course, results may vary.
The oil is refreshing and lightweight, and feels best when applied after the face is rinsed with cold water. Doing this, we found the oil seems to absorb into skin better, but it could just be our imaginations. However, skin felt softer and suppler for a longer period of time over using warm water.
We recommend the collagen oil specifically for dry winter skin because it does seem more moisturizing. The tester found the usual dry skin issues around the nose, eyes, and cheek area she experiences during the winter seems to be less of an issue. However, we do recommend using this as a night oil on days where it's predicted to be sunny or during the summer since the ingredients are more concentrated, so it is easy– especially for sensitive skin– to get sunburned if used alone and used right before heading out for the day. If you want to use this during these times, we recommend layering it with an SPF moisturizer.
$13 on Amazon.com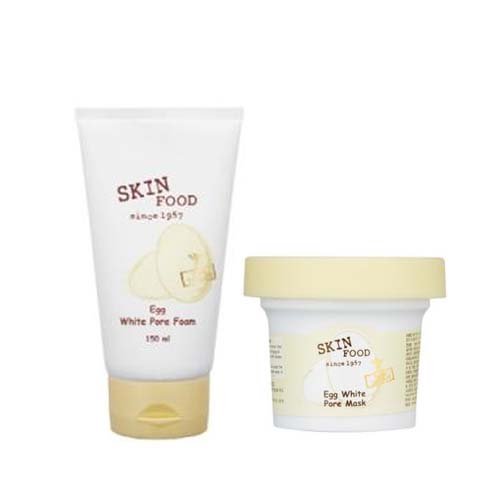 Skinfood Egg White Foam Cleanser and Mask
The egg white foam cleanser replaced the Innisfree volcanic ash cleanser as the tester's favorite face wash. While it has a weird scent (which almost smells like real egg whites), the cleansing properties are pretty solid, especially when used with a cleansing brush.
The lather with the cleanser is rich and creamy. While cleansing, the foam turns a bright white, and it almost tingles. For the most part, it feels like using a cleansing lotion, which is one of the reasons why it's recommended. When it's rinsed off, skin feels soft and tight.
The softness and tightness are enhanced with the mask. Like the instructions indicate, apply the mask onto clean, dry skin and let it sit for 15-20 minutes. The mask hardens, but not as much as traditional clay masks, so you will still have use of your face. Once time is up, rinse off with warm water. The mask may leave behind a chalky feeling, but rinse with cold water if this is the case since the cold water tends to get rid of this feeling. The instructions suggest using cold water turns the mask into an astringent, so it's a win-win.
One recommendation is to NOT smile while wearing it because the whiteness of the mask only enhances the look of stained teeth. It's not pretty. This is one of the few downfalls. Additionally, if you're allergic to eggs, this product should be avoided.
$24.20 for the set on Amazon.com
—-Joelle Halon
Related Articles