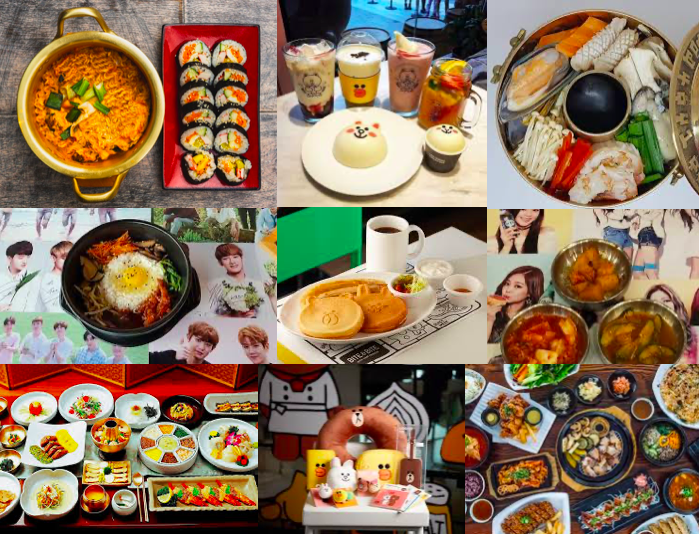 South Korea is one of the countries living the "rags to riches' story, which is aimed to uphold. Upon triumphing the previous decades of hardships, the lessons ignited numerous inventions as one way of ensuring sustainable progression. The hallyu wave; which revolves around Korean cultural aspects such as music and dramas, are two of the inventions. The wave has aggravated South Korea's global eminence thus amplifying its sustainable thriving mission. Below are some of Hallyu theme restaurants in the world.

1. SSam Korean Food Bar (Denmark)
Located in, Copenhagen, Denmark, SSam offers a collection of homey Korean dishes. The creative interior charm of decor creates a warm glow with the Korean feel accentuated by the smooth background of K-Pop music playing.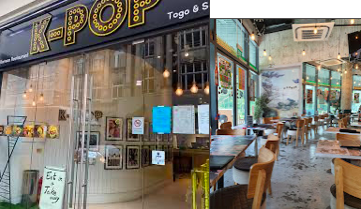 2. K-POP Café (London)
Situated in London, United Kingdom, the scene is eminent for its Korean interior aesthetics outlook and an endless array of K-Pop songs in the background. The restaurant's mood is heightened by the accompanying tantalizing Korean-biased drinks and refreshing Korean foods as well.

3. Nayana K-Pop Café & Restaurant (Singapore)
The Singapore-based restaurant offers Hallyu wave fans a chance to meet and mingle, especially during its K-Pop night promotions. Apart from the Korean light dishes and drinks, the café's Korean-biased interior décor and youthful hyped aura prompted by the background K-Pop music keeps the place alive.

4. K-Pop Chicken and Beer (USA)
Situated in Washington, USA, the restaurant offers an array of Korean dishes, in addition to its crunchy signature Korean-enthused fried chicken and fusion cocktail. The unique interior décor and dominating K-Pop visuals and music further accentuate the Hallyu ambience.

5. Café Noriter (Philippines)
Located in Manila, Philippines, the café has a playful milieu immersed in the K-Pop world through hypnotizing Korean pop background music. It offers coffee, sandwiches and baked goodies with a Korean feel. The collection of lip-smacking Korean foods is one to anticipate.

6. BITE&BITE with LINE FRIENDS (Hong Kong)
Hong Kong airport-based restaurant displays its Hallyu aura through a BITE&BITE with LINE FRIENDS theme. Opened in 2019, this hangout joins a collection of worldwide LINE FRIENDS stores, including in Los Angeles and Tokyo. The Korean-infused condiments is the restaurant's signature service. The store also offers a collection of LINE FRIENDS souvenir merchandise to enthusiasts.

7. Sun Moon Korean Restaurant (India)
The Mumbai, India-based hangout is a BTS themed restaurant that offers a variety Korean-enthused drinks and dishes. The cozy joint is made alive with soft K-Pop background music which is overwhelmingly dominated by BTS songs. BTS members are paraded on the walls in an artistic manner creating a museum-like feeling, which satisfies the boy band's fans.

8. Honey Pig Gooldaegee Korean BBQ (USA)
Located in Virginia, USA, offers the Hallyu experience through savoring Korean dishes and a wide range of K-Pop songs dominating Honey Pig's playlist. The meals, especially the barbecue, come with diverse authentic side dishes that complete the Korean taste and aura.

9. Hallyu Star Café (Philippines)
The café is located in Manila, Philippines and is eminent for its K-Pop theme emphasized by Korean-influenced dishes and drinks. Pictures of K-Pop idols' are displayed on the walls articulating the café's Hallyu wave aura.

10. Lee's Korean Restaurant (Italy)
Situated in Milan, Italy, the hangout is famous for its authentic Korean food and the diverse accompanying side dishes. The Hallyu wave is accentuated by the background music whose playlist is dominated by K-Pop tracks.

11. Hae Kum Gang (India)
Found in Bengaluru, India, the restaurant serves diverse dishes of authentic Korean taste. The Hallyu ambience in birthed from the smooth K-Pop playlist and K-Pop idols' snaps artistically displayed on the walls.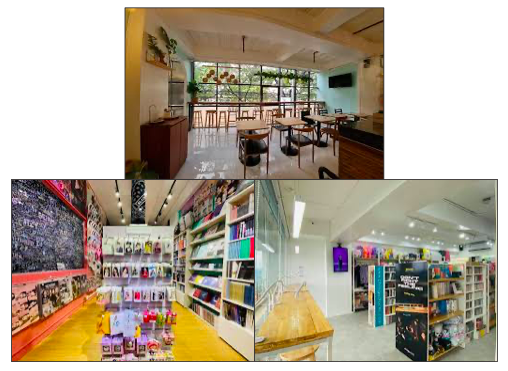 12. Chingu Dachi Café+ (Philippines)
This K-Pop themed café is situated in Manila, Philippines offers stans the unique satisfaction of an array of K-Pop idols' merchandise. The various assortments of Korean-inspire drinks and dishes enjoyed with background K-Pop music blend into a fusion of pleasure to enthusiasts.
—-P. Earikh
#hallyu #koreanhallyu #hallyurestaurant #globalhallyurestaurants #Philippines #India #kpop #kpopidols #SSamKoreanFoodBar #LeesKoreanRestaurant #SunMoonKoreanRestaurant #Bite&BiteWithLineFriends #KPOPCafeLondon #HaeKumGangRestaurant #KpopChickenandBear
Related Articles