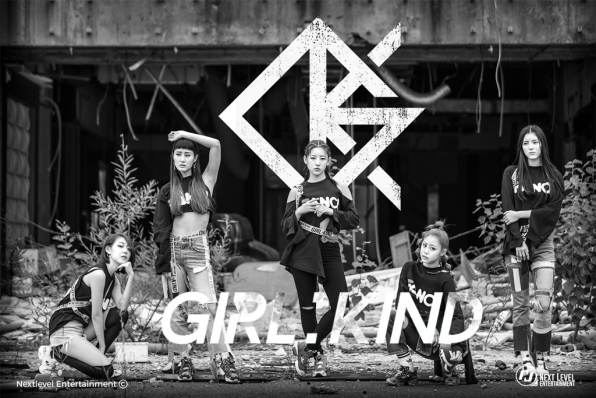 Girlkind, a hip-hop Girl group rookie, published their debut single 'FANCI' on the 17th of January, 2018. Girlkind is currently contracted with Next Level Entertainment.
Girlkind was already popular among many fans even before their debut, thanks to their powerful performance on the 'Performance of the Year 2017' festival held in Sejong University and their diverse boy-group cover dance videos such as WannaOne's 'Beautiful', GOT7's 'You Are', Seventeen's 'Don't Wanna Cry(울고 싶지 않아)', etc.. Girlkind's Cover dance video of BTS's 'DNA' was especially popular among many male fans, and from then was called as 'Female BTS'. Even now, one can easily find several fan cams uploaded on YouTube, which recorded more than a million views. Girlkind's debut single 'FANCI' placed high on several music charts after it was released, and Girlkind also performed in many stages and programs such as 'Show! Champion', 'M Countdown', 'Music Bank' and 'INKIGAYO'.
Girlkind is composed of JK, Xeheun, SUN J, Ellyn and Medic Jin, five members in total, and their average age is only 20. Particularly, Xeheun had many fans even before debut thanks to her experience in 'Produce 101 Season 1' broadcasted in 2016. Sun J is also said to have appeared on TV drama of EBS, 'Mirror Princess', when she was only 11. The remaining three members are also loved by many fans since they possess many talents necessary for a good Hip-hop Girl group: gifted dance skills, outstanding rap skills and a unique singing ability.
One can easily understand how confident Girlkind is through their new debut single 'FANCI'. There are lyrics such as 'We're the girls with the FANCI what uh, We're the girls with the flash what uh, skills and appearance that you told me, why not me go uh' or 'Style and Class and FANCI that you still cannot follow, look directly into my eyes oh'. Based on synthesizer sound and bass riff, 'FANCI' is an EDM Hip-hop song with trendy melody that anybody can easily repeat.
Many singers and talents already expressed their amusement and expectations on Girlkind. BolBbangan4, a famous duo girl band, congratulated Girlkind's debut and spoke highly of their dancing skills. Kino, a member of 'PENTAGON', asked for love and attention on Girlkind's new debut single 'FANCI'. As such, Girlkind is a hip-hop girl group that even senior singers praise and pay attention to.
Unlike many other girl groups that point out cutie or lovely concepts, Girlkind puts up 'Girl Crush' as their primary weapon. Therefore, they are expected to bring new style and a 'girl crush' boom to Korea's music world. With pure appearance, excellent singing skills and powerful dancing abilities, Girlkind has a potential to become a better and a more popular girl group in the near future.
More information regarding Girlkind can easily be found on their official website (www.nextlevelent.co.kr) or on official Facebook and Instagram website of Girlkind.
—-J.K Lim
Related Articles