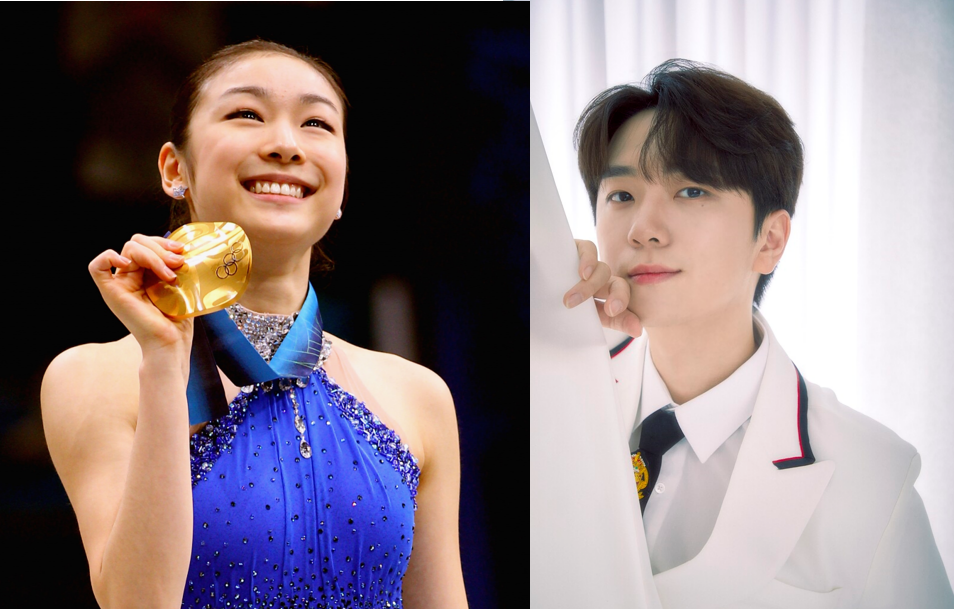 Former figure skater and Olympic medalist Kim Yuna will be a newlywed soon!
Korean media source The Fact discovered Kim has been dating Forestella's Ko Woo Rim after essentially stalking the star for two months to uncover if dating rumors surrounding her were true. The Fact later published images of the two together on a date July 23, 2022. Along with the images, The Fact shared "proof" the female with Ko was Kim based on the design of woman's phone case.
Kim, who leads a private life, has reportedly been dating Ko for three years. Beat Interactive, Ko's agency, said Kim and Ko met in 2018 following the All That Skate Ice Show.
Following The Fact's sharing of photos and Newsen's report of the dating news, Beat Interactive released a statement that also confirmed Kim and Ko will get married this fall.
Hello. This is BEAT INTERACTIVE.

We have happy news to share regarding our agency's artist Ko Woo Rim. Ko Wo Rim will be getting married to figure skating queen Kim Yuna in October.

The wedding ceremony will be carried out privately with close relatives and acquaintances, so we ask for generous understanding from the many fans and media for not revealing the specific details of the wedding date and wedding hall location.

Ko Woo Rim first met the bride-to-be in 2018 at the congratulatory performance for the All That Skate ice show, and after three years of dating, their love has come to bear fruit in the form of marriage.

Ko Woo Rim is a graduate of Seoul National University's department of vocal music, and he is a member of the crossover male quartet group FORESTELLA that ultimately won JTBC's "Phantom Singer 2." With his weighty yet gentle and charming voice, solid singing skills, and romantic sensibility, he has been greeting the general public with numerous albums, concerts, and broadcast performances.

After marriage, Ko Woo Rim will continue to work actively as a member of FORESTELLA, a vocalist, and a crossover singer. Please send lots of support for Ko Woo Rim's activities as he shows a more mature side to himself within a stable family.

Thank you.
Kim's agency, All That Sports, also confirmed the marriage news.
"Kim and Ko first met when Forestella appeared as a guest singer at the All That Skate Ice Show in 2018, and dated for three years," said All That Sports. "Both Kim and Ko want to have a normal wedding only with close relatives and acquaintances. We plan to proceed privately without revealing the specific wedding date and venue to the media."
Kim is considered a national treasure in South Korea. She is the 2010 ladies' singles figure skating Olympic champion and 2014 Olympic silver medalist. She is the 2009 and 2013 ladies' figure skating world champion, 2009's Four Continents champion, three-time Grand Prix Final champion, 2006's World Juniors champion, and the 2005 Junior Grand Prix Final champion. She is also the six-time South Korean figure skating national champion. Kim is also the first female skater to win every major international figure skating competition. She is also the first figure skater ever to complete a Career Super Grand Slam by also winning the Junior Grand Prix Final and the Junior World Championships. During her career, Kim's held 11 world record scores and broken 13 world records. Kim's also the first and only figure skater to have never finished off the podium in her entire career under the current ISU Judging System.
Ko is the maknae of Forestella, a crossover vocal quartet. Ko graduated from Seoul National University as a voice major in 2019. He competed on Phantom Singer 2 where he was initially eliminated but ultimately saved. Prior to the show's conclusion, Forestella was formed with Ko as a member of the group and won the competition. Ko is currently attending graduate school to earn a Master's degree.
Congratulations to Yuna Kim and Ko Woo Rim on their relationship and upcoming marriage!
—-Olivia Murray
#Forestella #YunaKim #KoWooRim #YunaKimQueenOfFigureSkating #figureskater #PhantonSinger2 #SeoulNationalUniversity #kcrush #kcrushnews #AllThatSkateIceShow #weddingannouncement #engagement #BeatInteractiveAgency #SeoulKorea #Olympicmedalist
Related Articles