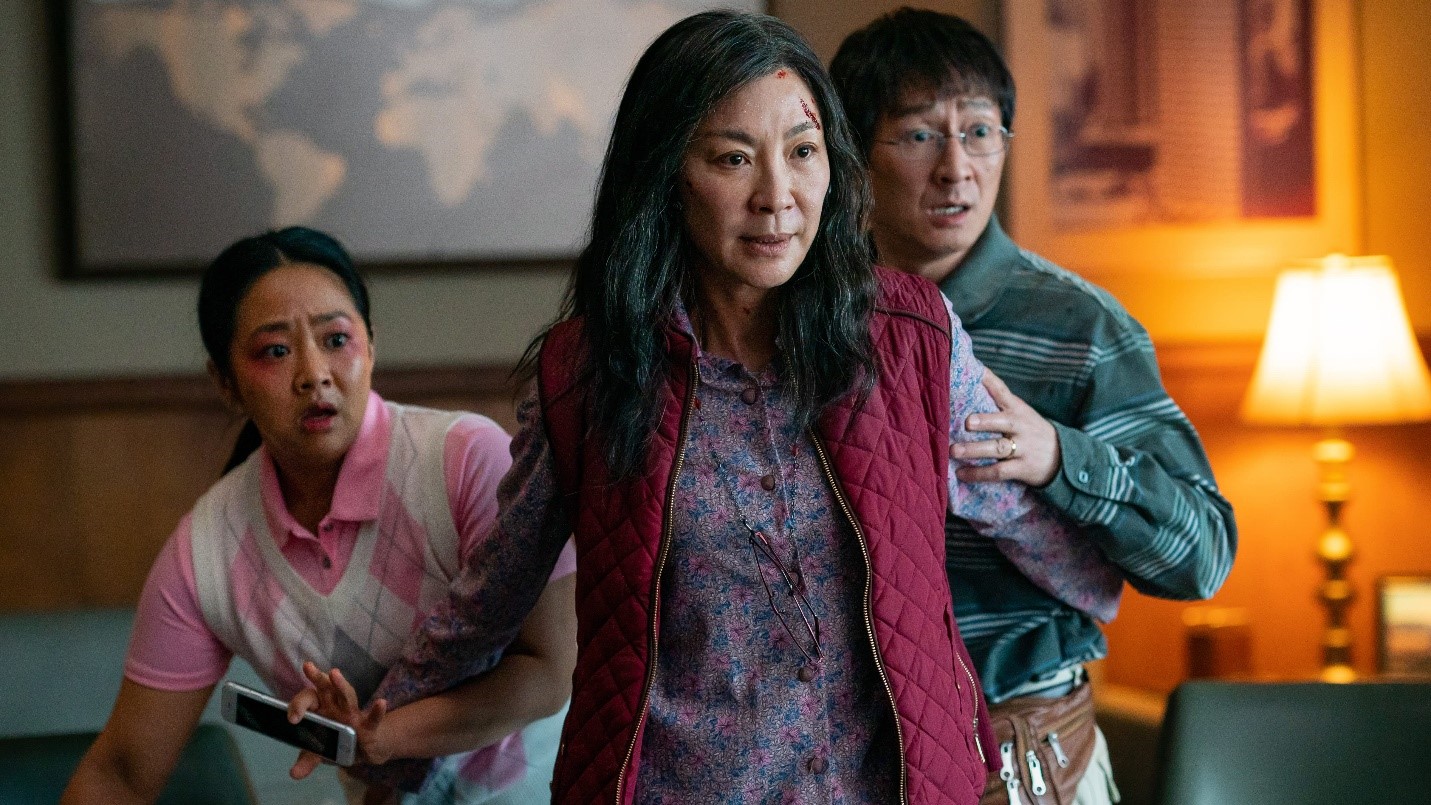 The 95th annual Academy Awards were held March 12, 2023. The night was filled with surprises and was nothing short but historic for A24's Everything Everywhere All at Once (EEAAO) and its cast and directors.
EEAAO earned 11 nominations for this year's Oscars, leading the pack of nominees. Of the 11 nominations, the film— which was widely praised since its release— won seven of the awards include Best Supporting Actress (Jamie Lee Curtis), Best Director (Daniel Kwan and Daniel Scheinert), Best Picture, Best Supporting Actor (Ke Huy Quan), Best Original Screenplay, Best Film Editing, and Best Actress (Michelle Yeoh).
With its seven wins, EEAAO tied 2013's Gravity for the most Oscar wins by a science-fiction film, which the latter won in 2014.
EEAAO's wins made additional history throughout the night. For director Daniel Kwan, winning Best Director, Screenplay, and Best Picture made him the second Asian director to pull off an Oscar's "hat trick" after Bong Joon Ho did it in 2020 with Parasite (2019).
For Vietnamese American actor Ke Huy Quan, EEAAO was his first major film role in over 30 years. Quan, who was once a prolific child actor in The Goonies and Indiana Jones and the Temple of Doom, quit acting in the late 1990s due to difficulty finding work as an Asian actor. He opted to work behind the scenes until recently.
"My journey started on a boat. I spent a year in a refugee camp. Somehow, I ended up here on Hollywood's biggest stage," Quan said during his acceptance speech. "They say stories like this only happen in the movies. I cannot believe it's happening to me. This is the American dream!"
Quan's historic Best Supporting Actor win marks only the second time an Asian actor took the category since 1985 when Haing S. Ngor snagged the award forThe Killing Fields (1984).
Michelle Yeoh's Best Actress award marks the first time an Asian female won in the category. She is also the second woman of color to earn the award. Halle Berry was the first woman of color to win the award in 2002 for Monster's Ball. Berry was one of the presenters announcing the Best Actress winner, making the moment more significant.
Yeoh said, "For all the little boys and girls who look like me watching tonight, this is a beacon of hope and possibilities. This is proof that dreams do come true. And ladies, don't let anybody tell you that you are ever past your prime. Never give up."
Yeoh dedicated her win to her mother, Janet Yeoh, who watched the ceremony from Malaysia.
"She's 84, and I'm taking this home to her. She's watching right now in Malaysia with my family and friends," Yeoh said during her acceptance speech.
Yeoh was the second Asian woman to be nominated for the award after Merle Oberon for 1935's The Dark Angel. However, Oberon claimed she was born in Tasmania, Australia out of fear her South Asian heritage (she was born in Bombay, India to a Sri-Lankan-Māori mother) would destroy her film career. It wasn't until after her death her South Asian heritage was discovered.
Jamie Lee Curtis' Best Supporting Actress win marked the long-time actress' first Oscar, though it was not without controversy. Many felt Curtis' win was not deserved with many pointing out the award should have gone to Wakanda Forever's Angela Bassett or fellow EEAAO Best Supporting Actress nominee Stephanie Hsu.
WHAT DO YOU MEAN JAMIE LEE CURTIS OVER ANGELA BASSET AND STEPHANIE HSU LIKE WHAT THE ACTUAL HELL IM PISSED OFF #Oscar2023 pic.twitter.com/f4V64q7jiK

— ZAYNA🔪#ANDAMOVIE (@sitcomabed) March 13, 2023
EEAAO wasn't the only Asian production to secure wins during the Oscars. RRR's "Naatu Naatu," with music by M. M. Keeravani and lyrics by Chandrabose, secured the Best Original Score award, becoming the first Indian song to win an Oscar.
Hopefully, the history made during the 95th annual awards show won't mark the last time Asians and other people of color bring home awards for their efforts and contributions to film. Congratulations to Everything Everywhere All at Once and everyone else who won!
—-Olivia Murray
#95thAcademyAwards #EverythingEverywhere #MichelleYeoh #kcrushnews #AsianActress #awardshow #FirstAsianActress #EverythingEverywhereAllAtOnce #BestDirectorDanielKwan #kcrushamerica #DanielKwan #VietnameseAmericanActorKeHuyQuan #BestSupportActorKeHuyQuan #Korean #StephanieHsu #RRRNaatuNaatu #MMKeeravani  #Chandrabose #theBestOriginalScoreaward #AcademyAwards #first Indian songtowinanOscar #kcrushmedia #congratulationsMichelleYeoh
Related Articles