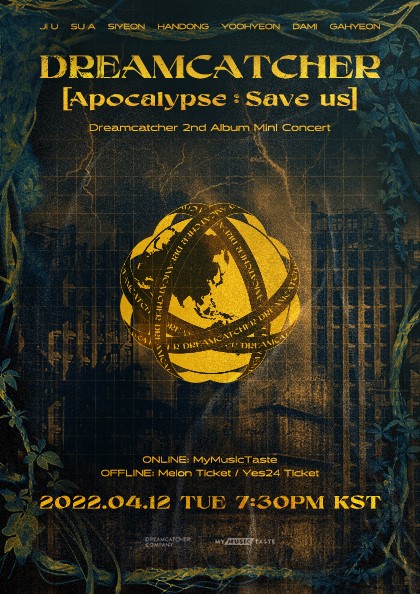 Dreamcatcher Returns to the Live Stage With Their 2022 Album Mini Concert Seoul, South Korea (March 25, 2022) – Dreamcatcher, the dark horse and concept shattering girl group of K-pop has returned with news of a comeback and mini concert. The girl group is set to take the stage with a simultaneous offline and online event. Dreamcatcher 2nd Album [Apocalypse : Save us] Mini Concert is set to take place on April 12th at 7:30PM KST.
This mini concert revolves around their 2nd Album, [Apocalypse : Save us], marking this as another milestone in their growth as the queens of online concerts and live performances. The full-length album is set to have a tracklist of more than eight songs, introducing a new side of themselves and the start of a new era – 'Apocalypse' after their previous 'Nightmare' and 'Dystopia' series storylines.
From their live band concerts to their themed events with Halloween and dystopian aesthetics, the girls have evolved with online concerts in using groundbreaking XR technology for new stages. They're gearing up for another mind blowing concert with the added joy of having fans present in-person, taking the stage to another level.
With their previous online concert bringing in over 10,000 fans, the girls are expected to break barriers once again with their in-person concert being streamed globally for their fans from all over the world to tune into.
They've garnered attention with their Billboard World Digital Song Sales Chart hit "Odd Eye" and their previous releases of chart-topping hits like "BOCA", "Scream", and "BEcause". From strong dynamic tracks with powerful vocals to beautiful soft ballads, Dreamcatcher has captured the hearts of music fans both domestically and internationally.
As with the start of a new series, 'Apocalypse' is gaining attention from just the release of the mysterious teaser that revealed the full album release set for the same day as the live mini concert, exciting fans who marked off their calendars for the day in preparation for the next beginning of a narrative only Dreamcatcher can create with their music.
The group is preparing to meet their fans face-to-face with their concert on April 12th 7:30PM KST in Seoul, but global fans can also tune into the concert online to meet Dreamcatcher and enjoy the show together in real-time. Dreamcatcher 2nd Album [Apocalypse : Save us] Mini Concert is set to reunite InSomnia (fandom name) with Dreamcatcher once again, as they start off the year of activities alongside their next new series.
For this concert, Dreamcatcher continues their collaboration with MyMusicTaste, a technology forward platform that breaks the barriers set by the pandemic and brings fans and artists together to create a new way of connection.
All offline in–person events follow local jurisdiction protocols to ensure a safe environment for the artist, fans, and staff present at the venue.
Dreamcatcher's seven members: JI U, SU A, SIYEON, HANDONG, YOOHYEON, DAMI, GAHYEON
Further information regarding online ticketing and the show itself can be found through https://mmt.fans/hEVn or through MyMusicTaste's other social media channels.
For fanclub offline tickets, information can be found on Melon Tickets: https://mmt.fans/hE3B For general offline tickets, information can be found on Yes24. (Sales for general offline ticketing begin on March 31 at 8PM KST.)
Dreamcatcher 2nd Album [Apocalypse : Save us] Mini Concert April 12, 2022, 7:30PM (KST) – Streaming only on MyMusicTaste
About MyMusicTaste:
MyMusicTaste is a fan initiated live event making service that brings fans, artists and promoters from all over the world together in one place to create a valuable and meaningful concert experience for everyone involved. MyMusicTaste puts the power in the fans' hands, allowing fans to request their favorite artist's concert in their city. With the mission to connect and amplify the voices of fans all over the world, MyMusicTaste successfully promoted concerts of artists such as EXO, GOT7, MONSTA X, The xx, Machine Gun Kelly, and more in over 57 different cities. With the simple idea–empowering fans to bring their favorite artist's concert in the city of their choice based on fan demand–MyMusicTaste is challenging the $27 billion concert market through cutting-edge technology and sophisticated, user-friendly service. Currently, www.mymusictaste.com supports more than 30 countries and offers 15 different languages.
About DREAMCATCHER COMPANY:
Established in 2008, DREAMCATCHER COMPANY is a South Korean record label and entertainment agency founded by the prominent production duo E-tribe. Since the debut of its first artist Nassun, the company has grown in size over the years, producing artists and idol groups under its own name. V.O.S, Dalshabet, and DREAMCATCHER are the major artists that are currently associated with the label. Recently, the company also launched subsidiary labels HF Music Company, Dreamcatcher Company, and D1CE Entertainment and is garnering much attention and recognition from the public as the rising creator of future K-pop artists.
Related Articles