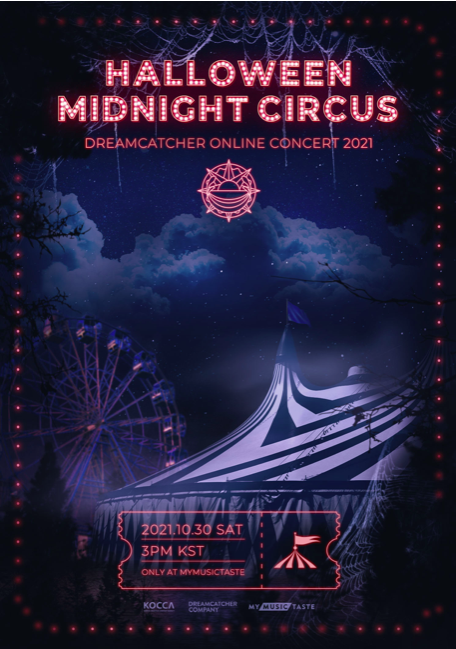 Dreamcatcher turned the night of October 30th into their own spooky celebrations party with jaw-dropping performances backed by a live band and
XR stages that captivated audiences through their fourth online concert HALLOWEEN MIDNIGHT CIRCUS: DREAMCATCHER ONLINE CONCERT 2021.
Flawlessly synced choreography and powerful steady vocals were just the foundation for the night, a given for the girls who have risen above just performing and are show masters in their own right.
With over 10,000 tickets sold for their online concert, Dreamcatcher were ready to perform and exceed all expectations for a full live online audience from all over the world.
Dreamcatcher opened the night with an XR (extended reality) stage of their Billboard World Digital Song Sales Chart hit "Odd Eye", setting the tone for all the upcoming performances. After the immersive XR stage, the girls dove right into the live stages of their Dystopia series tracks "Scream" and "BOCA" without a moment in between.
Each song more powerful than the one before it, the girls with their elegant, yet intense movements hit every beat of the song with a passion that had fans going wild in the chat room.
After a short talk session welcoming InSomnia (official fandom name), Dreamcatcher showed fans the beauty of an online concert with XR stage performances of their latest releases "BEcause" and "Whistle".
While "BEcause" took the fans to a creepy entrance into the world of Dreamcatcher and their midnight circus theme, "Whistle" took a slightly different approach, giving the fans a little taste of everything in Dreamcatcher's diverse discography. Like the stars they are, the latter song
enveloped the seven girls in a universe setting, as enchanting as the girls and their twinkling embodiment of mystery and charm.
With the series of chart-topping hit song performances, Dreamcatcher switched it up for a session of ballads, soft to the ears and comforting for the heart. "Polaris" followed by "A HEART OF SUNFLOWER" and "Emotion" saw all seven members taking a seat to sing the beautiful tunes.
After the ballads, the girls returned with a medley of some of their top major non-title tracks, "Eclipse (Korean version)", "Full Moon" and "Wind Blows".
Nothing makes the concert a midnight circus more than all the special stages the girls have prepared for the Halloween event with solo performances of cover songs wearing their selected Halloween costumes.
SU A kicked off the series of solo performances with her fantastic cover of KAI's "Mmmh" wearing a costume reminiscent of a historical figure statue, followed by the cute Ratatouille chef DAMI and her performance of ZICO's "Artist".
GAHYEON continued the fun solo stages with her cover of IU's "Twenty-three" in a Cinderella outfit that only she could pull off with the ease and grace of a princess. YOOHYEON then spun things around with a costume from the popular Netflix show Squid Game, all while performing BLACKPINK Rose's song "On The Ground" with vocals that left fans stunned.
The surprises didn't end there, as fans were blessed with JI U in her black swan costume, looking dangerous and gorgeous as she sang BLACKPINK Jennie's "Solo". The homage to solo artists continued with HANDONG appearing as Catwoman and taking over the stage with CHUNG HA's "Snapping". SIYEON finished the solo stages with her rendition of SUNMI's
"pporappippam" wearing a costume from the famous anime Full Moon. All seven of them performed together in their Halloween costumes for "Alldaylong".
With another XR stage performance of "SAHARA", this time in a setting that took fans and the group to an abandoned amusement park, Dreamcatcher showed off their bandana choreography and took everyone back in time for a thrilling ride with a performance all about vocals.
Performing "Red Sun", "Black Or White", "PIRI", "YOU AND I" and "Chase Me", the seven girls made every moment with their fans count. From facial expressions to hand choreography and the perfectly hit notes for every song, Dreamcatcher turned the circus theme into a night every attendee would remember.
Finishing the night with "Tension", they wrapped up with a fun high note. It's been about seven to eight months since their last online concert though, and fans were not ready to let it end. With endless cheers from over 10,000 fans in the chat room for an encore, Dreamcatcher came back on stage with two more songs.
Fans were happy to see and hear "Airplane" and "New Days" live for the encore. Symbolic of the bond Dreamcatcher has with everyone around them, their fans and all the staff, the seven members jammed freely with the live band and back dancers, just enjoying performing for their fans together with everyone.
As the concert officially saw its end, the girls sent their thanks and love to their fans, getting into a group hug before they slowly walked off stage as they waved goodbye.
Although the live broadcast of Dreamcatcher's fourth online concert and their last official one for this year is over, there's much more in store for the girl group as they continue to climb the charts.
HALLOWEEN MIDNIGHT CIRCUS: DREAMCATCHER ONLINE CONCERT 2021 October 30, 2021, 3:00PM KST – MyMusicTaste

About MyMusicTaste:
MyMusicTaste is a fan initiated live event making service that brings fans, artists and promoters from all over the world together in one place to create a valuable and meaningful concert experience for everyone involved. MyMusicTaste puts the power in the fans' hands, allowing fans to request their favorite artist's concert in their city. With the mission to connect and amplify
the voices of fans all over the world, MyMusicTaste successfully promoted concerts of artists such as EXO, GOT7, MONSTA X, The xx, Machine Gun Kelly, and more in over 57 different cities. With the simple idea–empowering fans to bring their favorite artist's concert in the city of their choice based on fan demand–MyMusicTaste is challenging the $27 billion concert market
through cutting-edge technology and sophisticated, user-friendly service. Currently, www.mymusictaste.com supports more than 30 countries and offers 15 different languages.

About DREAMCATCHER COMPANY:
Established in 2008, DREAMCATCHER COMPANY is a South Korean record label and entertainment agency founded by the prominent production duo E-tribe. Since the debut of its first artist Nassun, the company has grown in size over the years, producing artists and idol groups under its own name. V.O.S, Dalshabet, and DREAMCATCHER are the major artists that are currently associated with the label. Recently, the company also launched subsidiary labels HF Music Company, Dreamcatcher Company, and D1CE Entertainment and is garnering much attention and recognition from the public as the rising creator of future K-pop artists.
One response to "Dreamcatcher Raised the Bar for Online Concerts with
"HALLOWEEN MIDNIGHT CIRCUS""
Related Articles