Asian food is always appetizing and enjoyable, but some may find it difficult to make. There are many reasons why some deem Asian food inaccessible: Ingredients, it's time-consuming, or even not having enough skill to create tasty dishes. Never fear! We found some cookbooks that make Asian food accessible for even the novice home cook, so let's put aside the excuses and get cooking!
But first, let's set the mood.
Maangchi's Real Korean Cooking: Authentic Dishes for the Home Cook– Maangchi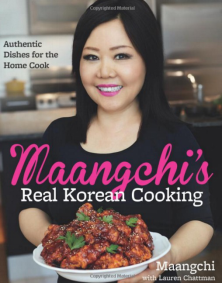 For followers of Maangchi's YouTube channel and for anyone wanting to make authentic Korean cuisine at home, Maangchi's Real Korean Cooking is a must-have. The recipes are accessible and easy-to-follow. Most of the recipes don't use complicated ingredients, a plus for anyone who may be a novice chef or someone who cooks on a budget, but there are some recipes that require a little more exotic flavor, but fear not! The glossary has a list of substitutes if needed. Plus, the dishes all have photographs that show Korean cuisine's appetizing side. The glossary is a useful tool because it lists ingredients in both English and Korean, so it can even be a primer for navigating a Korean grocery store. Maangchi provides several tips and techniques to make Korean cooking fun and easy. Recipes include seafood-scallion pancakes, Korean fried chicken (worth the price of admission!), and kimchi among other flavorful dishes.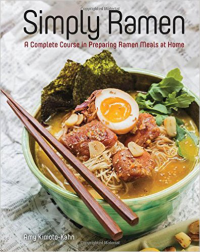 Simply Ramen: A Complete Course in Preparing Ramen Meals at Home- Amy Kimoto-Kahn
For those who enjoy ramen and want to make it taste authentic, this cookbook is for you. Recipes can be used for homemade or store-bought ramen noodles, so this is a plus. However, be prepared to visit your local Asian cuisine store as there are ingredients in some of the recipes that are a little difficult to locate. Kimoto-Kahn brings several traditional recipes to life using pork, beef, chicken, seafood, veggies, and cheese that will help anyone jazz up their ramen and take it to new heights. In fact, there are over 70 recipes to make! What's nice about it is that directions are easy to follow and fool-proof despite the need for some more specialized ingredients, so it's a fun adventure.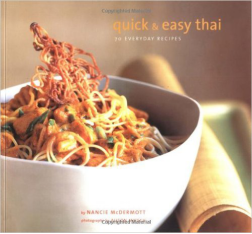 Quick and Easy Thai: 70 Everyday Recipes– Nancie McDermott
For those who love Thai cooking and feared it wasn't approachable, this cookbook will work out for you. What's nice about this cookbook is that it doesn't feature ingredients that may be unapproachable for some home cooks. Instead, ingredients can be found at grocery stores with ease. Recipes like Thai iced tea, mango rice, chicken coconut soup, and curry noodles are easy-to-follow and fun to make. The photos are bright, appetizing, and engaging and encourage aspiring chefs to want to make the meals. For beginners, there is a section in the book describing different Thai ingredients and cooking tools one may need, so it's easy to be prepared for the contents in the book. One of the pluses of Quick and Easy Thai is that it makes curry appetizing as it shows you different types of curry to make depending on taste. It's a win for everyone!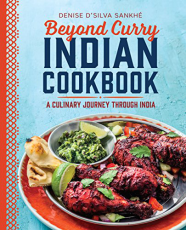 Beyond Curry Indian Cookbook: A Culinary Journey Through India– Denise D'Silva Sankhé
In Beyond Curry, D'Silva Sankhé does a great job breaking through the stereotype that everything Indian has curry. She does a nice job breaking down Indian cuisine from different locales in India from Indian-Chinese fusion foods to the Southern tip of India. Along with dishes like dosas, favorite recipes like Tandoori chicken make up different recipes featured in the book. The recipes are not time-consuming, a plus for anyone who's on-the-go or just doesn't want to take the time to prepare elaborate meals. Recipes are also ranked by spiciness. If you have a pressure cooker or a slow cooker, there are recipes inserted for those tools as well. Some of the rice dishes are perfect for beginners, so readers can grow with the book.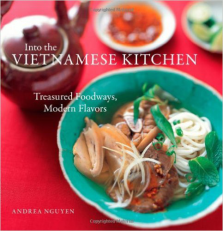 Into the Vietnamese Kitchen: Treasured Foodways, Modern Flavors– Andrea Nguyen
In this comprehensive cookbook that serves as a nice primer for Vietnamese cooking, Nguyen provides fun and simple recipes and tips. Nguyen provides great explanations of ingredients and tools used in Vietnamese cooking and even covers what fish sauces and rice brands are the best for different recipes. Nguyen adds different notes to the ends of recipes to help at-home chefs. Additionally, ingredients are listed in English and Vietnamese which makes it easy to find ingredients in the store, and she provides storage and preparation information. For those who are vegetarian, there is even information on how to make meals vegetarian-friendly. This cookbook has the potential to be a favorite in any kitchen.
Do you have any favorite Asian cookbooks you find useful? Share with us and let us know why you enjoy them.
—-Joelle Halon
Related Articles